In the 1940s and 1950s, Joe DiMaggio was a cultural icon unlike any other. First and foremost, he represents the embodiment of the American dream. Joe was the son of Italian immigrants who made it as big as anyone could. I mean, the guy married Marilyn Monroe, for goodness sake. And at the time, he was arguably the more prominent name among the two. Sure, it only lasted non-months, but every man in America would gladly have taken his place for that time.
And Simon and Garfunkel alluded to him as the lost hero of the nation in their classic song "Mrs. Robinson, which included the lyrics 'Where have you gone, Joe DiMaggio? A nation turns its lonely eyes to you.' It signified the wish of many in the chaotic late 1960s to return to a simpler time.
While already a star, it was when DiMaggio broke Wee Willie Keller's hitting streak record with 56 games straight with a hit that he became a nationwide icon. 1941 the entire nation followed his exploits as Joe made history.
However, today "The Yankee Clipper" has lost some of its luster in popular culture. To start with, his position as the great and most beloved Yankee was clearly usurped in our imagination by Mickey Mantle. And indeed, the hobby rates Mantle more highly than it ever did "Joltin' Joe." Mickey was a better player, had that All-American look, and came up during the classic age of the baseball card. But let's all remember that when Mantle came up, he was star-struck to meet Joe.
How Good A Player Was Joe DiMaggio Really?
Meanwhile, advanced statistical analysis has not been particularly kind to Joe DiMaggio's legacy. While he was considered one of the best hitters ever at his peak, today, we value power and on-base percentage more than fans did back in the day. And more accurate reflections of player quality, such as OPS+, show that in his prime, Joe did not have seasons that could compete with the very best, like Josh Gibson, Babe Ruth, Ted Williams, Barry Bonds, and Mickey Mantle.
Still, Joe was one of the best players of his era. It wasn't just his personal achievements, which were impressive, but "The Yankee Clippers" leadership on the baseball diamond. Keep this in mind. We are talking about a guy who won the World Series 9 times in a thirteen-year career. We must also remember that Joe lost the prime years of his career because he joined the army in World War 2. Sure, he spent most of his time playing exhibition games for the soldiers. But I am sure they appreciated the distraction!
Collecting Joe DiMaggio Cards
The bottom line is, when collecting Joe's cards, you are dealing with an absolute cultural icon. He is also a well-deserving top-tier Hall of Famer. And was married to the best-known actress who ever lived. Additionally, Joe DiMaggio's most essential cards were produced before the golden baseball card era of the 1950s. Therefore, they have lower population counts than those of other vintage icons like Hank Aaron and Willie Mays.
Finally, he is one of the great Yankees. The proud club has even retired his number 5 jersey, along with those of Mantle, Babe Ruth, and Lou Gehrig. And as we know, the Bronx Bombers have the most significant fan base out there. All this is a good recipe for value.
With no real significant releases at the time, there is a dispute over what qualifies as a legit Joe DiMaggio rookie card. But does it really matter?
1937 Wheaties-Series 6 Hand Cut Joe DiMaggio #11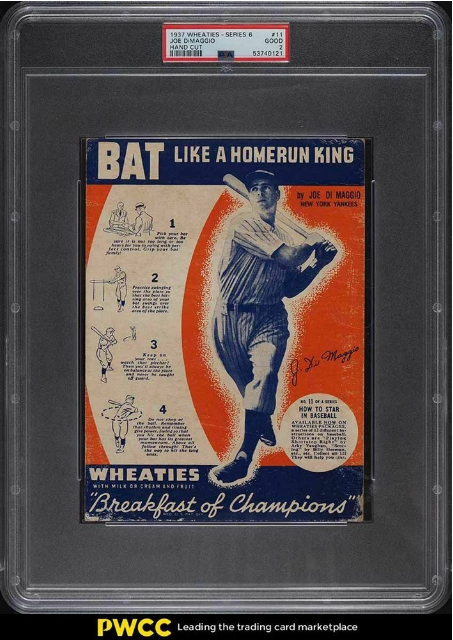 1937 Wheaties-Series 6 Hand Cut Joe DiMaggio #11
A PSA 2 sold for $501.
We all grew up on Wheaties boxes with athletes on them. But man, that cereal brand has been sponsoring athletes forever. The 1937 Wheaties-Series 6 Hand Cut Joe DiMaggio #11 cards came in the cereal boxes, which was smart marketing. There were several other JoeDiMaggio cards in Wheaties boxes, and they all have a distinctive and more modern look than most of the cards of this era. There are only seven of these in the PSA records. The only reason they are not worth more is because the highest grade one has ever received was a PSA 3.
1937 Exhibits Four-in-One Joe DiMaggio, Tony Lazzeri, Vernon Gomez, Lou Gehrig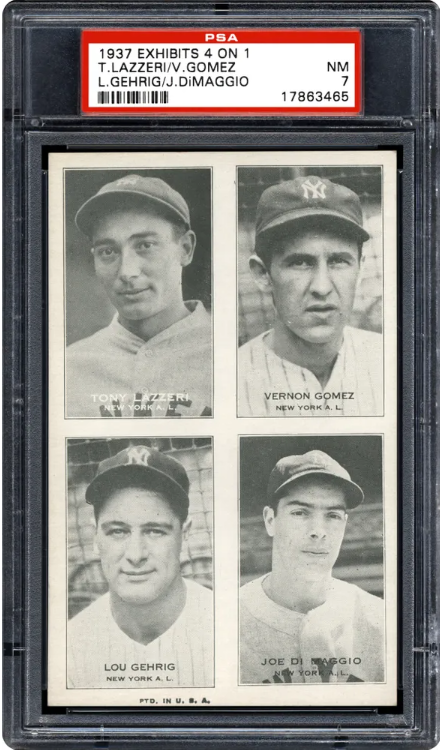 1937 Exhibits Four-in-One
A PSA 6 sold for $3,000.
The four in one cards are a magnificent set showing four players in one card. They are the likely inspiration behind the multiple player rookies of the 1960s and 1970s. A tradition which Topps Heritage continues to this day. Sadly, these beautiful cards don't get much attention, even though they often feature Hall of Famers.
However, this card is special. It features the biggest stars of the Yankees, which is always a draw for fans. But amazingly, all four of the players in this picture are Hall of Famers. Lou Gehrig obviously is one of the greatest players who ever lived. But Tony Lazzeri and Vernon "Lefty" Gomez were legends in their own right and part of one of the best Yankees teams ever. The wonderful 1937 Exhibits Four-in-One Joe DiMaggio, Tony Lazzeri, Vernon Gomez, Lou Gehrig card deserves more respect than it gets.
1940 Play Ball Joe Dimaggio #1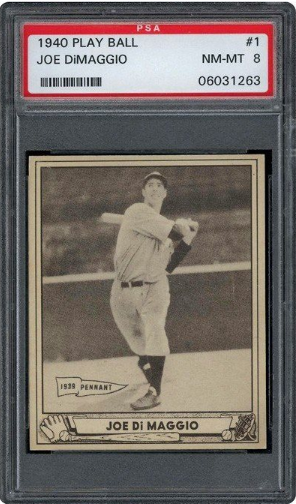 1940 Play Ball Joe Dimaggio #1
A PSA 9 sold for $34,378.
The 1940 Play Ball card gives Joe the honor of the #1 card. Always reserved for big stars. And he deserved it after winning the 1939 American League MVP and winning the World Series with the Yankees. But the downside of the #1 cards is that they are often in worse shape as they are placed at the top of the pile. The card is stunning, far nicer than the more expensive 1939 Play Ball card. It has a great shot of Joe swinging. As we will see, he excelled at posing for those. And the lettering and cartoon glove in the corner is perfect.
Card Widget will be here
(https://getcardbase.com/1940-play-ball-1-joe-dimaggio)
You have a point if the price of the 1940 Play Ball Joe Dimaggio #1 card seems pretty darn low for a PSA 9. That sale occurred in 2007, and the card has a value about triple of that today.
1948 Leaf Joe DiMaggio #1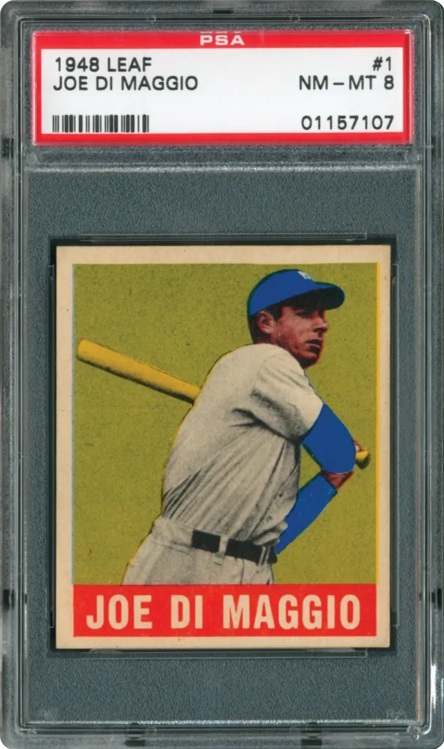 1948 Leaf Joe DiMaggio #1
A PSA 8.5 sold for $43,200.
The beautiful 1948 Leaf set is probably best known for the Jackie Robinson rookie card. However, the #1 card in there was reserved for Joe Dimaggio, the biggest baseball star in the world at that time. The art work is positively weird, and reflects the trend towards modern art.
Card Widget will be here
(https://getcardbase.com/1948-leaf-1-joe-dimaggio)
The arms are colored in a strange and unnatural shade of blue. The pop art aesthetic makes the 1948 Leaf Joe DiMaggio #1 an instantly identifiable card. It is without a doubt his most valuable and best loved late career Joe DiMaggio card.
1936 World Wide Gum Joe DiMaggio #51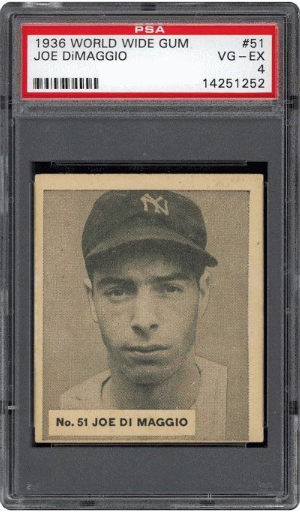 1936 World Wide Gum Joe DiMaggio #51
A PSA 7 sold for $52,351.
The first card ever with Joe in his Yankees uniform. So, the 1936 World Wide Gum Joe DiMaggio #51 would be his official rookie card. But you would be wrong. People discriminate against this card because it's Canadian. Will the suffering of our poor neighbors to the north never cease?
Be that as it may, this is a tremendous early shot of the superstar looking quite tired already. And people still need to spell his name after making the pros. The back of the card also mocks Joe calling him "Deadpan Joe." We were also informed that "Di Maggio" had a 61-game hitting streak in the minors. The man had a gift.
1937 O-Pee-Chee Joe DiMaggio #118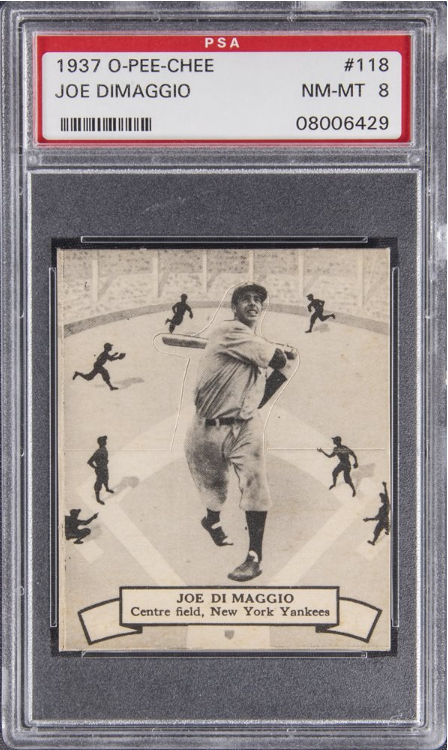 1937 O-Pee-Chee Joe DiMaggio #118
A PSA 8 sold for $99,630.
Sure, this is another Canadian release. But O-Pee-Chee is a veteran company with a long reputation. That makes this a proper card and probably his "The Yankee Clipper's" legit rookie card. Nonetheless, the prices for this card are surprisingly low. Less than $100,000 for a PSA 8 of a DiMaggio rookie card? We all know if that said Topps, it would be going for several times that.
As you can see, Joe's image is perforated. Children were encouraged to remove his image and play with it. Which most did. Therefore, finding a good version of this card is complicated. Incredibly, there are PSA 8s of the 1937 O-Pee-Chee Joe DiMaggio #118.
1933-36 Zeenut Pacific Coast League (Batting With Coup) Joe DiMaggio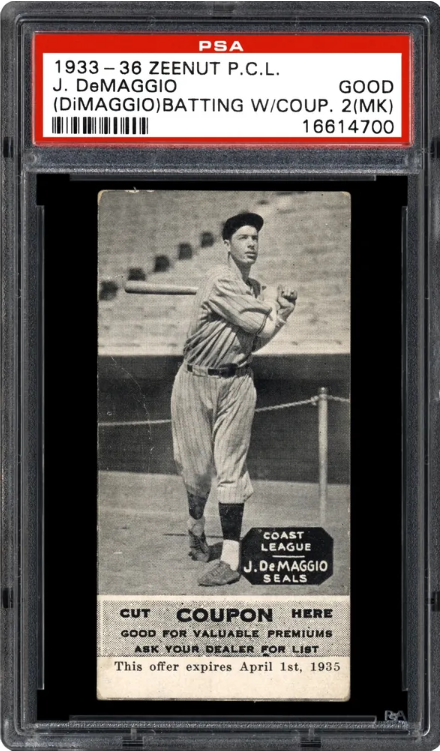 1933-36 Zeenut Pacific Coast League (Batting With Coup) Joe DiMaggio
A PSA 5 sold for $240,000.
The 1933-36 Zeenut Pacific Coast League (Batting With Coup) card may not be a "Joltin Joe" rookie. But it's a minor league card of the legend. To me, that is just as cool. And, of course, they misspelled his name because we are talking about an unknown Califonia kid here.
And what a great shot of young Joe. He already knows he is going to be a massive star. Just look at that swagger. And you can see why there are hardly any copies in good condition. You could cut out the bottom for a coupon for unspecified valuable premiums. Who could resist that?
1939 Play Ball Joe DiMaggio #26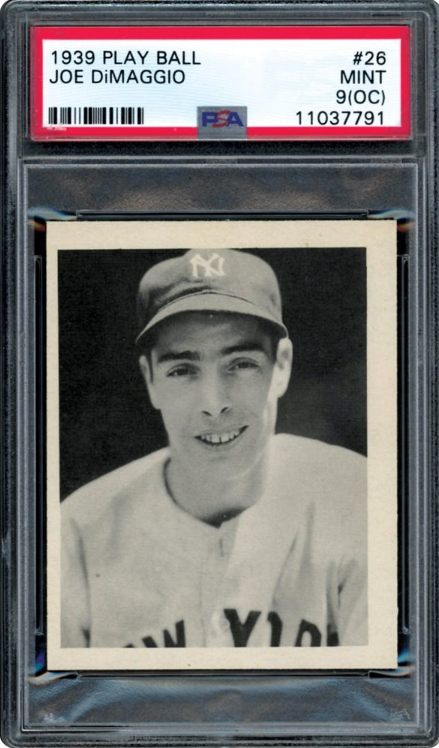 1939 Play Ball Joe DiMaggio #26
A PSA 9 sold for $218,578.
The 1939 Play Ball Baseball set was a mainstream chewing gum release, like Topps and Bowman later on. The series included 161 cards of a relatively small 2-1/2" by 3-1/8" size. Along with the Ted Williams, this card is the key to the rare set. And it's one of the few early photograph cards of the Yankees star.
Card Widget will be here
(https://getcardbase.com/1939-play-ball-26a-joe-dimaggio)
Some of the best-known "Joltin Joe" cards have PSA 9 versions. But in the case of the 1939 Play Ball Joe DiMaggio #26, there are 13 of them. It is tough to believe these cards have not been tampered with. What are the odds of a card from 1939 surviving in the same condition as many of our pack fresh 2023 Bowman cards?
1938 Goudey Joe DiMaggio #274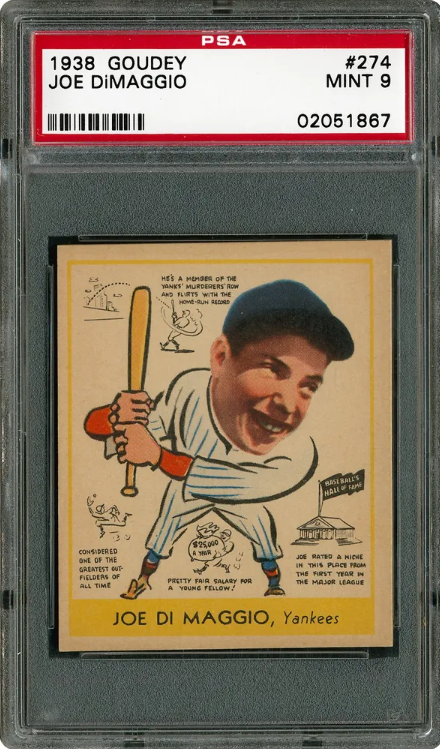 1938 Goudey Joe DiMaggio #274
A PSA 9 sold for $288,000.
The 1938 Goudey Joe DiMaggio #274 just shrieks with enthusiasm. Have you ever seen a card that gives you a player's salary on the front? Me neither. And even though the card came out in 1938, they already predict that he will have a place in the Hall of Fame. That part certainly came true. However, their belief that Joe will one day challenge the home run record, no one dayt so much.
Card Widget will be here
(https://getcardbase.com/1938-goudey-heads-up-r323-274-joe-dimaggio)
Goudey has a great reputation among vintage fans. And indeed, they have produced some stunning baseball cards over the years. But to this pair of eyes, this is not one of them. The cartoon version of Joe here is pretty horrific and unflattering. I mean, sure, Joe wasn't conventionally handsome necessarily. But he had legit sex appeal. But the little cartoons on the card are worth noting. Topps would copy them for years on the backs of their cards.
1941 Play Ball Joe DiMaggio #71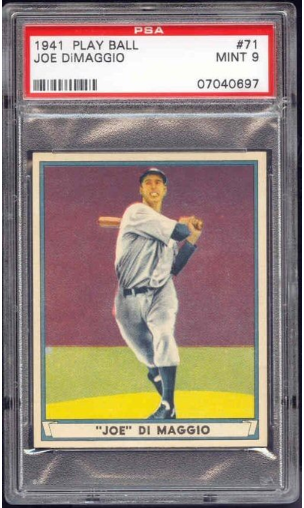 1941 Play Ball Joe DiMaggio #71
A PSA 10 sold for $750,000.
The PSA 10 version of this card ranks as one of the 50 most expensive baseball card sales of all time. But as you can guess, if a PSA 9 of a card from the 40s is suspicious to me, a gem mint is even more so. Nonetheless, the 1941 Play Ball Joe DiMaggio #71 is easily the most beautiful DiMaggio card ever made. Adding to its value is the short print status of the card.
The illustration is perfect and captures the grace of "Joltin Joe." You will also notice the artistic style is similar to the storied 1951 Bowman release.
Card Widget will be here
(https://getcardbase.com/1941-play-ball-71-joe-dimaggio)
Final Word On The Most Valuable Joe DiMaggio Basenball Cards
"The Yankee Clipper" is one of the best known players ever. A symbol to an entire generation. Yet, Joe DiMaggio cards do not go for the highest prices among vintage players. Some of it is simply that he does not have any Topps cards.
But there is opportunity here. Many of his cards are attractive and rare. These older series are way more interesting than Topps and Bowman anyway. And while it may be more fashionable to collect Hank Aaron or Mantle right now, Joe's cards are going to appreciate slowly. Indeed, they have already more than doubled in most cases over the last decade. As Paul Simon wrote, "Joltin' Joe has left and gone away." But his beautiful cards are here to stay.