The NFL draft is over and the excitement for the next gridiron season is just starting to build. We have to wait until September for the first kickoff, but yet it's never too early to plan ahead for the football cards to watch out for when they drop for the new season. If you're a sports fan and a collector, this is a good time to build a watch list and consider investing in rookie sports cards of some of the NFL players listed below.
This list of young athletes have shown great potential on the field and are likely to become stars in the coming years as part of the NFL. Traditionally, rookie cards are among the most valuable cards a player will ever appear on. Thus, if you can invest early on rookies who look like they will go the distance in the big league, you can get cards that will be worth a lot of money for very little in the way of an initial investment. With all the changes happening in the sports card industry currently, you may not know which company is producing cards, but we can be sure that rookies will be a focus for them.
With that in mind, here are some of the top NFL players to watch for and collect their rookie sports cards, listed in ascending order from the least to the most recommended. Of course, if your budget allows, picking up the cards for any or all of these rookies could prove a good investment in years to come. While some of these players will inevitably not live up to their potential, hopefully one or some of them will turn into superstars whose rookie cards are bound to be worth a lot of money as they make their mark in the NFL.
The Top 10 2023 NFL Draft Rookies to Invest In
While some of these players have already seen a rise in value for their college ball cards, many of their NFL rookie cards should still come out at a price that investing in them will make sense over time. Buying their college ball cards is entirely sensible if you believe their pro careers will be huge. We've got some rookie recommendations that are still relatively cheap and some where the collector community are already driving up prices due to the excitement and anticipation of their NFL performance.
10) Michael Mayer, TE, Las Vegas Raiders
We start with a pick that was a ways down the draft list, but since Michael Mayer was the best tight end in this crop of players, the Raiders likely got themselves a good deal. Las Vegas waited until round 2 to pick him up but Mayer might just be one of the finds of the season.
The main reason we're bullish on Mayer is that he's already a pro-level player and the perfect puzzle piece to go into the Raider's offense as a target for the considerable skills of Las Vegas QB Jimmy Garoppolo. If Garoppolo starts regularly connecting with Mayer, the young New Orleans TE could turn into a star quite early in his career.
As you can see from the signed, ungraded gold superfractor below, which sold for about $500, some of his cards are increasing in value already. Even so, many of Mayer's cards are still available for low costs at this point, so don't miss out on your chance to invest.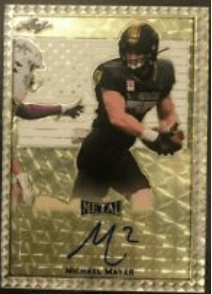 Michael Mayer, TE, Las Vegas Raiders
9) Zay Flowers, WR, Baltimore Ravens
Grabbing the talented Zay Flowers gives the Ravens' offense yet another strong tool for score-making. The Boston College player is known for his confidence and exuberant play, which can often lead to being a big star in the NFL. If he connects regularly with whomever the Ravens finally get into the QB position, he could end up being one of the stars of their 2023-2024 season. He's got the chops and his college cards are already starting to heat up. Definitely tag his page to watch for Hot Deals. Already, his Bowman college cards are going for a couple hundred dollars in ungraded but autographed form.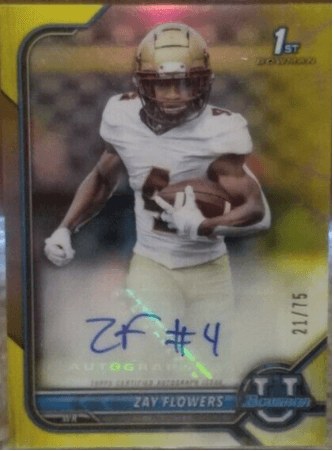 Zay Flowers, WR, Baltimore Ravens
8) Devon Witherspoon, CB, Seattle Seahawks
Not every early draft pick was for a QB, although the top of this list makes it look like that's true. Devon Witherspoon getting snapped up as the #5 pick makes sense when you know that the Seahawks have a big hole in their defense and a new cornerback is precisely what the doctor ordered. Witherspoon has been shown to have excellent instincts on the field, he's got strong hand-eye coordination, and he's a tenacious tackler. Seattle should be able to leverage that mix of skills to shut down the opposition regularly.
While CBs are not often superstars, Witherspoon paired with Tariq Woolen could mean a reason to be thrilled by the Seahawks' defense. Maybe the card manufacturers will think of some new special cards for a second coming of the Legion of Boom? Devon's cards are still a shocking deal at the moment, with ungraded cards like the one below selling for less than $10.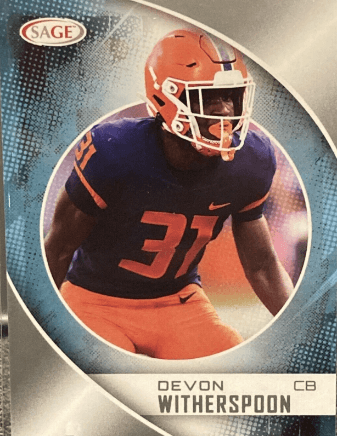 Devon Witherspoon, CB, Seattle Seahawks
7) Nolan Smith, Edge, Philadelphia Eagles
Philadelphia's leadership made some clever choices during this year's draft. They did some wily trading to get Nolan Smith and the next extry on our list in the first round, filling out a formidable defense with players that have a history together from their time playing for Georgia. These pro-ready players should make the difference for the Iggles this next season.
Smith is known for his speed, quick hands, and his ability to leap into the fray, making him a promising pass rusher. Getting Smith this late in the draft seems a real bonus for Philadelphia as pre-draft reporting had Smith potentially being a Top Ten pick. His athleticism and play-making skills could signal another superstar in the making so be sure to pick up his rookie card when it's available. The ungraded college ball card below with Smith featured sold for almost $400 in March 2023.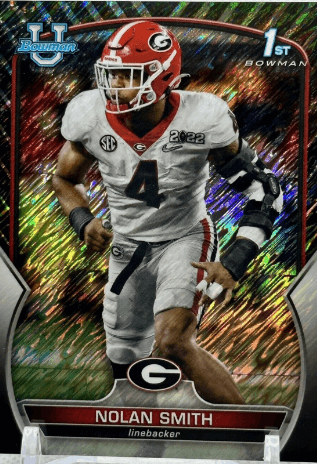 Nolan Smith, Edge, Philadelphia Eagles
6) Jalen Carter, DL, Philadelphia Eagles
Jalen Carter is a powerhouse DL even if he already comes with some baggage from off the field. The Eagles decided it was worth it when they looked at his play for Georgia. He's huge, fast, and has shown versatility on the field. He has a commanding presence at the line of scrimmage and brings exceptional physicality to his tackles. He's a smart player who has excelled in the tight Georgia line, which should make him a great team player for the Eagles - especially since they've invested in bringing some of the team with him.
Jalen Carter has the skills to be a superstar, which could send his rookie cards into the stratosphere price-wise, so be sure to pick up cards when they come out. We can expect Philadelphia to leverage him to strengthen their defensive play and he might just turn out to be the brightest light on the line. Check out this superfractor below that just sold in BGS 9 Mint condition in May 2023 for $600.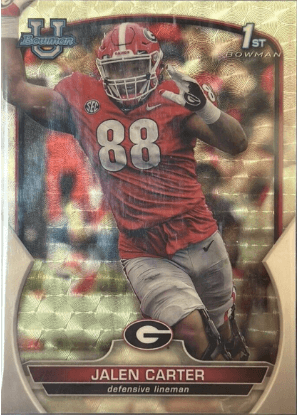 Jalen Carter, DL, Philadelphia Eagles
5) Jordan Addison, WR, Minnesota Vikings
Jordan Addison is one of the strongest wide receivers in this year's draft and the Vikes could use another strong runner like him. We can expect big things from this USC grad and there have already been interesting refractor cards produced of him. Snap them up before they get too expensive because Addison seems like he has the grit and speed to go all the way regularly for Minnesota.
That said, it feels like a lot of commentators aren't convinced of the value Addison will bring to the Vikes. Savvy investors will know to zig while the world is zagging and grab up Addison's rookie cards as a good long-shot investment. If his college cards are any indication, they are doing the right thing. The ungraded, signed card below sold for almost $900 in March 2022, and many of his other cards are still very reasonably priced.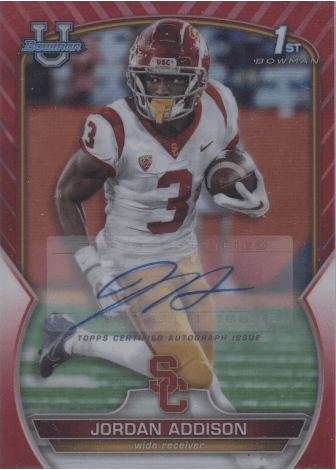 Jordan Addison, WR, Minnesota Vikings
4) Jaxon Smith-Njigba, WR, Seattle Seahawks
On the offensive side, the Seahawks made another great pick in Jaxon Smith-Njigba. This Ohio State wideout has been making some showstopping plays the last few years and he has the potential to light up Seattle's offense in an exciting way. When he speaks, Smith-Njigba talks about his aggressive play and desire to see how far he can go, giving us confidence he will be an ideal fit for the Seahawks' scoring ability. Expect him to have an immediate impact and to see his rookie cards rise in value over time - and perhaps not really that much time.
If his college cards are any indication, it won't be long before his Seahawks' rookie cards take flight. The ungraded autographed single-population card just sold in May 2023 for nearly $1,700.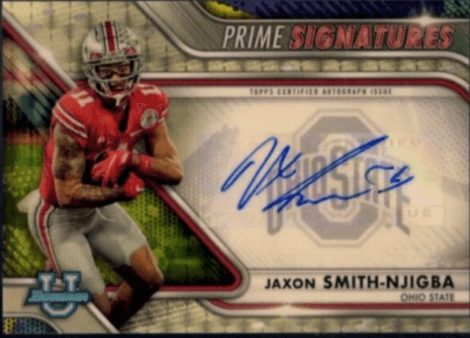 Jaxon Smith-Njigba, WR, Seattle Seahawks
3) C.J. Stroud, QB, Houston Texans
There was a run on quarterbacks in the draft this year, perhaps inspired by late-round picks from last year turning into exceptional performers. The Texans had a rough 2022 season and they needed power added to their offense badly. They didn't wait: Their No. 2 pick was Ohio State's C.J. Stroud, an impressive signal-caller that Houston built up around throughout the draft. Stroud has shown precision and the ability to deliver in tight situations throughout his college ball days. He may be just what the Texans need to rise out of the basement next season.
A lot is riding on Stroud, but this might also mean the sports card publishers give us all the more parallels and limited edition refractors to anticipate a long, successful career for the young quarterback. His college ball cards are still a serious bargain, as you can see from the autographed, ungraded card below that went for something less than $200. These cards could be huge in the years to come, and his base rookie card with the Texans is a must-buy for investors.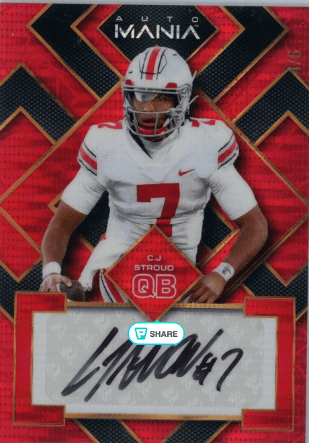 https://images.getcardbase.com/l2aj5n8jiioy0a260fohswsnd37m
2) Bryce Young, QB, Carolina Panthers
The number #1 pick this year, Bryce Young, is number two on this list. Why not put this quarterback on top when he was selected first and has shown his arm can deliver big time? Furthermore, the Panthers have invested heavily to get him impressive support by retaining their best offensive players and bringing in new blood via free agency choices.
I do think Young will perform beautifully, connecting regularly with the Panthers' players, and that he has a long career of success ahead of him. I mean, he's won the Heisman Trophy so he's already made some history. That should make him a great choice for picking up his rookie cards, especially since his college ball cards are already spiking in value. Check out the superfractor autographed card below that was listed for almost $30,000, although it sold for an unnamed amount in April 2023. Despite that huge listing, I'm even more impressed with the raw physical power of the top spot's QB pick. Continue reading for my number 1 rookie card investment pick.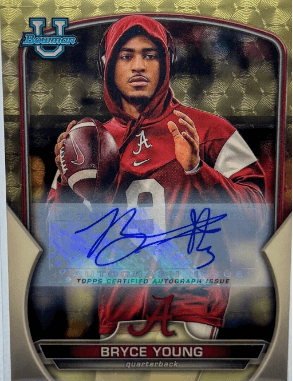 Bryce Young, QB, Carolina Panthers
1) Anthony Richardson, QB, Indianapolis Colts
While he was the No. 4 pick this year, many commentators across the web agree with my top pick here. Anthony Richardson was drafted in the first round by the Colts, and many experts believe he has the potential to become one of the league's top quarterbacks. He's got big shoes to fill in Indianapolis with the fans still lamenting the departure of Andrew Luck a few years back. Richardson possesses excellent potential as an all-around playmaker, and he's an imposing presence on the field who is willing to run the ball and mix it up if he must.
Richardson's rookie cards are likely to be in high demand and with all the potential he brings to the game, this could lead to showcase initial refractor and parallel cards that would be worth picking up. Look for Richardson to be a key part of new Colts coach Shane Steichen's plans for the new season, and definitely mark his page to watch for Hot Deals. His college ball cards are already climbing in value, especially those elusive refractors. Check out this autographed, ungraded superfractor that went for over $7,000 in March 2023.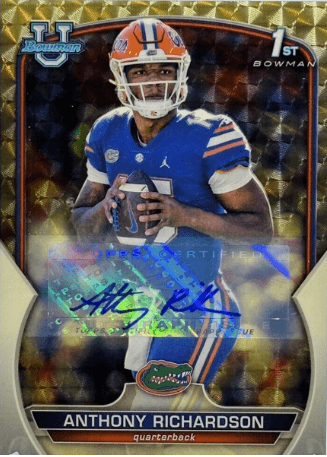 Anthony Richardson, QB, Indianapolis Colts
Experienced Collectors Invest in NFL 2023 Rookie Cards
Rookie cards will always be exciting investments. All of that potential for a player's future career is packed into these little slivers of cardboard that could turn into a million-dollar asset if things go well on the field. Not every investment will be as lucrative as that of Tom Brady, but smart early investing in rookie sports cards can be a wise decision for sports enthusiasts and investors alike.
The players listed above have shown potential to make an impact in the NFL and some of them will be obvious from their first game of pro ball. While enjoying the new season, if you invest early, you can root for these players to excel not just as a fan, but also as an investor in their early sports cards. I know I've already got my Watchlists set for when the first batch of cards drop for the new season.