In the 1960s, basketball cards were an afterthought. Topps didn't produce any until late in the decade. Meanwhile, Fleer had one set come out in 1961. Granted, it is absolutely legendary, but just one nonetheless. Finally, there are a few minor sets that are worth taking a look at. So, there just weren't too many sets.
Nevertheless, the basketball cards that were produced in the 1960s are of very high quality. Almost all the sets have iconic status and those that don't deserve it. But the average collector doesn't know most of the items from this decade. Everyone knows the 1969 Lew Alcindor Topps Rookie Card #25 and the 1961 Fleer Wilt Chamberlain Rookie Card #8. But there are so many other beautiful cards. And many of them have a good deal of upside.
There are three reasons to believe in basketball cards from the 1960s. First, the popularity of basketball cards has increased exponentially in recent years. There is just much more demand for them than ever before. Second, they tend to have significantly lower population counts than their baseball card counterparts. That helps with value because every serious collector today pays close attention to the number of graded cards in circulation. Third, basketball cards of the 1960s are drop-dead gorgeous. Don't believe me? Just scroll down.
1969 Topps Nate Thurmond Rookie Card #10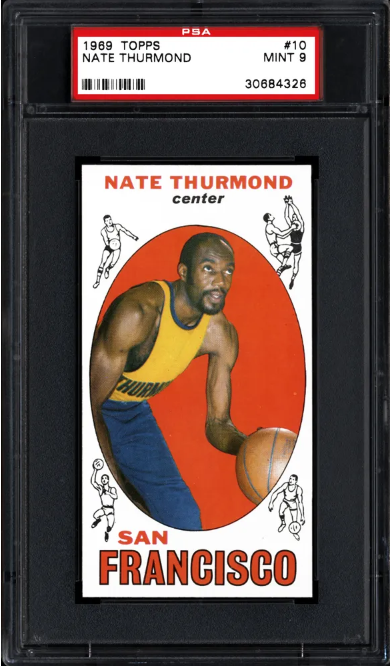 1969 Topps Nate Thurmond Rookie Card #10
A PSA 9 sold for $675
What kind of insanely low price is this? The 1969 Topps Nate Thurmond Rookie Card #10 is arguably the best looking in the entire legendary 1969 Topps "Tall Boys" Basketball cards set. Nate was about as well built as any player of his era, and that is on full display here. But what I really like is that look of genuine concentration in his eyes. Most of these posed pictures look fake, but Thurmond looks like he is planning his next move, and it is going to be killer.
Of course, Nate was also one of the great centers of his generation. He was inducted to both the National Collegiate Basketball Hall of Fame and the Naismith Basketball Hall of Fame. He is perhaps best known as the answer to the trivia question: "Who was the first NBA player to have a triple-double?" But Nate Thurmond was generally sensational. His 15.9 rebounds per game place the center fifth on the all-time list. Some day people will appreciate this genius, and his cards will receive the respect they deserve. I hope!
1960 Kahn's Wiener's Wayne Embry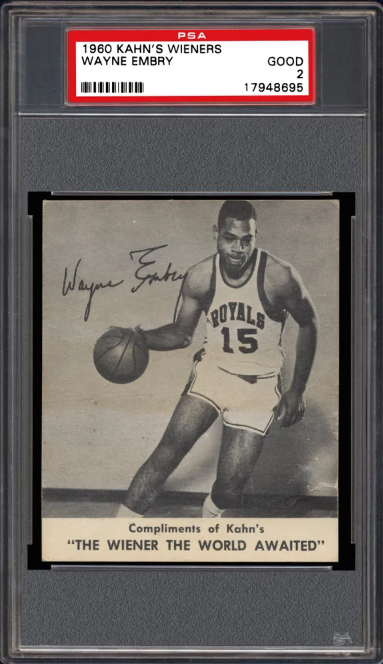 1960 Kahn's Wiener's Wayne Embry
A PSA 8.5 sold for $967
What can I say? I am a sucker for a good old-fashioned wiener. The 1960 Kahn's Wiener release is one of the significant deep cuts among 1960s basketball cards. But the two cards most people know (if they are aware of this release) are Oscar Robertson and Jerry West. But keep an eye on the 1960 Kahn's Wiener's Wayne Embry. Only 11 of these are graded, which is a low population even for this rare release. And the only sale of it so far was for under $1,000. However, that was back in 2021, and it would certainly be worth a good deal more at this time.
Embry is not a household name anymore, but he was considered one of the finest players of his time. But he was the star center of the Kansas City Royals team that could never entirely beat the Boston Celtics. But he finally won a title when Bill Russell convinced him to play for Boston in 1968. His excellent defense and rebounding skills saw him elected to the Pro Hall of Fame and the College one. Embry has also played a crucial role as a Toronto Raptors executive, helping them to the title in 2019.
1968 Topps Test Willis Reed #7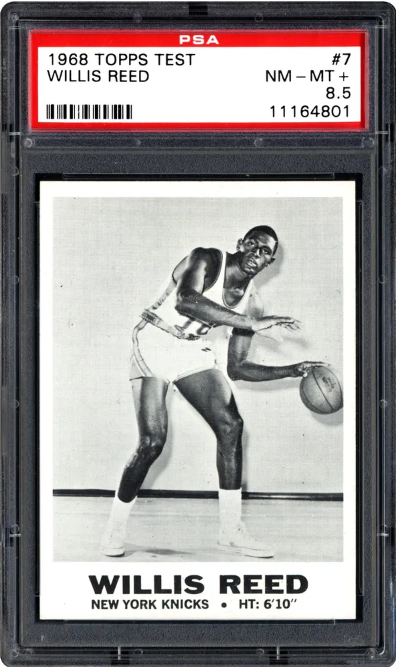 1968 Topps Test Willis Reed #7
A PSA 8 sold for $2,500
There is no excuse for how cheap this card is right now. And I can't see how it would remain that way. Sure, we have gotten used to the 1969 Topps tall boy as the standard Willis Reed rookie card. I get that. But the 1968 Topps Test Willis Reed #7 is the legit rookie card for this player. No, I don't care that 1968 Topps did not have an official release. It's still his earliest card with a big company and, therefore, his rookie card. I said what I said. It's also kind of sad that a player who won Rookie of the Year in 1964 didn't get their rookie card until four years later. And even that wasn't in a mass-distributed set.
The card catches "The Captain" in an awkward pose. But it also shows us the magnificent specimen this player was. Some people don't like the 1968 Topps Test Basketball card set design because it is so starkly minimalist. It certainly doesn't fit into the classic 1960s Basketball card design patterns. But thanks to this design, it has an inarguably timeless look. It is also worth considering that Reed is a Knicks icon, and that is a big market team with many (long-suffering) fans. That and the eternal memory of Reed hobbling onto the court for game 7 of the 1970 NBA Finals will keep interest in his cards hot forever.
1961 Fleer Al Attles Rookie Card #1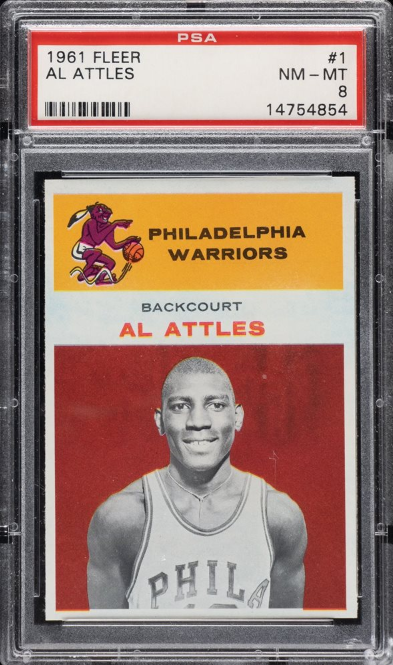 1961 Fleer Al Attles Rookie Card #1
A PSA 8 sold for $2,880
The Al Attles card is a desirable one for several reasons. No, it is not the design or the picture, neither of which is particularly impressive. He was an old-school point guard for the Philadelphia (and later San Francisco) Warriors. His heroics for that team and his successful coaching career, Attles, was enshrined in the Naismith Memorial Basketball Hall of Fame in 2019.
But aside from that, the 1961 Fleer Al Attles Rookie Card #1 takes a lot of work to get in decent shape. The number 1 cards were always kept at the top of the pile, often with rubber bands used to keep the set together. The copies of this card in good shape (and miraculously, they are around) should be a good investment. The current prices are reasonable when you consider all the factors.
1969 Topps Billy Cunningham Rookie Card #40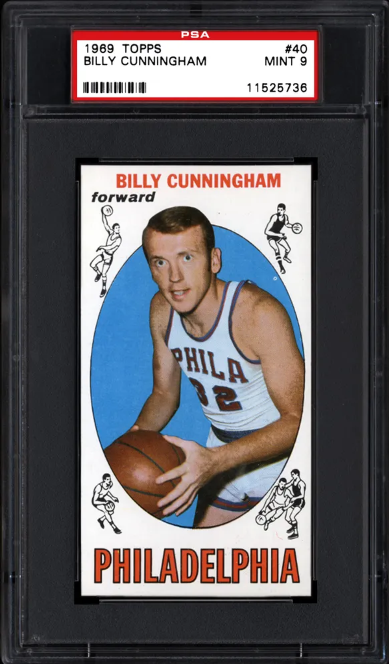 1969 Topps Billy Cunningham Rookie Card #40
A PSA 8 sold for $425
There were so many great rookie cards in the 1969 Topps Basketball release (which makes sense because it was the first major distributed release since 1961), that a few great ones got lost in the shuffle. Chief amongst those brave and overlooked individuals is Billy Cunningham. How good was this guy? He has a career average of 21 points, 4 All-Star appearances, a title as a player AND a coach. Therefore, it's unsurprising that he is enshrined in the professional and collegiate Halls of Fame. In his one championship year as a player, Bito won the 1967 NBA championship. So, it's really criminal. He has been basically in his one championship year as a player.
As for the card itself; it has its issues. Yes, Billy looks like an accountant who won a prize to "be an NBA player for a day." But should we hold that against the 1969 Topps Billy Cunningham Rookie Card #40? Absolutely not! It's a rookie card for a legend.
1962 Kahn's Wiener's Jerry West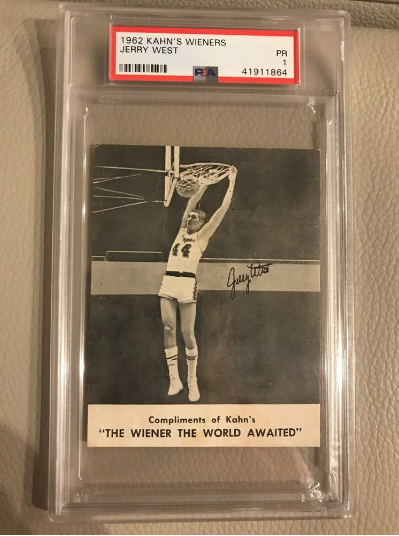 1962 Kahn's Wiener's Jerry West
A PSA 7 sold for $3,720
The Jerry West card from the 1960 basketball cards release of Kahn's Wieners is better known and more valuable. The reasons are obvious; that card came a year before his best-known rookie card, the 1961 Fleer #43 Jerry West, was issued. But the 1962 Kahn's Wiener's Jerry West is an infinitely cooler-looking card. It is the earliest card I know that shows a full-on slam dunk. And he does it a good thirty years before White Men Can't Jump hit the screens. There are only 25 copies of this card, and Jerry West will always be an icon. He was one of the best players of his era. Sometimes, people forget how good, with 27 points per game as a career average and 14 All-Star selections. But he is also one of the greatest executives and the silhouette for the freaking NBA logo. Everyone uses the word iconic, but West is LITERALLY an icon. That is why a rare and striking card like this should steadily increase in value over time.
1969 Topps Bill Bradley Rookie Card #43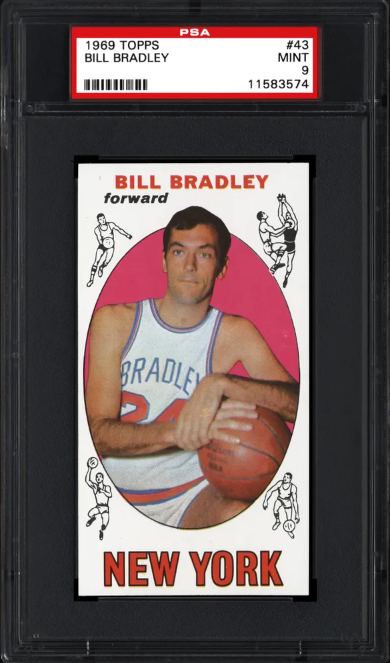 1969 Topps Bill Bradley Rookie Card #43
A PSA 9 sold for $4,700
Bill Bradley may be one of the most impressive NBA players ever in terms of off-the-court achievements. As a Princeton student, he earned a Rhodes Scholarship at Oxford University. He did that while being considered the best college basketball player in America. And of course, he was a Senator and almost won the 2000 Democratic nomination for President, before losing to Al Gore. Aside from all that, he is a College and Pro Hall of Famer, with a large share in the last two New York Knicks title wins.
You can certainly see the future statesman in Bill in the 1969 Topps Bill Bradley Rookie Card #43 photo. He seems like a Roman consul, pondering the next battle in the Punic War. With such an attractive card, featuring a player of Bradley's magnitude, the current prices are fairly low.
1969 Topps Checklist #1-99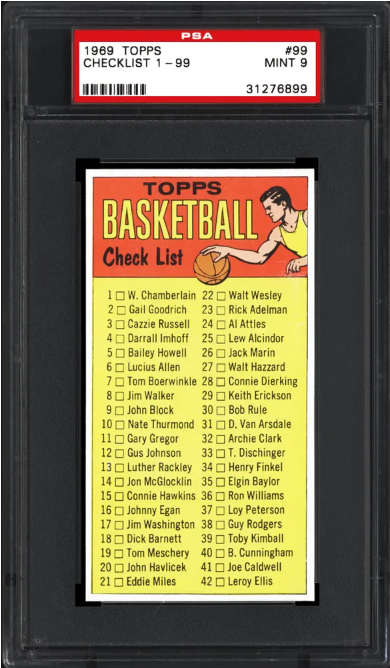 1969 Topps Checklist #1-99
A PSA 9 sold for $15,000
Wait, the freaking checklist is worth how much? Quite a bit. And when you think about it, this makes sense. Checklists were intended to check off the players you had in your collection. So, many of these copies were defaced by enthusiastic pimply kids with their ball-point pens just before taking Daisy May out to the movies. Or something like that. Also, who keeps a checklist for decades? Rich people, that's who. So, while there are 257 copies of the 1969 Topps Walt Frazier in PSA 8 condition, 1969 Topps Checklist #1-99 only has 66 equivalents. It also helps that this set is one of the most beloved in all sports card collecting.
1968 Topps Test John Havilcek #5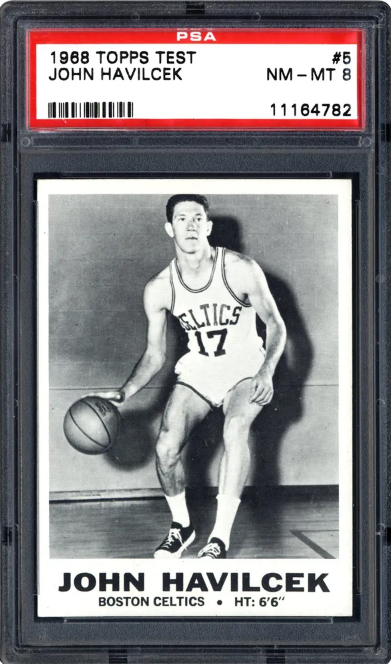 1968 Topps Test John Havilcek #5
A PSA 8 sold for $22,100
You may wonder how a card that sold for over $20,000 can be considered overrated. He is how. This is the actual rookie card of one of the best players in basketball history. Yet this one gets short shrift because most people prefer the 1969 Topps "Tall Boy" #20 John Havlicek one because that is a better-known release. But this is the card to get for my money (well, someone else's, because I can't afford it). It's one earlier and is a legit Topps card, though it was not mass-released. The 1968 Topps Test John Havilcek #5 is a much more attractive card than its 1969 equivalent. John also looks younger, which is what you want for a rookie card. One of my favorite things about this release is how Topps made all the players crouch to fit into the frame.
And there is a reason the Athletic chose John as #29 in their all-time list. He won eight titles by combining defensive grit with a knack for scoring that saw him average 20 points a game over a spectacular career. Red Holzman once said, "'It would've been fair to those who had to play him or those who had to coach against him if he had been blessed only with his inhuman endurance. God had to compound it by making him a good scorer, smart ballhandler, and intelligent defensive player with the quickness of mind, hands, and feet.'" It is time we appreciated one of the most talented individuals ever to play the game.
Final Word On Underrated Basketball Cards from the 1960s
The 1960s didn't have too many releases. Indeed, there are a precious few. But the decade was so rich in talent, that there is a plethora of Hall of Fame caliber rookie cards that are neglected and sometimes underpriced. Even the legends have a neglected card here and there. Partly this is because collectors haven't paid as much attention to vintage basketball as they have to baseball. Therefore, there is a good amount of opportunity to be had in this space. Plus the 1960s basketball cards are magical.