Every baseball cards list is focused on value. Now, obviously, we all like to make a profit out of our collections. But that isn't why we are in this racket, at least not to begin with. We love sports and the aesthetic beauty of these items and want something cool to look at and show people. You know, like our really bored significant others and family members. So, in this list, we will do something a bit different. We will look at the most attractive baseball cards from one of the best eras in the hobby, the 1970s.
The 1970s was the peak of the Topps monopoly in the hobby. There really weren't any alternatives to the flagship releases from the most prominent company. According to economic theory, when one company is the only option, we can expect worse products on our shelves. But Topps apparently didn't read Adam Smith and Milton Friedman because they insisted on producing some of the most iconic baseball card releases ever seen in that decade. Honestly, these are the best designs Topps had in any decade aside from the 1950s. And you could make a good case that their 1970s designs were more consistent than in the debut decade.
The good news is that 1970s baseball cards are among the less expensive vintage items. Sure, some rookie cards are worth a ton. Especially if you want to nab them in gem mint form. But the vast majority were very common cards (there was only one release, after all) and printed in high numbers. Therefore, even the PSA 10s for most of these items are affordable.
The bottom line here is simple: you can get stunning baseball cards for a remarkably affordable price. And we are here to find you the most attractive among these gorgeous Topps cards.
1977 Topps World Series Games 3 & 4 Johnny Bench #412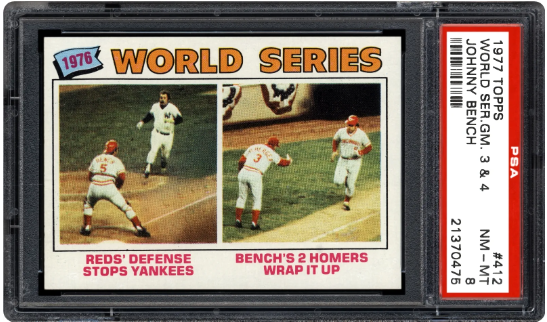 1977 Topps World Series Games 3 & 4 Johnny Bench #412
A PSA 10 sold for $30
These sorts of "what happened in the World Series" last year cards are usually not worth all that much. But that doesn't mean they aren't cool. I absolutely love the symmetry of 1977 Topps #412 1976 World Series Johnny Bench. It shows him stopping the Yankees behind the plate and slamming them for a home run. And boy, did Johnny deserve a card for his incredible play in that World Series. The catcher was the World Series MVP, and for good reason. He hit .533 with two home runs and six RBIs, making him the second catcher to win the World Series MVP. What adds to the magic of the card is the identity of the Yankee running from third base to confront Johnny Bench. It is, of course, legendary New York catcher Thurman Munson. Munson, of course, was (along with Carlton Fisk) Johnny's rival for best catcher of the 1970s.
1972 Topps Billy Cowan #19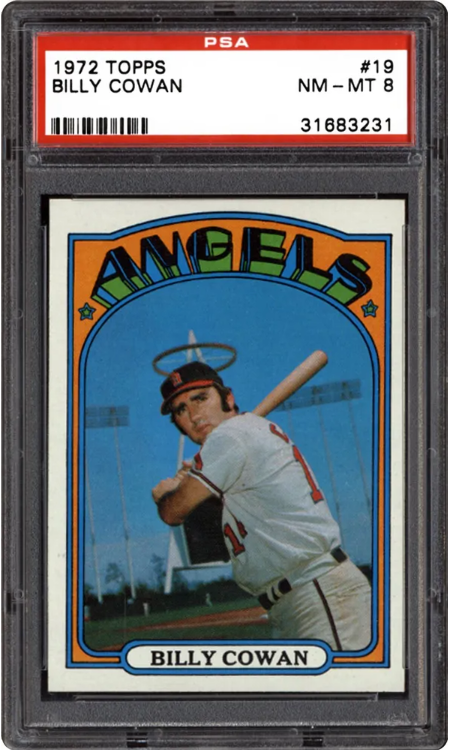 1972 Topps Billy Cowan #19
A PSA 10 sold for $35
Angels are real folks, and I have proof. A perfectly staged photoshoot, showing Billy preparing for an at-bat, with the Angels halo over his head. That halo represents the early hopeful days at Angels Stadium, which opened for business in 1966. Veteran Angels fans will remember the days when they lit it up. Billy was no big star. He was just a journeyman who played for six teams, with the Angels as his last stop. Let this beautiful 1972 Topps Billy Cowan #19 card be the lasting testament to his career.
1978 Topps Roy White #16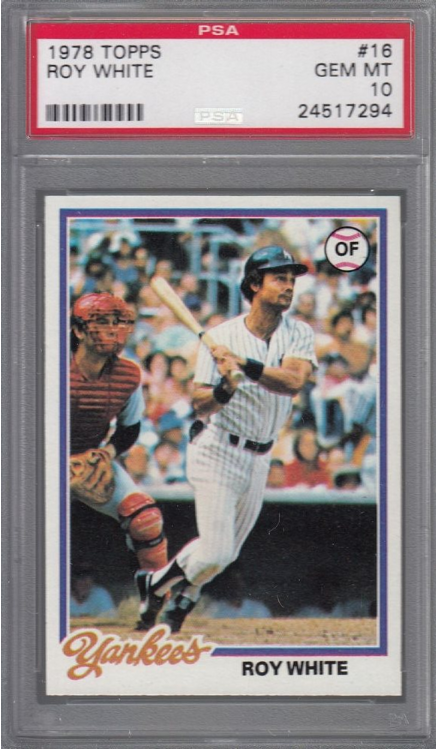 1978 Topps Roy White #16
A PSA 10 sold for $53
The 1978 Topps baseball release was bland. The design was an indistinct white border affair. Meanwhile, as was their habit throughout the decade, there were few action shots and mostly (poorly) staged photo op pictures. The 1978 Topps Roy White #16 is an exception. It features an example of one of my favorite baseball card tropes: showing the batter and catcher following a freshly hit ball. Roy White has been forgotten, but he was a two-time All-Star and an essential cog in the Yankees team that won two titles in 1977 and 1978. White lasted from the mid-1960s decline of the pinstriped team to their incredible resurgence in the late 1970s.
1973 Topps Terry Crowley #302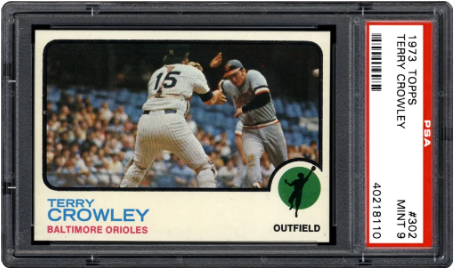 1973 Topps Terry Crowley #302
A PSA 10 sold for $65
The 1973 Topps Baseball design was one of the least eye-catching of the decade. I certainly wouldn't call it ugly or anything. Just unspectacular. But those simple designs often shine as the background for significant action shots. The 1973 Topps Terry Crowley #302 card is an example of that. Crowley was a utility player for the great Orioles teams of the early 1970s and was their first regular designated hitter. Here, he can be seen about to slide to home plate. The determination on Crowley's face speaks volumes. What makes this picture so compelling is the presence of the ball, just within the frame on the right. You can just tell things are about to go down.
1971 Topps Cookie Rojas #118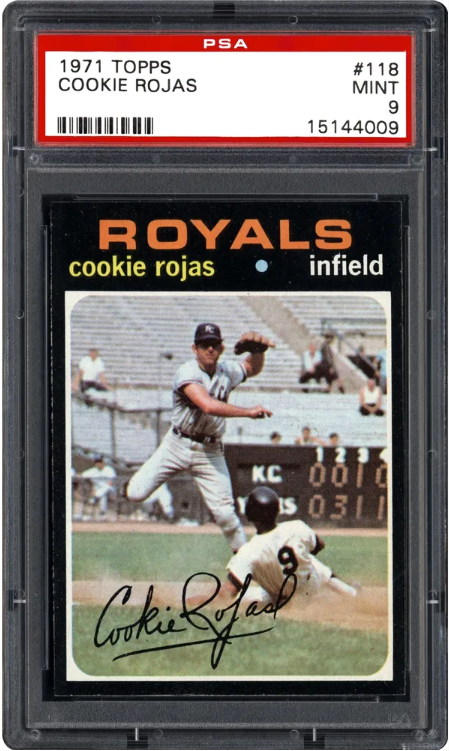 1971 Topps Cookie Rojas #118
A PSA 10 sold for $95
The 1971 Topps Baseball release is unreasonably stunning. The black borders are complemented perfectly by the somewhat idiosyncratic lettering, bolstered by a lack of capital letters in the names and positions and that cute dot between them. Many of the cards in this release are very expensive because the black borders chip so quickly and show any imperfection prominently. However, the most beautiful cards aren't always the most valuable. This 1971 Topps Cookie Rojas #118 card of Rojas trying to complete a double play is a case in point. Cookie Rojas is remembered by many for being one of the first Latino players to coach a major league team, and most people remember him that way. But he was also a five-time All-Star, including in 1971.
1979 Topps Rod Carew #300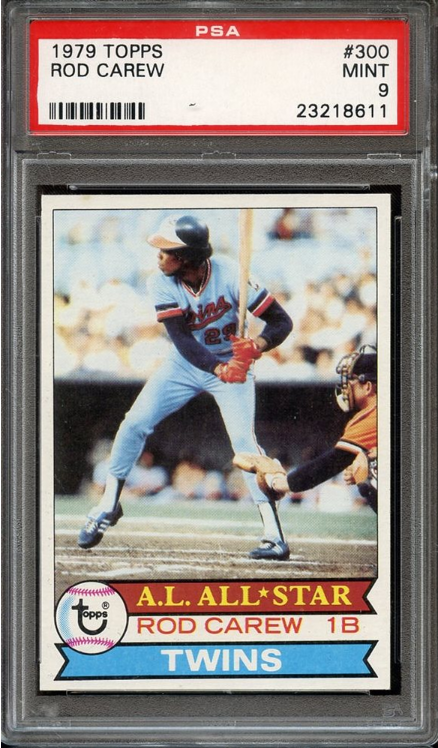 1979 Topps Rod Carew #300
A PSA 9 sold for $146
Rod was one of the best contact hitters in baseball history. At a time when batting averages were generally not at their highest, Carew accumulated a .328 career (!!!) average. His 7 AL batting titles tell the story of his dominance very clearly. The 1979 Topps Rod Carew #300 card is my favorite ever issued of the player. Sure, this was in the twilight of his career. By the time it came out, he had already been traded to the Angels from the Twins, where he had spent his entire career. But the somewhat outdated card shows the concentration and poise that made Rod Carew a legend.
1977 Topps Carlton Fisk #640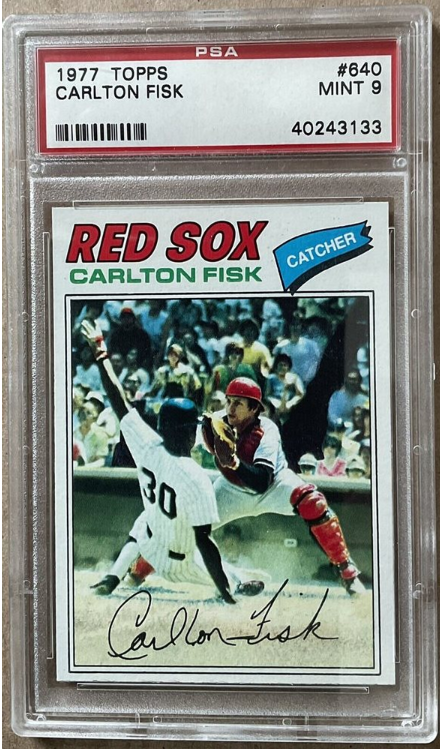 1977 Topps Carlton Fisk #640
A PSA 8 sold for $228
The 1977 Carlton Fisk may not be his best-known or most expensive card, but it is easily the most attractive. Let's face it, I am a total sucker for a good home plate collision action shot. There is something elemental about it: unstoppable force meets an immovable object. And on the line? A run or an out. The 1977 Topps Carlton Fisk #640 card is one of the best of that kind, somewhat reminiscent of the legendary 1971 Topps Thurman Munson rookie card. But while that card was gritty, this one is poetry in motion. And, of course, Fisk was one of the absolute best, the unanimously elected 1972 Rookie of the Year, an 11-time All-Star, and a well-deserving Hall of Famer.
1974 Topps Juan Marichal #330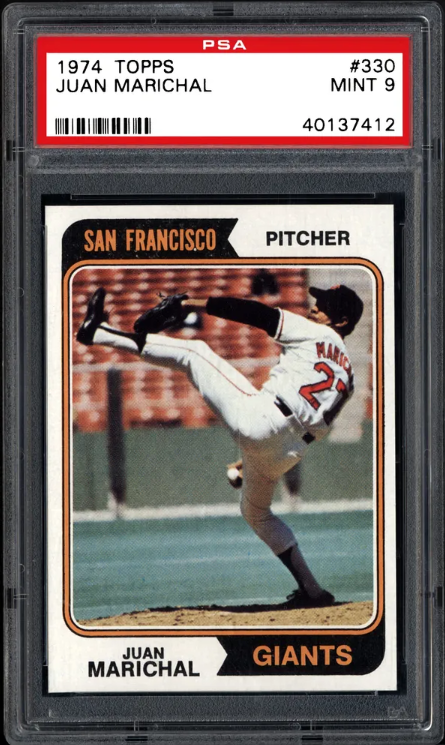 1974 Topps Juan Marichal #330
A PSA 10 sold for $300
Juan Marichal was at the tail end of a ridiculously good career. He was a ten-time All-Star and would end up with an imposing 243–142 record and a 2.89 ERA. Sadly, as good as he was, he was consistently overshadowed by the great Sandy Koufax and Bob Gibson, who were both dominant in the National League during the 1960s. But Juan was renowned for his high kick delivery, which is so impressively captured in the 1974 Topps Juan Marichal #330. Fourteen years on the mound for the Giants had not dulled that awe-inspiring delivery.
1971 Topps Bud Harrelson #355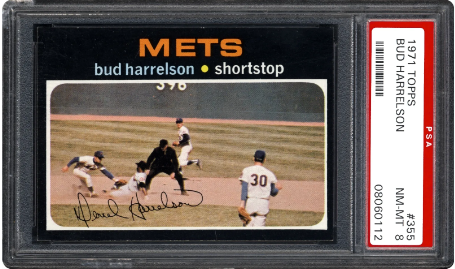 1971 Topps Bud Harrelson #355
A PSA 10 sold for $350
Usually, cards do not feature wide-open shots with several players in them. Obviously, a card is supposed to focus on the player in question and no one else. But because of that rule, the cases where it is broken can be powerful. It's kind of like when an actor breaks the fourth wall and starts talking to the audience. The 1971 Topps Bud Harrelson #355 card is one of the best of these exceptions. It shows the Mets shortstop getting a player out and gives us a great perspective on his role on the broader team, which, of course, facilitates every out a defender makes. What a shot. It just embodies what baseball is all about. And part of the magic of the 1971 Topps Bud Harrelson #355 is that it captures the player at the absolute peak of his career. 1971 was the year Bud was selected for his first (of two) All-Star games and won his Golden Glove.
1976 Topps Mike Schmidt #480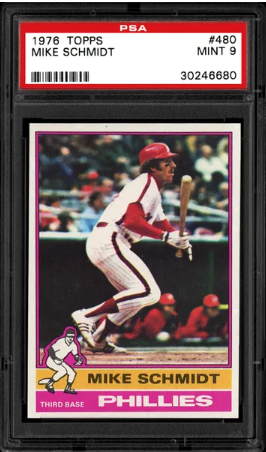 1976 Topps Mike Schmidt #480
A PSA 9 sold for $395
Mike Schmidt is one of the greatest third basemen who ever lived. No, scratch that. He was the best. So, his cards are never all that affordable. But of course, it's the 1973 rookie card gets all the glory and the high prices. However, the incredible 1976 Topps Mike Schmidt #480 card is probably his most attractive. The action shot of the great master taking him at bat captures the dynamic skills that made him so effective at the plate. The 1976 Topps Baseball design was a bit more dynamic than most in the decade, with exciting color juxtaposition. We don't usually love the little cartoon characters from each position, but since the little illustrated Mike Schmidt resembles him somewhat, we will take it.
1976 Topps Johnny Bench #300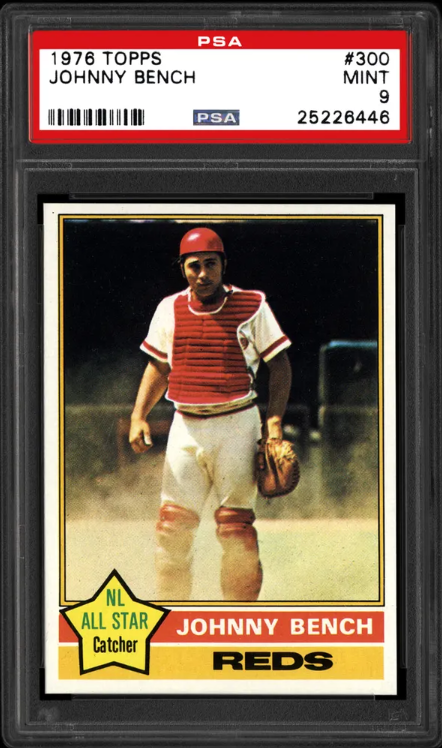 1976 Topps Johnny Bench #300
A PSA 10 sold for $1,100
The most valuable card for Bench, as you would expect, is his 1968 Topps Johnny Bench #247 rookie card. But while that one has a certain charm, the 1976 Topps Johnny Bench #300 must stand as the most attractive card in the catalog of the hall-of-fame catcher and one of the most awe-inspiring of the decade. The secret to this card is the latent chaos, as represented by the swirling dust at the bottom of the frame. You can tell something just went down. But Bench stands tall and in utter command. He is reminiscent of the gunslinger who just felled his enemy. And, of course, the front of the card cites him as the NL All-Star catcher, another sign of his dominance. As a reminder, in his 16-year Career, Bench was an All-Star 14 times.
1973 Topps Hank Aaron #100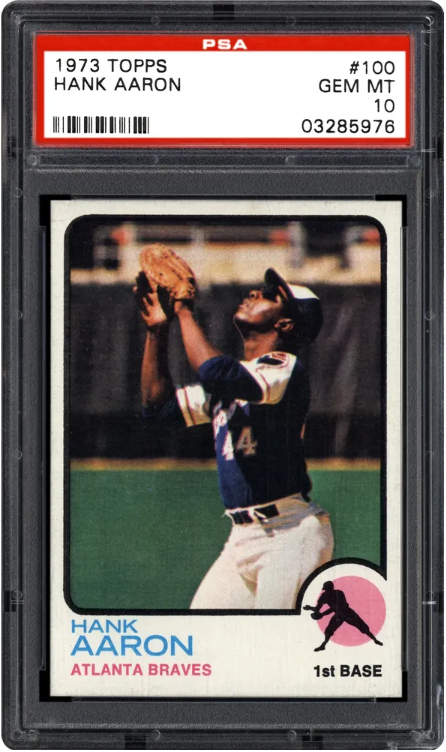 1973 Topps Hank Aaron #100
A PSA 9 sold for $1,200
A card that sells for this price only fits in the standard definition of affordable. But this is Hank Aaron we are talking about. A PSA 9 of his rookie card sold for over $600,000 and the PSA 10s are probably worth around 2 million. That makes sense, because as I hear, "Hammerin' ,Hank" had a pretty good career. I am a huge fan of the 1973 Topps Hank Aaron #100. It showcases the impossible cool and poise you can only get from being an All-Star for two decades. And we all know that if this was today, the 39 year old Hank would be playing as DH. But back then, he was out there in the outfield every day, doing his darn job.
Affordable Gems: Stunning 1970s Baseball Cards
The best known design of the 1970s is probably the 1971 Topps release, with its gorgeous black borders. But the 1975, 1970 and 1972 sets have all become iconic and been recreated in various vintage facing releases, like Heritage. Meanwhile, many of the other designs are very simple and business-like. They often bring out the photography well. So, overall, we can say that 1970s baseball cards were highly aesthetically pleasing. It also saw an incorporation of more action shots, often masterfully taken and integrated into the design. Finally, 1970s baseball featured absolute legends, from old timers like Willie Mays and Hank Aaron to ridiculously talented rookies like Ozzie Smith, George Brett and Mike Schmidt. So, there is so much to treasure and love about this groovy decade.