As passionate collectors and investors in sports memorabilia, we're always on the prowl for the next big thing in trading card investments. Recently, we have been hearing a lot of buzz surrounding soccer player Jude Bellingham, who's star is shining particularly brightly as trade talks about him moving to a new team are hitting a fever pitch.
His stunning performances along with interest from Real Madrid, Manchester United, Chelsea, and other teams that could lead to him signing for over $100 million euros mean this is an ideal time to add his trading cards to your collection. In this article, I'll explore why investing in Jude Bellingham trading cards might be a smart idea for investors and also why now is the time to act.
Who is Jude Bellingham?
Before we dive into why we think investing in Jude Bellingham trading cards makes sense, let's introduce the player behind the cards. Bellingham is one of the hottest young soccer players in the world. Born in 2003, he made his name in his home of Birmingham first within many under-17 teams, which all saw him excel as a powerful midfielder. He was one of the youngest players ever on the England national team, making his debut in November 2020 at just 17 years old. He also played for England in the UEFA Euro 2020 and the 2022 FIFA World Cup. The English midfielder currently plays for Borussia Dortmund in the German Bundesliga but Summer 2023 may see him sign with a new team and change out that jersey.
Bellingham is a crackerjack midfielder. Despite his youth, he's shown a remarkable maturity and composure in his play, displaying an innate ability to read the game and make decisive contributions. Soccer experts around the world have touted him as a future midfield maestro. Bellingham has also swiftly gained popularity among soccer fans.
Why Invest in Jude Bellingham Trading Cards?
With that history in mind, let's talk specifics about why investors should consider adding Jude Bellingham cards to their portfolio.
Rising Popularity - One reason we think an investment in Jude Bellingham trading cards is a smart move is due to his rising popularity. Bellingham is becoming more and more well-known both on and off the field as a young and promising athlete. Soccer fans all over the world have been drawn to his spectacular performances for Borussia Dortmund and the England national team, sparking an increase in demand for his trading cards.

Broad Base of Support - While fans may not always like when a player moves to a new team, those trades can be a boon for the value of Jude Bellingham's trading cards. With a fanbase that extends across numerous organizations, Bellingham is picking up more fans from different regions. This can increase the value of his collectibles simply because more people want them. As Bellingham keeps empowering teams to excel, he's likely to add more diehard fans who may want his trading cards so they can make a connection with one of their favorite athletes.

Potential for Future Value - Jude Bellingham trading cards have the potential to increase in value over a long time. The demand for Bellingham's trading cards is certain to rise as his career develops and he continues to establish himself in the soccer world. His cards may become more valuable as a result of the increase in demand, making them a potentially profitable investment for collectors. Sure, an injury or a tough slump could sideline him at some point. But the likelihood is that he will go on to be part of more winning teams and add to his popularity, boosting the value of his trading cards in the process.
Investing in Jude Bellingham Trading Cards
If you are interested in investing in Jude Bellingham trading cards, here are some considerations and tools to help you.
Do Your Research - As with any investment, it's essential to do the research before purchasing any trading cards. Take the time to familiarize yourself with the different types of cards available, such as rookie cards or autographed cards. Research the different grading companies and their grading systems to ensure that you are buying cards of the highest quality. Cardbase can help here. Watch on Jude Bellingham's main page to see popular cards, how prices are trending, and to discover any Hot Deals that Cardbase detects as a good buy. You can also add his cards to your Watchlist in the Cardbase App so you'll get notified when a card that matches your criteria is available across over 30 online marketplaces for trading cards.

Cardbase Watchlist
Buy Graded Cards from Reputable Sellers - Concentrate on purchasing professionally graded trading cards from reliable vendors to make sure you are paying a reasonable price and receiving a genuine item. Whichever marketplace you use, seek out vendors who have a solid track record and a high rating from prior clients.

Consider Long-Term Value - When investing in Jude Bellingham trading cards, it's important to consider their long-term value. As previously mentioned, Bellingham's career is still in its early stages, and there is potential for his trading cards to increase in value over time. Consider holding onto your cards for an extended period to maximize their value. You can watch his Cardbase profile page for trends in value and how many cards are currently being sold on the open market. When you see prices rise and a low population of cards available, that might be a good time to sell. Remember that most cards will appreciate over time, so keep that in mind when considering sales.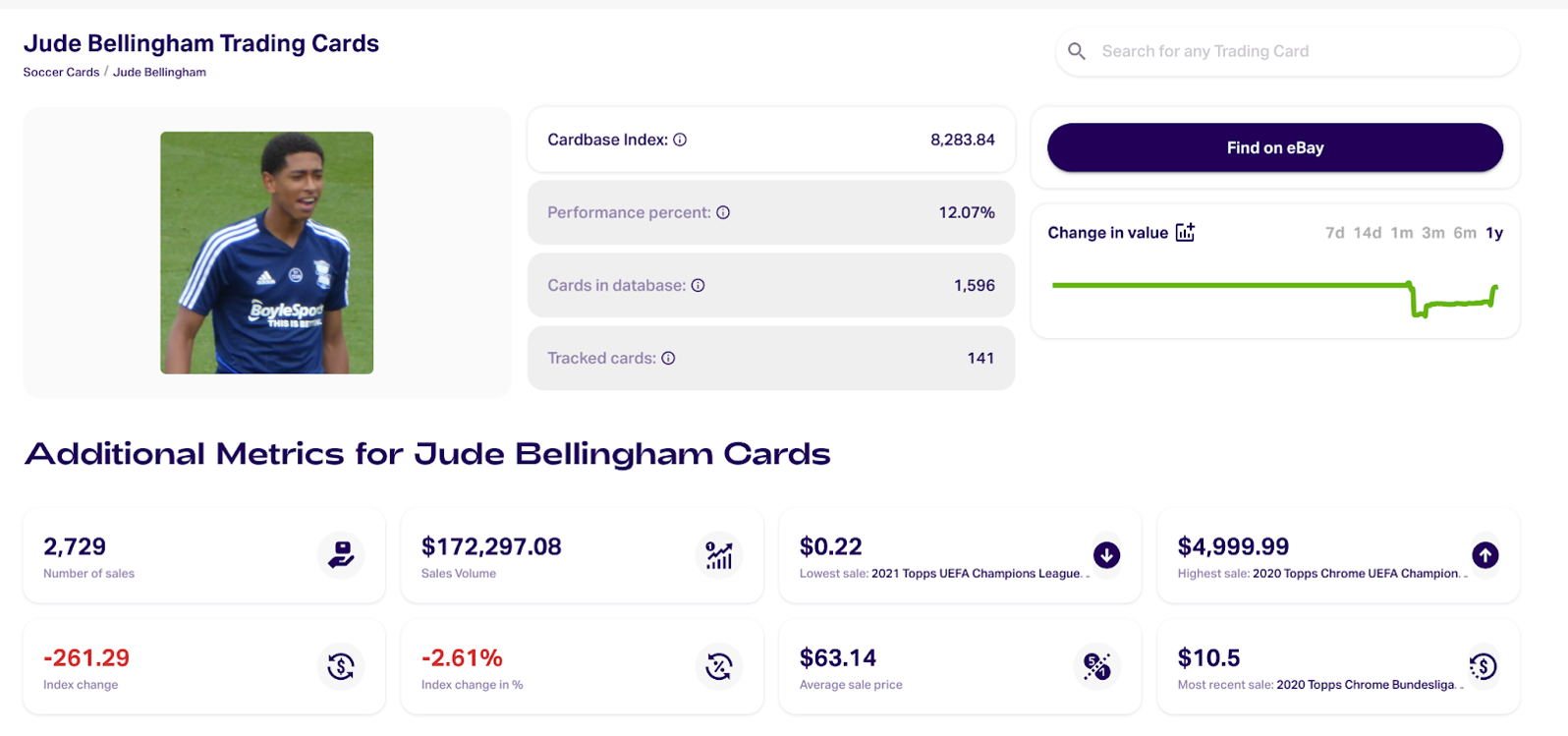 Jude Bellingham Trading Cards
5 Jude Bellingham Cards To Watch
While some of the most valuable trading cards featuring Jude Bellingham are already selling for five-figure numbers, most of those are very low population or unique in their inclusion of game-worn emblems or the like. We'll focus on some possible investments at different budget levels for investors of all stripes.
5. 2020-21 Topps Now UEFA Jude Bellingham Rookie #68
Let's start with this quirky card from the Topps Now line which celebrated Jude Bellingham's position as the youngest English scorer in the UEFA Champions League. While teammate Erling Haaland is also pretty prominent on the card, this celebratory and unplanned moment captures the youthful energy of Jude Bellingham and his teammates effectively. A year ago, you could buy ungraded copies of this card for under $1, but now they're trending upward with graded mint copies going for around $100, with the parallels for this card already soaring into the $1,000 range.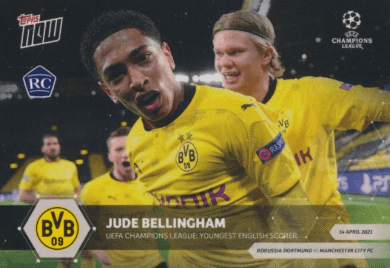 2020-21 Topps Now UEFA Jude Bellingham Rookie #68
4. 2022 Panini Prizm FIFA World Cup Jude Bellingham Silver #90
This Panini Prizm card celebrating Jude Bellingham's FIFA 2022 appearance is highly available right now and most of the cards in the marketplaces online are not graded yet. Those that are graded are starting to fetch more money. This might be an ideal time to snap up a copy that is in great shape and have it graded for future value.
As Bellingham's star rises in the years ahead, an early World Cup appearance card is likely to increase in value, especially as he was playing for the national English team, giving him a whole country full of fans to take an interest in this card. Keep on eye on those parallels, too, which have their intentional scarcity priced in already, but they may climb more as well in the days ahead.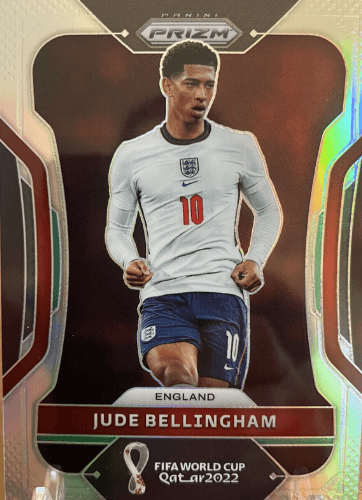 2022 Panini Prizm FIFA World Cup Jude Bellingham Silver #90
3. 2020 Topps Living UEFA Champions League Jude Bellingham #234
This unusual card from the Topps Living UEFA Champions League set is another popular Jude Bellingham rookie card that is seeing a spike in price already. With this art-based set that focuses on headshots, the distinctive qualities of these cards may be one of the reasons they end up rising in value. The 2020 Topps Living UEFA Champions League Jude Bellingham #234 card has already seen a bump recently, as have other cards in the set. Pick up this intriguing item for under $50 right now and consider grading it (most are ungraded) to lock in the value until the prices trend even higher.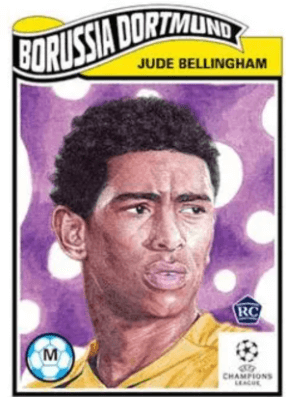 2020 Topps Living UEFA Champions League Jude Bellingham #234
2. 2020-21 Topps Chrome UEFA Sapphire Jude Bellingham Rookie #68
This Jude Bellingham Rookie card is still a relative bargain, despite it being from a Topps Chrome Sapphire Edition. This stunning card from Bellingham's first UEFA appearance shows the midfielder in motion with that exceptional Topps Chrome look in the background. Importantly, this card can be hard currently for less than $100 - even graded at the top of the charts.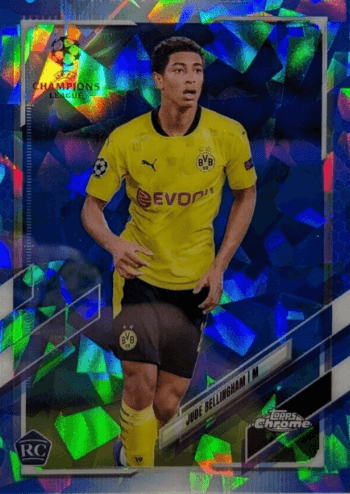 2020-21 Topps Chrome UEFA Sapphire Jude Bellingham Rookie #68
1. 2020 Topps Now Bundesliga Jude Bellingham Rookie #4
As usual, rookie cards tend to rise in value and there's a solid chance we'll see Jude Bellingham rookie cards do the same. This excellent action shot commemorating his Bundesliga debut features a full body photograph of Bellingham in motion, with blur effects to highlight his golden uniform and efficient stance.
Still a relative bargain, you can find PSA 10 Gem Mint copies out there for less than $100. This card is currently trending as the most popular Jude Bellingham rookie card on Cardbase, so it's not surprising prices are on the rise. You can track that information from Jude Bellingham's biggest Rookie Cards right from his Cardbase Rookie Cards page.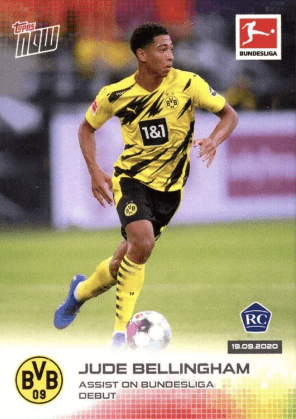 2020 Topps Now Bundesliga Jude Bellingham Rookie #4
The bright Future of Jude Bellingham might be a good Investment
Investing in Jude Bellingham trading cards is likely to be a smart move for collectors and investors alike. For all these good reasons, Bellingham's cards are likely to become a valuable part of any soccer card collection. As we said, any investment is worth spending your time researching, but hopefully this article showed you how you can verify these points and find some cards that are a good bet on the future of this impressive young midfielder.