The man they called "Hammerin' Hank" was one of the best baseball players of all time. ESPN ranked him 3on their all-time list, and Bleacher Report and Sporting News placed him 5. If you look at his stats, it is easy to see why. He has an almost unfathomable 755 home runs, likely the highest number ever for a player without pharmaceutical assistance. And did so while maintaining a career average of over .305. And he also made no less than 25 All-Star appearances, more than any player in history. He was also an excellent fielder in his prime, winning three gold gloves in a row in 1958-1960.
Here is one remarkable fact about the perennial All-Star that truly highlights his unique place in the American pastime. Hank holds the record for most RBIs, extra-base hits, and total bases. That means he has run the commands more than any player in history for several miles.
Unlike many of the other old-time superstars, Hank also fares very well in advanced stats. The outfielder has an OPS+ of 155, placing him in an elite category alongside fellow legends Willie Mays and Joe DiMaggio. No matter how you look at it, he's an absolute legend and deserves his status as an inner circle Hall-of-Famer.
The Collecting Status Of Hank Aaron Baseball Cards
In addition, the timing of his death increased interest in Aaron's career among collectors. The Braves icon passed away during the COVID-19 era card boom. He passed away in Atlanta, the city Hank is most closely associated with, on January 22, 2021. Aaron was already a highly collectible symbol in the hobby. But his death raised the roof on card value and placed him in even higher strata of value and desirability.
Therefore, the bad news is that Aaron's cards are now more expensive than ever. But the good news is his legend will never fade. "Hammerin' Hank" will always be a hobby icon. Buying into his cards is tricky with the sums involved, and you will want to be selective. To help you navigate these pricey waters, here are the best Hank Aaron cards to collect.
#1: 1976 Laughlin #34 Hank Aaron Indianapolis Clowns # 34
Price: A PSA 8 of the card is worth about $265.
1976 Laughlin #34 Hank Aaron Indianapolis Clowns # 34
Hank Aaron only played in the Negro Leagues for a few months. But the historical importance of that league makes this card an essential memento from a dark time in American history. Jackie Robinson broke the color line back in 1947. But when Aaron was coming up, most MLB teams were reluctant to play Black players. Therefore, young Hank was signed by the Indianapolis Clowns of the Negro Leagues in 1951. Luckily for him, and for the game of baseball, times were changing, and Aaron was simply too good to ignore, and the Atlanta Braves soon snapped him up.
The 1976 Laughlin #34 Hank Aaron Indianapolis Clowns # 34 card is also a nice one. Combining the 1970s aesthetic with a beautiful and historically significant shot of the young Hank. He is so young and filled with promise in that photo.
#2: 1954 Topps #128 Hank Aaron Rookie Card
Average Price for A PSA 8: 54,726$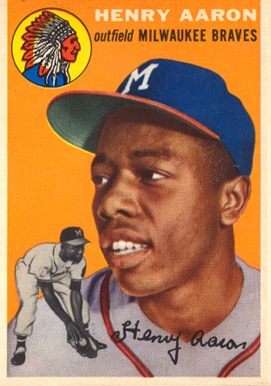 1954 Topps #128 Hank Aaron Rookie Card PSA 8
One card stands above all the others in the "Hammerin' Hank" pantheon. There are a couple of reasons the storied 1954 Topps #128 Hank Aaron Rookie Card enjoys that position. First, in 1954 Topps was the only important rookie card. Its rival, Bowman, was on its way out. And no wonder they didn't even bother to include the up-and-coming rookie in their 1954 set. That would have to wait until 1955.
The other reason is that the Topps set of the period was an absolute masterpiece of the genre, and 1954 is one of their absolute best. The design was trailblazing, featuring two images of the player. One was a beautiful color portrait, hand painted to the highest level specifications. The second is a small photograph of the player in action. The cards also each had a facsimile autograph in the bottom right-hand corner. The orange background is not very traditional, but it sure works with the picture and portrait. The overall visual impression is stunning and iconic.
It is also worth noting that the average price for a high-grade version of this iconic rookie card has effectively tripled in the last few years. You could pick up a PSA 8 of this card for a mere 19,000$ as recently as 2018. We wouldn't be shocked if it reached 100,000$ at some point. After all, the only PSA 10 sale on record was for $357,594, which was back in 2012.
#3: 1954 Johnston Cookies Hank Aaron #5
Average Price for A PSA 8: $9,600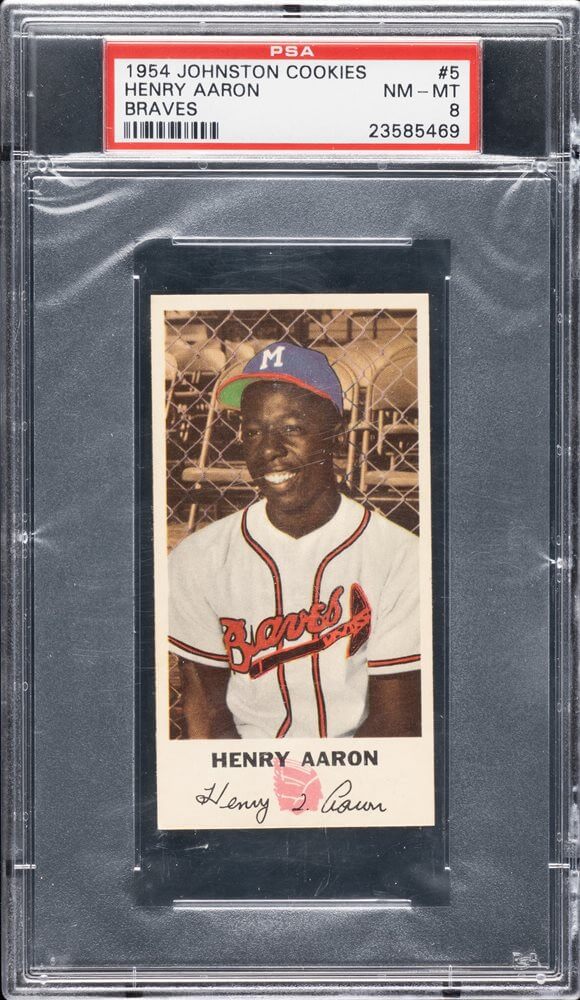 1954 Johnston Cookies Hank Aaron #5 PSA 8
The 1954 Johnston Cookies set is a forgotten gem from the golden era of cards. This was a Wisconsin cookie company, and as a promotional device, they released an annual card set of their beloved Milwaukee Braves. Hank is, of course, the main attraction in the 35-card set. These cards are small, standing at 2" X 3 7/8". The design is nothing special, but this is a local cookie company, after all. I am sure their chocolate chip was to die for.
The card numbers are perhaps the coolest thing about this set, aside from its obvious oddball appeal. Each card is numbered according to the player's uniform number. If you are a hardcore Aaron fan, you probably think, what is this idiot talking about? Hank always wore number 44 for the Braves. You are correct, hypothetical reader. But in spring training that year, our boy wore #5 so his card is the 1954 Johnston Cookies Hank Aaron #5. That tidbit just makes this unique card a little bit more special. And, of course, this is an actual Hank Aaron rookie card.
#4: 1955 Bowman Hank Aaron #179
Average Price for A PSA 8: $4,670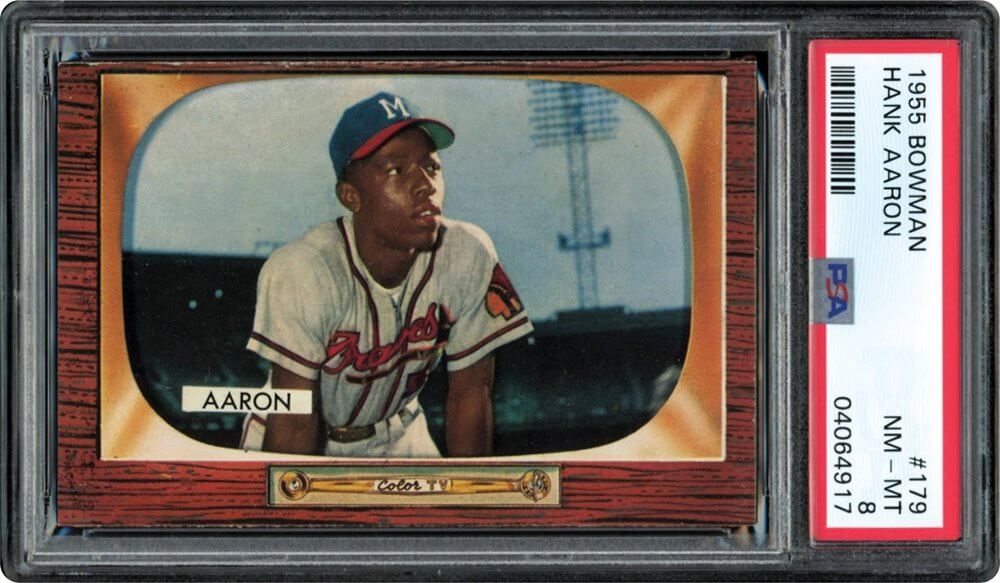 1955 Bowman Hank Aaron #179 PSA 8
Bowman made the regrettable and unforgivable mistake of leaving Hank Aaron off the 1954 Bowman release. But they would not repeat that error in 1955. But this set is perhaps most famous for being the last one the company released as an independent entity. Those Bowman TV designs do have a certain iconic status in the hobby. And the version is exceptionally minimalistic and appealing. All it shows are the wood-paneled old-school TV frames, the player's image, and their last name. However, I have to admit that I have never been a fan. But this card, the 1955 Bowman Hank Aaron #179 is, without a doubt, one of the most beautiful in the entire set. The picture has a ton of star quality and captures a ponderous Aaron with hands on his knees, preparing for the following pop-up.
The 1955 Bowman Baseball Card set is known as a particularly difficult one to complete. They weren't all that popular, which is part of the reason they folded shop and sold out to Topps not long after. In addition, the brown TV panel exterior is particularly difficult to preserve. It showed chipping and dinged corners more than most sets, so many existing copies are in bad shape. Therefore, there are only 4 PSA 9s and no PSA 10s available.
#5: 1955 Topps Hank Aaron #47
Average Price for A PSA 8: $5,100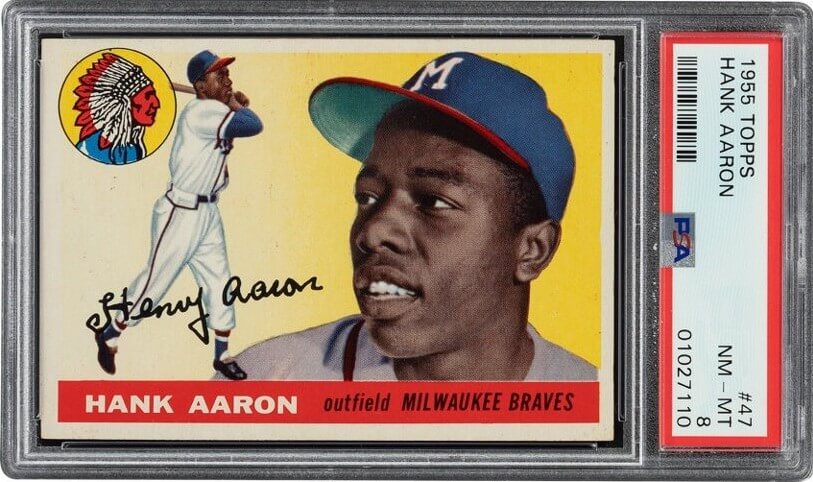 1955 Topps Hank Aaron #47 PSA 8
Let's be brutally honest here, shall we? The 1955 Topps Hank Aaron card's design looks too similar to its 1954 predecessor. Yes, they legit used the exact same headshot. In addition, the design isn't all that. Although, it was the first year that Topps utilized the horizontally-oriented design in any of their releases. It did allow for more uncluttered work, and you can see it used to its full potential in other cards from this set. But in the case of the Aaron card, it's a shoddy job from Topps in an era where they usually excelled. But, I guess they figured, why mess with a good thing? The Bowman card certainly looks better overall and, in my opinion, is the 1955 card to own.
But still, we are talking about one of the earliest Hank Aaron cards and one from a remarkably well-known set. So, the 1955 Topps Baseball cards set is essential despite its undeniable derivative flaws.
#6: 1956 Topps Hank Aaron #31
Average Price for A PSA 8: $3,797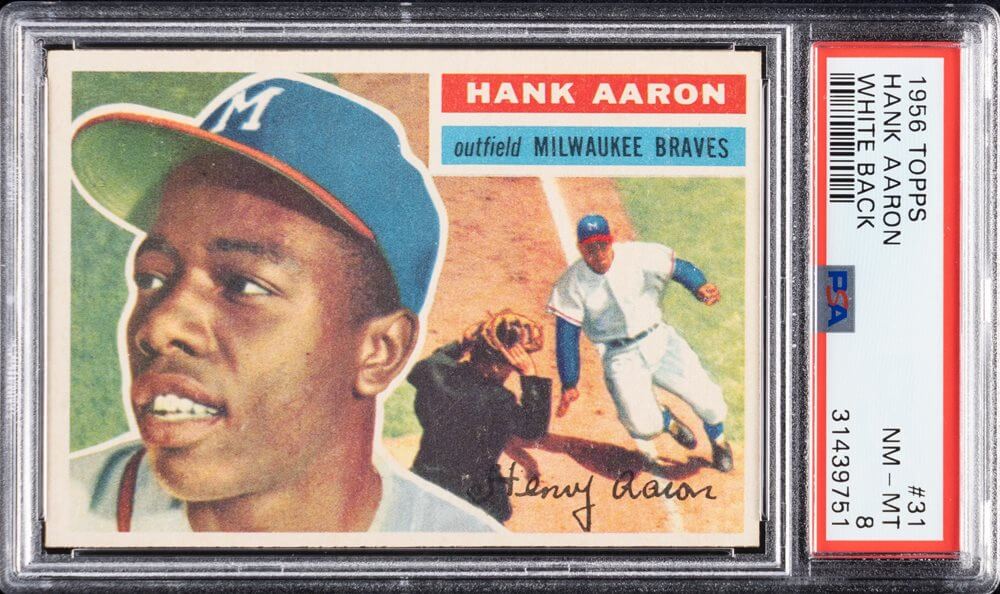 1956 Topps Hank Aaron #31 PSA 8
This is one of the earliest and most identifiable Aaron cards. But for goodness sake, Topps, are you still using the same headshot? Yup, a very familiar image of our hero adorns this card. And honestly, it's not even a particularly good shot of Hank. But I may be the world's biggest fan of the 1956 Topps design. These continued the double picture concept of 1955 but matched the headshot with action paintings. And these hand-painted scenes are spectacular. Hank's card is no exception, showing the Braves star preparing to slide home with the umpire looking on. For my money, the 1956 Topps Hank Aaron #31 is Hank's most attractive 1950s Topps card, with the possible exception of that iconic rookie.
#7: 1959 Bazooka Hank Aaron Hand Cut
Average Price for A PSA 8: $2,500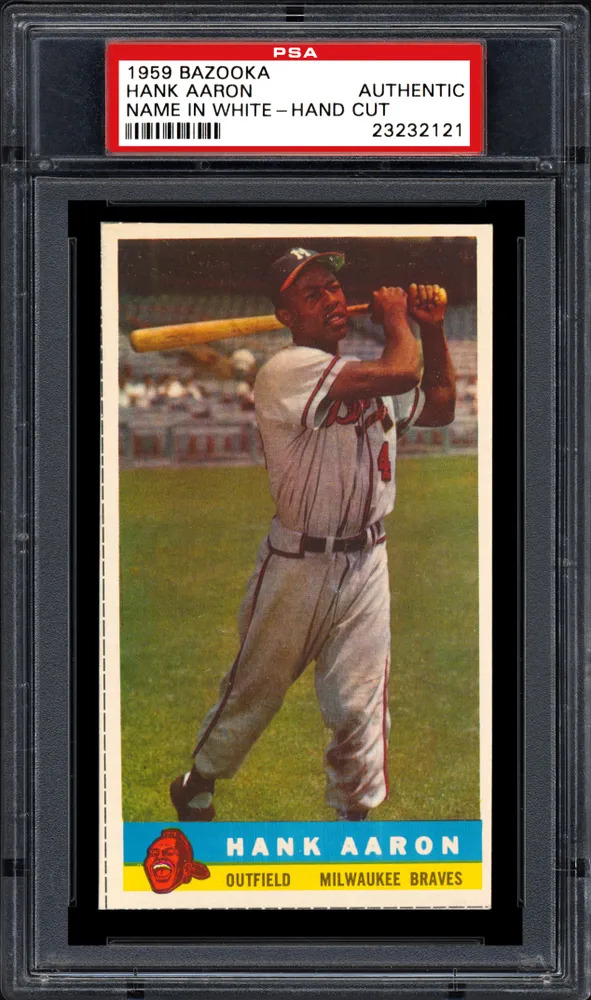 1959 Bazooka Hank Aaron Hand Cut PSA 8
We don't think of Bazooka as a baseball card powerhouse. But in 1959, they decided to get into the game. After all, the card companies put gum in their packages. So why not stuff a card in their gum? And that is what they did, though Bazooka went about it weirdly. They put a card at the bottom of a retail box with 25 slabs of gum. And you would only get the card when the entire package was empty. The whole box cost 20 cents, a lot of dough for kids in the late 50s. Because you had to chew your way through miles of gum to get to the cards, the pop numbers are meager. The Aaron card, along with the Mantle, is the most sought-after card in the set. But unlike Mick, Hank got two card variations: one showing his name in white and a shorter print in yellow. So, this is an exceptional card and a rare gem.
#8: 1964 Topps Hank Aaron/Willie Mays "Tops in NL" #423
Average Price for A PSA 8: $1,005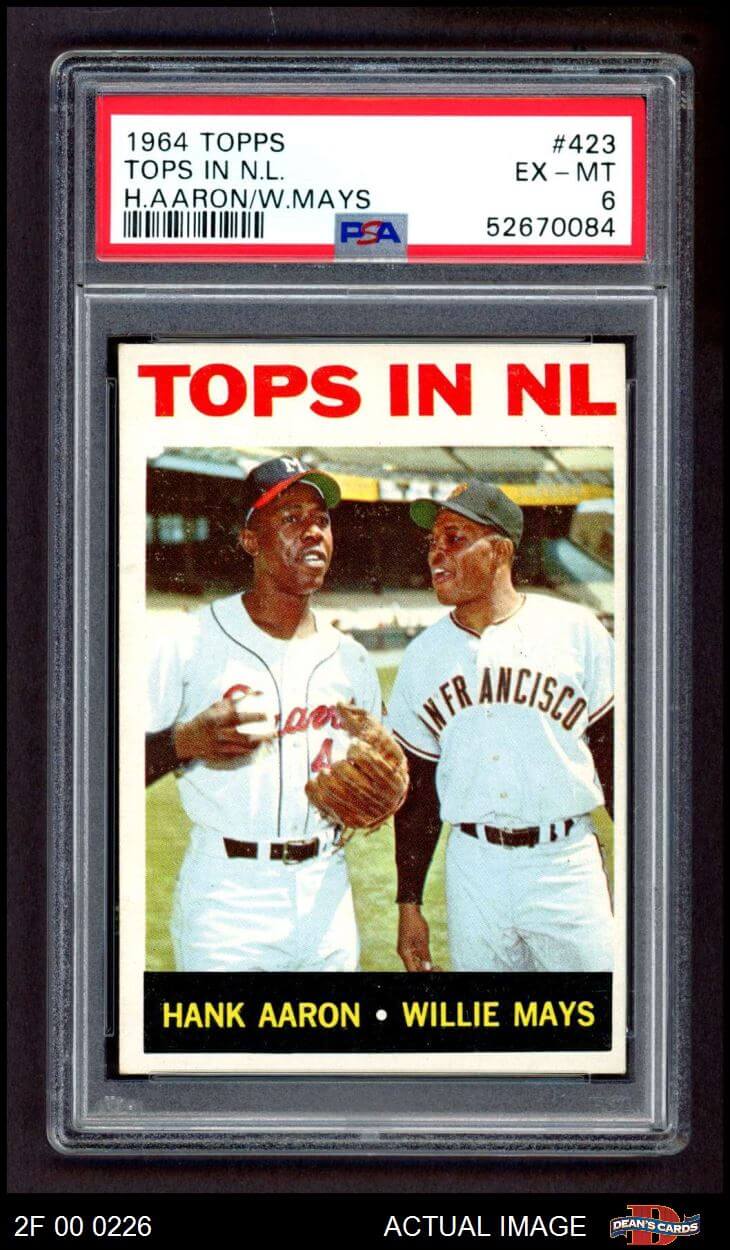 1964 Topps Hank Aaron/Willie Mays "Tops in NL" #423 PSA 8
The picture features these two absolute legends in repose during the 1963 All-Star game. The "Say Hey Kid" is clearly saying something pithy to his fellow outfielder friend while Aaron looks on in thought. There is something phenomenally candid about the photo that reveals facets of their personality we may not have seen before. And the card is a wonderful reminder of the distinctive 25 All-Star appearances of "Hammerin' Hank." The beloved 1964 Topps Hank Aaron/Willie Mays "Tops in NL" #423 card has a special place in the hobby and is worth more than many of his other later cards.
#9: 1973 Topps Hank Aaron #100
Average Price for A PSA 8: $314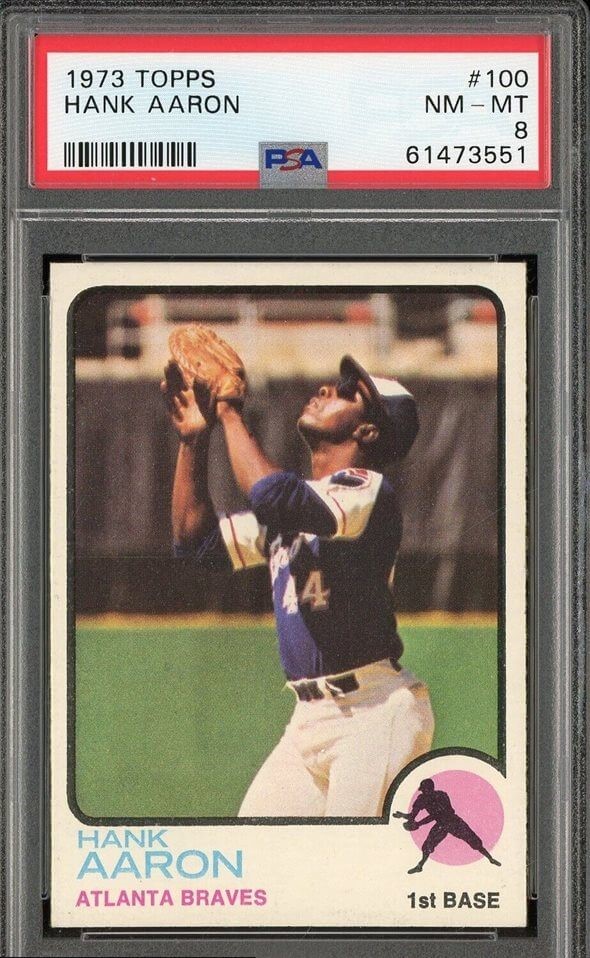 1973 Topps Hank Aaron #100 PSA 8
My favorite of the latter-day Aaron cards: The 1973 Topps Hank Aaron #100. The action shot shows the veteran, over 20 years since signing for the Braves, catching a routine fly-ball. He shows all the poise of a true pro showing those pesky kids how it's done. It's the stylish shades that really bring this pic together. And you get to see how trim and fit Hank remained in his late 30s. The scaled-down but classy 1973 Topps Baseball set design suits the action shot as well. Hank is listed in 1st base, a position he moved to due to his now reduced mobility.
#10: 2015 Topps Tribute Hank Aaron Dual Auto /25 TDA-GA
A PSA 10 sold for: $2,475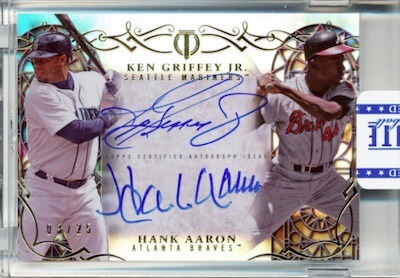 2015 Topps Tribute Hank Aaron Dual Auto /25 TDA-GA PSA 10
Most retired player cards are greeted with a collective yawn. Especially ones that come from a release that was nothing short of a disaster. You see, the 2015 Topps Tribute Baseball was recalled for faulty autographs and then re-released. But this one is truly remarkable. A limited edition beauty with autos from two of the great outfielder icons of all time. The design is classy, and the way the players face opposite directions is joyfully symmetrical.
Final Word On The Top 10 Hank Aaron Baseball Cards
Investing in Hank Aaron cards is like putting your money into a basket of blue chip stocks. You may not get a massive yield right away. But they aren't making more of these cards, and when they made "Hammerin' Hank," they broke the mold. As you can see from this list, he has a particularly appealing backlog of cards. Of course, we only scratched the surface of the massive number of Hank Aaron cards from his long major league career and many unique edition cards since. But you can't go wrong with any of the items on this list.