Things used to be so simple. You would pick the rookies that had the best chance of becoming superstars and trade for them with your friends. But now there is such a wide variety of cards to invest in. Base rookies, the cards that used to be the most obvious investment of all, are basically worthless. Why? Because they are massively over printed.
Take Wander Franco as an example. He was the best prospect the sport had seen in ages. Indeed, his performance in the MLB so far would indicate super star potential. But everyone saw him coming. So there are currently over 8,000 graded copies of his 2022 Topps Wander Franco rookie card #215. And that number will continue to grow. As a result, you can get a PSA 10 for $15. That is less than it costs to get graded.
Card Widget will be here
(https://getcardbase.com/2022-topps-215-wander-franco-23381794)
But that doesn't mean there isn't a ton of money to be made in the current crop of young baseball players. You just need to pick your spots, and that means you need to get more creative than in the past.
Here are some rules of the thumb to follow when buying ultra-modern prospects:
Do Not Buy The Flavor Of The Month
Baseball is incredibly rich in young talent and the past 5 years or so have been insanely bountiful. And that means that at any given time, there are fabuous future stars flying under the radar. I will give you an example. In the 2020 Topps Baseball cards releases, Luis Robert Jr. was the hottest and biggest name. His cards fetched big prices and there was a massive bubble over his cards. Soon, he was forgotten as new and fresher faces like Wander, Julio Rodgriguez and Adley Rutschman were called up. Robert Jr. cards plummeted. But three years later, he is raking like an absolute superstar. Those who bought his cards at the lowest point are now doing phenomenally well. Therefore, your goal is to buy into one of these wonderful young talents when others are looking elsewhere. That means, have a long-term view and do not give up on young players when they have an injury or a sophomore slump.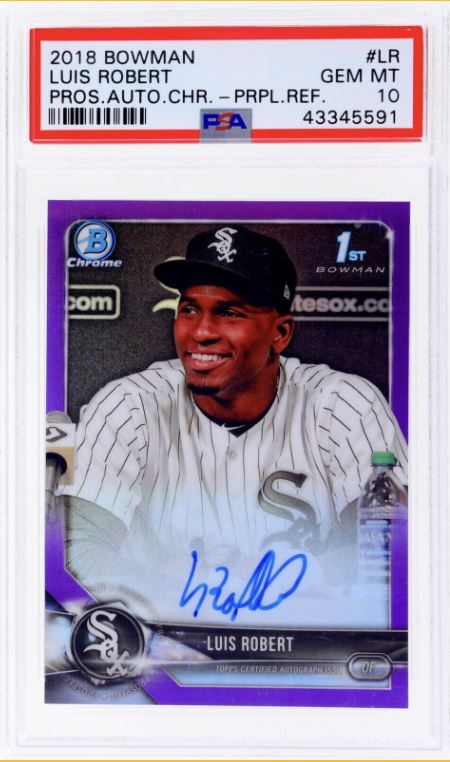 2018 Bowman Luis Robert
Invest In Numbered Cards And Autos
One of the main reasons you can't buy into players when they are at the height of their popularity, is because it is no longer cheap to do so. You can't just buy a bunch of base cards and wait for their value to go up. Instead, you will need to get some scarce and relatively expensive cards.
How do you know which cards? Take a look at an established star. Someone like Vlad Guerrero Jr., and see which of his cards are with a lot. You will see that his numbered Bowman refractors do very well. Many of the autos also pull in top dollar. Those are the kinds of cards you want to get for a player you truly believe in.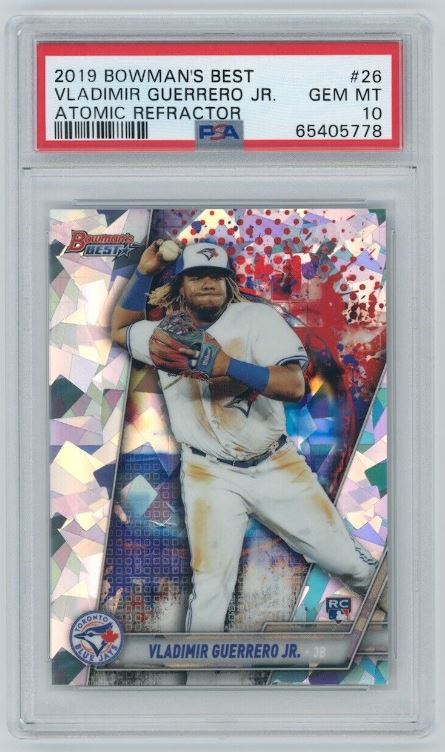 2019 Bowman's best Vladimir Guerrero Jr. Automatic Refractor
Bowman 1sts Are Where It's At
People still get excited about the Topps rookie cards. But that is more a question of habit than anything else. The focus of the hobby has shifted from the flagship rookie cards, to Bowman 1sts. And I doubt that it will shift back. The reason is simple. By the time a player's first Topps rookie card comes out, we have already seen them and collected their Bowman 1sts. So, it feels less fresh and exciting than it used to. Therefore, when collecting a young player, the Bowman 1sts are your go to.
Which Baseball Cards To Buy?
With this advice in mind, let's look at which players to invest in and which cards are your best bets right now.
Gunnar Henderson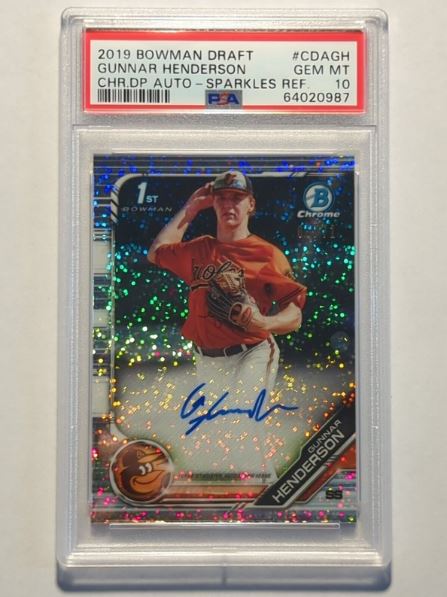 Gunnar Henderson
Gunnar Henderson was the no. 1 prospect in baseball, and has had some impressive performances so far in "The Show." Indeed, with an OPS+ of 123, he is already a very good MLB player. But because he is finding his footing, the buzz around Henderson has abated. But that is NOT because the player is even remotely disappointing. People have just moved on to the next shiny thing in Elly Antonio De La Cruz, and his teammate Adley gets more press.
Therefore, right now you can get some excellent Henderson cards for 200-250$ and his absolute best for under $1,000. Anything that is numbered or has an auto is an excellent investment with this guy. But your best bet is an auto Bowman 1st of any type.
Francisco Alvarez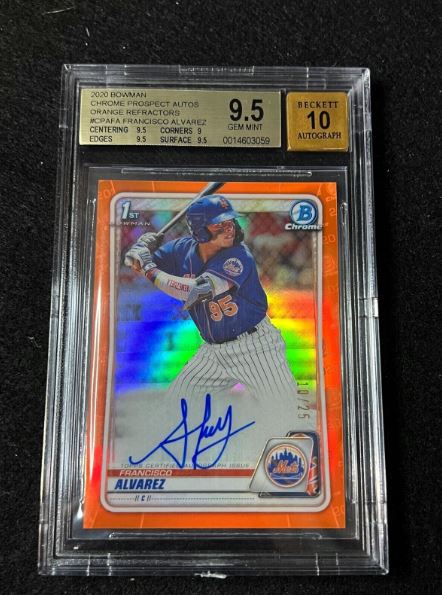 Francisco Alvarez
Much like Gunnar, Francisco Alvarez has developed in the shadow of Adley Rutschman. He was always the second best catcher prospect, and that has dulled the buzz over Alvarez. But his upside is incredible, and I am not just saying that because I'm a die-hard Mets fan. Indeed, you can make a good case that Francisco is the better prospect. People sometimes forget that Adley is 25 years old, while the Mets catcher is just 21. And despite being four years younger and having fewer at-bats, Alvarez has 19 home runs to Rutschman's career 12. Only two catchers his age had hit more home runs, and one of them is called Johnny Bench.
Most importantly, Alvarez has cheaper card prices than Adley, despite the upside. You can get a Bowman Chrome 1st Auto refractor of Alvarez for under $500, or an auto numbered to 150 for about $600. These are very good prices for a catcher who may break slugging records.
Michael Harris II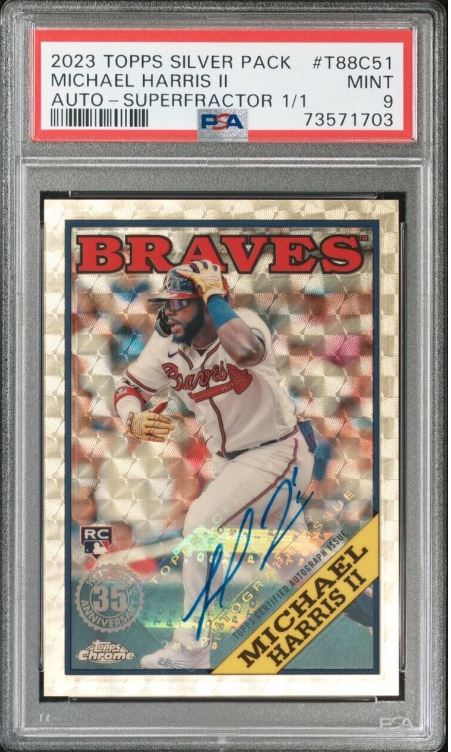 Michael Harris II
All anyone could talk about last year was the sensational rookie season of Michael Harris II. He had a sensational OPS+ of 133, hit 19 homers and drove in 64 RBI's, on his way to picking up Rookie of the Year honors. But now Michael has hit the dreaded sophomore slump, and seems like yesterday's news. That is good news if you are a collector and believe that Harris's first year wasn't just a fluke. And considering how many tools this player has, and that injuries have marred his 2023 season, there is a good case to be made that "Money Mike" will have a very strong career.
The prices for Michael's cards are not cheap. But they are down, and quite reasonable considering what the young Braves star has already achieved. You can get a Bowman 1st PSA 10 auto for around $500. And there is a good chance that card will be worth several thousands in a couple of years.
Andrés Giménez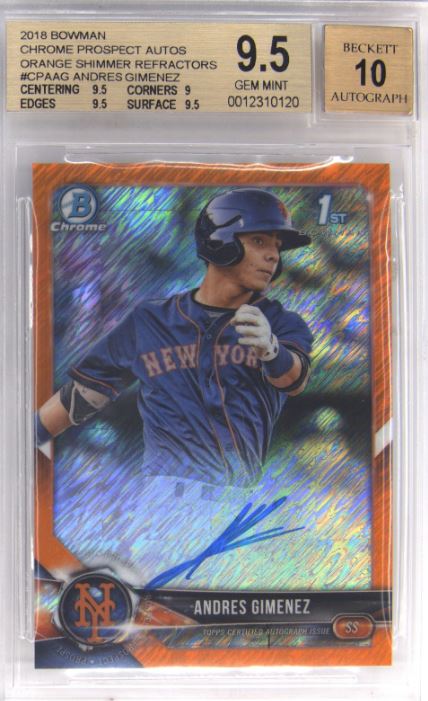 Andrés Giménez
Andres Gimenez is at a great spot from an investors point of view. The 2nd baseman has already proven he has what it takes to perform well in the MLB and at age 24 has a lot of time to develop. But on the other hand, Andrés doesn't yet have the name recognition for his card values to spiral out of control. He was good enough to finish 6th in the voting and got the American League MVP last year. And anyone who had followed his scouting reports, wasn't surprised by that performance.
This year, the Indians infielder is struggling, but that is a good thing for picking up some of his cards on the cheap. So, you can pick up a raw Bowman 1st auto refractor /150 for $250. A very good buy at that price.
Mike Trout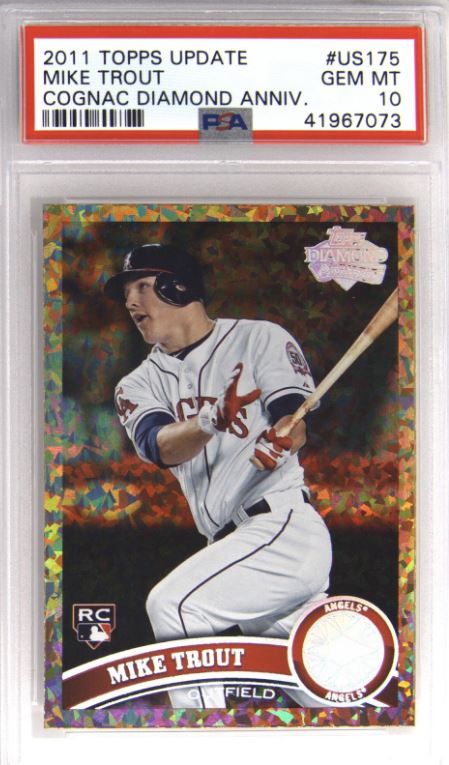 Mike Trout
Now wait, don't close your browser. Yes, I know that buying Mike Trout cards is not exactly a revolutionary idea. But hear me out. The 2011 Topps Update Mike Trout #US175 is one of the most iconic cards in the hobby. But right now, no one is paying much attention to Trout. With Shohei Ohtani setting records seemingly daily, Mike isn't even the biggest star on his team anymore. Much like the young player above, everyone is aware of how great Mike is. But no one is focusing on the guy right now. This provides you with a great opportunity to sweep in.
Card Widget will be here
(https://getcardbase.com/2011-topps-update-us175-mike-trout)
But don't let that blind you. Trout's place in baseball history, and the hobby is already assured. No player in history was as effective before age 27. He had the highest WAR ever up to that age, beating a 100 year old record set by freaking Ty Cobb. And if you are wondering what all those injuries did, they lowered him to fifth best ever in WAR for players at age 30. Trout will be a no-brainer Hall of Famer.
You may be thinking, "yeah, but everybody knows this already." Yup, but they seem to have forgotten. In 2021,a PSA 10 of one of his rookie cards cost about $6,000. Today, you can pick one up for $1,300. And you can bet that after retirement, the value will be closer to the former than the latter.
Card Widget will be here
(https://getcardbase.com/2011-topps-update-cognac-diamond-anniversary-us175-mike-trout)
Meanwhile, the beloved 2011 Topps Update Mike Trout #US175 (COGNAC DIAMOND ANNIVERSARY) has gone down from a $16,000 value to around $6,000 for a PSA 10. There are only 395 of these cards, and they have proven immensely popular with collectors. So, getting your hands on one now, while prices are low, is an excellent idea. Assuming you can afford it of course. I would just raid my kids college fund. There is nothing wrong with going to a state school.
Miguel Vargas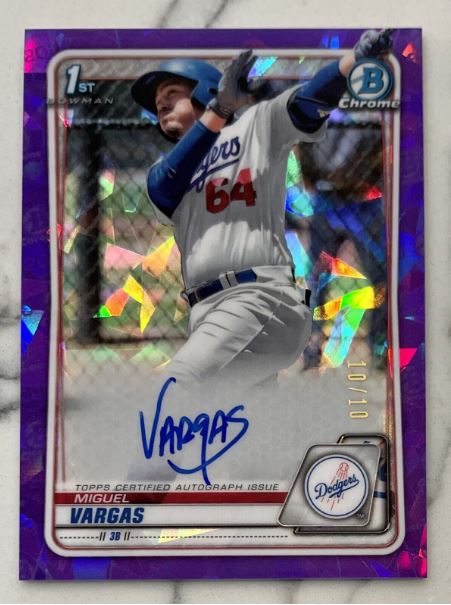 Miguel Vargas
Michael Vargas doesn't have the flashiest tools or stats of the recent crop of MLB rookies. But he has an incredible superpower. One that differentiates the big stars from those who don't quite pan out. Miguel learns quickly, adapts and adjusts. In 2019, coaches advised the prospect to act more aggressively in pitch counts favoring the hitter. He responded well to the advice, and raised his slugging average by more than one-hundred points. Vargas has made a similar effort to improve his power, and it shows. And of course, the Cuban born player is in one of the biggest markets in the country. So, if he takes off, that will help raise card values significantly.
Vargas has had a slow start in the majors. That is a good thing if you want to stock up on his cards. I am seeing things like a 2020 Bowman Chrome 1st AUTO Miguel auto Refractor /499 BGS 9.5 for $140. If you believe he will start hitting soon, as I do, this is the time to swoop in and get some of his best cards for dirt cheap.
Vintage Baseball cards
Buying vintage baseball cards doesn't usually involve quick and easy profits. But they do provide a steady increase in value over time. They aren't making any more 1954 Topps Baseball cards, and their condition certainly isn't improving. And if one thing has become abundantly clear, it's that interest in classic sets is only increasing with time. If you go on social media, you will see countless 30 and 40 year olds trying to complete sets from decades before they were born.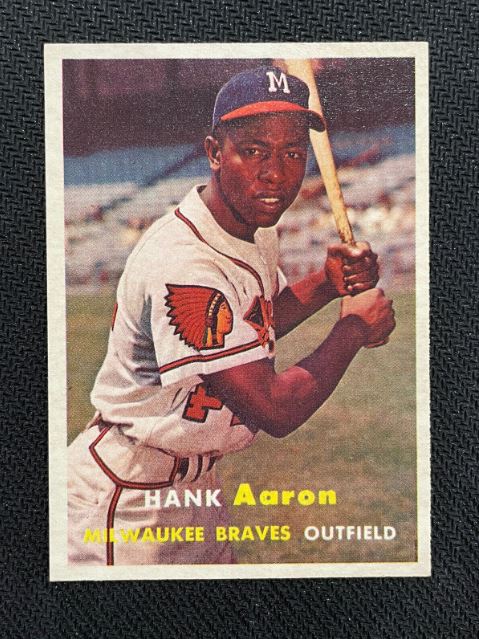 Hank Aaron
What kind of value are we talking about here? Let's take a look at a couple of examples. Instead of looking at landmark cards, which may warp the value, let's look at an important but less iconic card. Just to get a general feel for the vintage market. The 1957 Topps Hank Aaron #20, is an early "Hammerin Hank" card, with a great picture. But not his rookie or anything earth shattering like that. If you wanted to pick up a PSA 7 of one of these in 2007, you could nab it for $239. By 2019, the card was likely to cost $800 or so. Now it is worth well over $1,000. While I am certain the Hank Aaron baseball card will ebb and flow in value, it is likely to be worth a good deal more in a decade.
Card Widget will be here
(https://getcardbase.com/1957-topps-20-hank-aaron)
The good news is that prices on a lot of vintage cards are down a bit. The card bubble of COVID-19 has popped and prices aren't as high as they were a year ago. So, this is a pretty good time to pick up some vintage cards for a steal.
Final Word On Investing in Baseball Cards - Which baseball cards to buy now!
If you stick to our golden rules, your chances of making good money off baseball cards will increase exponentially. Buy players with great tools when they are not in the spotlight. Get Bowman 1sts, preferably numbered or autos. And remember, you can never go wrong with vintage.