The list of big 1980s basketball rookies is long and impressive. It was definitely one of the best decades for producing exciting young talent. But paradoxically, it wasn't the best decade for basketball cards. There weren't releases every year. Topps, the standard-setting company in the business back then, stopped making basketball cards in 1983 and would not pick up the gauntlet again until 1991. Indeed, production was so patchy that there is no legit rookie card for the most outstanding talent of all, Michael Jordan.
With few options, one set emerged as the undisputed hobby king in the 1980s. Fleer 1986 is a classic set featuring the rookies of several immortal players. But how many of the most valuable cards come from that set? Let's find out.
#12 1989-90 Hoops David Robinson RC #138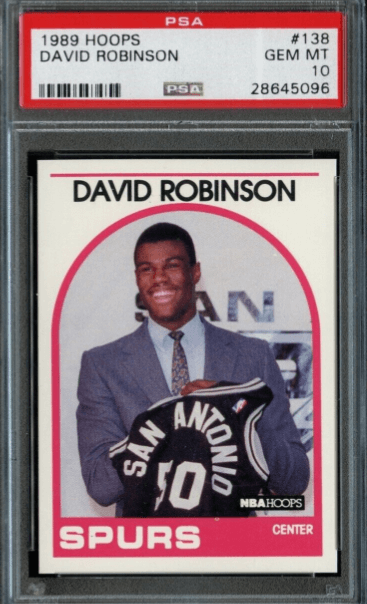 1989-90 Hoops David Robinson RC #138
A PSA 10 sold for $404
As you will see below, many of the biggest names in the game didn't have proper rookie cards in their first season. We sometimes forget how good this player was because he was eventually overshadowed by the Spurs by Tim Duncan. But the center was an MVP, 10-time All-Star, and two-time champion. Luckily for us, Hopps included Hall of Famer David Robinson in their set for 1989-90. Even better, they did so with a short print card. However, with 10,000 graded cards, their idea of a fast print seems to have been somewhat expansive.
The 1989-90 Hoops Basketball card sets include David's card in two varieties. One shows "The Admiral" fresh from his selection in the draft. The second was included in Series 2 and is an action shot. Even though the picture on the last card is nicer, the 1989-90 Hoops David Robinson RC #138 is his true rookie.
#11 1988-89 Fleer John Stockton RC #115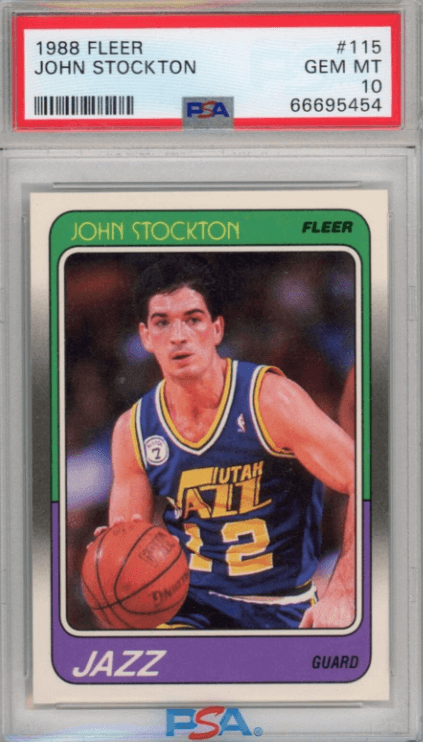 1988-89 Fleer John Stockton RC #115
A PSA 10 sold for $575
The 1988-89 Fleer John Stockton RC #115 card is so deeply undervalued that it is a case of Stockton slander. We are talking about a player with thousands more assists than anyone else. A point guard who also leads the league all-time in steals. He was also a significant scoring threat from all parts of the court. So let's not let the lack of one little ring besmirch his legacy.
We also consistently find that the rookie cards in the 1988-89 Fleer Basketball set are undervalued. The John Stockton rookie is no exception. It's a shame because the team's color design is terrific. However, the picture offsets those colors admirably, and it shows John doing what he did best: scheming and thinking about where to place his next killer pass.
#10 1988-89 Fleer Scottie Pippen RC #20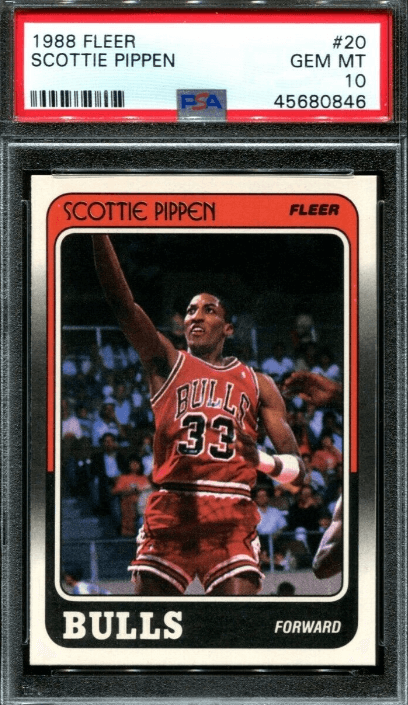 1988-89 Fleer Scottie Pippen RC #20
A PSA 10 sold for $3,120
The 1986-87 Fleer gets all the glory. But the 1988-89 set also deserves a place in the spotlight. It has several Hall-of-Fame rookies and, in my opinion, a far superior design. The black and red surrounding the picture (Bulls colors), brought into focus by the hazy borders, pops. It is unmistakably 1980s, which is what junk wax enthusiasts want. But it also has a modern tinge to it.
The player in question is a Hall of Famer with 6 NBA titles to his name. The legacy of Scottie Pippen is controversial. Some see him as an underrated part of the Bulls' legacy, without whom Jordan could not have been great. Others see Pippen as an average player coasting on MJ's excellence. But let's just let Pippen breathe without the oppressive presence of that other Bulls star. The 1988-89 Fleer Scottie Pippen RC #20 captures the versatile young star at his energetic and magnetic best.
#9 1988-89 Fleer Reggie Miller RC #57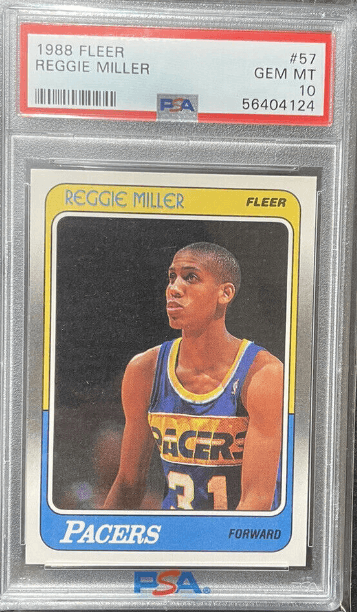 1988-89 Fleer Reggie Miller RC #57
A PSA 10 sold for $5,351
Reggie Miller was one of the greatest natural shooters in the game's history. He was the driving force behind the excellent Indiana Pacers teams of the 1990s. Furthermore, in recent years, Miller has become one of the most popular announcers and advertising stars around. So, the market for Reggie's cards only seems to get stronger.
The 1988-89 Fleer Reggie Miller RC #57 card is one of several somewhat overlooked rookie cards in that iteration of Fleer Basketball. It shows Miller pursing his lips and preparing to make a free throw (I think). That is an excellent capture because Reggie Miller has one of the best FT%, with 88% in his career. The Pacers star made 93% during the 2004-05 season, his last in the NBA.
#8 1981-82 Topps Kevin McHale RC #75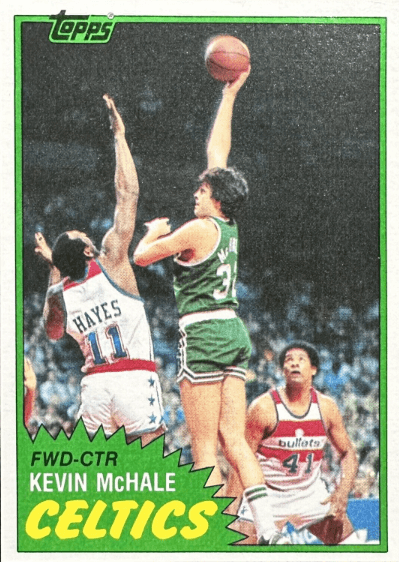 1981-82 Topps Kevin McHale RC #75
A PSA 10 sold for $4,241
The 1981-82 Topps Kevin McHale RC #75 is my candidate for the best action shot of the decade. Kevin's size and remarkable agility were coupled with a very high basketball IQ. You can see all those elements as Kevin lines up that perfect shot. We instinctively know that shot is going in. After all, we are talking about a career 56% shooter from the field.
The beautiful card was not widely available. 1981-82 were the dying days of Topps basketball. Much of the set was divided regionally. And I guess Topps thought that Kevin McHale was only of interest to eastern seaboard residents. In addition, this set was not particularly popular, leading to the cancellation of Topps basketball soon after. Therefore, we only find 67 Gem Mint PSA 10s of Kevin McHale's rookie. The scarcity certainly adds to the card's value and mystique.
#7 1986-87 Fleer Karl Malone RC #68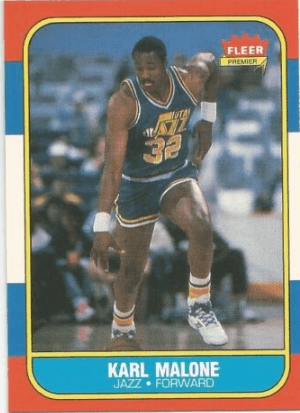 1986-87 Fleer Karl Malone RC #68
A PSA 10 sold for $5,075
The first, but not last, card from the 1986-87 Fleer Basketball card set. Until the emergence of one Tim Duncan, Karl Malone was considered the greatest power forward in basketball history. Despite never winning a title, Karl was a 14-time All-Star and selected as a member of the NBA's 50th and 75th Anniversary All-Time Teams. The 1986-87 Fleer Karl Malone Rookie #68 card captures the player in an awkward position. It kind of looks like the Utah Jazz great just pulled a muscle. Feel better soon, Karl!
#6 1986-87 Fleer Patrick Ewing RC #32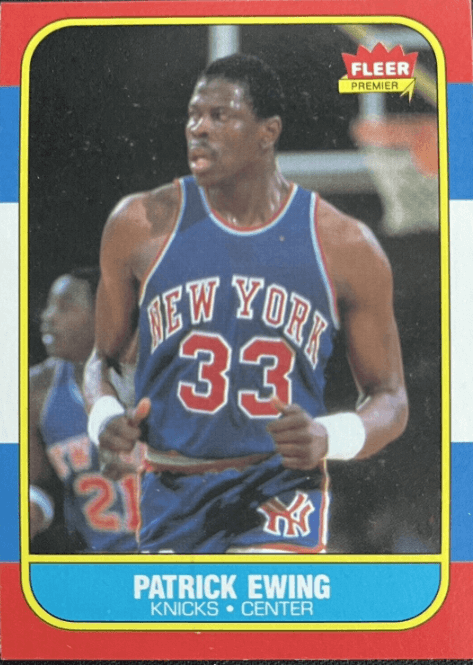 1986-87 Fleer Patrick Ewing RC #32
A PSA 10 sold for $5,750
Patrick Ewing was the top pick in the 1985 NBA Draft and is widely considered the next Wilt Chamberlain. Indeed, his emergence is one of the reasons the 1986-87 Fleer Basketball set was released. Just like Malone, Ewing never won a title. But he embodies the whole franchise for a generation of Knicks fans like yours. The 1986-87 Fleer Patrick Ewing RC #32 card is beautiful. The famous 1986-87 Fleer design offsets a great picture of the determined and honestly somewhat frightening visage of prime Patrick.
#5 1986-87 Fleer Hakeem Olajuwon RC #82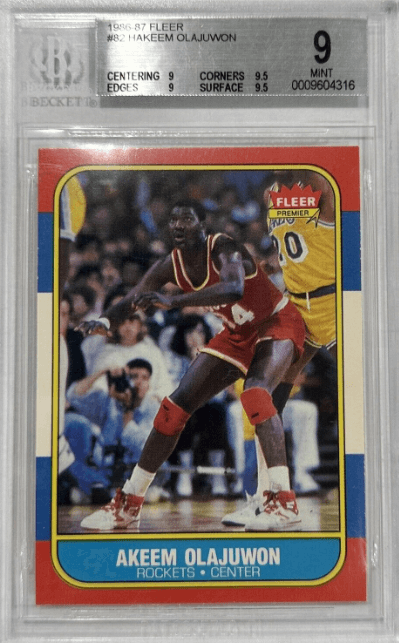 1986-87 Fleer Hakeem Olajuwon RC #82
A PSA 10 sold for $6,000
Hakeem Olajuwon was easily his generation's most outstanding defensive player and was also a first-rate offensive weapon. He led the Rockets to two titles, winning an MVP, was picked for 12 All-Star teams, and twice won Defensive Player of the Year. Indeed, the latter award is now named after Olajuwon. Aside from Jordan, all of that makes him the most accomplished player of his generation.
The 1986-87 Fleer Hakeem Olajuwon RC #82 doesn't fetch the value of the Jordan or even the Charles Barkley. One reason is the defensive focus of his play. But another is probably the uninspiring picture on the card. Come on, guys, this can't be the best picture you had.
#4 1986-87 Fleer Charles Barkley RC #7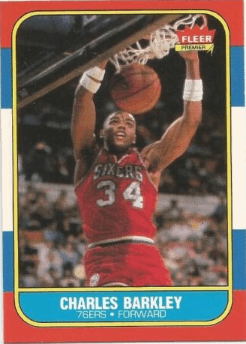 1986-87 Fleer Charles Barkley RC #7
Like Jordan, "Sir Charles" did not enjoy a full rookie card in his debut season. However, he got a legendary one in the 1986-87 Fleer release. One of the greatest players to ever not win a title (a kind of dubious distinction), Charles Barkley is an MVP, 11-time All-Star, and Hall of Famer.
The 1986-87 Fleer Charles Barkley RC #7 shows the brash young Sixers version of the player. He was clearly coming up for air after absolutely massacring the basket. Its relatively generous population count keeps this card's price from skyrocketing. Charles was one of several coveted rookies from the series, and many collectors took care to protect his cards well.
#3 1986-87 Fleer Stickers Kareem Abdul-Jabbar Basketball Card #1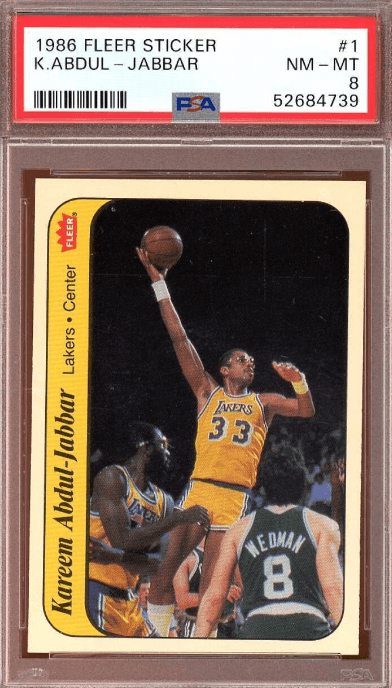 1986-87 Fleer Stickers Kareem Abdul-Jabbar Basketball Card #1
A PSA 10 sold for $266,400
The 1986 Fleer set is, of course, the trendsetter for the entire decade. One of the elements that made it unique was that there was a sticker set alongside the traditional card issue. The Jordan sticker in the set is highly sought after. But perhaps because MJ was the hot young star of the time, it is easier to get a good copy of the Bulls stars sticker. The one that is really hard to obtain in decent condition is the Kareem Abdul-Jabbar. There are only 15 PSA 10s of the 1986 Fleer Stickers Kareem Abdul-Jabbar Basketball Card #1 instead of 121 of the Jordan variety.
I have always found the design of the stickers pretty uninspiring. The canary yellow just ain't it. But the picture is a beauty. It showcases the incredible skyhook shot that made Kareem Abdul-Jabbar a lethal points-scoring machine. As you can see, there was no blocking this shot between the length of his arms, his height, and the center's ability to distance himself from defenders.
#2 1986-87 Fleer Michael Jordan #57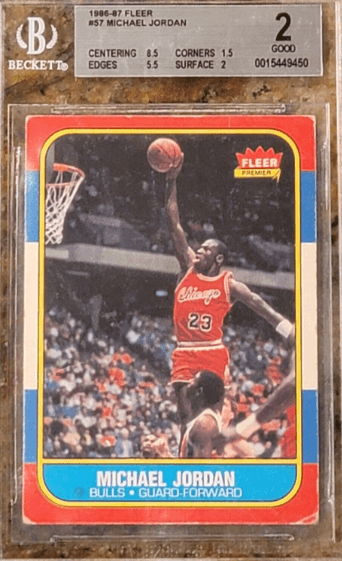 1986-87 Fleer Michael Jordan #57
A PSA 10 sold for $262,250
Without a shadow of a doubt, the 1986 Fleer Michael Jordan #57 is the most iconic basketball card of all. The picture captures that early "Air Jordan" period in his career. At that time, Jordan was known for his flashy play but had yet to emerge as the all-around team player who would carry the Chicago Bulls to 6 titles while winning 5 MVP awards. The highly unique and colorful borders of the card render it instantly recognizable. They are also known for withstanding damage relatively well. Therefore, the 1986 Fleer Jordan has a relatively healthy population count. There are 8,493 PSA 8s, 2,913 PSA 9s and 319 PSA 10s.
For those of you who know basketball history, a 1986 card is pretty late in the day for a Jordan rookie. MJ's first season in the NBA was 1984-1985. Indeed, he was the 1985 Rookie of the Year. But Topps was out of the game from 1982 onward, and Fleer was the first big card company to step into the breach in 1986. So, remember that there are two Jordan cards from 1985, but neither is from a well-respected company, and they are worth significantly less. Honestly, to me, this is not a legit rookie card. But who asked me? The card will remain the most famous basketball item of all.
#1 1980 Topps Larry Bird / Julius Erving / Magic Johnson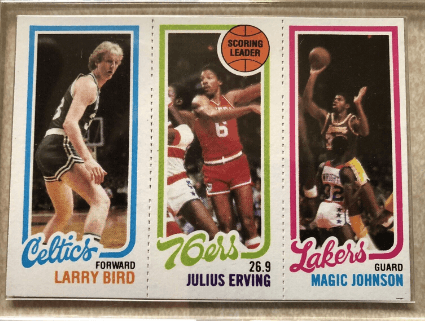 1980 Topps Larry Bird / Julius Erving / Magic Johnson
A PSA 10 went for $522,000
Lucky for us, in 1980, Topps was still producing NBA Basketball cards. Otherwise, we could have missed out on having Larry Bird and Magic Johnson rookie cards. But we owe a massive thank you to the person at Topps who had the bright idea of putting them on the same card as "scoring leaders." The addition of the legendary Julius "Dr. J" Erving, while generationally incongruous, only adds to the card's appeal.
The 1980 Topps Larry Bird / Julius Erving / Magic Johnson card depicts the two players who would dominate the entire decade. And because it was one of those throwaway inserts (or at least that is what many collectors thought), there aren't many good copies of this item. You will also notice that the card is made up of three perforated parts. We are not really sure why, and we doubt many collectors separated the three superstars. But the perforations make keeping the card in good condition far more difficult than it would be otherwise. Indeed, there are only 23 PSA 10 versions. Because these are genuine rookie cards, unlike the 1986 Fleer Michael Jordan #57, it is the definitive card of the decade.
Final Word On The Most Valuable Basketball Cards from the 1980s - Price Guide
As expected, the 1986-87 Fleer Basketball set dominates the most valuable cards from the 1980s list. There are 6 from that immortal issue and 7 if you include the stickers. The main reason for this dominance is a lack of other major releases for much of the decade. But despite the limited options, the 1980s include some of the most iconic, valuable and sought-after NBA basketball cards of all. And some of the rookies, especially Robinson, Miller, and Stockton, appear to be priced too low and have a lot of scope to grow.