With over 1,000 Pokémons out there and nearly ten times that many distinct cards in circulation, there are bound to be some cards that don't get properly assessed for both in-game utility and real value based on their scarcity and potential to appreciate over time. In this article, we're going to highlight some great cards that are affordable and that may very well rise in value as they are more widely discussed among Pokémon collectors, graded for authenticity, and become more scarce as new collectors continue to enter the hobby.
Why Some Pokémon Cards Are More Valuable
Some Pokémon cards stand out more due to the popularity of the particular character on the card or their historical significance, especially some older cards that drive nostalgia for longtime collectors. Others become more valuable due to their usefulness in play, meaning that they actually get used in the game. That means fewer gem mint or pristine copies will be available to collectors if a lot of the population of cards are being slapped onto a game table on Friday night at the local card shop. Lastly, some cards are reduced in distribution so their scarcity will make them more desirable since they are harder to find. This intentional effort to create rarity does the job, usually driving up value and desire for those cards. If you want to learn more about Pokémon TCG Card Rarity you can read our blog.
The 13 Pokémons cards we're highlighting here don't necessarily fall into those categories. They are great cards that we think deserve a second look and we'll tell you why. Adding them to your collection won't break the bank, and they may just end up being worth more than you expect after some time. So, let's dive in and take a look at some unsung heroes of the Pokémon trading card world.
Top 13 Underrated Pokémon Cards for investing
Our list has Pokémons cards from a variety of eras and budgets so anyone can grab a card or two to invest in regardless of the size of your wallet.
13) 2016 Lugia XY156 (Black Star Promo, Holo)
Let's start with this low-cost, high-potential value Pokémons card. This card from the Break Evolution box is a Holo promo and it's still available for a reasonable price, despite it being fairly rare based on its inclusion in its set. The artwork is amazing and with such a low population, this one is just waiting to rise in value as time progresses. Keep it in great shape and consider having it graded to maximize its value when prices start to rise.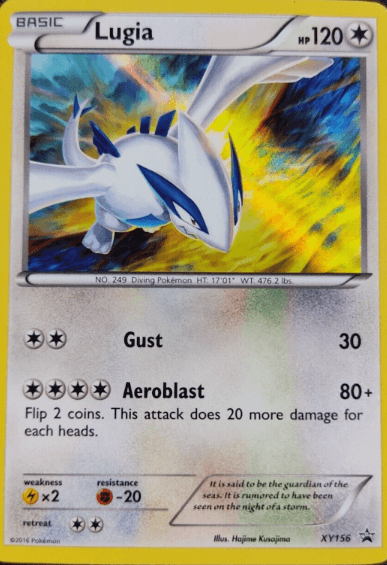 2016 Lugia XY156 (Black Star Promo, Holo)
12) 1999 Kabutops Pokémon #9/62 (Fossil)
The Kabutops card from the Fossil set of dinosaur-like Pokémon dating back to the beginning of the Pokémon TCG. While this hasn't been a hugely popular card, ungraded copies of this classic Water Pokémon can be had for just a few dollars. If you find one that's in great shape, the opportunity is to get it graded and then either sell it (PSA Gem Mint copies go for hundreds of dollars) or hold onto it until prices begin their rise after some time. Low investment, potentially high value return.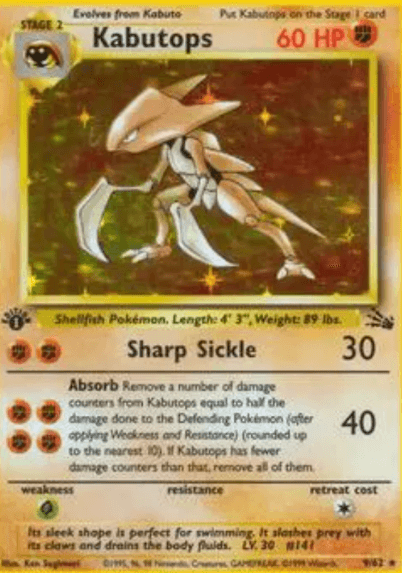 1999 Kabutops Pokémon #9/62 (Fossil)
11) 2020 Jirachi #119/185 (Vivid Voltage)
This recent card from the Vivid Voltage set became an instant hit when that set was released. It's a great combo of excellent play power with great artwork and a popular Pokémon character. The price has fallen as more Jirachi got into the market, but that doesn't reduce potential future value of this Pokémon card as more cards are used in play. Keep one in pristine shape and we'll expect the Jirachi to rise from its long slumber with a great deal more value.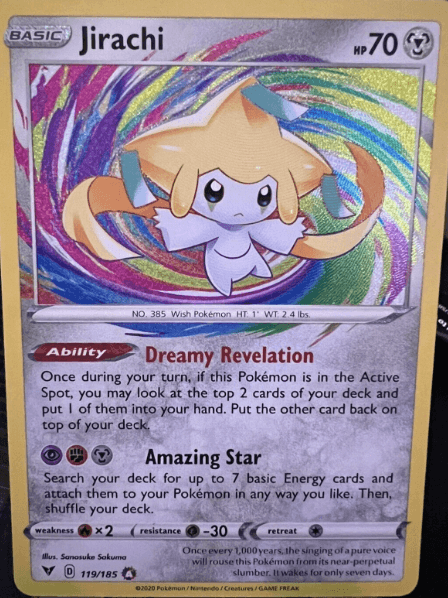 2020 Jirachi #119/185 (Vivid Voltage)
10) 2002 Mewtwo Expedition #56/165 (Base Set)
Mewtwo is a powerful and iconic basic Pokémon that first appeared in the original Pokémon Red and Blue video games. This Psychic-type Pokémon has a high intelligence and strength, and can Mega Evolve into Mega Mewtwo X or Y.
The 2002 Expedition Mewtwo #56/165 (Base Set) is a card that features a dynamic image of the Pokémon with its body glowing with psychic power. While this card from 2002 can fetch a tidy sum when graded, it's possible to find a Near Mint copy ungraded for less than $50. With Mewtwo's popularity, this one is sure to still see a spike in value over time. If you can get the Holo version (#20/165), that has even more potential.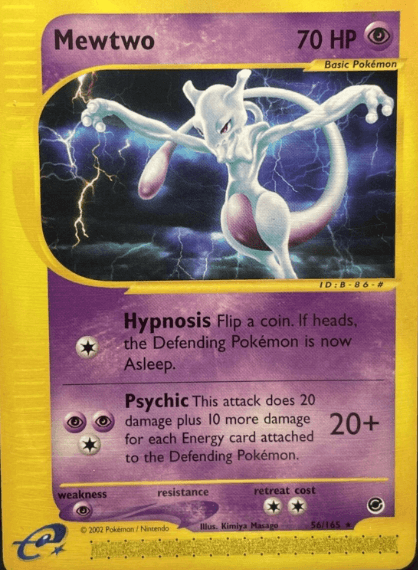 2002 Mewtwo Expedition #56/165 (Base Set)
9) 2001 Espeon #1/75 (Neo Discovery)
Espeon is a stage 1 Psychic Pokémon from the Neo Discovery set, but it would later be featured as an Ultra Rare Gold Star card which is worth thousands of dollars. That is part of why we think this earlier version of 2001 Espeon #1/75 is ready to appreciate in value in the days ahead. A minty copy will cost you between $50 and a few hundred dollars, but the sky's the limit for where the value of this card featuring such a popular evolution of the perennially popular Eevee could go.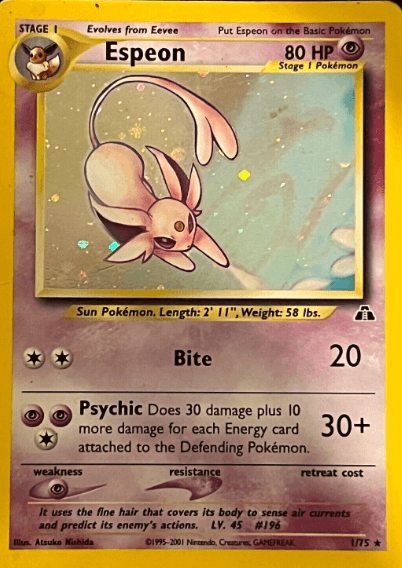 2001 Espeon #1/75 (Neo Discovery)
8) 2000 Gyarados #7/130 (Base Set 2)
This early card from the 2000 Pokémon Base Set 2 is a stage 1 Water/Flying Pokémon with an impressive 50 damage attack called Dragon Rage in addition to its Bubblebeam ability, which can paralyze opposing Pokémon. Thus, this 2000 Gyarados #7/130 (Base Set 2) card is popular for its game utility and this popular Pokémon's longevity in various sets.
The holographic version is a real showcase for great Pokémon art, with the holographic foil highlighting the intricate details of the artwork and making the 'atrocious' Gyarados look even more dangerous. This popular card can be obtained for under $50 ungraded, but with grading and a bit of time, you'll end up with a valuable collectible possibly worth hundreds of dollars.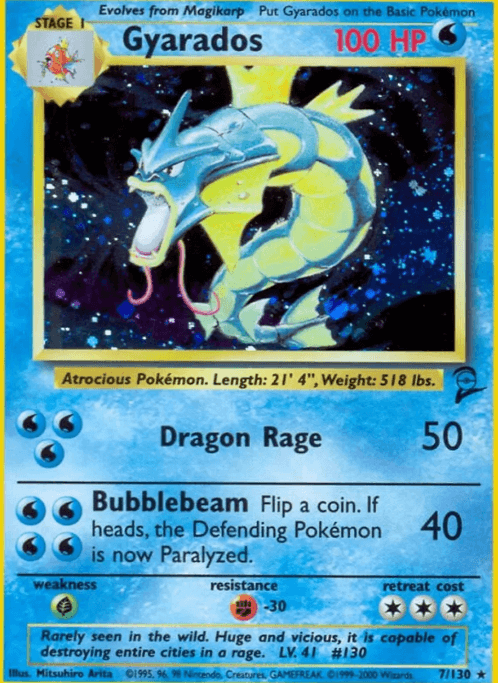 2000 Gyarados #7/130 (Base Set 2)
7) 2000 Ancient Mew (Pokémon: The Movie Promo)
For people who grew up with Pokémon in the 1990s, seeing Pokémon: The Movie in US theaters was a thrill. This promo card was given out free to viewers and is certainly a cherished collectible for those who got them.
Based on the limited availability and the age of these cards, they should be worth a lot more. Searches online show that Near Mint copies can be had for under $100, sometimes significantly less. Keep an eye out for the Japanese version, which had a textured holo foil instead of the simpler US version with holographic graffiti on them. If you can obtain a Japanese copy, you'll get a gem that will shine with value more and more as the years pass.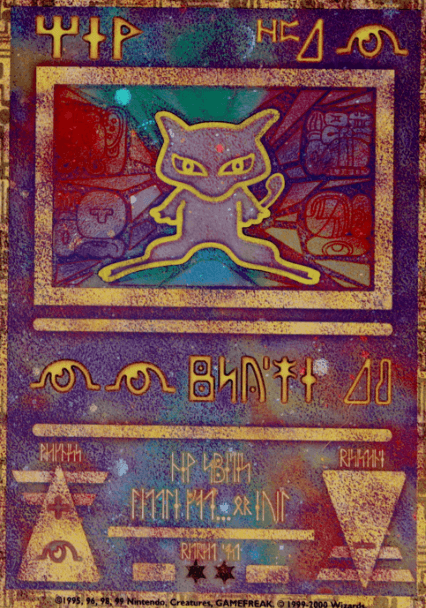 2000 Ancient Mew (Pokémon: The Movie Promo)
6) 2000 Machamp #8/102 (Base Set, Holo)
Machamp is a stage 2 Fighting Pokémon from the Base Set, while he's been a favorite for some players, this card never got the popularity of other similar Pokémon such as perennial favorites like Blastoise or the infamous Charizard. As a rare, classic Pokémon card from over 20 years ago, Machamp is really valuable graded and in pristine condition.
Yet, you can still find copies of the card for well below $50 ungraded and ready to appreciate in value over time with care. If you pick one up, make sure to store it well or get it graded promptly to keep it from decay. Pick up a holo copy if you can, as they're less common and more likely to increase in value while adorning your collection with a great-looking card.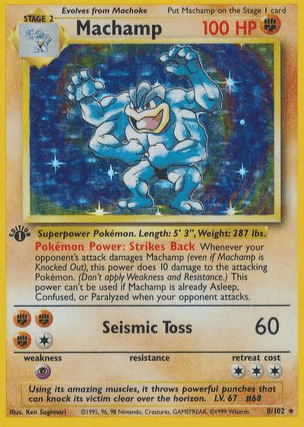 2000 Machamp #8/102 (Base Set, Holo)
5) 2000 Feraligatr #4/111 (Neo Genesis)
Another classic Pokémon, Feraligatr is a stage 2 Water Pokémon from the Neo Genesis Pokémon card set. Prices for ungraded copies of 2000 Feraligatr #4/111 (Neo Genesis) are quite a bit lower than you'd expect for a card from a Pokémon set from 2000, meaning there's likely some value for collectors to unlock here. Graded copies on the top end of quality are being sold for thousands of dollars. As time goes by, even Near Mint and Excellent copies should rise as well, so now is the time to pick up a copy of this mighty Pokémon with its cumulative Riptide attack.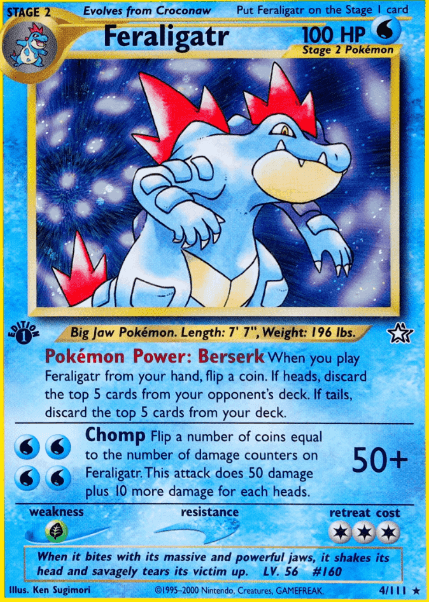 2000 Feraligatr #4/111 (Neo Genesis)
4) Dark Raichu #7/110 (Legendary Collection)
If it seems funny to see a Pikachu evolution like Electric Pokémon Raichu on the list, hear me out. While overshadowed by Pikachu's charm, Raichu has also been featured in several popular Pokémon video games and animated TV shows, which has increased its popularity and nostalgia factor among fans. While we're calling out Dark Raichu from the Legendary Collection, original Raichu from Base Set 2, and Shining Raichu from the Neo Destiny set are also underrated cards that we can likely expect to be worth more money in the future.
Simply put, Dark Raichu #7/110 is an underrated card that has the potential to rise in monetary value over time due to its consistently unique artwork, nostalgic appeal, and rarity. While some Gem Mint copies have been rising in cost, you can still pick them up for under $50. As a collector or investor, it may be worth keeping an eye on Raichu and adding it to your Pokémon card collection while it is still affordable.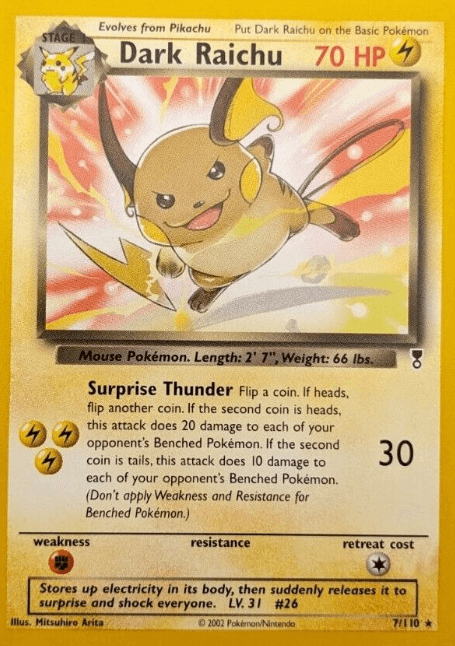 Dark Raichu #7/110 (Legendary Collection)
3) 2009 Palkia G Lv.X Holo #125/127 (Platinum)
This Water Pokémon card features Palkia in its G Lv.X form, which is a powerful version of the monster with unique abilities like Lost Cyclone. The card's Holofoil design and dynamic art also adds to its value. Despite this, the card can still be found ungraded for less than $25 online in near-mint condition. Collectors could see an increase in value by purchasing quality cards and grading them, as authenticated copies of this card are being sold for hundreds of dollars. As an unusual card with a low population and a powerhouse Pokémon, there's plenty of reason to think this one will increase in value as time marches on.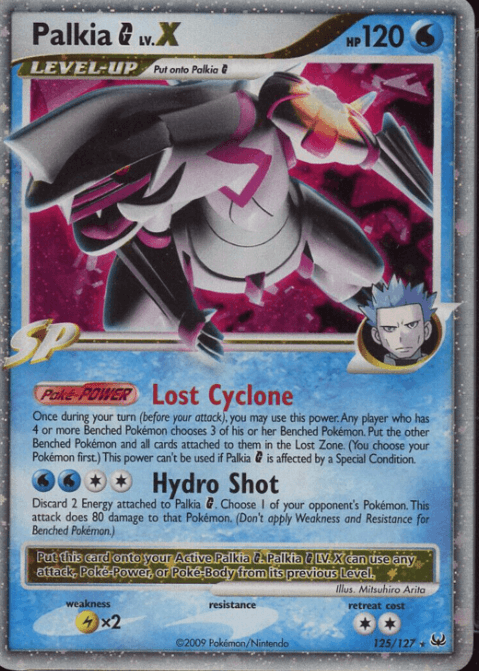 2009 Palkia G Lv.X Holo #125/127 (Platinum)
2) 2016 Flareon EX #RC28/RC32 (Generations Radiant Collection)
The Radiant Collection is a promo set of English versions of a Japanese Pokémon card set. Among that promo set, the Fire Pokémon Flareon EX card is a standout for its artwork featuring all three of the Generation 1 Eeveelutions on a single card in a kind of 'family photo.' With the popularity of Eevee, it's no surprise that this adorable card would end up near the top of our list. We have high hopes for its value to soar from the $25-$100 range into a much higher stratosphere.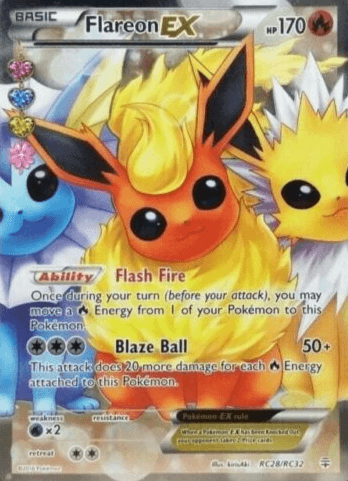 2016 Flareon EX #RC28/RC32 (Generations Radiant Collection)
1) 2006 Arcanine ex #83/92 (Legend Maker)
Who would have thought an Arcanine would top our list? Well, if you look at the 2006 Pokémon ex Legend Maker set version, you'll see why. This fire-type Pokémon can be found online for prices below $25 and it's been selling for almost $2,000 at different times. If you can get a bargain copy of this 2006 Arcanine ex #83/92 (Legend Maker) card featuring this canine Pokémon and its powerhouse Flame Swirl attack, you are sure to make a tidy sum when you sell it off down the line.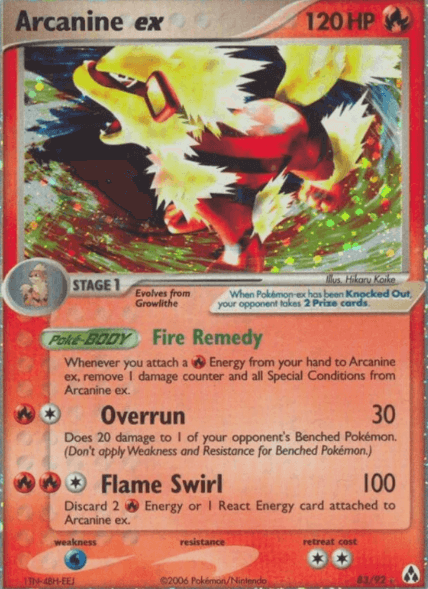 2006 Arcanine ex #83/92 (Legend Maker)
Pokémon Cards for Investment and Collecting
Pokémon fans have lots of different reasons for collecting the card. Some want them to keep forever, while others want them for play, and yet another group wants to invest in Pokémon cards for resale. Many fans enjoy more than one of these aspects of the hobby. That's part of why cards get valued differently - there are so many different reasons why collectors want to have them that they can gain high values unexpectedly sometimes.
We hope this list gives you insight into some cards that can add variety to your collection and your investment in the hobby. By investing in underrated Pokémon cards, you can build a valuable and unique collection without spending too much money. Always keep an eye out for deals and discounts, such as finding a sale from a collector who is leaving the hobby and is motivated to sell off their collection. This kind of treasure hunt approach can help you enjoy the process of building your collection for fun and profit.