The 1980s baseball cards can be split into two very different eras. The earlier part of the decade is a hangover from the 1970s and belongs in the vintage category (just barely). Then starting in 1986, we entered the junk era. Few of the cards from that later era are worth money. Since we are here to find the most valuable cards of the decade, this list will focus on the earlier part. But a few junk wax entries also slip into the most expensive category.
#1 Rickey Henderson 1980 Topps #482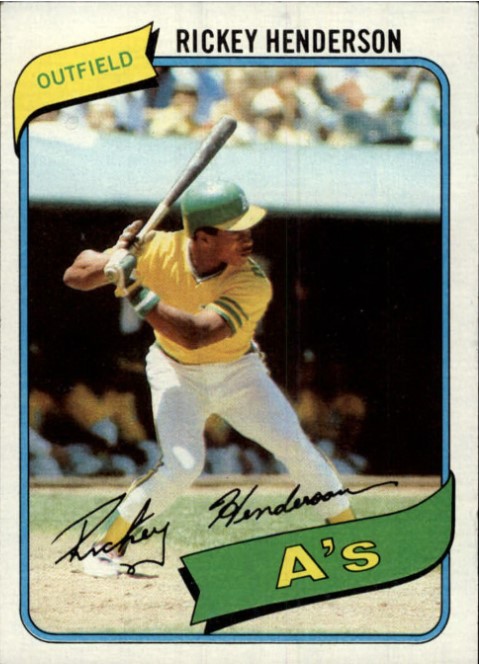 Rickey Henderson 1980 Topps #482
A PSA 10 has a value of $120,000
Rickey Henderson was the best base stealer in history and the ultimate leadoff man. Every baseball fan of that generation has the image of him burning up the base paths etched into their memory. And there are no other notable rookie cards of this legend. So, it makes sense the Hall-of-Famer would have a highly sought-after rookie card.
But the Rickey Henderson 1980 Topps #482 card is helped along by the serious centering issues of the 1980 Topps Baseball set release. Like most vintage collectors, I have a couple of these that are wildly off-center. But when you find a well-centered version, it really pops.
#2 1987 c #320 Barry Bonds Rookie Card
1987 c #320 Barry Bonds Rookie Card
A PSA 10 has a value of $23,350
Barry was one of those 1980s prospects that really made good. According to advanced stats like OPS+, Bonds was the most potent offensive weapon of the past 70 years. Only Ted Williams, Babe Ruth, and Oscar Charleston have higher numbers. Obviously, his career is now controversial. But Barry Bonds will remain a baseball icon long into the future.
With his historical significance and unholy offensive weapons, people are looking for a Bonds rookie card that isn't massively overprinted. The market has settled on the 1987 O-Pee-Chee #320 Barry Bonds rookie card for this purpose. It is essentially the same card as the 1987 Topps. However, instead of Topps, it has the name of its Canadian subsidiary O-Pee-Chee tucked away in the bottom left-hand corner. In addition to being a lower print release, the flimsy O-Pee-Chee cardboard makes them a tough grade. So, there are only 38 PSA 10s on the market. Therefore, this has become the holy grail of Barry Bonds rookie cards.
#3 1989 Bowman Tiffany #220 Ken Griffey Jr. Rookie Card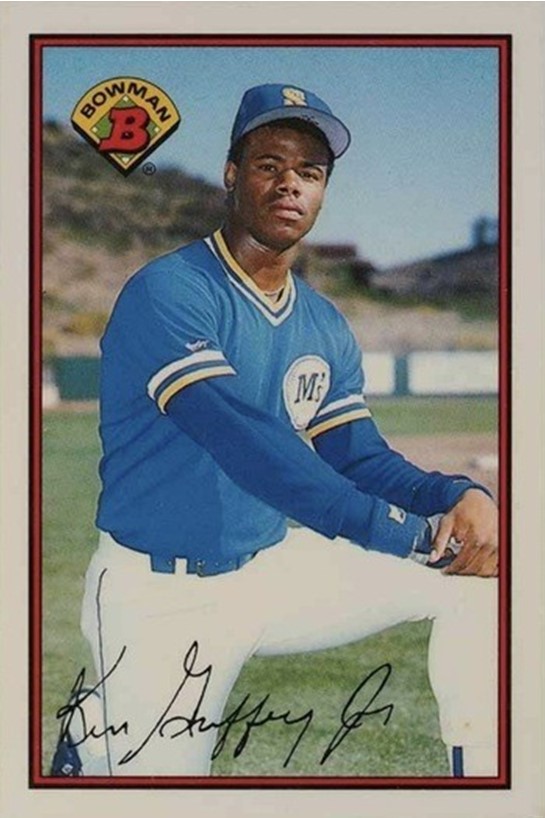 1989 Bowman Tiffany #220 Ken Griffey Jr. Rookie Card
A PSA 10 has a value of $15,200
There were several highly-touted prospects in the 1980s. Folks like Daryl Strawberry and Greg Jeffries were treated like the second coming of Babe Ruth. But there was none with a greater buzz than Ken Griffey Jr. And of course, unlike the others, Griffey had a Hall-of-Famer career complete with 630 home runs, 13 All-Star appearances, and an incredible haul of 10 Golden Gloves. Ken also played with a unique grace that is indelibly imprinted in the minds of those of us who got to see him play. This has made him the most collectible modern baseball player, with records for the most graded PSA cards.
All that comes with a downside, of course. Griffey's base rookie cards are ridiculously overpopulated, and their value is correspondingly diminished. But the 1989 Bowman Tiffany #220 Ken Griffey Jr. card does not suffer from that problem. Bowman was just making its comeback and was not popular yet. So, the Tiffany edition of the 1989 Bowman baseball card set release was a shorter print version of a niche product. Correspondingly, there are only 156 PSA 10s in circulation. And the card is a beauty. Though not as iconic as Ken's instantly recognizable Upper Deck card, it also captures the boyish charm of "The Kid."
#4 Roger Clemens 1985 Topps Tiffany #181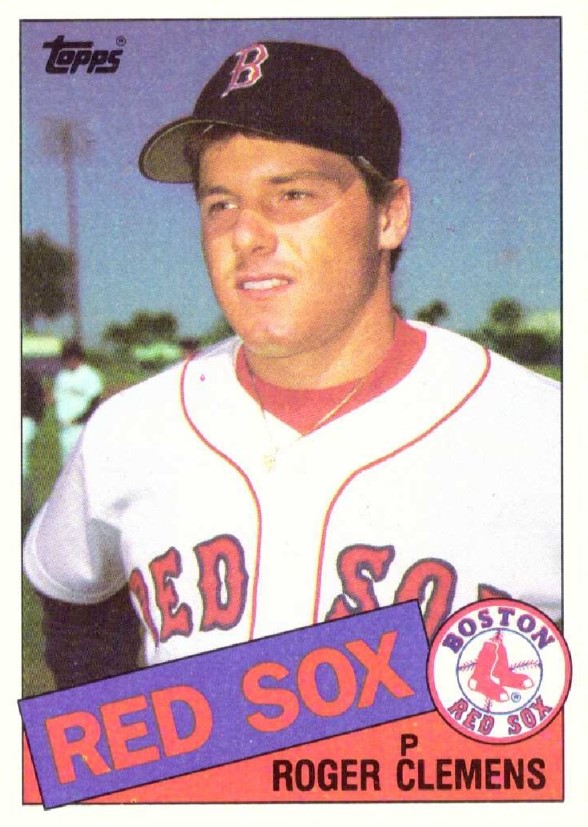 Roger Clemens 1985 Topps Tiffany #181
A PSA 10 has a value of $13,877
As you will see, one theme on this list is that many of the best rookies belong to players with careers tarnished by performance-enhancing drugs. Roger Clemens is the first of those. We could go over all of his accomplishments with a fine tooth comb, But the 7 Cy Young awards in his cupboard speak more clearly than anything. That is two more than any other pitcher. Ever.
Of course, the Roger Clemens 1985 Topps Tiffany #181 card is helped by the lower population counts of the Tiffany releases. However, the naysayers on this card note that it isn't a real rookie. The 1984 Fleer Update card is technically the only genuine rookie card of Roger "The Rocket" Clemens. However, there is a pretty good counterargument. The Fleer Update product wasn't ever sold in packs, which was the most common way of buying cards at the time. Instead, you had to buy this release in full form from hobby shops. Therefore, some don't consider it a full rookie since it wasn't his first card in a standard release. Either way, the Topps Tiffany has taken the top spot among Clemens rookies. The market has spoken, folks.
#5 Bo Jackson Tops Traded Tiffany #50T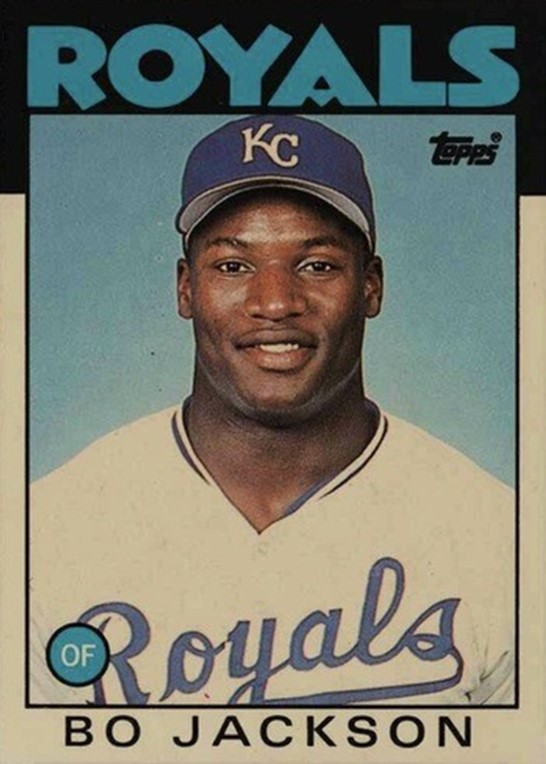 Bo Jackson Tops Traded Tiffany #50T
A PSA 10 has a value of $12,300
Bo Jackson could have been a star in any sport on earth. But, not one to take the easy way out, he didn't stand for the draft in just one professional sport. That is for losers. So, after being drafted by the New York Yankees in 1982, he was picked first overall by the Tampa Bay Buccaneers in the 1986 NFL Draft. He went on to be an All-Star in both sports and remains a figure of myth in American sports. Did we mention that Bo was the decathlon state champion in Alabama and set state records for the indoor high jump and triple jump? No one has equaled his multi-sport prowess since.
Not surprisingly, there is a small cottage industry around Bo Jackson rookie cards. While Bo Jackson Topps Traded Tiffany #50T traded is not the most iconic, it has emerged as the most valuable of the crop. The Tiffany cards are pretty similar to their regular Topps equivalents, which are worth a good deal less. But Tiffany variety is printed on better cardboard and the white card stock they were printed on. So, even though the pictures look pretty similar, the difference is striking in person. And the better quality of the Tiffany card really brings out that sparkling smile from the young Mr. Jackson.
#6 1983 O-Pee-Chee #143 Tony Gwynn Rookie Card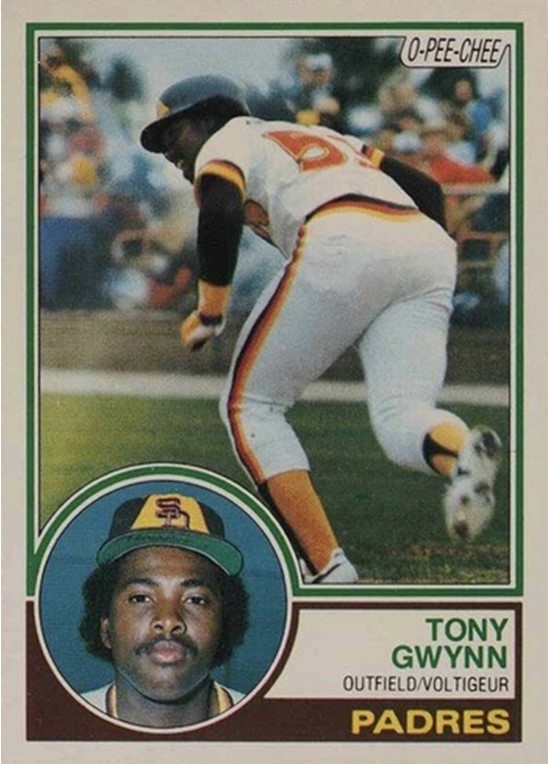 1983 O-Pee-Chee #143 Tony Gwynn Rookie Card
A PSA 10 has a value of $11,400
Tony Gwynn was the best contact hitter of his generation and one of the best ever to grace the diamond. The Padre's star was an 8-time batting title winner and a 15-time All-Star. And though mostly remembered for his offense, "Mr. Padre" was also an excellent all-arounder with 5 Golden Gloves. So, certainly one of the best, and among the best-loved, players of the era.
We all know and love the Topps Tony Gwynn rookie card. One of the definitive cards of the early 1980s. The 1983 Topps design was a banger, and the Gwynn card sings. The picture of the young hitter with a 1970s-style handlebar mustache is awesome. And you have a great shot of the still agile and limber young Gwynn doing his thing on the basepaths. That is particularly fun for those of us who remember the stout Tony of later years, rounding first base. The 1983 O-Pee-Chee #143 Tony Gwynn rookie card uses the same design. However, the Canadian version of the card is more scarce and therefore retains higher value. There are only 32 (!!) PSA 10s of this card. Looks like our Canadian friends did not appreciate this beauty as much as they should have.
#7 1980 Topps #580 Nolan Ryan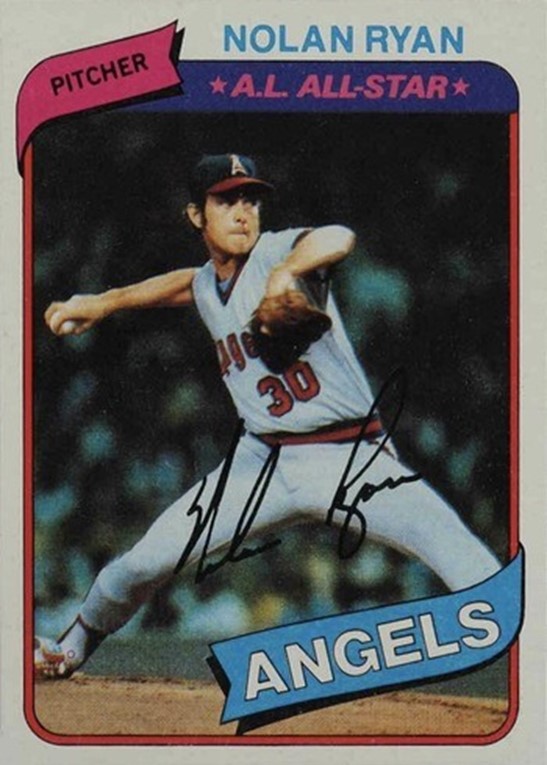 1980 Topps #580 Nolan Ryan
A PSA 10 has a value of $10,700
Nolan Ryan cards tend to have a very high value. A PSA 10 of rookie card with Jerry Koosman went for $600,000 a couple of years ago. And there are good reasons for that. Nolan's unique combo of nasty stuff and superhuman longevity led to one of the most impressive pitching careers ever. "The Ryan Express" has an all-time record of 5,714 strikeouts, and batters had an all-time batting average low of .204 against the ace.
But the 1980 Topps #580 Nolan Ryan is quite a chronological distance from Ryan's 1968 rookie card. So why is it worth so darn much? Two main reasons for that. First, due to his longevity, the pitcher is beloved by several generations of fans, and there is always a significant market for his cards. Second, as we discussed, the 1980 Topps release has some truly atrocious centering. So, finding a decent version of this card is challenging. There are just 36 PSA 10s and 845 PSA 9s. Put together these two factors and get a substantial price for this mid-career card.
#8 1981 Topps #315 Kirk Gibson Rookie Card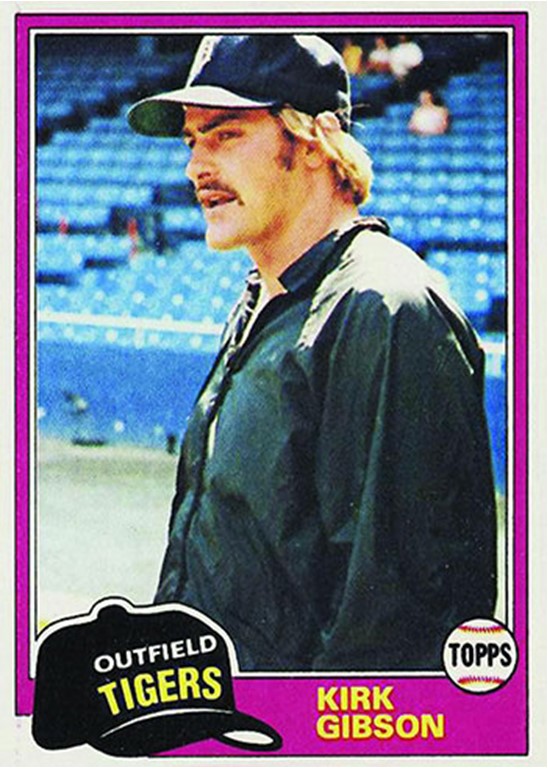 1981 Topps #315 Kirk Gibson Rookie Card
A PSA 10 goes for $9,900
Kirk Gibson was a fine player. He even won the MVP in 1988 and later was the 2021 Manager of the Year. But he isn't a Hall-of-Famer. And no, it's not because of steroids. Kirk isn't entirely of that tragic generation. Instead, he just wasn't quite good enough. So why is his rookie card so sought out? Gibson is an iconic figure for his two massively essential home runs. One clinched game 5 of the 1984 World Series for the Tigers. The second was a walk-off game-winner for the Dodgers in game 1 of the 1988 World Series. The way Kirk pumped his fists while rounding the bases made him a Los Angeles icon and guaranteed a long-term market for his cards.
The 1981 Topps #315 Kirk Gibson Rookie Card is also valuable because of its look. The rookie looks impossibly cool as he flaunts his thick mustache and lustrous blonde hair. Anyone who looks this imposing in their training jacket deserves a valuable card.
#9 Barry Bonds 1986 Topps Traded Tiffany #11T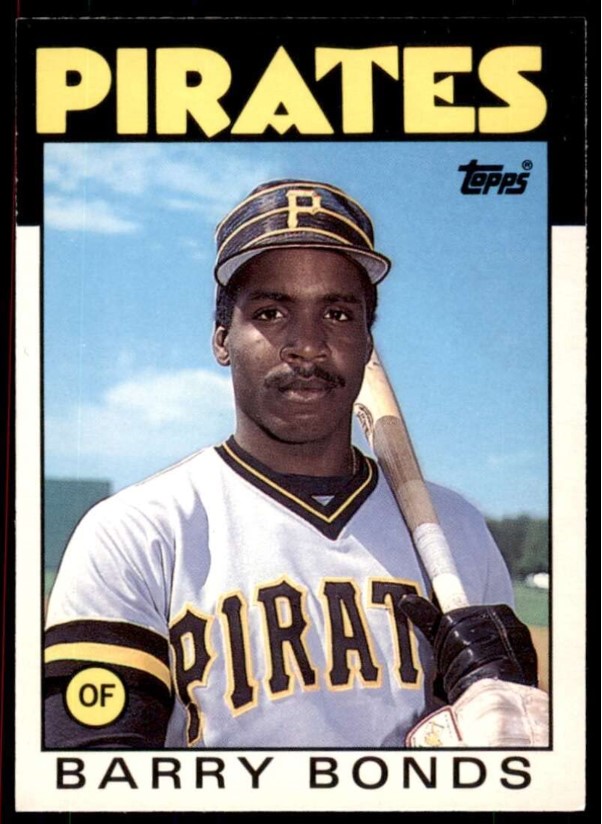 Barry Bonds 1986 Topps Traded Tiffany #11T
A PSA 10 has a value of $5,200
Sure, there are some questions surrounding his accomplishments. But Barry Bonds is the most offensively potent player in baseball history. At his peak, he was an automatic intentional walk. Occasionally even with the bases loaded. And it is no wonder he has the most home runs ever and is the only member of the 500-500 club, showcasing his epic baserunning and power-hitting skills.
The BBarry Bonds 1986 Topps Traded Tiffany #11T is the one you want because Tiffany was the shorter print Topps product of the time. In addition, Topps Traded was a shorter print release than the other flagship releases. Therefore, their cards tend to be more expensive. This card shows very serious-looking Bonds staring intently at the camera. He is wearing that vaguely ridiculous old-school Pittsburgh Pirates cap once worn by the great Roberto Clemente.
#10 Mark McGwire 1985 Topps #401 (USA Olympic Team)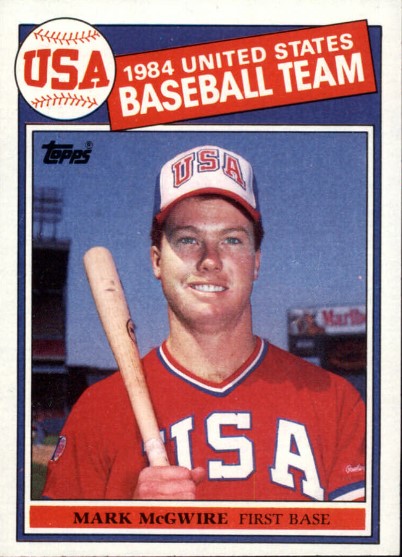 A PSA 10 has a value of $2,582
Mark McGwire is best remembered for breaking the all-time home run per season record in 1998. Today he is best recognized as a convincing James Hetfield lookalike. No seriously. There is no difference between them anymore. Anyway, the power-hitting first baseman was one of the most promising rookies of the mid-1980s and put together a Hall-of-Fame-worthy career, tarnished by the suspected use of performance-enhancing drugs. But the tragedy does kind of add to the mystique.
The trajectory of "Big Mac's" career makes the Mark McGwire 1985 Topps #401 card all the more alluring. But, then, he was a clean-cut kid, representing his country proudly at the 1984 Los Angeles Olympics. I'm a fan of these Olympic baseball cards, and this one is easily the best of all. Indeed, it often tops lists of the most iconic cards of the 1980s, and it's easy to see why. It captures the simple patriotism of the Reagan era and the promise of "morning in America."
Final Word On The Top 10 Most Valuable Baseball Cards from the 1980s
There is an urban myth that 1980s cards are worthless. Well, most of them are. But this list shows that there are gems to be had in this weird and wild decade. The best cards are either from early in the decade or are Tiffany and O-Pee-Chee versions of beloved base cards.