Erling Haaland is just about 22 years old, but he will likely be the next mega-star in soccer. The Norwegian striker was already breaking records as part of the formidable Borussia Dortmund team and now he's moved into the Premier League where he's become a scoring fiend in play for Manchester City. If he's this good this early in his career, it might just be time to invest in some Erling Haaland trading cards.
In this article, we'll explain why investing in Erling Haaland cards is a good idea and tell you how to get started with some key cards that are most likely to rise in value.
The Phenomenon of Erling Haaland
Erling Haaland has rapidly risen to prominence. As a center forward for Borussia Dortmund and the Norway national team, Haaland has demonstrated exceptional talent, earning him numerous accolades and awards. In just a few short years, he has become one of the most sought-after young players in the world, with fans and collectors alike clamoring for a piece of his legacy, knowing these collectibles will be worth more money in time.
His history of athletic achievement in other sports shows that he's a committed player who knows that having a cross-section of sporting skills can help improve your game. Haaland's wit and charm with the press has helped, including him joking about sleeping with his hat-trick soccer balls, of which he has a few. Haaland has been a force on the field with his impressive goal-scoring ability and has won the hearts of fans worldwide. As his career continues to skyrocket, so too does the demand for memorabilia and collectibles associated with this incredible athlete.
Erling Haaland Trading Cards as Investment
Trading cards have long been a popular collectible for over a hundred years, but in recent years and especially during the pandemic, the value of trading cards has risen even more as both collectors and serious investors have snapped up high-price cards with the expectation that they will appreciate in value.
The market for sports trading cards has exploded in recent days, with some cards selling for hundreds of thousands or even millions of dollars. In 2014, the highest ever paid for a sports card was 2.8 million for a 1906 Honus Wagner baseball card. In 2022, that number jumped to 12.6 million for a 1952 Topps Mickey Mantle card. That 6x surge took barely seven years to reach and the sky's the limit after more cards exceeded the $1M mark throughout the pandemic.
This surge in value has been fueled by several factors, including nostalgia, rarity, and the rise of sports cards platforms like Cardbase that make it easier than ever for collectors to compare, buy and sell sports cards online. That's not all; the steadily increasing values mean more regular investors are seeing trading cards as a serious investment opportunity even when they have limited or no interest in the sports or games depicted on the cards. Research suggests that the $47.07 billion dollar sports trading card market will increase to $62.06 Billion by 2027. That means we have hardly hit the upper limit for growth in value.
Why Erling Haaland Trading Cards are a Good Investment
When it comes to trading card value, several factors come into play. These can include a player's performance, rarity, condition, and even the manufacturer of the card. With the right combination of these factors, a trading card can become a highly sought-after collectible with significant potential for appreciation.
Erling Haaland cards in particular are interesting because of his broad appeal. While he was born in 2000 in England, he grew up in his family's native Norway, and has played on German and Austrian teams. That's a lot of countries that can hold a lot of fans with an interest in his trading cards. While stunning success like Haaland's can make fans out of nearly anyone, there's definitely a hint of national pride for some fans who enjoy collecting cards from players who they were able to root for on their local or national teams. From an investment standpoint, that means more demand and less supply, which is good for increasing valuations.
Add to that the fact that, more often than not, the rookie cards from an athlete end up being among the most valuable cards they will ever have. That means a key part of investing in sport cards is picking the rookies that will have storied careers on the field, court, rink, or diamond early on and buying their rookie cards in the first year or so of their time in the sport.
Thus, we have already seen many of the cards that will be among the most valuable from Erling Haaland. As you can see from Cardbase below, some of the rarest of Haaland's superfractor cards are already selling for tens and hundreds of thousands of dollars due to the planned scarcity of many of the rarest variants. With single or single-digit numbers of some cards being printed, it's no wonder that investors snapped them up at top prices.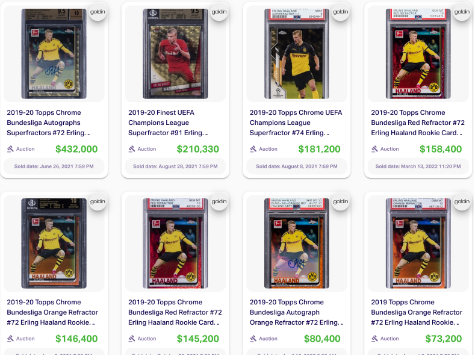 Erling Haaland Cards
The time is now to consider an investment in his cards before even the standard edition values launch into the stratosphere. Let's take a look at some of the key ones available today.
5 Erling Haaland Cards to Invest In Now
You can easily track the price and hot deals for Erling Haaland cards by monitoring his page on Cardbase. This page helps you track his latest sales, deals on good cards, and the overall market trends. There are still some key cards you can pick up at a good price that have plenty of potential for an increase in value.
5. 2019 Topps UEFA Champions League Official Sticker Collection Erling Haaland #419
This sticker series from Topps collects players from the UEFA Champions League and it's become quite popular with collectors. While not traditional trading cards, these sticker sets can still be worth a lot of money. Sticker cards should be graded and slabbed as soon as possible due to their tendency to rise at the edges and corners more than regular trading cards. With a tight seal on a graded slab, sticker cards are more likely to retain their value.
The sticker itself showcases Erling Haaland when he was playing for Red Bull Salzburg, where he gained international recognition for his impressive goal-scoring abilities. The card features a sleek design with a combination of the UEFA Champions League branding, Topps logo, and Erling Haaland's name prominently displayed.
The 2019 Topps UEFA Champions League Official Sticker Collection Erling Haaland #419 card has already been on the rise in terms of value, with a PSA 10 Gem mint copy sold in October 2022 for $1,299. However, sharp-eyed collectors who use Cardbase's formidable tools to track the best prices will notice that high-grade copies have sold for as little as $200. Ungraded, high-quality copies that could be sent to PSA for grading can be found even more cheaply. Just be cautious and inspect the card before you finalize a sale.
As an investor, your goal is simple: Buy low and sell high. Keep an eye on your Cardbase pages so you can identify when good deals are around that you can grab before they are sold.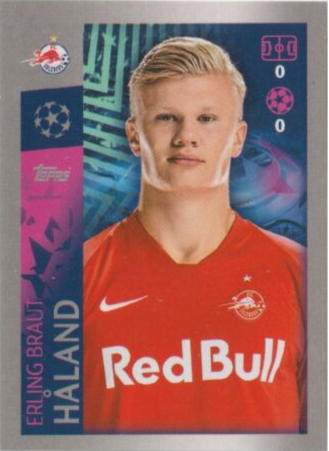 2019 Topps UEFA Champions League Official Sticker Collection Erling Haaland #419
4. 2019 Topps UEFA Champions League Crystal Erling Haaland #113
This card is from the Topps Crystal collection, which has a reputation for impressive design elements. In the world of sports cards, this design is impressive and distinctive, adding to the value of cards in the collection. Rather than relying on the standard posed shot, this Crystal card captures Haaland on the field in play, making for a more dynamic image.
The UEFA Champions League is the most prestigious club competition in European soccer. Haaland played with Red Bull Salzburg initially before transferring to Borussia Dortmund in the Bundesliga just before the pandemic affected so many sporting events. This was a breakthrough season for Erling Haaland when more teams all over Europe were watching the center forward with much interest. This 2019 Topps UEFA Champions League Crystal Erling Haaland #113 card has begun to rise in value already; a PSA 10 Gem Mint copy sold in September 2022 for $399. While pricing is currently all over the place, this gorgeous-looking card is going to rise as Haaland continues to perform well at Man City and beyond.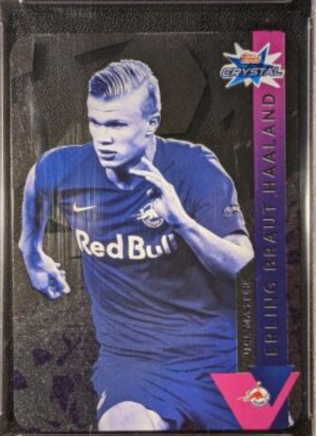 2019 Topps UEFA Champions League Crystal Erling Haaland #113
3. 2019 Panini Fussball Bundesliga Erling Haaland #32
This is the last of Erling Haaland's cards on the list from his time at Red Bull Salzburg and before he moved to Borussia Dortmund in the Bundesliga in January 2020. That was a moment when the eyes of European soccer fans were all on him and most of the clubs were considering some way to add him to their team. Panini makes quality cards and this is no exception. Although the image is a standard poised shot, the design is pristine and adds to the collection of rookie cards sure to delight fans of Erling Haaland and German soccer.
Prices for this card are already seriously on the rise. In November 2022, a PSA 10 Gem Mint copy of 2019 Panini Fussball Bundesliga Erling Haaland #32 sold for $2,500 on Ebay as a fixed price sale. Investors should look to auctions for more opportunities to snap up a copy at a lower price. While the card in this kind of exceptional condition will still cost upwards of $1000 or more, buying and holding this card for the price to keep rising as Haaland's legacy is formed can be a smart investing strategy.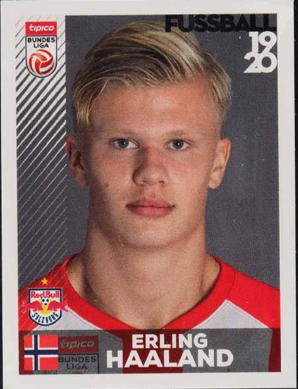 2019 Panini Fussball Bundesliga Erling Haaland #32
2. 2019 Topps Chrome Bundesliga Erling Haaland #72
This card is part of the 2019 Topps Chrome Bundesliga set, which features the players and teams of Germany's top-tier soccer league, the Bundesliga. Erling Haaland rose to International prominence as part of Borussia Dortmund in this league, fulfilling the promise he showed when playing for Red Bull Salzburg and his country's national team.
The card itself is attractive, with a dynamic shot of Haaland on the field that captures his aggressive and energetic style. The Topps Chrome Bundesliga Soccer Cards series have a glossy and reflective finish that makes them eye-catching and the design includes the Bundesliga logo and Haaland's name and jersey number. The value of this card is already beginning to surge, with a PSA 10 Gem Mint copy selling in September 2022 for $1,275. While other sales have been in that range, keep an eye on the 2019 Topps Chrome Bundesliga Erling Haaland #72 page to watch for Hot Deals because some copies have sold for less and they can be a huge investment opportunity if you can buy low and sell it for more later. The Hot Deals section will show when a card is selling below its market price so you can decide if it's the right time to buy.

2019 Topps Chrome Bundesliga Erling Haaland #72
Keep in mind that Topps put out a huge series of variants with tiny populations that are surging in price, as shown above. While you can't rely on the standard edition of a card to increase in value just because the variants and refractors sell so well, this particular card is on the rise anyway. Even on the higher end of current pricing, this card has the potential to see big increases as Erling Haaland amasses more successes and fans in the years to come.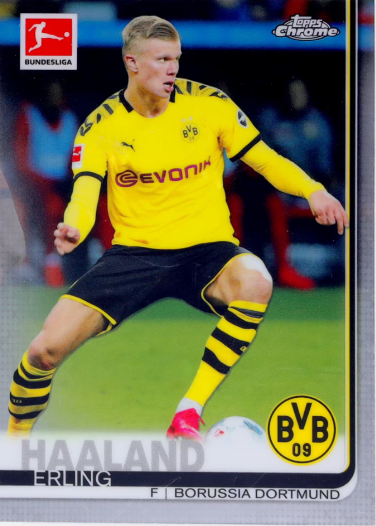 2019 Topps Chrome Sapphire Edition UEFA Champions League Erling Haaland #74
1. 2019 Topps Chrome Sapphire Edition UEFA Champions League Erling Haaland #74
The 2019 Topps Chrome Sapphire Edition UEFA Champions League cards was the debut set of this unusual set that was initially sold online only. Since these cards were essentially a set of parallels of the Topps Chrome set, they have become popular investments for soccer fans who could track their color-based variants and possibly get lucky with some of the rarer versions showing up in their box breaks.
As one of the great soccer sensations of the moment, of course Erling Haaland is included in the set, now in his kit from Borussia Dortmund. The on-field action shot is solid, if perhaps not capturing the physicality of Erling Haaland's play. Yet, the parallel variants will surely drive up the prices for the cards in this set. The 2019 Topps Chrome Sapphire Edition UEFA Champions League Erling Haaland #74 card has a shiny and reflective surface typical of the Sapphire Editions. The scarcity of the color parallels, which came two to a box, makes these cards all the more valuable. The colors range from the Yellow parallel (/99) down to Red (/5), and even Padparadscha (1/1). The set seemed designed to be popular with collectors based on these many limited edition variants.
Like all cards on this list, the demand and value of this card will continue to rise as Erling Haaland continues to excel in his career and establish himself as one of the top players in world soccer. The long-term potential for the value increasing is massive. Sales of cards from this box have already risen prodigiously, with a PSA 10 Gem Mint copy selling in November 2022 for $2,199. As before, this was a fixed-price sale. Investors and collectors alike can benefit from looking into auction sales in hopes of capturing this glorious card for less.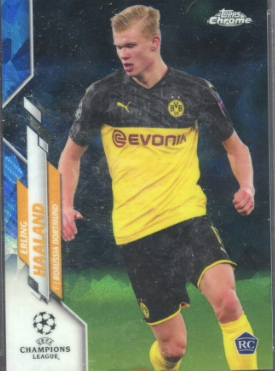 Topps Chrome Champions League Erling Haaland RC
Erling Haaland Cards are an Investment Opportunity
While it's impossible to predict the future with certainty, his intense physical play, scoring ability, and youth point to Erling Haaland having a long and successful soccer career. This bodes well for the long-term value of his trading cards, particularly the Erling Haaland rookie cards highlighted above. His team Manchester City have just reached the semi-finals of the Champions League and there is a good chance they will win the trophy this year. That would also drive up the price of Erling Haaland cards.
As his legend grows, so too will the value of these early cards in particular, making them an attractive investment for those looking to capitalize on his stunning success.