The hobby has a love-hate relationship with the junk wax era. We have terrible memories of the cards we had thought would pay our mortgages turning out to be almost worthless. When there is a price bubble or an over-printing problem, collectors warn that we are on the verge of a new junk wax era. However, older fans fondly remember those long-gone days despite some negative associations. The cheap but somehow artsy card designs, packs that cost a dollar, and rows and rows of our favorite rookies encapsulated in binders our moms bought us. Those were the days we sigh as we hope they never return.
The greatest testament to the junk wax era and its charms are our high esteem for some of its outstanding cards. When we think about the most iconic cards in the annals of our hobby, a significant portion comes from this unforgettable era. The athletes so many of us grew up with feature on designs both nostalgically familiar and aesthetically hideous. Indeed, these cards are a contradiction like everything in that time and place. A gloriously unforgettable one.
We have ranked the best offerings the junk wax era has to offer. I looked at aesthetics, value, historical significance, and recognizability as the main criteria for entry. While I am sure you have your own favorites that are missing, you will have to agree these cards are tubular to the max.
1986 Topps Traded Barry Bonds RC #11T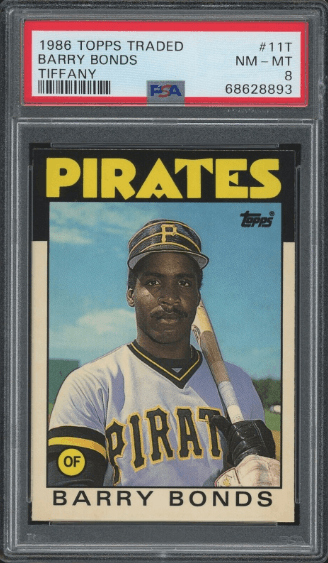 1986 Topps Traded Barry Bonds RC #11T
A PSA 10 sold for $891.
There is no baseball player more controversial and divisive than Barry Bonds. He came up as an incredibly talented and athletic player with every tool in the book. That is the version of Barry you see in the famous 1986 Topps Traded Barry Bonds RC #11T card. But over the years, he morphed into a muscular giant and the most lethal offensive weapon seen on a baseball diamond. Unfortunately, that transformation was allegedly aided by using performance-enhancing drugs.
Barry Bonds cards exist in limbo. They receive a Hall of Famer premium, even though the outfielder has not (and may never) be enshrined in Cooperstown. However, I would not be concerned with that as a collector of Bonds cards. Some players are so good that their cards do better than most Hall of Famers, even if the institution snubs them. Let's just say that Pete Rose and "Shoeless" Joe Jackson cards are not in any danger of selling on the cheap because the players are banned from those hallowed halls.
The shot itself is nothing outstanding. It does highlight the ridiculousness of those old-school Pirates caps (sorry, Pittsburgh fans). But a certain competitive darkness in Barry's eyes hints he would do anything to become a great baseball player. And he certainly was great, all controversy aside.
1991 Classic WWF Superstars Undertaker #64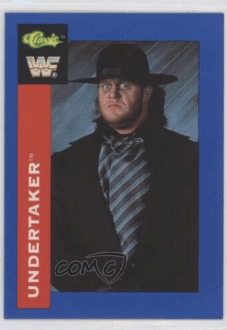 1991 Classic WWF Superstars Undertaker #64
A PSA 10 goes for $3,051.
The Undertaker may not have been the most outstanding wrestler ever, but he certainly had one of the most memorable personas. Indeed, he had two of them. The Deadman, a figure of occult fascination, and later the American Bad Ass, a groovy biker character. And as a beloved character, many specialty matches were associated with him, like the unforgettable Casket match and the Buried Alive match. If you were a kid in the early 90s, you remember being taken in by the impossible darkness of the Undertaker. It is no accident that he won the Wrestling Observer Newsletter award for Best Gimmick 5 years in a row.
The Wrestling card set was the first widely available one to feature the unforgettable visage of the one and only Undertaker. There are three others in the 1991 Classic WWF Superstars setas well, namely the #30, #88, and #106 cards. But the 1991 Classic WWF Superstars Undertaker #64 card truly captures this wrestling icon's creepiness. Who else could pull off that blood-curdling stare? Ok, it looks pretty ridiculous now. But what did we know back then?
1988-89 Fleer John Stockton RC #115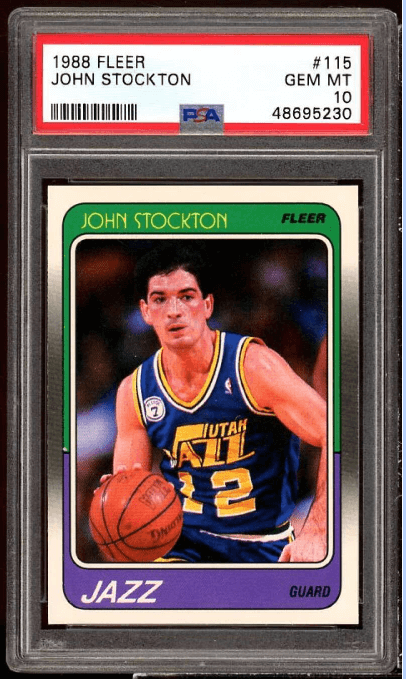 1988-89 Fleer John Stockton RC #115
A PSA 10 sold for $510.
The John Stockton cardis not considered iconic quite yet. But Stockton's epochal brilliance hasn't been fully reckoned with by basketball fans. Because he wasn't the greatest scorer or particularly athletic, Stockton was under-appreciated by the fans who watched him. He still is not usually included in GOAT discussions. The Athletic ranked him as the #25th best NBA player ever, and ESPN 19, but that is far too low for a player who holds untouchable all-time records for assists AND steals.
Therefore, I put the 1988-89 Fleer John Stockton RC #115 card on this list as one for the future. The picture of this basketball card captures John's calculating look before unraveling a zonal defense with one perfect pass. The borders are typically junky and ugly in a lovable way. While Fleer certainly pumped out enough of these cards to bury a midwestern farm, there is value to be had here. 1988-89 Fleer Basketball card set had significant centering issues. Therefore, there are 975 PSA 10s. A relatively manageable number for a card that will become increasingly iconic.
1985 Topps WWF Hulk Hogan #16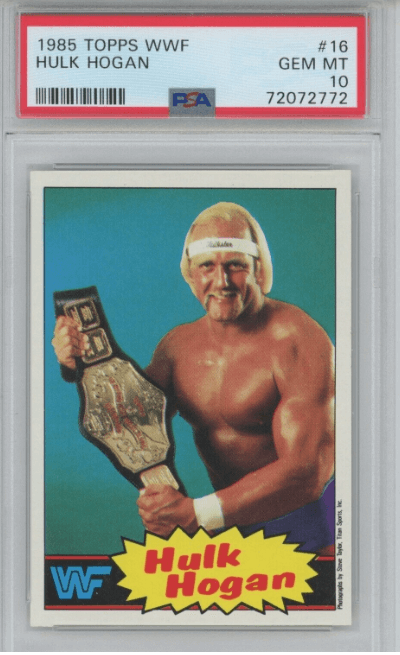 1985 Topps WWF Hulk Hogan #16
A PSA 10 sold for $35,000.
1985 is barely the junk wax era, but this card definitely fits in with that category conceptually and in the subject matter. Hulk Hogan is easily the most famous wrestler of all time, and his early cards are a huge deal. We are talking about a guy with the longest tenure ever as world wrestling champion and the biggest marquee draw the sport could boast. His 1988 fight with Andre the Giant attracted an astonishing 33 million viewers.
Of course, this is not Hulk's rookie card. That honor belongs to the 1982 Wrestling All-Stars Series A #2. But while that card captures the superstar looking subdued and giving the camera side eye, the 1985 card is colorfully full of life, just like our boy Hogan. Therefore, it is far more popular and fetches a greater premium on the market. Only two PSA 10 1985 Topps WWF Hulk Hogan #16's are to be found. We don't know precisely what they are worth, because there has only been one verified sale a few years ago. But lord knows, it would fetch a good chunk of change. Keep in mind that there are four other Hulk Hogan cards in this set, including a promo sheet featuring Hulk and the Garbage Pail Kids.
1993 SP Derek Jeter Rookie Card #279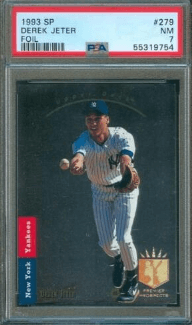 1993 SP Derek Jeter Rookie Card #279
A PSA 10 sold for $360,000.
Derek Jeter is probably the most recognizable player on the Yankees, the best-known team, since freaking Mickey Mantle. So, his rookie cards tend to go for very good prices. In the case of the 1993 SP Derek Jeter Rookie Card #279 card, some serious problems have lowered the grades for most items. The foil coating on the 1993 SP Baseball cards often peeled off even when in the pack. Therefore, there are only 21 gem mint copies of this card at PSA. That is a meager number for a base card from the 1990s. Almost unheard of, and that is the main secret of its ever-increasing value.
And, of course, the card is a beauty showcasing "The Captain" dominating the infield in his trademark pinstripes. While some Jeter collectors may prefer the 1993 Upper Deck Derek Jeter RC #449 with its trademark diamond background, the market has spoken.
1989 Score Barry Sanders Rookie Card #257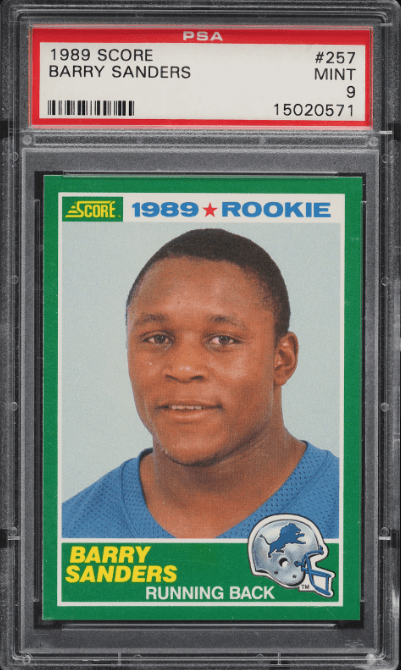 1989 Score Barry Sanders Rookie Card #257
That cheap green bordered design, the awkward smiling grin, the hideous logo of any card company in an era of ugliness. You just know it has to be a Score card. The 1989 Score Barry Sanders Rookie Card #257 is somehow everyone's favorite Barry Sanders rookie card. Possibly because Topps featured him in their late release Topps Traded product, by which time everyone had their Score Barry Sanders card in hand. And Barry was the ultimate junk wax era rookie chase. Everyone expected the guy to shatter all NFL rushing scoring records after receiving unanimous All-American honors and winning the Heisman Trophy. Indeed, Sanders would lead the NFL in rushing yards four times. Had he not retired early, there is no telling what records Barry could have broken.
There is no shortage of 1989 Score Barry Sanders Rookie Card #257's out in the universe. There are 26,707 graded copies of this football card and a good 2,179 of them are PSA 10s. But over printing and grading are part of the character of the junk wax era. This was a time when the hobby was more socialist, and everyone benefited from the same cards. No Flawless 1/1s, then, dividing us by income and class. Collectors of the world unite!
1992 Shaquille O'Neal Stadium Club Beam Team Rookie Members Only Card #21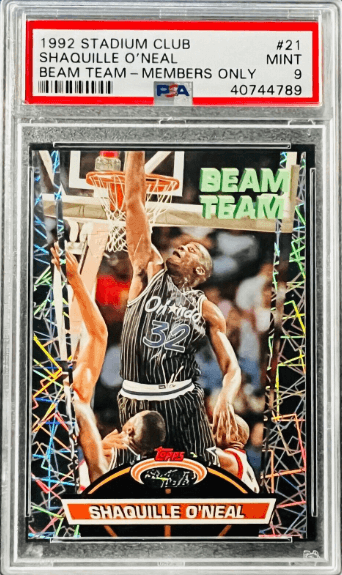 1992 Shaquille O'Neal Stadium Club Beam Team Rookie Members Only Card #21
A PSA 10 sold for $9,477.
When players retire, their public profile usually diminishes as new stars emerge. Alas, that is the cruel way of the world. But Shaquille O'Neal was never one of the dull and forgettable masses. He is more than just about any active player on TV, seen in every commercial break and halftime analysis of nationally televised basketball games. It's easy to see why. The term "larger than life" was created for Shaq. And aside from his lovable personality and strangely photogenic looks, O'Neal was also one of the best centers ever to play the game.
Everyone's favorite Shaq rookie card is the 1992 Shaquille O'Neal Stadium Club Beam Team Rookie Members Only Card #21. The Beam Team insert was a dumb tribute to halftime laser shows, a tasteless relic of the junk wax era. But the cool lasers on the borders certainly work and give added power to a signature Shaq dunk. The Topps Stadium Club logo is undeniably classy, saving the card from looking like a bargain bin insert. Meanwhile, the Members Only version is scarce and creates a good deal of value for collectors. There are only 58 PSA 10s of this short print, as opposed to 2,532 of the standard insert. All of these elements together make this Shaquille O'Neal card a certified junk wax classic.
1989 Fleer Billy Ripken F-Face #616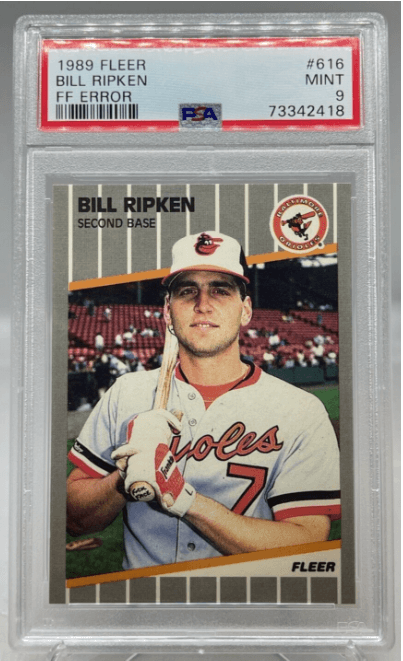 1989 Fleer Billy Ripken F-Face #616
A PSA 10 sold for $405.
Sports card collectors are dumb children at heart, so this card has become one of the most beloved and sought of the era. Billy Ripken is famous for two things. Being the younger brother of the great "Iron Man' Cal Ripken Jr., But also for using a bat with the words "fuck face" scribbled on the bottom. Hey, it's more than most ballplayers are remembered for! But Billy was a decent enough player.
At the time, Fleer (and every other company in the hobby) was pumping out as many baseball cards as possible. Therefore, quality control was not very high on their list of priorities in 1989. So, they just took a nice shot of Billy Ripken swinging a practice-only bat and used it as the picture for the 1989 Fleer Billy Ripken F-Face #616 card. When the company saw what happened, they recalled as many cards as possible. New cards came out with a black box or a white scribble covering the profanity on the 1989 Fleer Billy Ripken #616 card. But thousands had already circulated. Once the delightful "Fuck Face" cards were out of circulation, every kid with one was the coolest on their otherwise nondescript suburban block.
Billy Ripken had marked the bat with the moniker because it was heavier than his others, and therefore he wished to use it in practice but not during games. He insists that the writing was not particularly clear, and Fleer enhanced it. Ripken explained, "I think not only did they see it, but they also enhanced it. That writing on that bat is way too clear. I don't write that neatly. I think they knew that once they saw it, they could use the card to create an awful lot of stir." If they wanted to create an intentional stir, Fleer certainly succeeded.
1989 Score Supplemental #384S Bo Jackson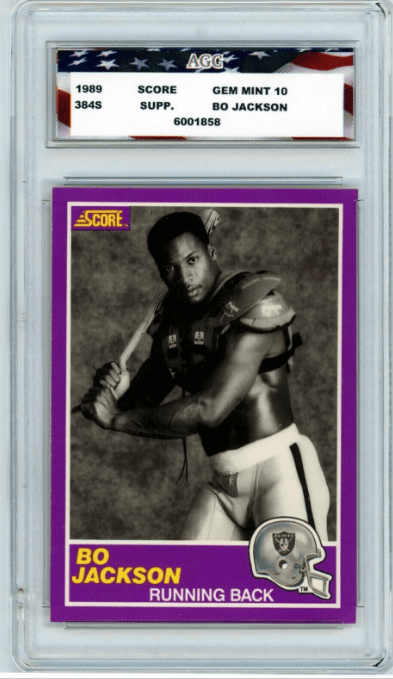 1989 Score Supplemental #384S Bo Jackson
A PSA 10 sold for $760.
It wasn't a question of whether to include a Bo Jackson card. It was merely an issue of how many, which ones, and which freaking sport. Jackson may have been the most incredible natural athlete in the history of the United States. In high school, he ran track and played basketball, football, and baseball. Jackson was an all-state athlete in every single one of these sports. So it was no surprise when Bo tried the impossible and decided to play baseball and football professionally. Honestly, the human body is not meant to endure that much punishment and Bo suffered a hip injury in 1991 that would severely limit his future achievements. But Jackson was an All-Star baseball player and an All-pro footballer, the only athlete in history to achieve both of those things. The inspiring scope of his abilities has guaranteed that Bo Jackson's cards will forever have a significant spot in hobby lore.
We chose the 1989 Score Supplemental #384S Bo Jackson cardbecause of the beautiful picture of the player in his football gear while swinging a bat. The black-and-white photography also gives us a glimpse of the ridiculous physique that helped Bo achieve untold greatness. However, some people prefer the similar 1990 Score Bo Jackson #697 card. You can't go wrong with either.
1989 Upper Deck Ken Griffey Jr. Rookie Card #1 (Star Rookie)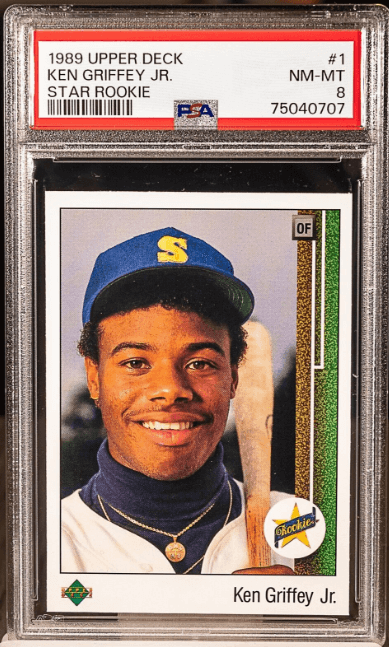 1989 Upper Deck Ken Griffey Jr. Rookie Card #1 (Star Rookie)
A PSA 10 sold for $7,201.
Folks say hello to the most over-graded card in history. An almost unfathomable 97,071 copies of this card have been graded at PSA alone. That is a testament to how popular Ken Griffey Jr. is and the fantastic durability of the printing machines Upper Deck was using in 1989.
Sure, now that people in the hobby realize how over-produced and graded the 1989 Upper Deck Ken Griffey Jr. Rookie Card #1 (Star Rookie) is, the value has decreased significantly. We don't rate this as one of the most fabulous junk wax cards for its profit potential. However, this is a classic for a reason. The Ken Griffey Jr. card captures the clear promise and, let's face it, the beautiful smile of the young man. But it is also a landmark in the hobby, representing a set that pushed the boundaries of card collecting and changed the perception of baseball cards forever. The classics have that status for a reason, kids.
1986 Topps Jerry Rice Rookie Card #161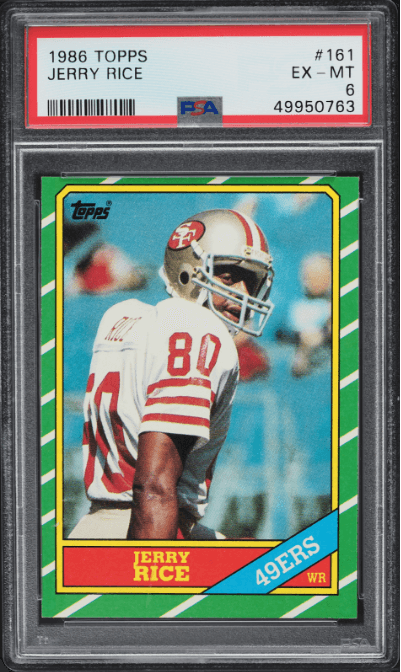 1986 Topps Jerry Rice Rookie Card #161
A PSA 10 sold for $85,200.
Is Jerry Rice the greatest wide receiver of all time? I don't know. Do bears defecate in woodland areas? The name they nicknamed simply "World" was ranked the second most outstanding football player ever by Sporting News. Rice is a 13-time pro-bowler, the 6-time league leader in catching yards, two-time offensive player of the year, 3 time Super Bowl champion, and an all-around menace to the secondary of every defense in the country. And his Topps rookie card is worthy of the best of the best.
No one can accuse Topps of under printing 1986 Topps football cards. So, there are 30,825 PSA-graded copies of the 1986 Topps Jerry Rice Rookie Card #161. But it is a very tough grade of these junk wax cards due to centering issues and unforgiving corners and edges. Therefore, only 61 of this massive repository of cards have gemmed. So, PSA 10s go for the price of a luxury sports car.
1986 Fleer Michael Jordan RC #57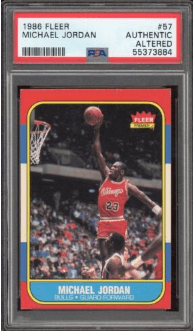 1986 Fleer Michael Jordan RC #57
A PSA 10 sold for $191,563.
There is absolutely no question about it. The 1986 Fleer Michael Jordan RC #57is the most iconic card of the junk wax era and the most famous basketball card ever made. Although "Air Jordan" played his rookie season for the Chicago Bulls in 1984-85, we didn't see a recognized rookie for this generational talent until 1986-87. Topps had abandoned the basketball market, and the other companies did not bother to enter it due to low ticket sales and ratings. Therefore, this card is a piece of history. It represents the recognition of the hobby that basketball is back, and Jordan is taking it right to the top.
It isn't just the evident historic importance that makes this card so iconic. It's also the design and photo. The picture embodies the bursting energy of early Jordan. Back when the man wasn't winning any titles yet, but was a walking highlights reel, putting butts in seats and reviving an all-American sport. And of course, the illogical color scheme is so junk wax. However, the borders are inoffensive and charming. The card is a masterpiece in every way.
Final Word On Junk Wax Gold: Best Cards Ever
The list of great cards from the junk wax era is seemingly endless. So we went for the ones with the most cultural impact and visual appeal and paid attention to value as well. The Michael Jordan card is in its own sphere, not just regarding the heights of Jordan's leap, but in its place in the hobby. But every junk wax card here is a gem and a cultural artifact. Additionally, a look at the values of some of the PSA 10s shows that claims that junk wax cards are worthless are nonsense. The hobby loves these cards dearly, and people will pay good money for copies of them.
There are limits to these cards. Few of them are scarce. There are no RPA shield 1/1 extravaganzas. But the designs have more charm than any other era (aside from possibly the 1950s golden years). When we see these cards, we smile and think of a lost time many of us long for. We watch Stranger Things, rewatch Back to the Future and collect these cards because they mean everything to a particular generation. And because everyone could afford junk wax cards and get their hands on a copy of their favorite, these classics are a part of countless lives. Herein lies their most profound value.