Nothing does more to determine the value of your card than the condition it is in. While back in ye olden days, we used to define this based on the "eye test," in the last thirty years, we have switched to relying on professional companies to determine that. You can send cards to be graded by a number of graders. Some like PSA or BGS are well-respected, and others less so. The grading companies will process anything you send them. But that doesn't mean you should send them just any old card. Sometimes, grading can exponentially increase the value of your card. Other times, it is a complete waste of money. Our guide on when to grade sports trading cards will help you tell the difference.
We should note that there are several reasons a person may want to grade their cards. Some people like the look of a slabbed and graded card. Therefore, they will grade all the cards they like. Others grade cards to protect them. After all, they are unlikely to garner damage in a slab. And even if they do, they are already graded. So, it's totally the perfect crime.
However, this guide will address one of the main motives for grading, financial value. After all, we can't advise you on aesthetic tastes. I certainly have my own opinion: I absolutely love graded cards. Even when they are not worth a great deal, there is no reason you should care. But I will give you some pointers on grading the right cards to increase their potential value.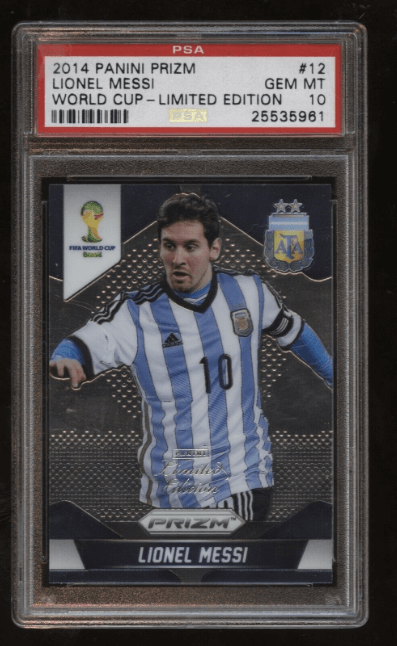 2014 Panini Prizm Lionel Messi World Cup - Limited Edition #12
The Condition Of Your Cards
The better the condition of your cards, the greater the bang for your buck in grading. After all, you pay a flat fee for grading cards. Usually something like $20. But the value of your card will increase the higher the grade is, regardless of how much you spend. Let's take a look at a couple of examples of average prices:
| Grade | 1986 Fleer Michael Jordan | 1952 Topps Mickey Mantle |
| --- | --- | --- |
| PSA 10 | $169,192.36 | None sold. 3 exist. A BGS 9.5 sold for $12,600,000 |
| PSA 9 | $15,359.50 | $2,880,000 |
| PSA 8 | $6,674.04 | $1,560,000 |
| PSA 7 | $5,082.14 | $202,500 |
| PSA 6 | $3,845.50 | $166,500 |
| PSA 5 | $3,167.86 | $94,000 |
You can see here that the cards get progressively more valuable. But more interestingly, the higher the grade is, the more significant the value gap. Look at Michael Jordan: the PSA 10 is worth more than 11 times more than the PSA 9. While we don't know how much a PSA 10 1952 Topps Mickey Mantle would sell for, the BGS 9.5 sold more than four times the value of the PSA 9. My guess is a PSA 10 is worth well over 20 million.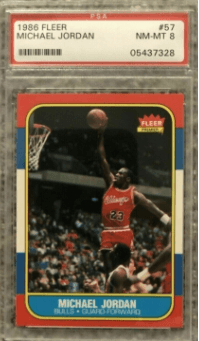 1986 Fleer Michael Jordan #57
Therefore, when determining whether to grade a card, you need to try and figure out its condition first. Then, if you can estimate the grade it will receive, you will know whether the card is worth grading.
How To Evaluate The Likely Grade Of A Card
Graders consider several elements when assigning a number to your card. Here are the major ones.
Card Centering
The centering refers to the relative width and symmetry of the card borders. Ideally, a card will have the same gap between the edge and the picture on all four sides. A perfectly centered card is described as a 50/50 one. A PSA 10 does not have to be perfect; one side can be slightly larger, up to the point of a 60/40 split, but no more than that. There is more leniency regarding the centering on the back since collectors care less about that.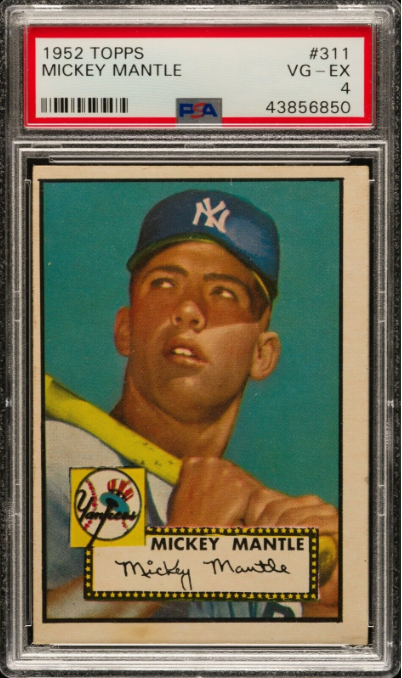 1952 Topps Mickey Mantle #311
Card Corners
Perhaps the part of the card most easily damaged is the edges. Therefore, evaluating or grading a card is usually considered the first and most crucial element. A PSA 10 card should generally have four sharp corners. Dull edges will likely result in less than a mint grade, and damaged corners could make the card unworthy of grading. If there is slight damage to the corner, graders may overlook it. Graders want to see noticeable imperfections before they lower grades.
Card Edges
Like corners, edges can get frayed and show some damage. You are looking for uniform and consistent color on all edges, front and back. The darker the card, the more visible the imperfections (since creases and chips tend to be white). Many edges develop dings of various sorts, and that will lower the grade.
The Card Surface
A PSA 10 card, according to the company, is "free of stains of any kind, but an allowance might be made for a slight printing imperfection if it doesn't impair the overall appeal of the card." So, you are looking for a surface with no scratches or stains. Indentations are also a problem. If a PSA 8 or 9 is enough to make a profit, there is some room for imperfections. You can have slight stains and get an 8 if the rest of the card is in good condition. You will need a good lighting source to get the best perspective on the surface.
There are all sorts of problems the surface of your card can exhibit. For example, small pieces of foil can detach from the card. Ink can smear, and creases are another issue. Check for these issues before grading.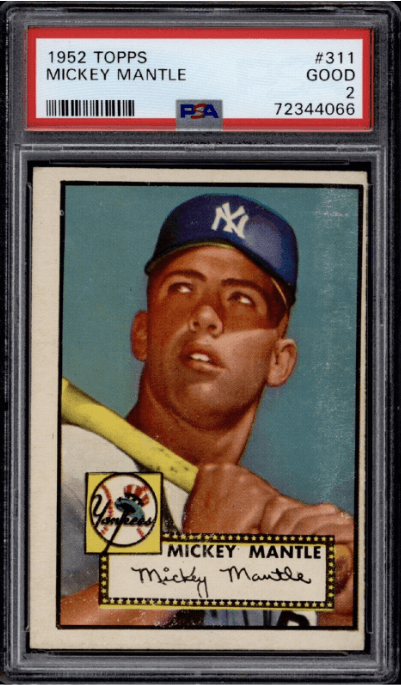 1952 Topps Mickey Mantle #311
The Importance Of Population Count
We have given you the available tools to determine what grade your card will likely get. In some cases, anything under a PSA 10 or 9 is not worth bothering. But every card is different. Some are very rare or difficult to get a high grade with. Therefore, lower grades may have substantial value as well. For example, it is highly unusual for a vintage card to get a PSA 10. Usually, a 7 or over is very high for cards from the 1950s and 1960s.
Age isn't the only reason the population counts for a high grade might be low. Some products are very difficult to grade. For example, Topps 1986 Baseball Cards and 2010 Bowman Chrome Baseball Cards do not hold up exceptionally well.
Therefore, before you grade, you will want to check how many cards of a particular grade are on the market. If the number is high (high hundreds or thousands), that may drag down the value over time. Meanwhile, if the population is low (a few hundred, or better, under 100), the price may increase significantly in the future. What matters isn't the overall number of graded cards but rather the sum of cards in the grade you think the card may achieve.
Where To Grade Your Cards
During the COVID boom, it seemed a new grader was popping up every five minutes. Things have chilled out since, but there are still too many. But there are only three grading companies that anyone takes seriously. Those are PSA (Professional Sports Authenticator), BGS (Beckett Grading), and SGC (Sportscard Guaranty Corporation). This is not the place for an in-depth comparison of the three. But if you get a mint grade (10 in most cases, also 9.5 for BGS), it will significantly increase the value of your card. The reason is that each of these companies has stood the test of time and earned the trust of most hobby enthusiasts.
Keep in mind that SGC is probably the most accurate grader of the three. But that can also mean they are the harshest grader. Meanwhile, BGS gives out the most gem grades, so some do not take their 9.5-grade designations as seriously.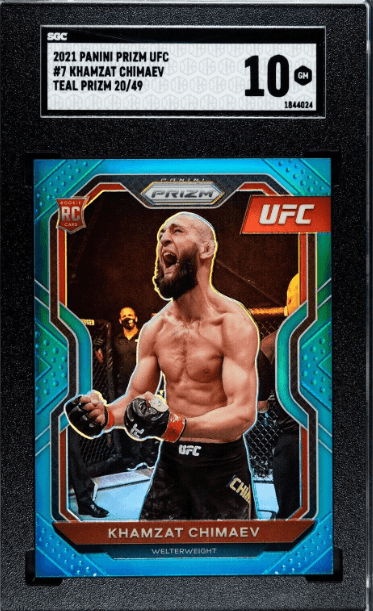 2021 Panini Prizm UFC #27 Khamzat Chimaev Teal Prizm 20/49
What Types Of Cards To Grade
The condition of your card is very important. But it isn't the be-all and end-all of what cards to grade. No matter how good a condition your 2019 Topps Update Keston Hiura #US150 rookie card is, it won't be beating out a PSA 5, 1955 Topps Willie Mays. The grade can only do so much. At the end of the day, hobby folks like to say, "Buy the card, not the grade." So, which cards are worth grading?
The Basic Value Rule
Cards typically cost $15-25 to grade. The basic rule is a common sense one. If the card you are submitting currently has a lower value and is unlikely to increase in value beyond that, there is no financial incentive to send it in. So what is the best way to know the value of your cards? Well, it's super easy. Look at the data on Cardbase. Check the card page and then you can check an expected value of any grade. Sure, there are booklets, recommended prices, and the like. But a card is only worth what people are actually spending on it. And that's exactly what you will find on Cardbase.
Still, that doesn't answer all of our questions about value. We hope it will increase significantly when we buy and grade a card. But of course, they can decrease as well. Many bubbles have burst on frustrated collectors while they sent their cards out for grading.
Due to this uncertainty, we could all use a general guideline on which cards to grade. The following categories are your best candidates.
Vintage Cards
Vintage cards are often a no-brainer to grade. Very often, even the lowliest base cards are valuable enough to grade. But, even if they aren't, you may want to grade them so their condition does not deteriorate.
Rookie Cards
For whatever reason, our hobby is wholly obsessed with rookie cards. In almost all cases, the value of second-year cards is significantly lower than those of first-year items. Then values go down even further as we get further into a player's career. This rule has its limits. A final year Mickey Mantle is worth a small yacht, while a 1988 Donruss Rated Rookie - Mike Campbell #30, will never be worth more than a dollar. Sorry, Mike. Next time smile for the camera. But keep that in mind.
Parallels and Numbered Cards
Rookies are great and are the focus of the hobby. But today, the value of many rookie cards has been undermined by two factors. First, there are so many products that every player has a metric ton of rookie cards to their names. For example, Zion Williamson had about 40 cards in significant releases in 2019-20, and players today have even more. In addition, many of them are overprinted and over-produced. For example, the Chronicles brand is notorious for having several rookies of the big stars in every pack. That means many are worthless, even if they represent a future Hall of Famer.
The solution is to seek out and grade numbered versions of rookie cards. Because of their limited supply, by definition, the parallels and numbered cards maintain value far more. Indeed, most collectors don't take ultra-modern base rookie cards seriously anymore. But, of course, getting your hands on these cards is more expensive. Therefore, you must calculate which players you want to invest in. The days when you bought 100 rookie cards of that promising prospect are gone.
It is also worth noting that very low-numbered, non-rookie cards can also be worth quite a bit, even if it isn't on a rookie card. By the way if you want to learn more about how to buy and sell sports cards online, we have an in depth guide for you.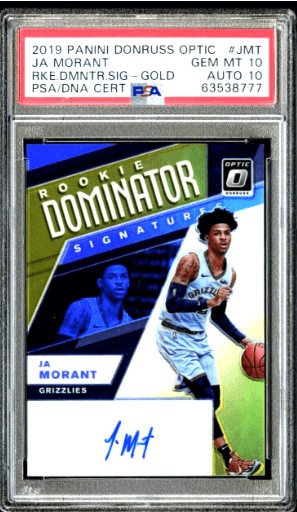 2019 Panini Donruss Optic Ja Morant RKE. DMNTR. SIG - GOLD
Autographs
The numbers of autographs are also quite limited, and the hobby has become increasingly oriented toward them. Indeed, autographs are so sought after that star autos on their non-rookie cards often have a reasonably good value. But right now, the pride and joy of the hobby are rookie patch autos (RPA). These are always excellent grades. The only possible exception is when you have a 1/1, in which case the card is already guaranteed a high price either way.
Note that grading companies will also check the autograph. The quality is judged independently from the rest of the card. PSA and the rest are far more forgiving on the autograph than the rest of the card. So unless it is very faded or smudged, the auto will likely get a ten. If you want to learn more about Parallels, Refractors, Autographs check out our guide.
Final Word On When to Grade Sports Trading Cards What You Need to Know
Grading is an incredibly effective way to increase the value of your cards. For example, the difference between a PSA 9 and a 10 is massive. However, many collectors waste a lot of money grading cards that are not worth the money and the effort. So, check the current market price, the population report, and other factors before submitting. That way, your expenses will not outpace profits.