PSA and BGS are two of the most popular and well-respected trading card grading companies in the world. Both companies offer professional grading services for trading cards, with the goal of determining the condition and authenticity of a card. But which one should you use? Does it matter if you collect baseball cards, basketball cards or football cards?
In this article, we'll take a detailed look at both PSA and BGS, including their history, grading process, pricing, and overall qualities to help you determine which grading service is right for you.
A Quick History of PSA and BGS Grading Services
PSA Card Grading Service Company
Professional Sports Authenticator (PSA) is a trading card and collectibles grading company established in 1991 with offices in the US, Europe, and Asia. PSA's consistent grading system has helped increase the confidence and trust in the collectibles market among collectors and investors alike. They even offer a guarantee on its services. PSA has graded north of 40 million cards worth a total of over one billion dollars.
Beckett Grading Services (BGS)
Beckett Grading Services (BGS) was founded in 1984 as a magazine publisher. In 1991, Beckett started grading sports cards, and in 2001, the company officially became Beckett Grading Services. BGS has graded millions of cards and has become a recognized source for collectors, dealers, and investors. In addition to grading, BGS also provides pricing information, news and analysis, and other resources to support the collectibles community.
How PSA and BGS Grade Cards
Both PSA and BGS use a 10-point grading scale to evaluate a card's condition, but there are some differences. While the grades range from "Mint 9" to "Poor 1," with half-point markers for near-mint cards (8.5), PSA doesn't issue a 9.5 grade like BGS does. BGS calls those cards "Gem Mint 9.5", which is the term PSA uses for their grade 10 cards. BGS less frequently issues grade 10 ratings, which they call "Pristine 10".
Most collectors consider a PSA 10 and a BGS 10 to be the same, but it can affect pricing. As you can see below, PSA 10 and BGS 10 Mike Trout rookie baseball cards look quite different on the slab.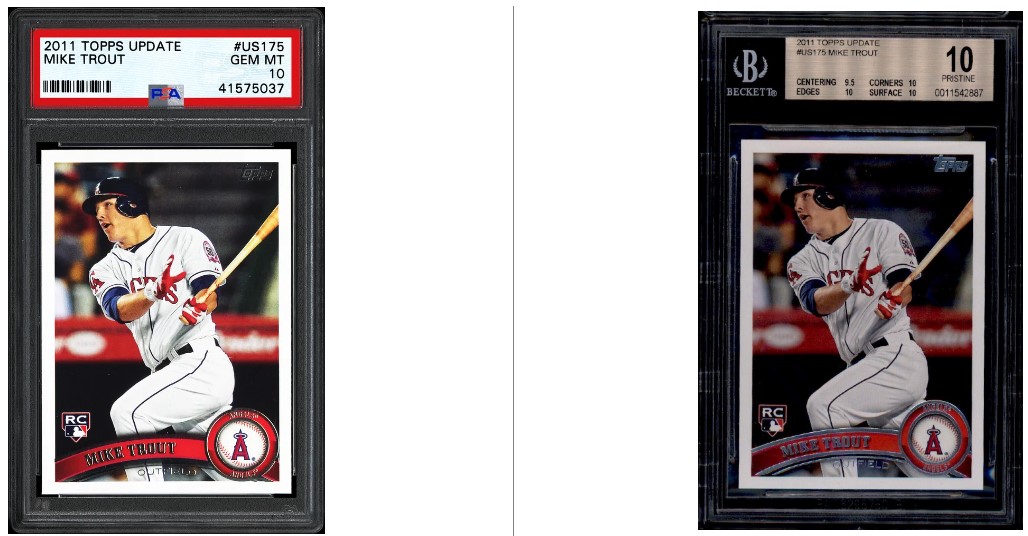 PSA vs BGS: 2011 Topps Update #US175 Mike Trout PSA 10 vs. 2011 Topps Update #US175 Mike Trout BGS 10
Both companies take centering, corner wear, surface wear, print quality, and overall eye appeal into consideration when grading trading cards. The main difference between the grading processes is that PSA uses a point system to determine the grade of a card, while BGS uses a more subjective approach. PSA also uses a proprietary machine to measure the centering of a card, while BGS relies on human judgment. This can result in different grades for the same card.
Importantly, BGS includes category sub-scores. Centering, Edges, Corners, and Surface all get their own grade on the metallic-colored label. This can delight collectors who enjoy even more stats associated with their favorite ball players.
PSA vs BGS: Pricing
You want your cards properly graded, but you also want to make sure that you maximize value. In this regard, PSA looks to have an edge based on the data we've seen so far. Below are some direct comparisons between PSA and BGS cards that have sold in recent days.
Comparison PSA 8 - NM-MT PSA 8 vs. BGS 8.5 NM-MT+
For this amazing Michael Jordan rookie card, a PSA 8 copy of the card sold for $71,888 through Goldin Auctions in September 2022. The same card, with a slightly higher BGS 8.5 grade sold for $22,601 in January 2023. Time is a factor, but that's a steep difference in pricing for the same basketball card.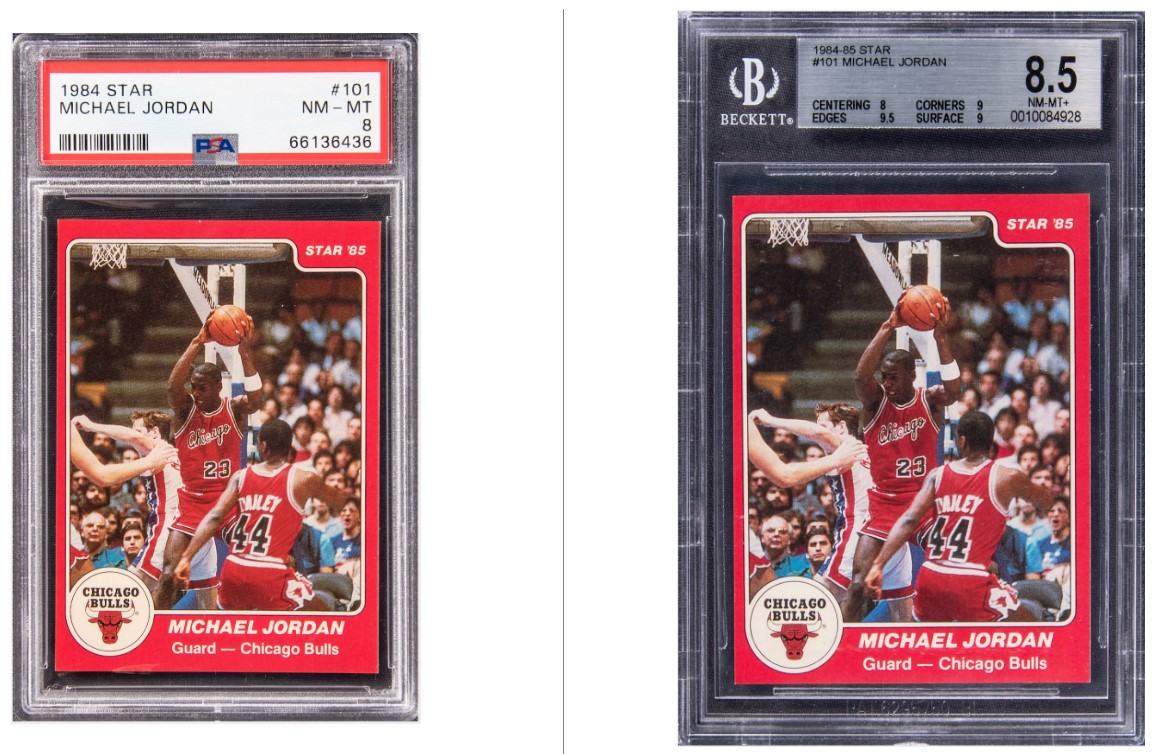 PSA vs. BGS: 1984 Star #101 Michael Jordan PSA 8 vs 1984 Star #101 Michael Jordan BGS 8.5
Comparison PSA 9 MINT vs. BGS 9 Mint
Football cards are no different. This 2000 Bowman Chrome Tom Brady rookie card in PSA 9 sold for $135,000 in February 2022. The same card graded BGS 9 sold a month before in January 2022 for $113,000.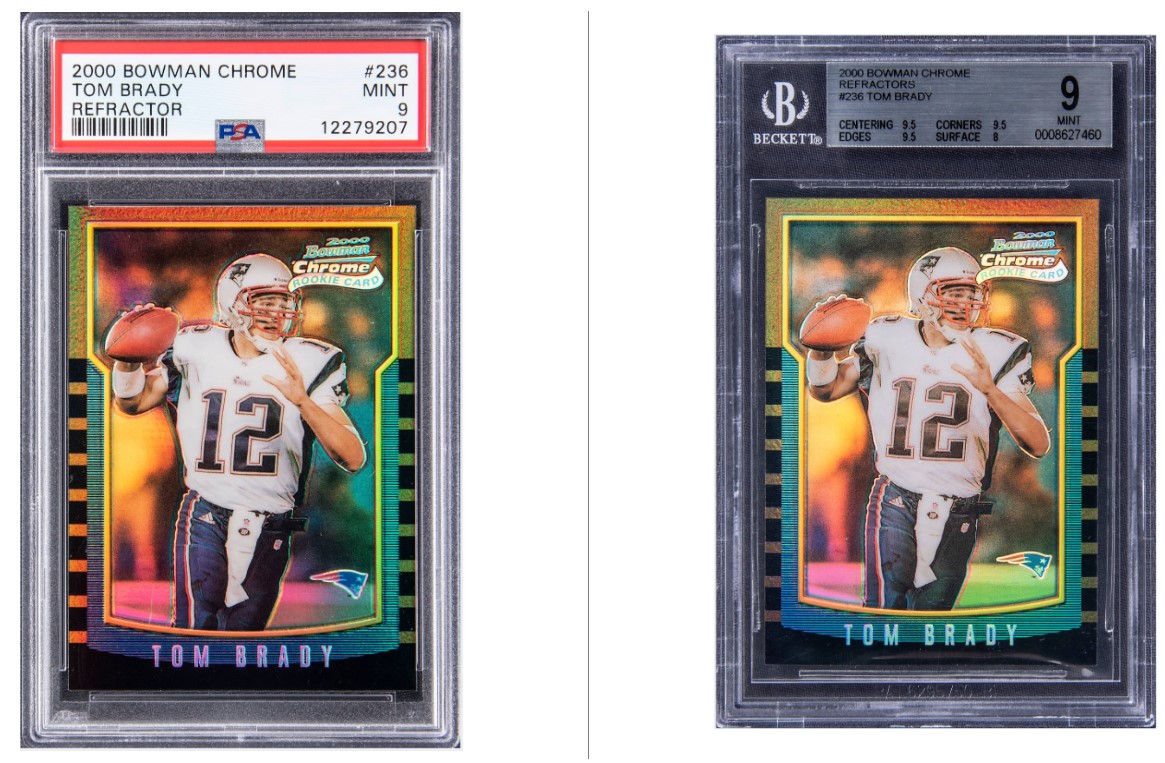 PSA vs. BGS: 2000 Bowman Chrome Refractors #236 Tom Brady PSA 9 vs. 2000 Bowman Chrome Refractors #236 Tom Brady BGS 9
One notable exception are grade 10 cards. BGS issues very few Pristine 10 cards. This rarity can lead to pricing for BGS 10 trading cards trending a bit higher than PSA grade 10 cards, but this isn't consistent based on our research.
Comparison PSA 10 Gem Mint vs. BGS 9.5 Mint
For example, the Albert Pujols rookie card below is a PSA 10 for both the card and the autograph, and it sold for an impressive $385,000 in February 2022. By contrast, finding an elusive BGS 10 wasn't possible, but a BGS Gem Mint 9.5 card with a 10 graded autograph sold in March 2022 for $64,000. That's a huge difference with almost no time between sales of Albert Pujols baseball cards.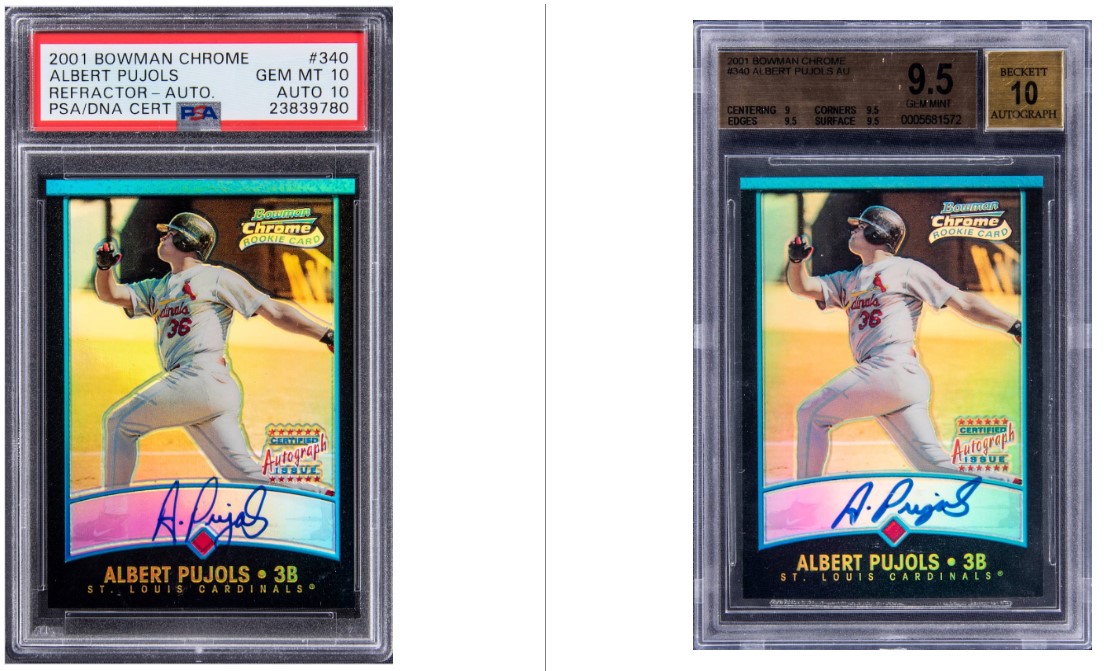 PSA vs BGS: 2001 Bowman Chrome Refractor Auto #340 Albert Pujols PSA 10 vs. 2001 Bowman Chrome Refractor Auto #340 Albert Pujols BGS 9.5
Other Pros and Cons for PSA versus BGS
While grading and price are huge factors, here are some other considerations to think about when choosing a grading service.
Pros of PSA
Large and well-established company: PSA has been grading trading cards since its inception. Their storied history and huge volume makes many people consider them the 'gold standard' for grading services.
Large community of collectors: PSA has a large community of collectors and dealers who trust their grading services, making it easier to sell or trade your cards once they are graded.
Consistent grading standards: PSA has established detailed grading standards and guidelines, which help ensure that your cards are evaluated consistently and accurately.
Clarity and Appearance of Labels: PSA fans prefer the simplicity and focus of PSA Lighthouse labels, which are white with larger text than BGS labels. Many feel that the sparse label allows the card's photo and composition to shine more. Some collectors also believe that the fact that PSA does not include the additional layer of a sleeve inside the sealed slab allows them to take clearer pictures.
Cons of PSA
Long wait times: PSA can have long wait times for grading, with some collectors waiting several months to receive their graded cards.
Higher fees: PSA fees are high compared to other grading companies, including BGS. They also charge based on the value of your cards, while BGS' pricing is much simpler.
Mounting quality: PSA's cards are packed without sleeves that BGS inserts to give cards an additional layer of protection. Some collectors have reported that PSA cards will 'slide around' a bit if they shake the slab, but few, if any, have reported that their cards suffered damage of any kind.
Basic Labels: Some collectors dislike the basic label and lack of sub-categories. Their spartan look cuts both ways because BGS fans view the elegance of their appearance as a plus.
Pros of using BGS
Fast turnaround time: BGS is known for having a fast turnaround time for grading, with many collectors receiving their graded cards within a few weeks.
Lower fees: BGS fees are generally lower than those of PSA, making it a more cost-effective option for grading your cards. They don't tie your fees to the value of your cards, which makes for a simpler system as well.
Superior Slabs: BGS slabs are sturdier than those used by PSA and include UV-protection. The cards are packaged with a penny sleeve on them for additional protection. Some collectors have also noted that BGS packs cards tighter, keeping them more securely in place.
Cons of using BGS
Less established company: Although BGS has been grading cards for over 30 years, it has a smaller community of collectors and dealers who use it as their standard. BGS is also considered by some collectors to be more lenient than PSA, although this perception might be based on their lower fees and shorter turnaround times.
Clarity and Appearance of Labeling: The BGS labeling system has its fans and detractors. The different color labels for each grade is a plus for many collectors who appreciate being able to instantly recognize the quality of the item. Others feel that the lack of the uniform look makes displaying sets that have different grades less than visually appealing.
As noted above, some collectors dislike the darkness of the Beckett labels; others view them as elegant next to the basic PSA white label.
Final Thoughts on PSA vs. BGS
Both PSA and BGS are recognized leaders in the field of trading card grading. They both grade baseball cards, basketball cards, football cards, and even trading Pokemon cards and Magic: The Gathering cards.
One last thing to keep in mind is that some collectors and dealers prefer one company over the other, which can affect the perceived value of a card. For example, some collectors may believe that PSA grading is more strict, while others may feel that BGS grading is more accurate. If you are grading a card to sell, it's important to consider your potential buyer when deciding which company to submit your cards to, as their perceptions can have a direct impact on the value of your graded cards.
In conclusion, both PSA and BGS are excellent options for trading card grading, and the choice of which company to submit to ultimately comes down to personal preference. Now that you've read through this comparison, you have the details you need to make the call on which service best suits your collecting and investment needs.