Dick Butkus was featured on the cover of Sports Illustrated magazine in 1970; the headline was very telling, it said: "The Most Feared Man in the Game." They were fitting to feature him in their season preview because Butkus went on to win his second NFL Defensive Player of the Year award that year in a row. The following quote summarizes his relentless approach to defense: "I wouldn't ever go out to hurt anybody deliberately," Butkus replied tongue-in-cheek when asked about his on-field reputation. "Unless it was, you know, important … like a league game or something."
Although the middle linebacker's career was cut short by injury, he remains embedded in the collective consciousness of football fans as one of the greatest defensive players ever to put on a jockstrap. NFL.com ranks him as the sixth greatest defensive player ever. Meanwhile, Bleacher Report has down as #2, behind Lawrence Taylor.
He got this tremendous reputation, though Butkus only played 9 seasons before being forced into retirement by a knee injury. But he was a pro-bowl selection in eight of those. And when he was eligible for the Hall of Fame in Canton, Ohio, Dick was selected on the first try. There was never any doubt.
Butkus also had an excellent camera presence and was featured in countless TV shows, movies, and commercials, hawking every product known to humankind. The man had an irresistible humanity and warmth beneath his brutal and ruthless exterior.
Collecting Dick Butkus Football Cards
Aside from being an immortal legend, Butkus will always have a strong market in Chicago. It's not just the middle linebacker player for the Bears throughout his career. He was born in Chicago and played high school ball for the Chicago Vocational High School before attending the University of Illinois. It doesn't get more windy in the city than this guy. So, Bears fans have an exceptionally soft spot for this legend. He is generally considered to be the second-best player the team ever had, behind Walter Payton, and easily their best defensive one.
There aren't too many alternatives for Dick Butkus cards. There is the well-known Philadelphia rookie card, and it's mostly all Topps from there on out. Dick also had a short career, so there just weren't too many of his cards on the market. That means all Dick Butkus cards are well-known and tried and true. There aren't many sneaky investments you can make.
But the good news is, just about all the Dick Butkus cards from his playing career are attractive (he was surprisingly good-looking in his early days, terrifyingly) and famous. Therefore, they are bound to increase in value since the legend of "The Enforcer" is here to stay.
1971 Topps Pin-Ups Dick Butkus #28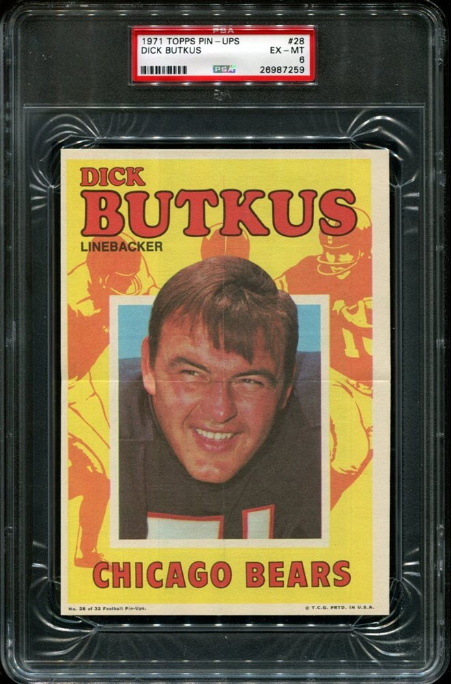 1971 Topps Pin-Ups Dick Butkus #28
A PSA 6 sold for $44
When the AFL and NFL merged into the modern AFL and NFC conferences, Topps rushed out this weird set of small posters to celebrate. They don't seem to have been particularly popular, and most people probably hung them up and threw them out. But even though there are only graded 24 copies of the 1971 Topps Pin-Ups Dick Butkus #28 poster/card, it still doesn't have much value.
1970 Topps Super Dick Butkus #14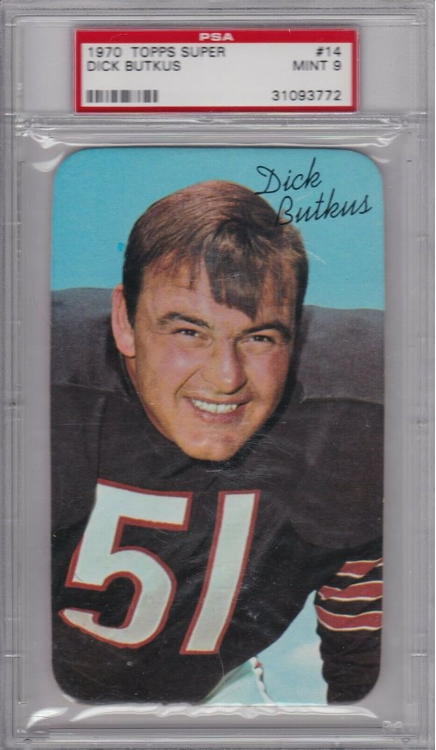 1970 Topps Super Dick Butkus #14
A PSA 9 sold for $132
There is one question on our minds and one question alone. Is Dick trying to smile or grimacing in pain? It's like that glass half-empty versus half-complete conundrum. Either way, you don't want this guy tackling you. He might be smiling when it's over, but you won't be.
The 1970 Topps Super Football release was separate from the standard 1970 Topps Football release. The design concept is different; it showcases a complete picture with a faux autograph. Meanwhile, the regular release had borders (pretty wide and elaborate ones) and the position and team. The truth is, both releases had a lot of charm. There were other differences, too. The cards were oversized at 3-1/8 by 5-1/4 inches. But to make things more confusing, they had the exact same back information as the regular release. Now, the release wasn't popular. So there are only 120 copies of the 1970 Topps Super Dick Butkus #14 card and a single PSA 10. Therefore, the value should climb at some point.
1971 Kellogg's 3-D Super Stars Dick Butkus #39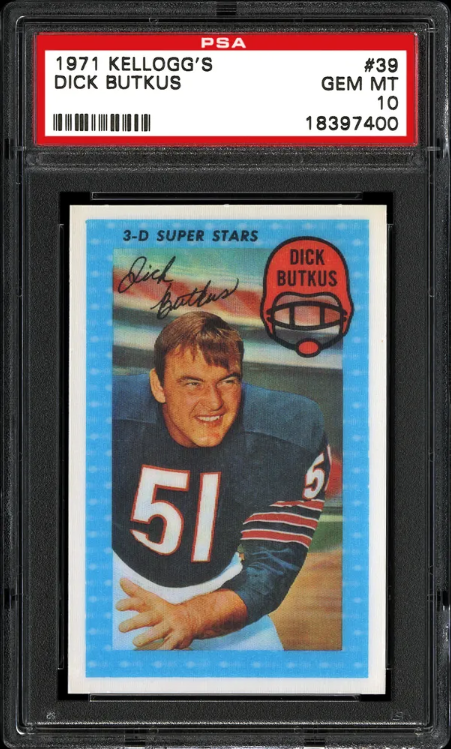 1971 Kellogg's 3-D Super Stars Dick Butkus #39
A PSA 10 sold for $250
This card came in Cornflakes and, therefore, wasn't taken seriously. So, a lot of people threw them out with their breakfast garbage. It's easy to see why because the 1971 Kellogg's 3-D Super Stars Dick Butkus #39 design is absolute amateur hour, and 3D it isn't. But because of that, the population numbers are low. Therefore, we expect higher values eventually unless people can't get over the horror, of course.
1968 Topps Dick Butkus #127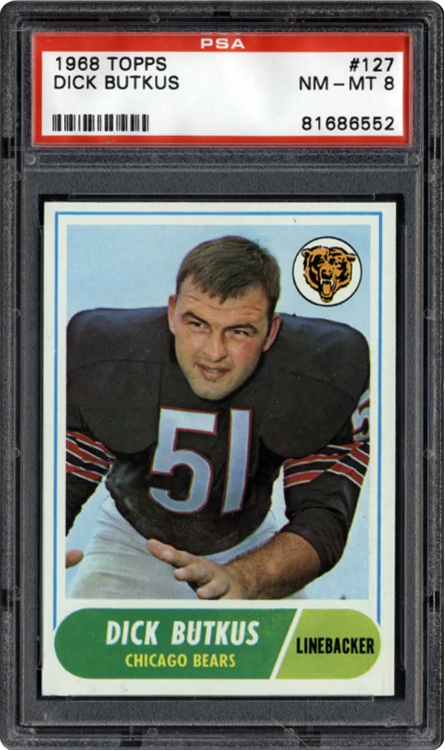 1968 Topps Dick Butkus #127
A PSA 9 sold for $575
The very first Topps card for our hero. Philadelphia managed to get the rights to football in 1964, and Topps could not secure them until 1968. But from then, it would remain firmly in control until the late 1980s when Score and later Upper moved to challenge their monopoly. The 1968 Topps Dick Butkus #127 is a great start for his all-too-short Topps tenure. The lettering on the green background is a prime 1960s design, and the old-school Bears logo is divine. Finally, it's really a shame Dick later lost his hair because he had a great mop in the cards from this era. He looks much better than he did with the crew cut of his first two seasons. Oh, the ravages of time.
1972 Topps Dick Butkus #341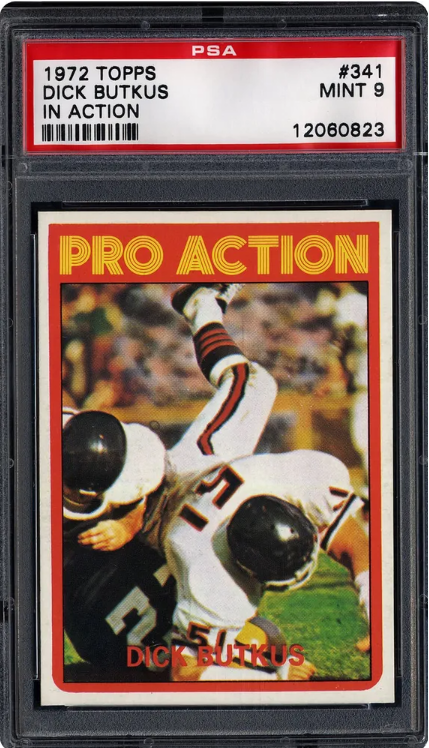 1972 Topps Dick Butkus #341
A PSA 10 sold for $650
By the latter days of his career, Topps understood that stills of Dick just weren't doing the great linebacker justice. So, we started to see more action photos. And you can tell the company is looking for the best and most evocative ones, both here and in the 1973 Topps Football release. 1972 saw the debut of the "Pro Action" set in their NFL cards, which was paralleled by the "In Action" set in the beloved 1972 Topps Baseball release.
The 1972 Topps Dick Butkus #341 card was short-printed because, as a high number, it was part of the Series 3 section of the release. Therefore, there are only 440 of these cards, 9 of which are PSA 10s and 90 of them PSA 9s. That is very low for Butkus, a massive star, and people tended to save his cards. By comparison, there are 1,541 PSA-graded Archie Manning cards on the books. That will help the value of the card climb over time.
1969 Topps Dick Butkus #139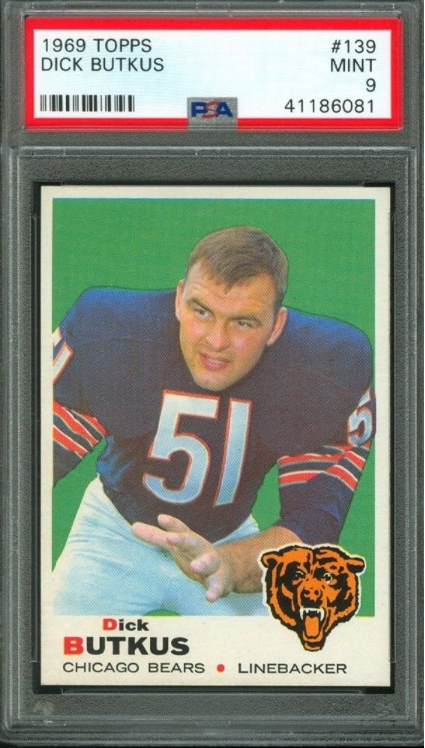 1969 Topps Dick Butkus #139
A PSA 9 sold for $1,080
I don't usually like these "green screen" types of designs, and sadly, Topps had several of them in the 1950s and 1960s. The colors are often mismatched, and the players sometimes seem badly cut out. But the 1969 Topps Dick Butkus #139 card gets all of that right. Even the picture doesn't look staged. The card was a popular one, but there were very few high grades, often because of centering.
1973 Topps Dick Butkus #300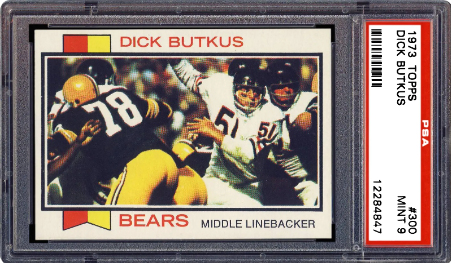 1973 Topps Dick Butkus #300
A PSA 10 sold for $1,169.44
How wonderful is this card? What I love about the 1973 Topps Dick Butkus #300 is its chaotic energy. You can feel what a poor defenseless (once Dick was through dispensing with your protection) quarterback would see as they tried to get off a panicked pass. We will never know how many sacks he had because no one was counting back then. But he would have a metric ton. The 1973 design is quaint and unspectacular, but it brings out the action photo perfectly. With 32 PSA 10s on the market (and a generally high population of close to 800), it still has a very excellent value for a late-career card. And another important point: if you look at how the other Bears helmets are positioned around "The Enforcer's" head, it seems like he has Mickey Mouse ears.
1974 Topps Dick Butkus #230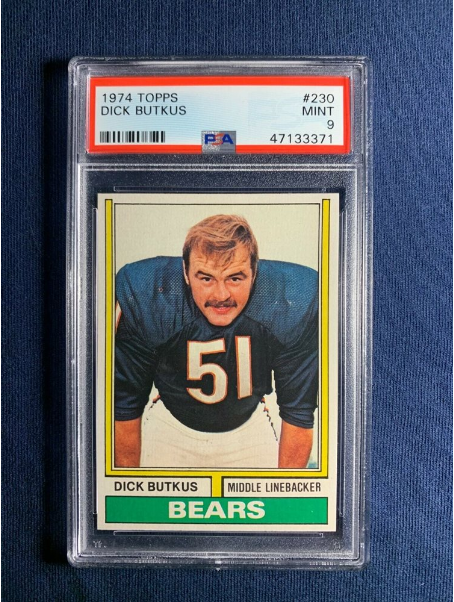 1974 Topps Dick Butkus #230
A PSA 10 sold for $1,899
One of the weirdest things about Dick Butkus cards is how he looks friendlier and cuddlier every year. In his last card as a pro, the 1974 Topps Dick Butkus #230 our friend looks positively cuddly. The more hair he has, on his head or face, the friendlier he looks. Aside from Butkus emerging as a friendly teddy bear, another surprise is the high price of this card. The card is kind of rare for its era, with only 561 printed. But there are no less than 5 PSA 10s, a large number for a card this old. But since the last sale was in 2020, it will certainly be worth more today.
1967 Philadelphia Dick Butkus #28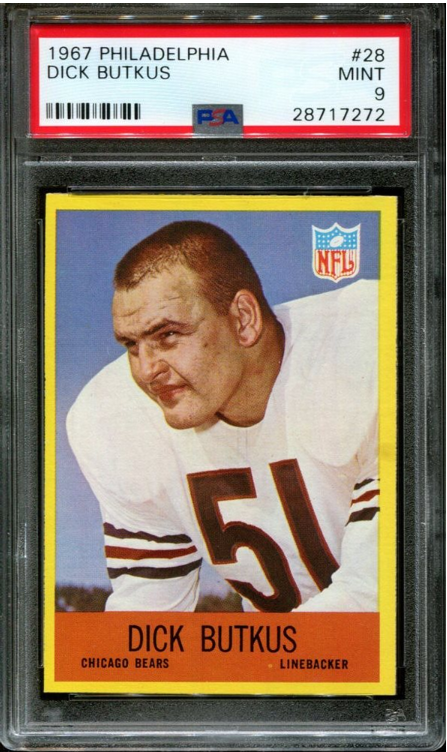 1967 Philadelphia Dick Butkus #28
A PSA 9 sold for $3,605
With the crew cut that Dick sported in his early seasons, he looks positively terrifying. Later, he would soften that image somewhat with a cute mop of hair. The 1967 Philadelphia Football set marked the end of their era of football monopoly. It had an excellent design with beautiful yellow borders and classy lettering, which vaguely recalls typewriter font. It is very era-appropriate in that regard. The problem with the 1967 Philadelphia Dick Butkus #28 card is immediately apparent to anyone familiar with the Dick Butkus rookie card. Though the picture is not identical, it clearly comes from the same shoot as that better-known card. In that sense, it's good that Topps got the license back. At the same time, they recycled pictures often in the 1950s, which became increasingly rare as time went on.
The value is not low. But it is far lower than it should be. The Philadelphia cards were printed in lower numbers. So, the population count is low, especially in the higher grades. There are no PSA 10s and only 3 PSA 9s out of 598 in total. There also haven't been any recent sales, certainly not since our hero passed away. Therefore, I imagine the next sale of a PSA 9 will be significantly higher.
1966 Philadelphia Dick Butkus Rookie Card #31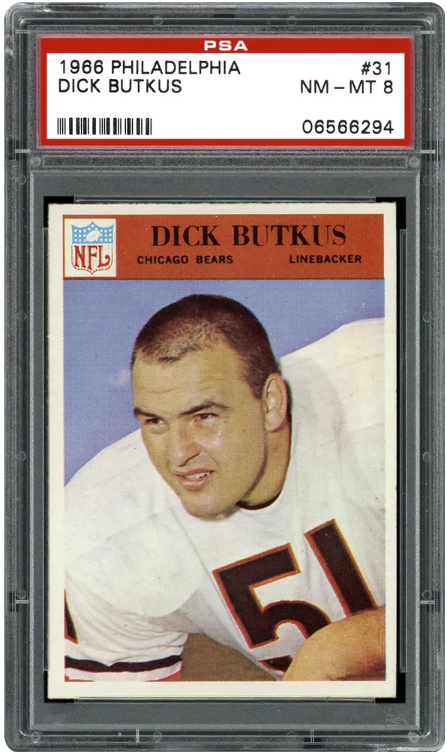 1966 Philadelphia Dick Butkus Rookie Card #31
A PSA 9 sold for $31,950
There is only one rookie card for this legendary linebacker. The 1966 Philadelphia Dick Butkus Rookie Card #31 captures Dick looking harder (sorry, I had to) than in any other card. He looks like the meanest marine in the meanest squad on the shores of Iwo Jima.
By the way, if the price looks high, it might be higher now. First, this card has always been one of the key vintage football rookies. And now more than ever. The most significant sale of a PSA 9 took place back in 2018. Since then there haven't been any sales of high grades that were not off center. Considering that since we have experienced the COVID pandemic boom and our friend, Butkus has passed away, we can probably expect a very healthy increase in value. One thing working against value, is that there are more copies of this card than most in the era. A full 1,408 PSA graded copies. However, there is only 1 PSA 10 (and that must be worth an absolute fortune) and 7 PSA 9s.
Vintage Gridiron: The Dick Butkus Card Collection
Ok, so pretty much every Dick Butkus card looks exactly the same. He puts on something between a smile and a grimace and gets into a scrimmage position. But they did that every year because it got results, OK? And we love seeing how Butkus turned from the scariest-looking football player who ever lived into such a sweet-looking man within just eight years. Although his tackles remained just as ferocious.
Now that Butkus has passed away, the market for the cards has certainly become conducive to buyers. But that will not change in my opinion. He is an immortal of the sport and his legend will not fade any time soon.