The hobby has been the arena for fierce competition between Topps and Panini over the last two decades. That will end in 2025, when Topps will start exclusively producing NFL Football cards and NBA Basketball Cards. That will be a knockout punch for Panini in the big American sports. While Panini has problems, many of its products set the standard for the industry. So will Topps be able to step into their shoes successfully, and what will this mean for collectors? We have the whole story.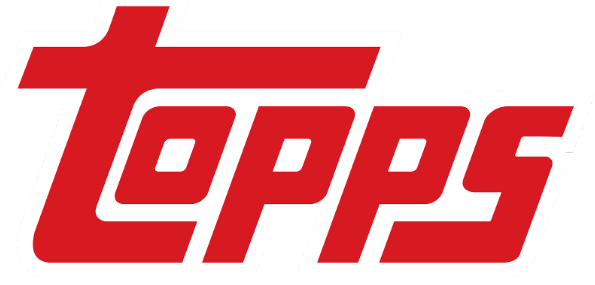 Topps
The History of Topps vs. Panini
Topps remains the number one brand for baseball cards. But for decades, it was also the go-to in basketball and football. It withstood many American rivals like Bowman, Score, Fleer, and Donruss to achieve supremacy in all three major American sports. But that changed in 2009. That year the Italian sports sticker giant Panini entered the US market in a big way. They bought out Texas card producer Donruss and formed the "Panini America" subsidiary.
The move that really changed the card business was the announcement of an exclusive deal between the NBA and Panini. Until then, the Topps Chrome release was the go-to for basketball collectors. That format saw the release of the most desirable Kobe Bryant and LeBron James rookie cards. Then in 2016, Panini America signed a ten-year contract with the NFL for an incredible 300 million dollars. These two moves shoved Topps into a primarily baseball-oriented card company. Panini became the dominant force in the card business, coupling its massive global platform with exclusive rights to those massive sports leagues.
The Fanatics Revolution
The news hit the hobby like a tsunami. Sports apparel giant Fanatics bought the exclusive rights to produce MLB, NBA, and NFL cards. No one was surprised that Fanatics had the money or influence to make a deal of this magnitude. After all, they had a complete monopoly on apparel production for all those leagues and had high-handedly crushed all opposition. They sell over 2.5 billion dollars worth of merchandise and are estimated to be worth nearly 20 billion overall.
What was not clear was how they were planning to produce trading cards. Would they create their own card printing operation or buy one of the existing card companies? Finally, on January 4, 2022, the mystery was settled. Fanatics bought Topps, America's oldest and most respected sports card company.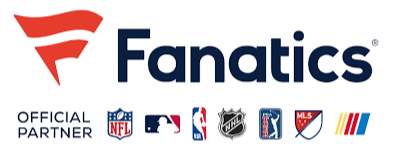 Fanatics
The Topps Advantage
Buying Topps was an inspired move. Fanatics is a massive name for sports fans, but it does not have the trust of hobby enthusiasts. Meanwhile, Topps has got brands with years of weight behind them. And they were worth considerably less than Panini, as their volume of business had dropped significantly since losing the NBA and NFL rights.
But basketball and football fans, especially the veteran ones, have good memories of Topps Chrome and Bowman cards. Therefore, Fanatics will be able to build on that and ease the transition of fans from Panini back to Topps. Meanwhile, in the case of baseball cards, there will be no transition at all.
The Return Of Topps Chrome
When Panini took over card production for NBA cards in 2009, their main challenge was replacing the iconic Topps Chrome cards. Their attempt to do so through the Prizm brand was spectacularly successful. Today, the Prizm card is the go-to for football and basketball. The challenge ahead for Topps and Fanatics is less daunting. Collectors already belove Topps Chrome, and getting people to switch back shouldn't be too hard.
Nonetheless, there are some substantial differences between the two. Topps Chrome has a distinct design philosophy. The background is quite hazy. Meanwhile, the players pop up in a subtle but distinct manner. The overall impression, from the sound cards at least, is artistic. Meanwhile, Prizm has a harshly metallic and somewhat industrial aesthetic.
The differences beg the question: will Topps simply use Chrome to replace Prizm? Or will they also try to create their own equivalent of Prizm alongside the reestablishment of Chrome? I am betting on the latter. The following section will explain why.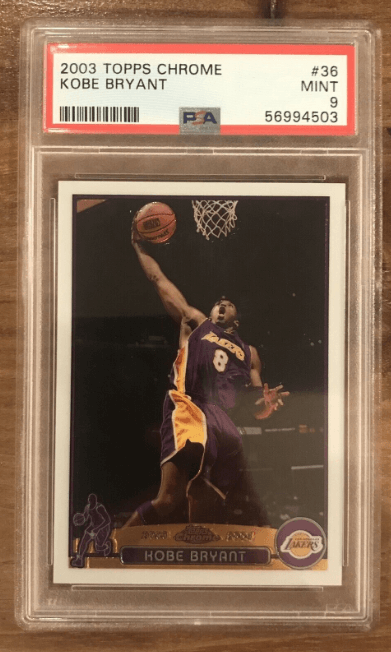 2003 Topps Chrome Kobe Bryant
The Wider Variety Of Panini
Topps is a far more focused brand than Panini, for better or worse. The baseball releases from Topps are fewer than their rivals' football and basketball releases. And there is also a clearer hierarchy and audience for each release. For example, Opening Day is for children. Heritage targets vintage fans. Flagship releases are for everyone; Bowman is designed for prospecting, etc.
Meanwhile, Panini has a lot of concept-based releases. It is not always clear what the audience is. Instead, the Texas-based company often seems to release products and hope there is a market for them. For example, what exactly is the point of Zenith, Spectra, or Noir?
Once Topps obtained the rights to football and basketball cards, they faced a hard choice. Do they extend their range of products to try to capture the fans of the Panini concept releases? Or do Fanatics stick to the core of tested and proven Topps products?
Hard to say. I guess that Fanatics will try to avoid saturating their offerings the way Panini has. So, they will be wary of introducing a whole bunch of new lines. But some will be unavoidable. Prizm, in particular, is a line that will need replacing. However, I don't believe its hardcore fans will be happy with Topps Chrome as a straight-up replacement due to the differences between them.
The Bowman Brand
Topps had difficulty moving on from losing their NBA and NFL rights to Panini. But they managed to do so by significantly improving the depth of their baseball card releases. Perhaps their most important and successful move was to revive the Bowman product and orient it around prospects. Today, the most popular (and valuable) Topps releases are part of their Bowman line, especially Bowman Chrome and Bowman Draft. As a result, the Bowman 1st cards have replaced the flagship rookie cards as the industry standard.
Fanatics are now in a great position to leverage the popularity of the Bowman brand into the world of basketball and football. If the Bowman 1st cards of players picked in the MLB Draft can sell for thousands of dollars, wouldn't NBA and NFL draft picks sell for even more? After all, the high draft picks in those sports reliably perform better than their baseball equivalents.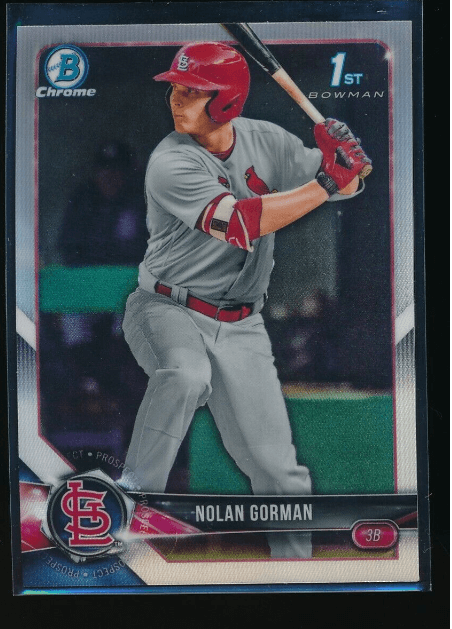 1st Bowman Nolan Gorman
High-End Products
Topps has many advantages over Panini, and they will ease the transition for basketball and football card collectors. But there is one field where the Texas-based company has its rivals thoroughly beat, at least for now. The higher-end Panini products are a smash hit and fare incredibly well on the market. In particular, National Treasures, Flawless, and Immaculate are dominant in the market.
Meanwhile, the Topps high-end stuff does ok. Topps Transcendent has a very strong resale value. Some boxes go for $30,000 due to their scarcity. There are others, such as Diamond Icon and Topps Sterling. But while some of these boxes are very expensive, they do not have the cache and reputation of the Panini high-end stuff. For example, Drake rips boxes of Flawless on Instagram, not Diamond Icon.
Is the difference in success related to the sports that Panini covers, or is it an advantage in the products? The answer may influence how Topps manages their transition into basketball and football cards. Fanatics can use the same lines their daughter company has used before or try to copy some of the more successful Panini lines.
Inserts
The inserts field is the other category where Panini has a significant advantage over Topps. Panini has some great inserts that are incredibly popular with collectors. Perhaps the top one among these is Kaboom! But plenty of others are beloved and fetch an excellent price. They include Downtown, Net Marvels, Stained Glass, and others.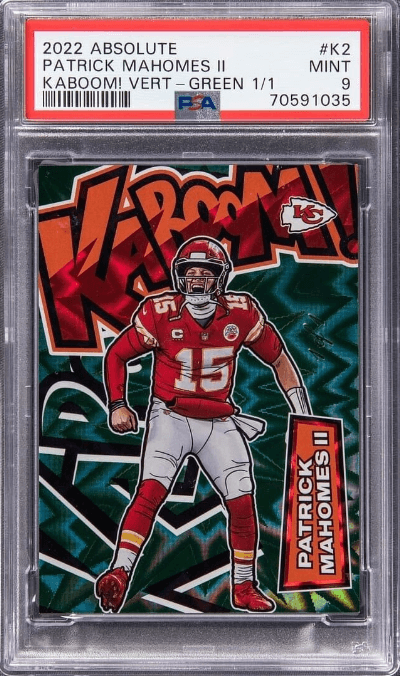 2022 Absolute Patrick Mahomes II
Meanwhile, Topps has really been unable to come up with any significant inserts of their own in recent years. Some of the most popular ones they have are complete rip-offs of Panini ones. For example, Topps introduced Home Field Advantage cards last season, which are almost identical to the Downtown inserts.
If the Home Field Advantage example is any indication, Topps will probably simply copy some of Panini's best. But one thing is for sure: basketball and football collectors will expect higher inserts than Topps has been producing.
Release Dates
One of the most common complaints Panini face is their terribly late release dates. Before the pandemic, the company tended to release its products early in the season, as fans expected. But the company could not keep pace when the supply chain problems hit. As a result, releases kept getting postponed, and the problem hasn't gotten better since.
Here are the release dates for Panini Prizm Basketball in recent years.
2018/19 = Nov 21, 2018.
2019/20 = December 4, 2019.
2020/21 = March 31, 2021.
2021/22 = July 8, 2022.
2022/23 = April 12, 2023
In the last two years, the most important basketball release of the year came in the playoffs. That is not a satisfactory state of affairs. Meanwhile, Topps has kept to its schedule, with only the occasional delay. Most importantly, it continues to release its flagship products before Opening Day. That is good news for the hobby. It is very likely that this problem will be alleviated when Fanatics takes control of the NBA and NFL products. And it will undoubtedly help if Topps doesn't embrace many new products. A smaller and more streamlined release calendar will help.
Bowman University
Wisely, Fanatics and Topps are already making forays into basketball and football card markets through the Bowman line. In 2021-22, Topps released its first edition of Bowman University. It was the first Bowman line in football since Panini purchased the NFL rights in 2016. But now that name had a lot more cache than back then.
Cynics believed the new line would fail since it was unlicensed and featured players in their college uniforms. But in 2022, Fanatics took advantage of the new NCAA licensing rules. Therefore, the 2022 version of Bowman University included images of hundreds of promising athletes and dozens of the most visible universities and colleges in the United States. Thus, the line has proven more popular than expected. In addition, the combination of the Bowman brand and legit, licensed cards could take the college card market to new heights.
Once Fanatics secure the full rights to the NBA and NFL in 2025, they will face a challenge. There is no clear model for integrating Bowman into the flagship Topps products. Will Bowman be for college prospects only? Will they also issue an NFL and NBA version focusing on rookies? These are all issues Topps will need to work out. But these are good problems to have.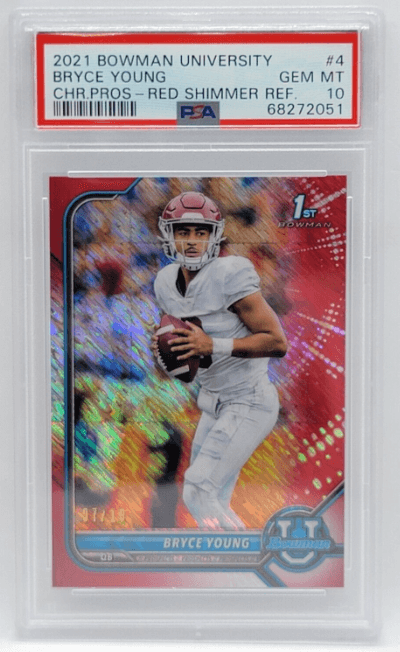 2021 Bowman University Bryce Young
An Early Start
Bowman University indicated that Topps is not planning to wait patiently until they receive the NBA and NFL rights. But things are about to get real. Industry sources say that the company plans to release a full, though unlicensed, line of flagship cards for the 2023-24 NBA season. They want to get fans of the sports, especially the young ones, used to Topps cards again. We can also expect Topps to run some of their ideas as trial balloons and see what works. We would not be surprised if similar plans were announced for football.
Final Word On The 2025 Purchase Of Football And Basketball Rights By Topps And What It Means
Topps has years of experience producing cards and tends to have a more reliable and streamlined release schedule. However, Panini has a significant advantage in high-end products and inserts. To step into the shoes of what is currently the biggest company in the hobby, Fanatics will have to help its daughter company overcome these shortcomings. Of course, copying Panini's most successful elements will be the easiest route. But we hope they bring some originality to the table.