When Jalen Hurts was benched in the 2017 NCAA championship game it was unclear what the future had in store.
Hurts had arrived at Alabama two years prior, buried on the depth chart behind 3 other quarterbacks. However, by his second game as a freshman, he was promoted to the starting role, which he held for the remainder of the season. He led Alabama to the national championship game, where they narrowly lost to Clemson.
Hurts had put up massive numbers and were heralded by many as one of the best NFL quarterback prospects in his class, gracing the cover of Sports Illustrated. And while his sophomore campaign saw similar production, Hurts was ultimately benched in the national championship game in favor of freshman quarterback Tua Tagovailoa.
Tua held on to his starting position the following season, and Hurts, lost in the shuffle, was benched in his junior season, leading to his transfer to Oklahoma.
Older quarterbacks transferring after losing their jobs is common in college football. What's uncommon is those quarterbacks going on to place second in Heisman voting, becoming second-round draft picks, and leading their team to the Super Bowl at the age of 24.
Jalen Hurts' story is more than just an exciting young quarterback leading one of the best young teams in the league – it's an inspiring story of overcoming setbacks that have resonated with many fans across the league.
Hurts and his gritty Eagles' future remains incredibly bright, despite the Superbowl loss versus Patrick Mahomes and the Chiefs. With Jalen Hurts now projecting to be a top QB in the league for years to come, his rookie card value is at an all-time high.
How This Jalen Hurts Rookie Cards List is Formatted
Too many top 10 cards lists out there restrict themselves to only a player's most expensive cards. While it can be fun to gawk at the exorbitant prices some of these cards can go for, those lists aren't practical for a majority of collectors.
So, with this list we decided to break things down into three tiers of product – collegiate, base, and high-end. The goal is to cover all the bases, from $35 collegiate cards to the five-figure RPA's.
Within each of these tiers, we'll cover different brands, print-runs, and styles, to make sure that we're highlighting a great card for every type of collector. Underneath each card, you'll find a brief bolded sentence that gives you the TLDR (too long, didn't read) so you can skim and find the cards you're most interested in.
So without further ado, here's the 10 best Jalen Hurts cards, across all categories, in existence.
Jalen Hurts Best Collegiate Rookie Cards
Collegiate products are never going to rank among a player's most valuable rookie Cards; collectors simply value pro-team jersey cards a lot more.
That said, there is still a market for collegiate products, especially for those who have a connection to the player in their pre-professional days. Panini has stepped up its collegiate game in recent years, offering collegiate versions of some of its top brands.
2020 Panini Prizm Draft Picks #129 Jalen Hurts Rookie Card
Best Entry-Level Collegiate Option
If you're in the market for a quality Jalen Hurts rookie card without breaking the bank, this is your pick. Despite the caveat of it being a collegiate card, it still bears the ever-popular Prizm name, which keeps it relevant in the morass of low-end college options.
The design here is pretty conservative. Hurts is scrambling, and the Sooners logo is easily seen across his chest. Really the only unique stylistic choice here are the engraved wavy lines in the corner of the pictures.
This Jalen Hurts rookie card is sold frequently, so it shouldn't be too difficult to get your hands on. The three verified sales in February 2023 showed PSA 10's selling for ~$35.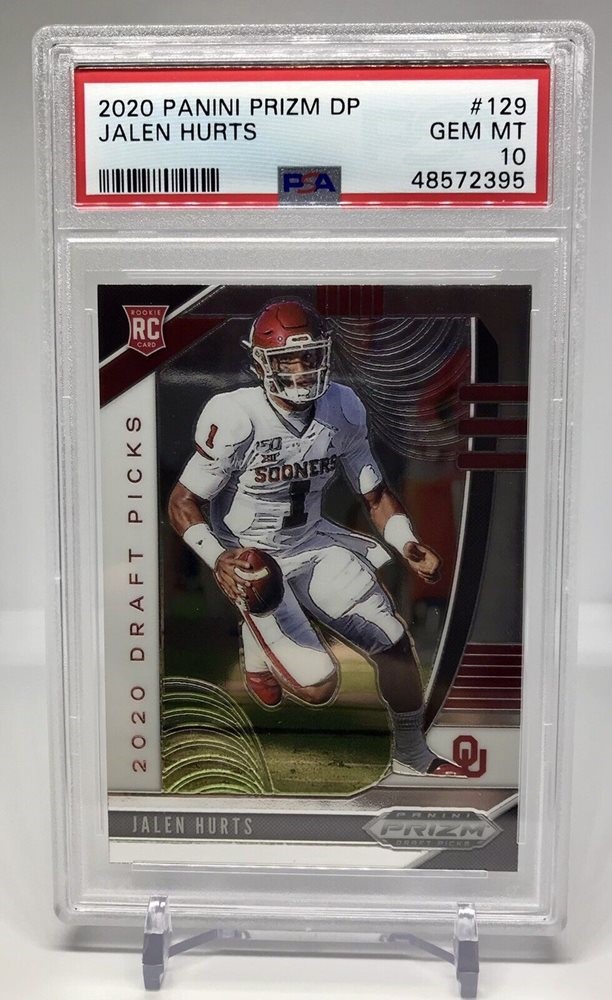 2020 Panini Prizm Draft Picks #129 Jalen Hurts Rookie Card
2020 Panini Contenders Draft Picks #115 Jalen Hurts Rookie Card
The Best High-End Collegiate Product
This Contenders Draft Picks card isn't like most other collegiate cards. It features an on-card auto, limited print run, and is one of Jalen Hurts most valuable rookie cards on the market.
The card features Contenders' iconic "game ticket" layout, where a seat, row, and section number are featured next to his picture. Below that is a large space dedicated to showing off the autograph.
Despite its limited print run, the 2020 Panini Contenders Draft Picks #115 card is still sold relatively frequently. After Hurts' superbowl run, this card was selling for an all-time high in February 2022 of around $270-$330.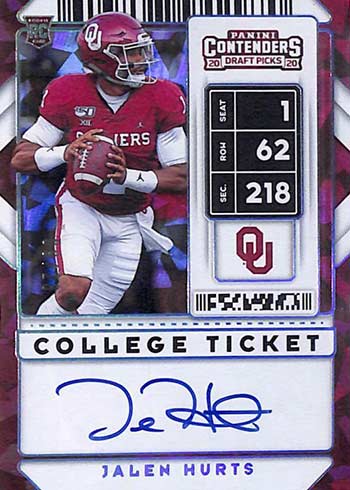 2020 Panini Contenders Draft Picks #115 Jalen Hurts Rookie Card
Jalen Hurts Best Base Rookie Cards
Jalen Hurts has a lot of base rookie cards, and there's a lot of subjectivity that goes into sorting out which ones are "the best". Much of that comes down to the preferences of the collector.
That said, price range and stylistic approach are two considerations that are typically front of mind for prospective buyers. So, for the four best base cards, we decided to give you two cheaper and two more expensive options, and each of those pairs will feature one more conservative card and one with a little more artistic flair.
2020 Donruss #314 Jalen Hurts Rookie Card
Card with a rich history, straightforward design, and high availability.
The Donruss Rated Rookie has been a go-to card for collectors dating back to baseball players in the early 80's. The Rated Rookie designation is given to each season's top rookie prospects, and each card is marked with a nostalgic light-blue logo in its signature font.
Rated Rookies are known for their clean designs. They feature few (if any) artistic risks, instead opting for a straightforward throwback style that was popular in the 80's and 90's.
The 2020 Donruss #314 Jalen Hurts card features 20 colored parallels, including the gold, green, and black cards that are each numbered to 10 or less.
This card hits the market frequently, so if you're on the hunt for a Hurts Rated rookie card it shouldn't be too hard to get your hands on. Plus, a PSA 10 likely won't ever cost you over $100. This card is a must have for any Jalen Hurts fan.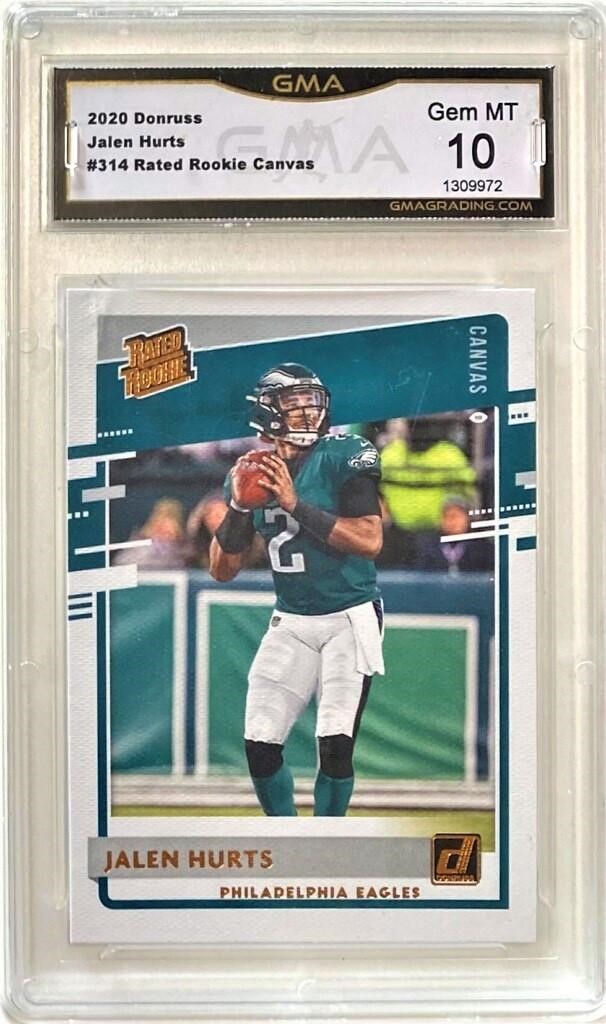 2020 Donruss #314 Jalen Hurts Rookie Card
2020 Panini Illusions #11 Jalen Hurts Rookie Card
Affordable card with a creative dual-image format
Illusions stands out among cards in this price range for having one of the most interesting and recognizable designs.
When it comes to player image most cards have to make a choice – use a helmetless headshot or a full-body action shot. While the headshot can capture more emotion, it can also lack the intensity of an image taken during a game.
With the 2020 Panini Jalen Hurts Illusions card #11, however, you don't have to choose. Illusions is known for its dual-image design. Here we see a translucent, almost ghost-like headshot of Jalen Hurts scanning the defense alongside a full body shot of him dropping back in the pocket ready to pass.
There were 7 verified sales of the Illusions card in February 2023 (all graded 9 or 10), with the PSA 9's selling between $13-33 and the 10's going between $30-66.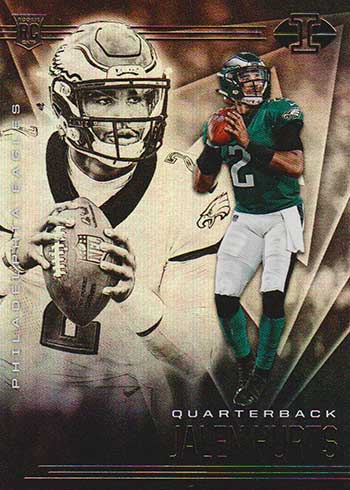 2020 Panini Illusions #11 Jalen Hurts Rookie Card
2020 Panini Prizm #343 Jalen Hurts Rookie Card
Jalen Hurts' most sought after card with expensive parallels
Prizm has become the most important name in sports cards over the past decade. While it doesn't demand the sky high prices of some of the premium, ultra-rare cards, it's absolutely the go-to card for collectors.
Due to its popularity and the frequency of its sales, data for a player's Prizm rookie card is typically a very reliable indicator of how that player is viewed by the general public. Given Hurts' meteoric rise to a Super Bowl level quarterback, it's no surprise that we've seen his 2020 Panini Prizm #343 Jalen Hurts card nearly double in value over the last calendar year.
Its most popular (by far) parallel is the Silver. Even though it's not numbered, it is still beloved by collectors, and it outperforms many of the more exclusive colors. Prizm Silvers typically sell for more than 5-10x the amount of their base counterpart.
As of February 2023, the base card has been selling in the ballpark of $130, while the Prizm Silver has been fetching north of $700.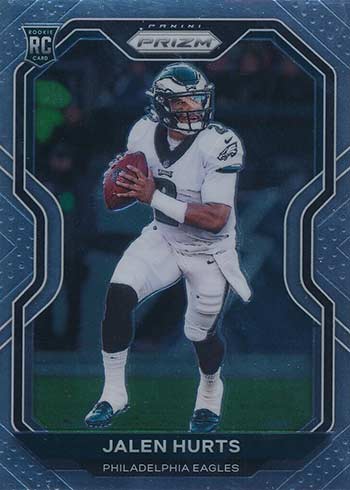 2020 Panini Prizm #343 Jalen Hurts Rookie Card
2020 Panini Spectra #149 (/99) Jalen Hurts Rookie Card
Numbered base card with some refractive flair
Spectra is another one of the biggest names in NFL football cards. However, it's a significant departure from Prizm, featuring a much smaller print run and a flashier design.
To put the print run in perspective, the Jalen Hurts rookie card is numbered to just 99, and PSA shows that only 20 have been submitted for grading. Compare that to over 2,000 graded Prizms.
Due to its extremely limited quantity, the card doesn't go on sale often. Not only does it make it difficult to get your hands on, but it also adds a challenge of guessing how much the card is actually worth.
The last verified sales was in August of 2022 when a PSA 10 went for just $130. That was, of course, before the Jalen Hurts' explosion. Now, some sources suggest that card could be worth north of $800 if it was to hit the market.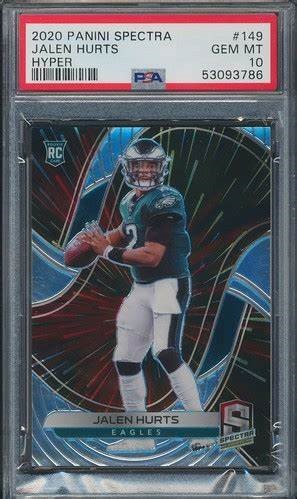 2020 Panini Spectra #149 (/99) Jalen Hurts Rookie Card
Jalen Hurts Best High-End Autos Rookie Cards
AKA: the Jalen Hurts dream rookie cards. These are the most coveted autos, memorabilia, and ultra-rare Jalen Hurts rookie cards in circulation.
While they aren't everyday purchases, they can be "white wales" for Hurts collectors, and are marquee items that will stand out among any collection.
2020 Panini Impeccable #114 (/75) Jalen Hurts Rookie Card
Most interesting memorabilia card, offering more than just a simple jersey patch
Impeccable debuted in 2016 as Panini was trying to expand its arsenal of high-end cards.
This Impeccable Jalen Hurts rookie is great for memorabilia collectors who want more than just a patch. The base card also features a piece of helmet just below the jersey patch, and some of the parallels use even more rare memorabilia like gloves, footballs, and nameplates.
The last verified sale of a base card was in November of 2022, and it sold for around $1,400. However, the 1/1 parallel sold in February of 2023 for $2,500.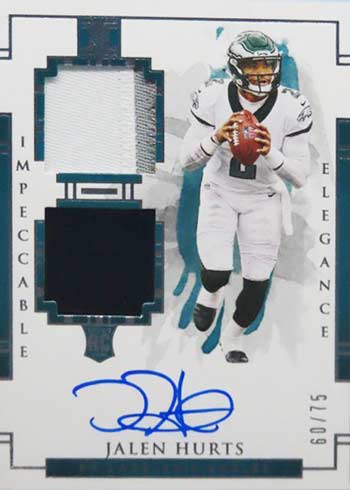 2020 Panini Impeccable #114 (/75) Jalen Hurts Rookie Card
2020 Immaculate Collection #107 (/99) Jalen Hurts Rookie Card
Popular RPA with an acetate finish
Immaculate has been one of the most consistent releases among high-end cards over the past decade, known primarily for its memorabilia hits.
While the card looks like a standard patch auto card for the most part, it does have a unique placement for the auto: the upper left corner. This Jalen Hurts rookie card is also finished in acetate and printed on thicker stock than a normal card.
The highest graded card sold in February of 2023 was a PSA 9 and sold for just over $1,000. The gold (/25) is a popular parallel.
2020 Immaculate Collection #107 (/99) Jalen Hurts Rookie Card
2020 Panini Flawless #104 (/20) Jalen Hurts Rookie Card
Exclusive RPA with very short print run and embedded gems
Flawless has found a way to stand out among the other high-end cards, developing a niche as the brand that has literal gems embedded in the cards themselves.
The base cards feature a ruby, but parallels of sapphire, emerald, diamond, and aquamarine gemstones are available.
Flawless also stands out as the rarest of the RPA's on the list – the base card is numbered to just 20. This makes Flawless one of the hardest cards to purchase, and buyers need to act fast when one hits the market.
The Ruby base card last sold in February of 2023 for just under $1,300.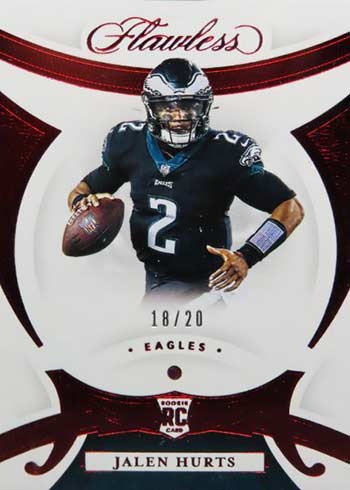 2020 Panini Flawless #104 (/20) Jalen Hurts Rookie Card
2020 Panini National Treasures #161 (/99) Jalen Hurts Rookie Card
Most valuable Hurts' rookie in existence – and it's not even close.
National Treasures reputation and legacy are without rival in the high-end sports cards world, and no Jalen Hurts rookie cards list would be complete without his National Treasure RPA.
The card itself is a pretty standard RPA – a large swatch for the patch in the center of the card, with an on card auto on the bottom. The print run is short (/99), but not as small as other RPA's on this list. But what sets the National Treasure's card apart is the name that collectors have come to love.
The price gap between a raw and PSA 10 of this card is massive. In February 2023, an ungraded card sold for $8,000 and a PSA 10 went for $30,000; both still considerably more expensive than any other card on this list.
Those who have held this card for the past few years are clearly trying to cash in on Hurts' Super Bowl hype, as the card's sale frequency has increased dramatically in the past few weeks.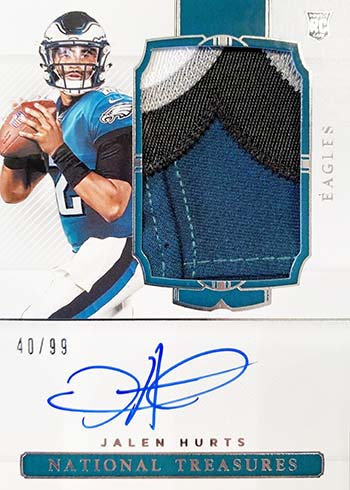 2020 Panini National Treasures #161 (/99) Jalen Hurts Rookie Card