Scottie Pippen is one of the most remarkable basketball players to ever step onto an NBA court so you just know Scottie Pippen rookie cards are going to be valuable. Though his partnership with a certain Mr. Michael Jordan may overshadow his unique skills, it's important to separate his effortless mastery of the game from his role on one of the most successful teams ever in any sport, the Chicago Bulls in the 1990s. Pippen's defensive capabilities were unparalleled, and he possessed an exceptional ability to read his opponents and anticipate their moves.
Aside from being exceptional on defense, Scottie Pippen had a flair for scoring points in a way that was both thrilling and efficient. Pippen was always an impressive dunker, and his jump shots were so precise that it was like watching an artist at work. His collaboration with the legendary Jordan as a small forward was nothing short of iconic, and they formed one of the great powerhouse duos in basketball history. Fans could just tell Scottie Pippen played with passion, intensity, and a lot of heart. His energy and enthusiasm was also infectious. Witnessing Pippen and the Bulls play basketball in the 1990s was an unforgettable experience.
Scottie Pippen's list of honors includes being a six-time NBA Finals champ, seven-time NBA All-Star, and an eight-time member of the NBA All-Defensive Team. Pippen was inducted into the Naismith Memorial Basketball Hall of Fame in 2010 and the Bulls sensibly retired jersey number 33 in his honor. We can't forget that he was also part of the US 'Dream Team' at the Olympics, for which he has two Gold medals.
With a career this impressive, you know that Scottie Pippen's rookie cards are going to be sought-after collectibles. The dominance of the Chicago Bulls in the 1990s created a lot of fans across the globe, making cards from these athletes even more valuable. In this article, we'll go in depth on the top 5 Scottie Pippen rookie cards around so you can add one to your own basketball card collection.
5. 1987 Entenmann's Chicago Bulls Scottie Pippen Rookie Card #33
In the US, when most people think of Entenmann's, they don't immediately think of sports cards. They think of danishes and breakfast foods. That's because the over 100-year-old bakery produces tasty treats for nationwide grocery stories. Yet, in the late 80's, they produced a set of promotional basketball cards that were given out to the fans at Chicago Bulls home games.
These small sets of 11 or 12 cards had one or more players on the front and blank backs. It's a shame they didn't add more player stats or something more on the back of the cards - even an advert for the bakery would have made use of the space - but they did feature the player's jersey number, name, height, and position on the front. Of course, the height is oddly hyphenated, meaning that probably only real fans would know what it was referencing. Scottie Pippen fans will pick that 6-7 out as his height for sure.
This is likely the first time Scottie Pippen was honored on a basketball card, raising its value and collectibility. The card also has an earthbound Michael Jordan looking on as Pippen takes on two Dallas Mavericks players, beating them to the rim. It's a fantastic image and much better than so many promotional cards that just give you a smiling headshot.
While, strictly speaking, 1987 Entenmann's Chicago Bulls Scottie Pippen #33 isn't a proper Scottie Pippen rookie card, its historical significance is massive and collectors will likely enjoy adding this unusual item to their collection. Pricing has been all over the place for this quirky collectible, with condition being a major factor and prices generally topping out in the $200-$300 range.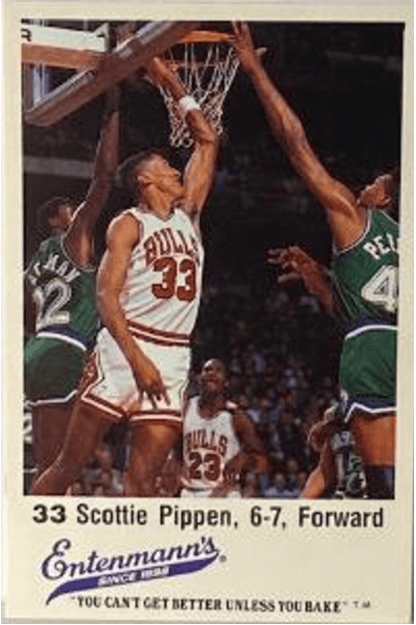 33 Scottie Pippen
4. 1988 Panini Stickers Spanish #77 Scottie Pippen Rookie Card
Before Panini took on US sports here in the States, they produced card sets and stickers like this one for audiences elsewhere. This card is part of the 1988 Panini Spanish basketball card set of NBA players. Number #77 in the set features a fresh-faced Scottie Pippen during his first of 17 years of play in the NBA. The set was a hodgepodge of different basketball stars plus logos and multi-player shots, 292 in all. The set featured Pippen's fellow Bull Michael Jordan, Dennis Rodman, Karl Malone, Larry Bird, and Magic Johnson with some of the players appearing on more than a single sticker.
As a sticker card, it featured a peel-off adhesive back, which differentiates it from traditional trading cards. The design of this card is relatively simple, but it's appealing to collectors due to its rarity and international origin. The value and popularity of the 1988 Panini Spanish Sticker Scottie Pippen #77 is solid but not as high as a traditional Scottie Pippen rookie card but it's still likely to draw interest due to its unusual origin.
Like any sports card, the condition plays a significant role in its value. Sticker cards can have different challenges than traditional cards, including curling on the sticker. The best bet if you have an ungraded copy of this or other sticker cards is to get them graded and onto a slab as soon as possible to prevent depreciation and a loss of value.
The 1988 Panini Spanish Sticker Scottie Pippen #77 remains an interesting and quirky Scottie Pippen rookie card that stands out due to its origin and limited availability. Recent sales of this card have been strong, with a BGS 9 Mint copy selling in July 2022 for $600. The value will likely rise more over time.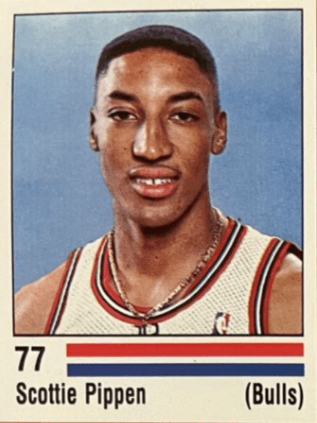 77 Scottie Pippen
3. 1988 Entenmann's Chicago Bulls Scottie Pippen Rookie Card #33
As mentioned above, Entenmann's, a Brooklyn-based bakery started by a German immigrant more than 100 years ago, produced some regional sets of promotional basketball cards that were only available at home games for the Chicago Bulls, unlike the national distribution that Fleer basketball cards of the time had.
The 1988 Entenmann's Scottie Pippen card #33 features a young Pippen in his Chicago Bulls uniform triumphantly delivering at the net while his partner Michael Jordan looks up in awe. In this shot, it's Scottie Pippen who is getting all the 'air'.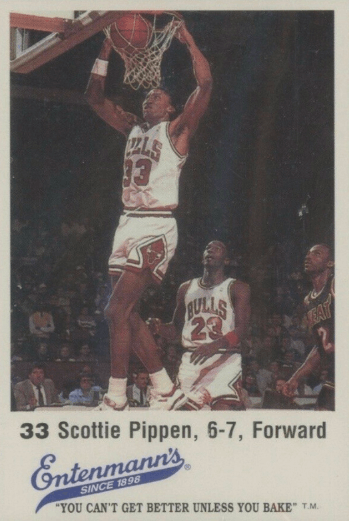 33 Scottie Pippen Forward
Cards included in the 1988 Entenmann's set featured the following players:
Brad Sellers #2
John Paxson #5
Sam Vincent #11
Craig Hodges #14
Jack Haley #15
Charles Davis #22
Michael Jordan #23
Bill Cartwright #24
Will Purdue #32
Scottie Pippen #33
Dave Corzine #40
Horace Grant #54
Due to its regional distribution and relative obscurity, the 1988 Entenmann's Scottie Pippen rookie card is rare and valuable to collectors interested in that period in the Chicago Bulls' history. While unopened cards are often sold as sets (which are priced in the $800-$1,000 range), any Chicago Bulls fan would certainly snap up the chance to add these obscure cards to their collection. Of course, a PSA 10 Gem Mint copy of the Scottie Pippen rookie card alone sold for almost $1,000 as recently as March 2023, so prices for this card are still on the rise.
2. 1988 Kenner Starting Lineup Scottie Pippen Rookie Card #NNO
This Starting Lineup Scottie Pippen rookie card is a unique collectible that was released with Kenner Starting Lineup action figures. Kenner was the biggest company in action figures in those days, having redefined the category with the launch of the Star Wars action figures in 1977. The Starting Lineup line was an effort to get out of the movie and tv properties and into the lucrative sports collectible world. They continued to produce basketball, football, and baseball figures from 1988 to 2001. While they lacked the articulation of modern action figures, these collectibles sold well and many sports figures, including Scottie Pippen, appeared in the line multiple times.
The Starting Lineup basketball set included 85 figures, with 2-5 players per team. The cards that were packaged with the figures are considered collectibles in their own right. Scottie Pippen was not the only Bull in this Starting Lineup set: Michael Jordan, Charles Oakley, and John Paxson were also featured as figures in the collection. Notably, since the Scottie Pippen card and figure from the 1988 series corresponded with his debut in the NBA, the card is considered a rookie card.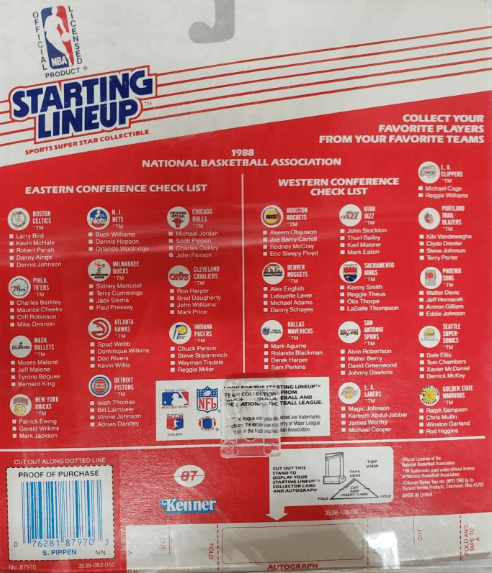 Starting Lineup
The 1988 Kenner Starting Lineup Scottie Pippen Card #NNO card features an uncharacteristically quiet shot of Scottie Pippen in his Chicago Bulls uniform looking like he's about to start regulation play. The design of the card is relatively simple, with the Starting Lineup logo at the top, and Pippen's name and team printed at the bottom. At least they spelled his last name right everywhere.The card does not have a number (hence the "NNO" designation, which stands for "No Numbered Order"), which is typical for the Kenner cards. The toy company had clearly not realized how sports fans rely on those numbers to organize cards and track what's missing from their collection.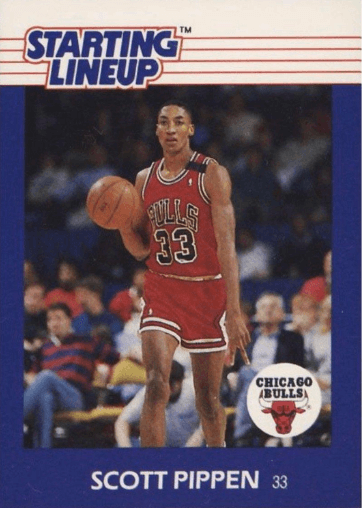 Starting Lineup Scottie Pippen 33
It's worth noting that while the card shows a sedate picture of Pippen in his traditional red Bulls uniform, the figure is both clad in a white Bulls uniform and in a dynamic pose that feels like he's taking a shot at the sound of the buzzer. The figure feels a lot closer to the type of basketball card photographs that became popular in the late 1980s and 1990s, the period of Scottie Pippen's massive successes on the court.
As with any collectible, condition will factor into the value of this Scottie Pippen rookie card and figure. While the card itself can be slabbed and graded, some collectors will prefer the card to stay on the action figure card and unopened to retain its maximum value. Thus, this additional factor will cause values to vary a lot based on whether collectors want to just own a unique Scottie Pippen rookie card or if they want the whole set with the figure and all. Collectors who appreciate the nostalgia and history of both the NBA and Kenner Starting Lineup series may find this collectible to be a prized addition to a collection of Starting Lineup figures.
While the card has sold in PSA 10 Gem Mint condition for over $2,600 in April 2021, collectors can find ungraded on-card figures for less. That could be an investment opportunity for savvy collectors who don't mind removing cards in great condition and then having them graded for sale.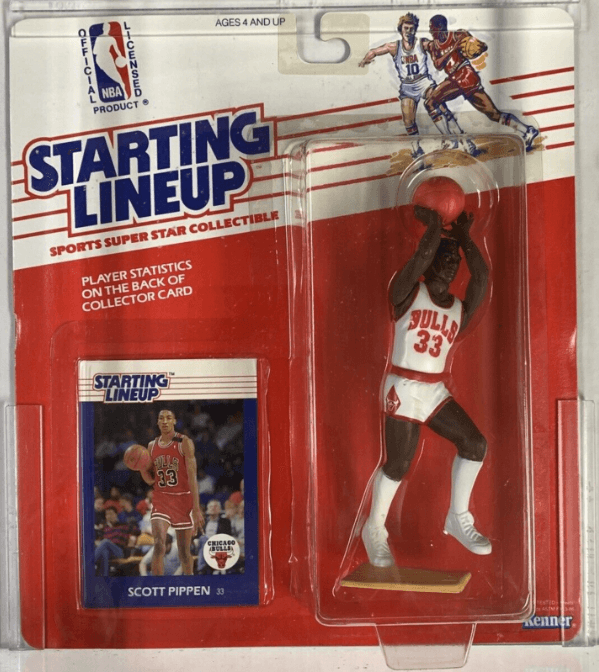 The Scottie Pippen card and figure on the card
Caption: The Scottie Pippen card and figure on the card.
1. 1988 Fleer Scottie Pippen Rookie Card #20 /132
The 1988 Fleer #20 Scottie Pippen Rookie Card is one of the most iconic basketball cards of all time. With a triumphant Pippen in his classic Chicago Bulls uniform, this card is instantly recognizable for its showcase of the basketball great. #20 was released during the height of the basketball card boom in the late 1980s, making it even more popular among collectors who grew up during that era.
The 1988 Fleer #20 Scottie Pippen Rookie Card is part of the legendary Fleer 1988 Basketball card set that included Michael Jordan's famous cards of the time, too. In basketball, Fleer was the leading card company at the time, well-known for their high-quality cards, which featured great photography, sharp design, and detailed player stats. In this window of time, sports cards started to feature more action shots rather than a simple athlete pose and Fleer embraced this notion fully.
Scottie Pippen's rookie card is particularly cherished as an important record of his career. Pippen was a key component of the Chicago Bulls who won six championships in the 1990s. Yes, Michael Jordan is considered by most fans to be the GOAT, but Pippen was deservedly famous for his spectacular defensive skills, flexibility, and leadership.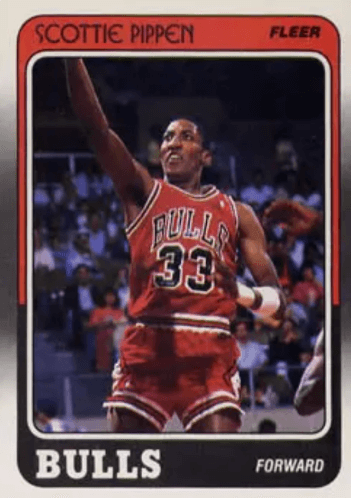 Fleer Scottie Pippen
Unfortunately, this card is also famous for featuring a typo on the back. Despite the card front correctly spelling "Pippen", the back of the card has the offending mistake right up top, spelling Scottie's last name "Pippin."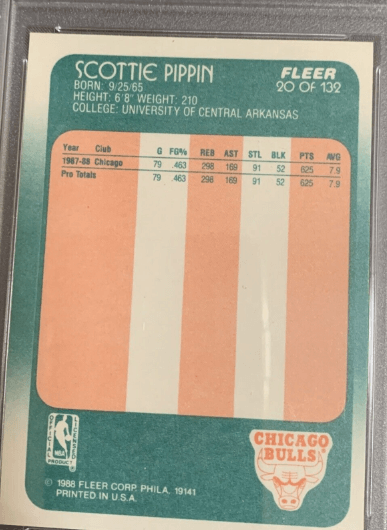 Fleer Scottie Pippen 20 of 132
This Scottie Pippen Rookie Card has become a valuable piece of basketball history, and its value has only increased over time. In recent years, the card has sold for thousands of dollars, most recently selling for $10,000 in May 2021. Pricing is hugely varied, though, based on condition. Full pricing on various gradings can be found from the drop-down list on the card's Cardbase page.
This Scottie Pippen Rookie Card is a true gem in the world of basketball cards. Its combination of great design, historical significance, and rarity make it a must-have for any serious collector. Whether you're a lifelong Pippen fan or simply a lover of great basketball cards, the 1988 Fleer #20 Scottie Pippen Rookie Card is a piece of sports history that you won't want to miss.
Scottie Pippen Rookie Cards: Greatness Adjacent to Legend
Scottie Pippen's legacy will always be tied to his huge success with the Chicago Bulls and in collaboration with Michael Jordan. When you look at his accomplishments, it's easy to wonder, say, how many more MVPs he might have won if not for being in such close proximity to the GOAT of basketball? The number would surely be significant. Yet, these intriguing rookie cards can help fans celebrate Pippen's many successes with a small piece of basketball history.