The 1970s were a very problematic time for the NBA. Ratings were going down, and interest was waning. A lot of it was racism. There was backlash because the league had gone from being predominantly white to a majority African-American league. America wasn't ready for the change. Some of it was the meteoric ascendance of football in the Super Bowl era. Either way, basketball was in a rut.
Topps returned to basketball after abandoning it in the 1960s. The league's profitability downturn made it stop producing cards again in the early 1980s. But luckily for us, they kept on trucking through the 1970s. So, while there wasn't much in the way of variety during this decade, at least collectors enjoyed a steady supply of cards.
The Aesthetic Wonders Of 1970s Basketball Cards
Despite having no competition, Topps produced a series of fantastic designs throughout the decade. Most of them were exactly what you would expect. Designs had that somewhat psychedelic undertone but with a modicum of restraint in comparison with the junk wax cards era. We also need to give Topps props for not replicating the designs they used for baseball cards. Generally, the company kept its cooler and more unique ideas for basketball. It had lower stakes and less visibility. So, why not take some chances?
It also helps that basketball was a bit less conservative than baseball. The differences in players' styles are immediately apparent. You say way bigger afros, longer flowing locks, bigger sideburns, and better-groomed mustaches. The cards also featured that scourge of action basketball shots and prominent armpit hair. Which, like all other hair in that decade, seems longer.
The truth is, so many of these basketball cards are wonderful and funky that it was hard to pick just a few standouts. But that is the kind of hard work we treasure at Cardbase. So, let's get to it.
1973 Topps Manny Leaks #74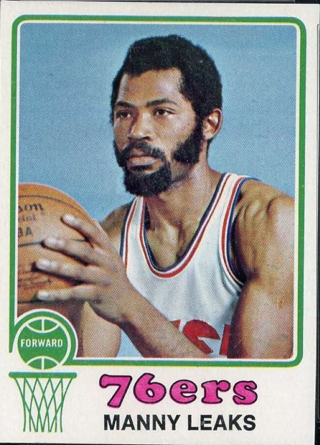 1973 Topps Manny Leaks #74
A PSA 10 sold for $1,466.
Let's put aside the fact that Manny Leaks sounds like the name of a failed plumbing company. The man looks like a Greek god in the 1973 Topps Basketball Manny Leaks #74 card, with his immaculate mutton chops, chiseled features, and impressively jacked physique. Perhaps the god of free throws, if we judge by the pose, he is striking. And Leaks was a fine player, averaging 11 rebounds per game in a solid career. Every Manny Leaks card ever made is fantastic because he was too cool for school. Listen, not everyone needs to be a Hall of Famer.
1974 Topps Jerry Sloan #51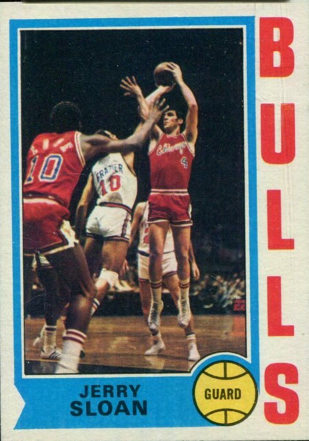 1974 Topps Jerry Sloan #51
A PSA 10 sold for $152
Jerry Sloan is in the Hall of Fame as a coach, best known for his tremendous work for the Utah Jazz. But he was also a wonderful player. A two-time All-Star and four-time First-defensive team pick, his number was retired by the Chicago Bulls. He shows off fine shooting form in the 1974 Topps Jerry Sloan #51. The fact that the picture shows him shooting over fellow Illinois native Walt Frazier is a bonus.
1975 Topps Bill Bradley #37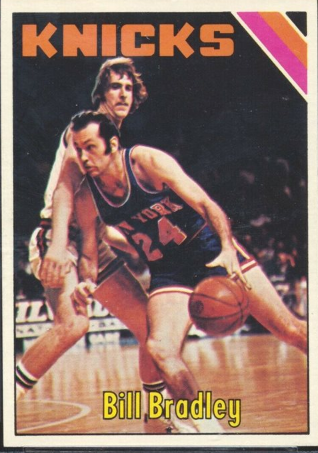 1975 Topps Bill Bradley #37
A PSA 9 sold for $125.
Show some respect, folks; we have a United States Senator on our hands. Indeed, Bill Bradley wasn't too far from getting the Democratic presidential nomination but lost to Al Gore. He is also an Oxford and Princeton graduate, so not your typical basketball player. Yet, he still managed to win two rings with the Knicks. He was a true renaissance man. And the action shot in the 1975 Topps Bill Bradley #37 card is a true winner.
1978 Topps George Gervin #20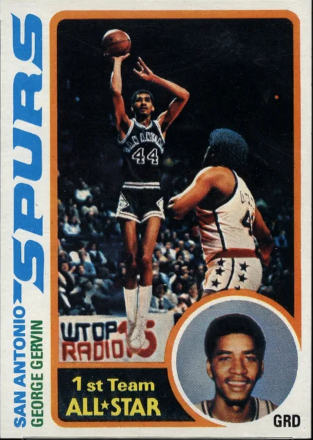 1978 Topps George Gervin #20
A PSA 10 sold for $850
George "The Iceman" Gervin is one of the best scorers who ever lived. We don't know why a player with a career average of over 25 points per game has been kind of overlooked. But the sad fact is, he kind of has. But he was an All-Star 12 times if you combine NBA and ABA seasons. The 1978 Topps George Gervin #20 absolutely pops. But the real reason I love it is it shows the beautiful form of George Gervin's jumper. Pure art.
1971 Topps Gus Johnson #77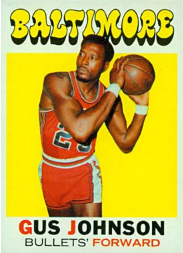 1971 Topps Gus Johnson #77
A PSA 9 sold for $420.
1971 Topps Basketball is so awesome that I could have put any card here. But there is just so much swagger in the 1971 Topps Gus Johnson #77 card that I could not resist. It also gives us a chance to remember how fantastic this player was. Gus Johnson sometimes gets lost in the shuffle because he spent some of his best years in the ABA. But remember, this is a Hall of Famer with an average of 16 points and 12 rebounds in his career! Most importantly, he looked cool doing it.
1976 Topps Phil Jackson #77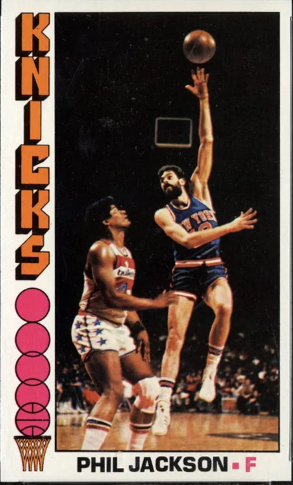 1976 Topps Phil Jackson #77
A PSA 10 sold for $375
As a Knicks fan, how could I resist this card? We all know and love (or hate in many cases) Phil Jackson for his unfathomably successful coaching career. But did you know that he had a hook shot this lethal? That is a sky-hook that would make Kareem weep with envy. Assuming it went in. It seems a bit high. And did you know that he was this seriously and undeniably ripped? The 1976 Topps Phil Jackson #77 has one of the most compelling action shots of the decade.
1970 Topps #100 Oscar Robertson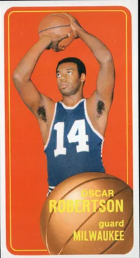 1970 Topps #100 Oscar Robertson
A PSA 9 sold for $4,400.
Look, I already warned you about the armpit hair. So, let's ignore that. Of course, Oscar Robertson is one of the greatest players who ever lived. We are talking about a dude who averaged a triple-double for an entire season. This card comes relatively late in his spectacular career but is one of his best.
I am not a fan of 1971 Topps Basketball, which has a pretty unimaginative design and the kind of sharp color background with disembodied players that killed some of their late 1950s and early 1960s designs. In addition, most cards in this series come with awkwardly posed shots. But the 1970 Topps #100 Oscar Robertson is a real beauty. It benefits from the fact that Oscar is a grizzled veteran here and is not trying to impress anyone. Therefore, his pose comes off as entirely natural.
1977 Topps Elvin Hayes #40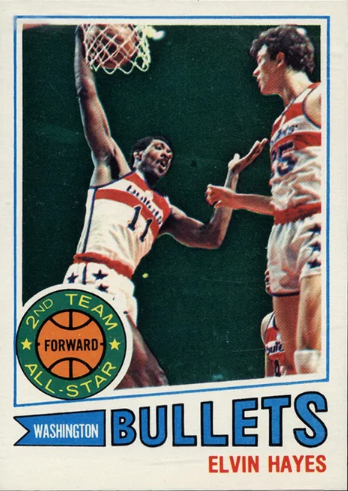 1977 Topps Elvin Hayes #40
A PSA 10 sold for $35.
Yes, this card is worth nothing. But we are here for aesthetic beauty. Only some things are about the bottomline. The 1977 Topps Elvin Hayes #40 card works on multiple levels. It obviously showcases the raw power of Hayes. As a reminder, we are talking about a player who led the league in scoring in his rookie year. And the rest of his career wasn't bad either, with 12 straight All-Star appearances. But look closer. The colors are a bit off, giving a kind of Topps Chrome vibe a good 20 years before that was a thing. And who is the guy staring at Elvin Hayes so lovingly? Well it is Mitch Kupchak, the general manager of the Charlotte Hornets.
1974 Topps Bill Walton #39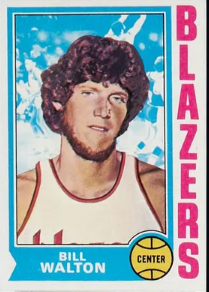 1974 Topps Bill Walton #39
A PSA 10 sold for $36,900.
I was avoiding the big-ticket rookie cards in this list. But there is no getting around the 1974 Topps Bill Walton #39 card. The sky blue action shot in the background looks positively psychedelic. Bill Walton, as always, looks wholly stoned. And the whole thing is beyond iconic when you realize that this represents Walton's personality perfectly. The card is also worth quite a bit in good condition because, at his peak, Walton was one of the best centers ever. You can make a case that this is the ultimate 1970s basketball card.
1973 Topps Eastern Semis #63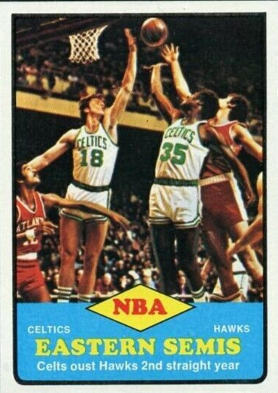 1973 Topps Eastern Semis #63
A PSA 9 sold for $425
1973 Topps Basketball has some of the ugliest cards of the decade. Just look at some of those horrifying, awkward poses, bad backgrounds, and unwieldy afros. It's high school yearbook stuff. But this ridiculously good action shot really stands out. Good pictures in high-speed motion were hard to take at the time, making the 1973 Topps Eastern Semis #63 all the more impressive. Those are Dave Cowens and Paul Silas in the picture.
1976 Topps Bob McAdoo #140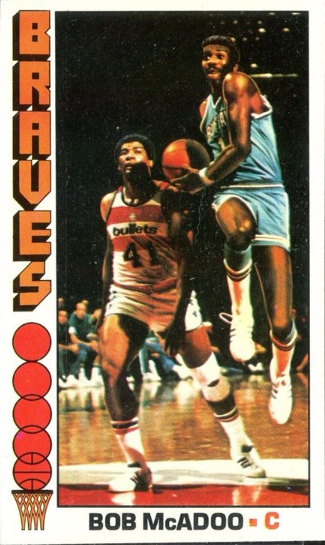 1976 Topps Bob McAdoo #140
A PSA 10 sold for for $600
I couldn't tell you why exactly, but I could look at those trippy basketballs on the left-hand side of this card all day long. But our hero, Bob, does all he can to distract us from that pattern. The 1976 Topps Bob McAdoo #140 catches him at the peak of his powers playing for the long-forgotten Buffalo Braves. The action shot shows the tremendous amount of agility he had in his impressive 6"9 frame. The shot is from the 1975 season when Bob McAdoo won the MVP by averaging 34.5 points and 14.1 rebounds per game.
1975 Topps Kareem Adbul-Jabar #90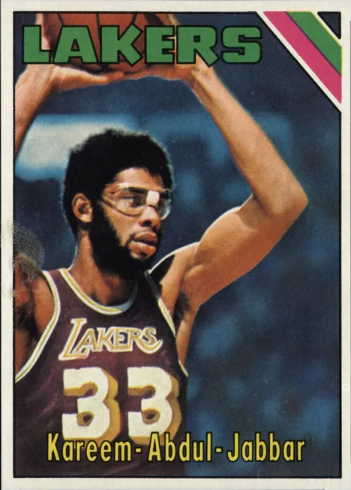 1975 Topps Kareem Adbul-Jabar #90
A PSA 10 sold for $18,250.
Let's get real. Kareem Abdul-Jabar may have been the best NBA player of all time. But no one wants to admit it. While many of the biggest stars were gregarious and outgoing, Kareem generally kept to himself and stood aloof of his teammates. The shot on the 1975 Topps Kareem Adbul-Jabar #90 card captures the lone wolf spirit of the legendary big man. Even on the court, in the middle of the action, he took a moment of dreamy introspection. And yes, there is also armpit hair.
1979 Topps Bernard King #14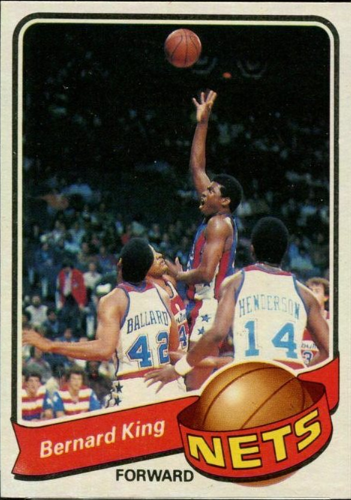 1979 Topps Bernard King #14
A PSA 10 sold for $800
Can't say that I am a big fan of the Topps 1979 Basketball layout. Indeed, it is probably the worst design they had since the god awful Topps 1970 Basketball set. The boring lettering and ugly eyesore of a basketball just aren't my scene, man. But the power of Bernard King in this shot compels me to add the card to the list. King here is a rookie, playing for the Nets, a few years before becoming one of the best Knicks players to hit Madison Square Garden. His rookie card from the previous year may be worth a bit more. But look at the tremendous confidence he gained since. The 1979 Topps Bernard King #14 card is truly awe inspiring.
1972 Topps Pete Maravitch #5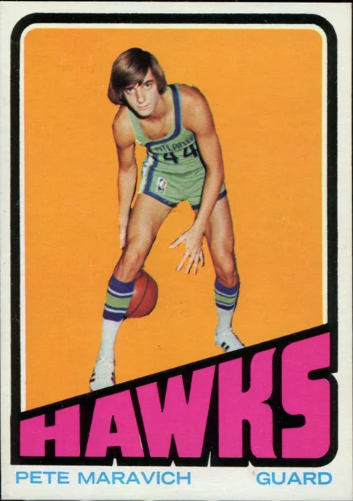 1972 Topps Pete Maravitch #5
A PSA 10 sold for $40,000.
The Pete Maravitch rookie card is obviously better known. But we prefer the gorgeous 1972 Topps Pete Maravitch #5 card. The legend looks so lanky and lean. The picture hints at his absolute mastery of the basketball. Who else could pause long enough while dribbling between his legs to give a sultry look into the camera. Then the lettering for the team name, and the awesome shade of purple just pop. And here is the thing about "Pistol Pete." As long as there is youtube, his cards will increase in value. Because literally no one has better highlights. I said what I said.
1975 Topps Julius Erving #300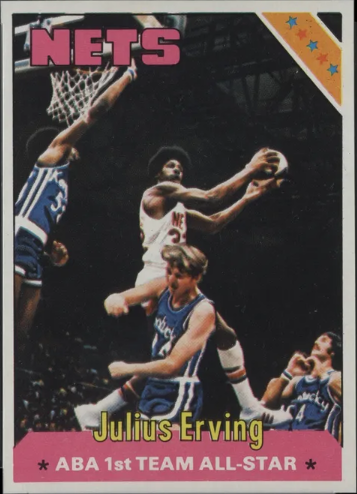 1975 Topps Julius Erving #300
A PSA 10 sold for $7,800.
The card says Julius Erving, but everyone knows him as "Dr. J." Despite spending much of his prime in the ABA, "The Doctor" was easily the best known basketball player of the 1970s. The 1975 Topps Julius Erving #300 card reminds us why. In this ridiculously good action shot, Erving has two players going the wrong way as he shakes and shimmies his way to the basket. The guy in the middle looks like his entire world has collapsed due to this move.
Final Word On The Most Beautiful Basketball Cards from the 1970s
I hope you enjoyed the wild world of 1970s basketball cards. It was a trippy decade, but also one where Topps finally had the technology to use great action shots. And the fact that some of them are a bit out of focus, only adds to their charm. We get to see some gritty and real pictures of absolute legends, with their afros and long hair. We also got to see a lot of underarm hair.