Baseball cards have been around since the 1860s, following the game's launch in league play. Baseball cards didn't start out as an expensive collectible - they were just something added to packs of cigarettes, gum, and candy to attract fans. Now, baseball cards are a multi-billion dollar industry appealing to collectors all over the world, with the most valuable baseball cards selling for over a million dollars, and many people making their living buying and selling them. In the last forty years, card prices have been on a steady rise and getting more expensive as the collector market has grown. While sports cards for all major sports are popular these days, the long history of over a hundred years of baseball cards has made them the most expensive type of professional sports collectible.
History of Expensive Baseball Cards
Since 1952, Topps Baseball Cards has been the main company producing baseball cards, producing some incredibly valuable cards in that time. Baseball card values can vary a lot depending on the player, the year, whether the card is from the player's rookie year, the condition, and sometimes even because of a mistake in printing. While you can command the highest value with perfect, GM-MT (an abbreviation for Gem Mint, used in the PSA rating system) condition cards, even lesser condition copies of the rare cards on this list are super expensive and worth an awful lot of money. If you spot any of these cards in your home or at a yard sale, you will want to snap them up and get them professionally graded through PSA to maximize your profits.
Let's take a look at some of the most expensive baseball cards around, with many of these record-breaking sales happening quite recently.
Top 10: Most Expensive Baseball Cards
# 10. Mickey Mantle: 1951 Bowman Rookie Card - $750,000
While you'll see a more valuable Mickey Mantle baseball card further down the list, this Mickey Mantle rookie card from 1951 sold for $750,000 as a PSA 9 graded card back in 2018. In addition to his sparkling career, Mickey Mantle was a frequent guest at baseball card shows back in the 1980s as the baseball card collecting hobby was beginning to get more popular and the price of the cards started to get expensive. It's no surprise that Mantle's cards are so popular.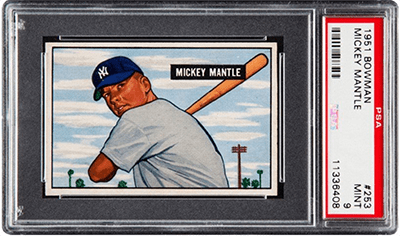 # 9. Eddie Plank: 1909-11 T206 American Tobacco C
ompany - $789,085
Like a T206 American Tobacco Company further up the list, no one is sure why there are so few of these baseball cards around. In the case of this particular Eddie Plank card, some think it had to do with Eddie Plank being stridently anti-tobacco and that he may have fought his image being used to sell cigarettes. Fewer than 100 T206 Plank cards are known to be still in existence. As a result, this sale for over three-quarters of a million dollars was for a card only rated as PSA 7. One can only imagine what a PSA 10 GM-MT copy would sell for in today's market.

# 8. Jackie Robinson: 1952 Topps #312 - $984,000
Baseball Hall of Famer Jackie Robinson became a symbol of social justice when he broke the color barrier by playing for the Brooklyn Dodgers in 1947. By the time he left the MLB in 1956, he was a six-time National League all-star and was named the MVP in 1949. His jersey number, 42, was even retired by all baseball clubs in the league back in 1997 in a first for all major professional sports leagues.
In March 2021, Robinson's 1952 Topps card was sold for almost a million dollars in NM condition with a PSA rating of 9.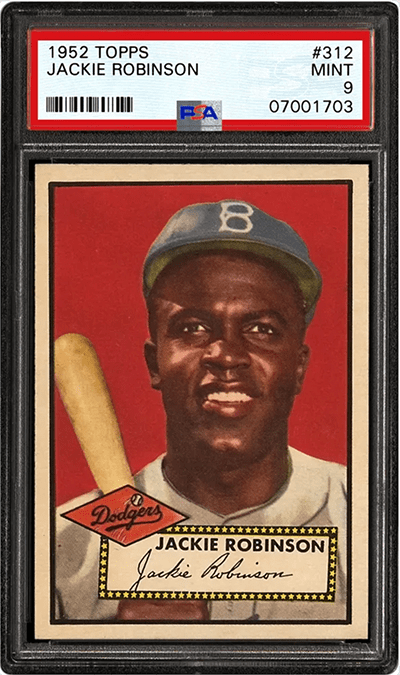 # 7. Reggie Jackson: 1969 Topps Rookie Card #260 - $1,005,600
Just inside the million-dollar club is this baseball card of the great Reggie Jackson. This Topps Baseball Card was Reggie Jackson's rookie card and was graded in GM-MT-PSA 10 condition. That helped the card sell in 2021 for this record price.
Jackson earned the nickname "Mr. October'' for his exceptional postseason hitting record while with the New York Yankees and the Oakland Athletics, both of whom he helped win consecutive World Series titles. Today, he's still active in his seventies as a special advisor to the Houston Astros.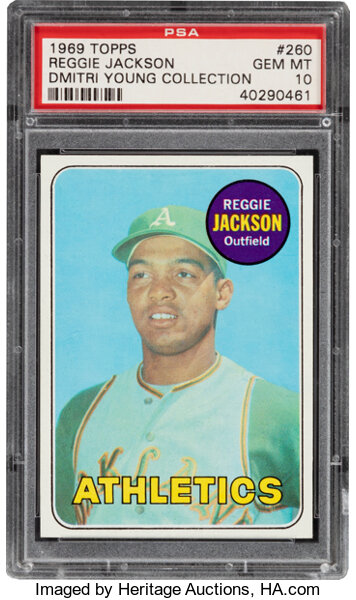 # 6. Roberto Clemente: 1955 Topps Rookie Card #164 - $1,107,000
Puerto Rican Roberto Clemente was an 18-year veteran of the Pittsburgh Pirates and he has the distinction of being the first Latino to be enshrined in the Baseball Hall of Fame. He was also a World Series champion twice, a 12-time Golden Glove winner, and an All-Star for 13 seasons. He tragically died in a plane crash at the age of 38 while on a charity mission.
Despite that sad end, Clemente's impressive MLB career makes it no wonder that this PSA 9 MT card sold in 2021 for over a million dollars via Goldin Auctions.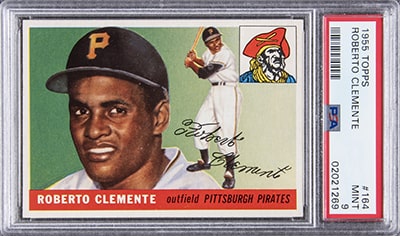 # 5. Babe Ruth: 1916 M101-4 Sporting News #151 blank back PSA 7 - $2,460,000
This is the second Babe Ruth card in the top list. It is not always easy to define a Babe Ruth rookie card, this varies from collector to collector. This is the first time this Babe Ruth 1916 M101-4 Sporting News #151 card being sold as PSA 7 and after 43 bids, it sold for over $2.4M in the Mile High Card auction. This beauty is the highest graded M101-4 card with a population of just 2 and none are graded higher In 1916, Ruth was still playing for the Boston Red Sox. He only hit 7 home runs by the end of the season, very low considering his record of 714 career home runs.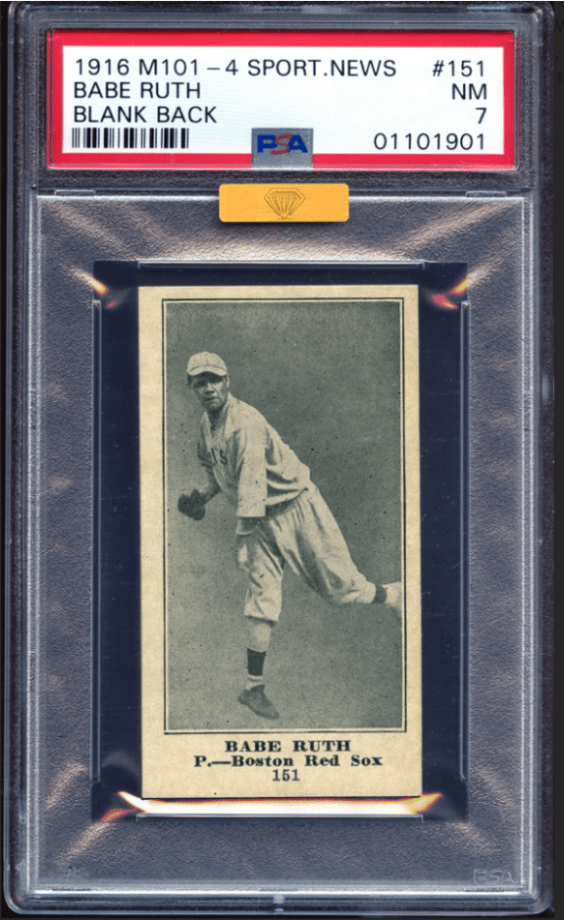 # 4. Mike Trout: 2009 Bowman Draft Rookie Card - $3,900,000
Not all multimillion dollar sports cards are from the golden age of baseball. Mike Trout is still playing on the Los Angeles Angels' team and has been an all-star for nearly all of his first twelve seasons. This rookie card of Mike Trout is from a special Topps line of unique cards.
With a gold sheen added to this single copy card, it was signed by Trout himself and sold by Goldin Auctions for what was then a record $3.9M. Not bad for Trout, who's sure to be a future Hall of Famer like most of the players on this list.

# 3. Babe Ruth: 1933 Goudey #53 - $4,212,000
Babe Ruth was baseball's biggest star back in the 1930s. He was a member of the first Baseball Hall of Fame class in 1936, and it was right after his astonishing run from 1914-1935. For nearly forty years, he was Major League Baseball's all-time home run champion, until Hank Aaron eclipsed his record in 1974.
The Babe's most expensive card was sold in July 2021 for over $4 million dollars. In 1933, a year after he earned his final World Series title, the Goudey Gum Company printed a big card set with four different Babe Ruth cards. Other cards in the set sold for over $1 million but the most expensive card was 133 Goudey #53 Babe Ruth with a bright yellow background in MT condition (PSA 9) that sold for this dizzying sum. Many other Babe Ruth cards from The Sporting News M101-5 line and other companies have sold for significant figures as well - so much so that we could fill this list with just cards featuring "The Babe."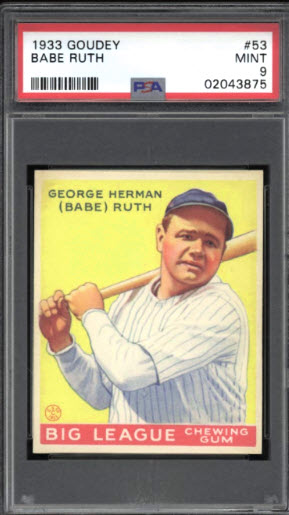 # 2. Mickey Mantle: 1952 Topps #311 - $5,200,000
For rare and expensive baseball cards, few can top the great Mickey Mantle. He's got two cards on this list and this one has quite a story, too. While the card was issued in Mantle's second year in the league, it was Topps' first year printing cards and they were still figuring out how popular baseball cards would be.
Apparently they overprinted the first year set and for a long time, Topps had hundreds of cases of excess cards in storage that they desperately tried to sell to fans. Eventually, they discarded cases of them as trash and even dumped some boxes of them into the Atlantic Ocean. That certainly sounds like a bad idea now that this iconic 1952 Topps #311 Mickey Mantle card fetched over $5 million dollars in 2021.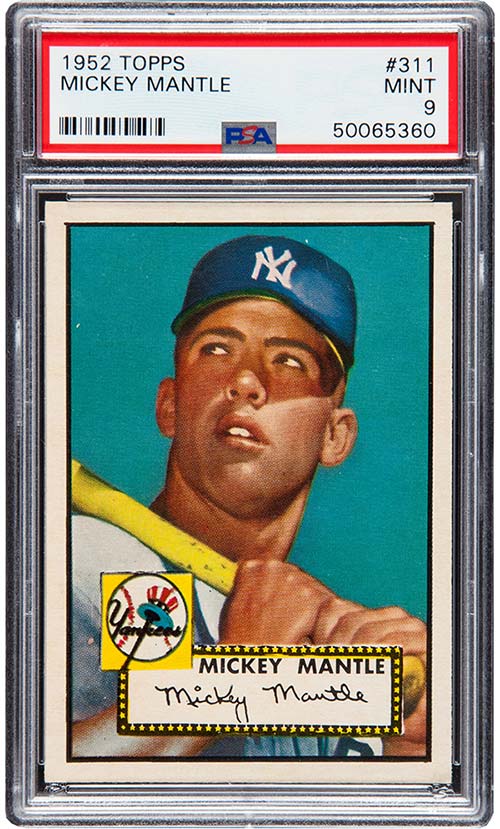 # 1. Honus Wagner: 1909-1911 American Tobacco Company T206 - $6,606,000
You might call Honus Wagner the "Six Million Dollar Man" because his extremely rare 1909-1911 baseball card from the American Tobacco Company sold in the summer of 2021 for $6.6 million dollars, the current record among all sports cards from all manufacturers. The rarity of this series is part of the reason for this amazing price. Only 50 to 200 of these cards are believed to have ever been printed.
Wagner was no slouch on the field, with a career that included nearly 3,500 hits and over 700 stolen bases during his twenty-year career. Like Babe Ruth, he was inducted into the Baseball Hall of Fame with the first group of players in 1936.

Baseball Card Getting More Expensive: Prices on the Rise
This roundup of some of the most expensive baseball cards is just the tip of the iceberg. In the last few years, numerous sports cards from personal collections have shown up in private auctions as well as major marketplaces, giving collectors a chance to pay top dollar for a piece of baseball history.
Many of the record-breaking prices listed here have been set in the last year, suggesting that we are at the beginning of a price surge. Keep your eyes peeled as you clean out your attic or wander a garage sale to find collectibles because a million dollar card could be found just about anywhere.