In the fascinating universe of sports cards collecting, understanding the different types of cards in a set, namely Base, Parallel, Inserts, Refractors, and the like, is essential. These variants not only add depth and dynamism to the hobby but also hold diverse values that cater to different collectors. In the modern day, these unusual cards are often printed in smaller numbers and unusual configurations that can baffle even regular card collectors.
In this article, we'll explore the definitions and terminologies that are used by the major sports card publishers to break down the various cards in the sets they print so you'll get more insight into what to buy and maybe what to avoid.
Sports cards from major brands like Topps, Panini, and Upper Deck all have their own distinctive styles and specialties. The different types of cards and styles they produce give collectors more options to enjoy with engaging and innovative card designs and features. Keep in mind that some cards will combine multiple elements, making them all the more valuable and desirable to collectors and investors alike.
The Influence of Parallels on the Sports Cards
The introduction and popularity of parallel, variants, and refractor cards have had a significant influence on the sports card market. The rarity and uniqueness of these cards have added a new dimension to card valuations. The price of a card is no longer determined solely by the player it represents or its condition. The type of parallel or refractor, the scarcity, and even the aesthetic appeal can significantly impact a card's market value.
This has led to a more dynamic and nuanced market, where collectors need to stay updated and informed to make savvy collecting or investing decisions.
Collecting parallels and refractors can be likened to a treasure hunt, with collectors always on the lookout for the next big find. It's a journey filled with anticipation and discovery, as every pack opened could potentially reveal a rare gem. It's an adventure that promises not just the acquisition of cards, but also countless stories, connections, and memories.
The world of parallel cards is an exciting and rewarding part of collecting sports cards. Whether you are a seasoned collector, an investor, or a fan of sports cards, these cards give you a unique experience that's filled with intrigue, anticipation, and excitement.
Base, Inserts, Parallels & Refractors: Sports Card Types
Base Cards: The Foundation of Any Collection
The building blocks of any sports card collection, Base Cards, hold a fundamental place in any card line. These are the primary cards in any set, depicting players in their standard uniforms, typically in action shots since the 1980's.
Base cards often feature key details like player statistics, brief career highlights, and team information. Collectors, especially beginners, find these cards an excellent starting point due to their availability and affordability.
Base cards make up the set's numbering scheme, with a number and, sometimes, a reference to how many are in the set. This way, the usually random mix of Base Cards that come in a pack of cards will still help collectors understand how much more is out there to acquire to complete a set. This encourages players to buy more cards, open more packs, and assemble the full list of cards in a set, which can be one of the most rewarding parts of sports card collecting.
For example, this Brock Nelson base hockey card from 2021 is #117 in a set, and it sold for a few dollars last year ungraded. Most base cards are just part of a collection and while they can help fans complete a set, they are not in as much demand as cards featuring superstars in the sport or championship teams.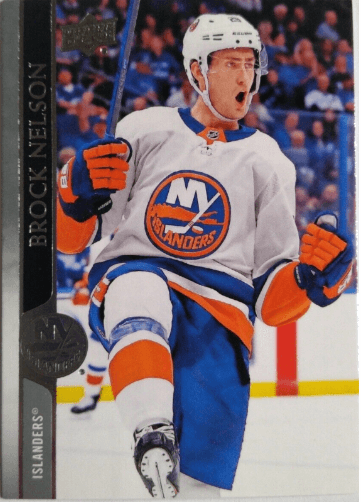 Brock Nelson Base Card
Inserts: The Unexpected Gems
Insert Cards, sometimes called 'Chase Cards' are unexpected treasures tucked within sports card packs that were introduced in the 1990s. These cards are not typically part of a Base Set numbering system and often showcase unique themes, different designs, or other special features to make them distinct from the set with which they are packed. They might commemorate some key event, spotlight upcoming talent added to a team, or carry autographs and memorabilia relics (more on those later).
Rather than strictly being a 'type' of card, Inserts are more a category that most other cards on this list fall into. They include autographed cards, relic cards, parallel cards, and special edition cards. Thus, most of the rest of this list is a bunch of Insert cards that are rare and always a treat for collectors to find when they are opening card packs.
Parallel Cards: Variants Big and Small
Parallel Cards offer an intriguing twist to Base Cards. These cards will mirror the design and layout of a base card, but with distinguishing features that may be minor or could significantly change the look of the card.
Common parallel variations include color schemes, borders, or foil accents (see more on this below). Color changes are the most common and they are often done in large numbers with different print populations to appeal to collectors who want to find that rare card among the packs they open. This is a highly effective way to drive interest as it is based on psychological principles that help keep fans opening more packs.
A great color variant example is the Precious Metal Gems series from Topps. These popular parallels were produced in Green, Red, and Blue variants with backgrounds that took over the look of the original base cards. With such a stark difference in the look of the cards and an intentionally low print run for each color, these cards became quite popular. The Green parallels in this series were issued with the smallest population, the Red parallels had a population of 25 or 100, and the Blue were in the 50 range typically.
An ideal example of this series is the iconic Michael Jordan PMG card from the Red collection, which obscured his hand holding the ball in a dynamic motion shot on a field of red. Collectors loved it: A BGS 8.5 Near Mint copy sold in July 2022 for $564,000.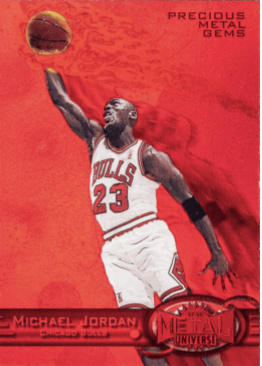 Michael Jordan Parallel Card
Since then, many companies, notably Panini, have added many more color parallels and limited the numbers even more. They've also frequently added an extra bit of sheen to the cards, which we'll discuss next.
Refractors: Variants with a Shine
Refractors are parallel cards with a reflective layer that can reflect light in a rainbow pattern at the proper angle that have been produced by various trading card companies for more than 25 years. These cards often appear in their own numbering scheme and are further divided by difference in color or another factor that allows the publisher to make more variants for a card set. Of course, the rarity and visual appeal of refractors generally make them more popular with collectors. They offer collectors an exciting challenge, as they strive to acquire all the parallel versions of their favorite players' cards.
Popular refractors include Topps (Finest and Chrome sets), Panini Prizm, and Bowman Chrome. Among these various companies, they will release many more color-tinged refractors like Black Gold, Gold, Blue, Red, Orange, and Green. In refractors, unlike the Precious Gems set above, Red and similar colors are often singled out for the smallest populations, while Blue and Green colors and their derivatives are usually more common sets. Some refractors will not just color-swap a Base Card; they often are brand new cards with a different image of the player, and sometimes they introduce new patterns or styling that helps enhance the reflective surface on the cards.
For example, the Mike Trout Bowman refractor baseball card below has a rainbow glow and a red color scheme, but is also an autographed card. They only made 5 of these cards, each with a serial number for the mini-set (more on serial numbers later). This card, number 5 of 5, in BGS 9.5 Gem Mint condition sold for $922,500 in May 2020.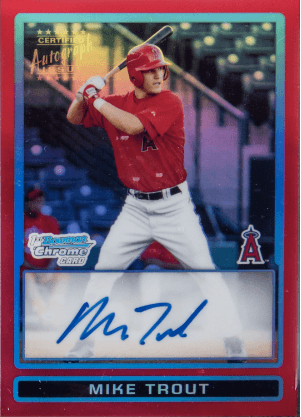 Mike Trout Refractor Card
Most rare among the refractors is the SuperFractor, which is usually a term reserved for a single-card population print. Like some refractors, these cards will almost always call out their uniqueness as "1/1" or "One of One" tags on the card. This feature is often paired with Relics and Game-Worn components, which are discussed more below. Below is the SuperFractor version of the same Mike Trout baseball card, this time with a sepia tone and a "1 of 1" designation was sold in BGS 9 Mint condition for $3,840,000 in August 2020.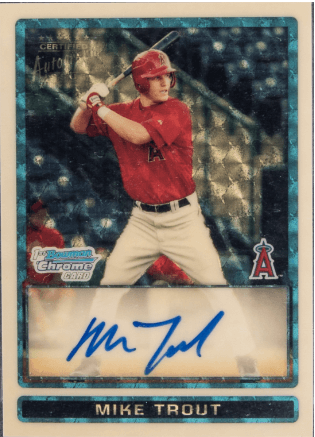 Mike Trout SuperFractor Card
Companies that produce SuperFractors will sometimes release the one card directly to market through their website, commanding their own price for this one-of-a-kind card. Other companies will place them into the general population, releasing details about how rare the card is and the percentage chance of getting this treasure by opening a whole lot of boxes of cards.
This kind of marketing is often used for any limited edition refractors and variants with smaller populations released into the Base Card sets, but when there's only one card in the entire population that's something special…and very hard to get. They can also fail miserably. Like other cards, even these prized variants won't command top dollar if they aren't associated with great athletes or top teams. Some refractor sets have failed to capture the imagination of collectors and investors, which has led to their discontinuation. See the NFL SuperFractor football card from below. This single card population release was sold in April 2023 for only $1.99, despite being a rookie card superfractor 'Super Glow' card from Topps. Yet, this card is for a college football quarterback. Maybe one day this card will be worth a lot if the player ends up with a superstar career in the NFL. For now, perhaps making superfractors for college ball is extending the exclusivity of the cards a bit too much.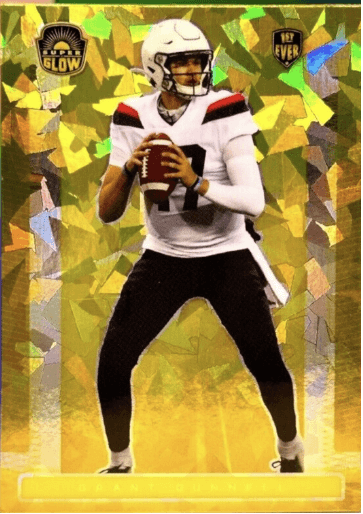 NFL Super Glow SuperFractor Card
In other cases, companies may have seen variants and refractors rise in value on the secondary market you can find on Cardbase, which doesn't translate into direct sales. As a result, sports trading card companies still produce refractors but they are finding new and better ways to make sure they both meet the interests of collectors and can drive up their sales by including them.
Autographed Cards: Inked Excellence
Autographed cards are some of the most sought-after sports cards. They contain the signature of the featured athlete, typically signed directly on the card. Panini, Topps, and Upper Deck often include autographed cards in their sets, and these cards carry a premium due to their personal touch from athletes. While these cards will always be sought out by collectors, investors will often scramble for autographed cards from great athletes that have passed on. This special connection to a player from the past can drive values up to astronomical levels. Below, this signed Babe Ruth card from 1933 is far from perfect shape, but it still sold for $101,589 because it has Ruth's signature right on top of the card. Collectors can see some special magic in a signature like this one, rendered with a fountain pen in his own unique style. For true aficionados, this kind of card is priceless.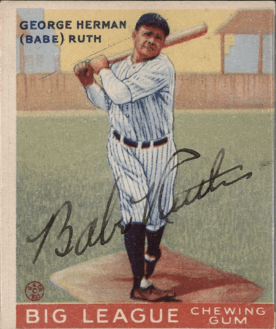 Babe Ruth Autographed Card
Relic Cards: Fragments of Greatness
Relics in sports cards are small pieces of game-used jerseys or equipment that are embedded within the card. These relics are highly collectible and among the most sought-after by sports card enthusiasts and collectors since they provide a tangible connection to the player or team and offer a unique piece of memorabilia that can't be found elsewhere.
Relic cards were introduced in the 1990s with game-worn or match-worn apparel, usually a part of a uniform that a player wore at an actual sporting event. This adds value to the overall card and can significantly increase its worth, especially if the relic is from a popular player or team and even more so if it's from a specific championship event.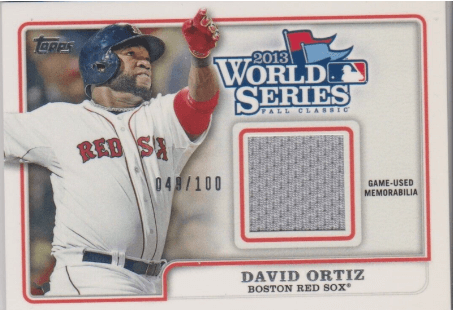 David Ortiz Relic Card
Note that there are a variety of terms used by publishers, including 'patch cards,' 'game-worn', 'player-worn', 'match-worn', or even 'practice-worn', some of which may have an impact on the long-term value of a card. I'd certainly rather have a patch of a Mike Trout jersey from the 2002 World Series than one from when he was at batting practice, but that perception can vary by collector. These cards are often produced in large enough quantities that they are affordable, but still desirable. The David Ortiz card above has a game-used jersey patch from the 2013 World Series. It's a nice item, but ungraded it sold for only $1,500 in April 2023.
Relics in sports cards have become increasingly popular in recent years, with manufacturers including them in new sets and collectors seeking them out. As a result, sports card manufacturers have been coming up with more and more unusual relics to fold into rare cards. Other player garments being turned into relics include hats, patches, and socks. Official equipment like gloves and bats, and even bases from the field have found their way onto relic cards, too. See below for a card that contains a part of the final floor that Michael Jordan played on, with a signature right beside it. That's definitely a piece of sports history, if an unusual one. The card, #1 of 23, sold for over $35,000 in April 2022.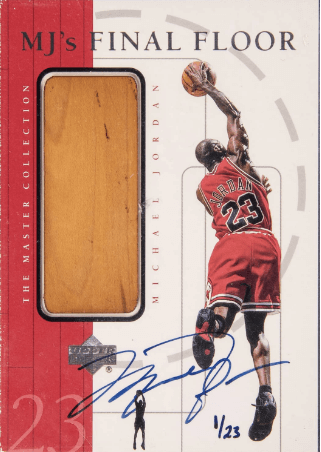 Michael Jordan Relic Card
One last note here: Collectors and investors should be cautious about relics, as the authenticity of some cards have come into question. Fans would do well to only buy these unique items directly from reputable publishers or grading organizations.
Serial Numbers: Small Numbers, Big Rewards
While Base Cards typically have a numbering scheme that shows which number among the set all copies of that card represent, special serial numbers for limited edition cards instead list the number for individual cards among a single print of that card. There can also be additional value derived from cards that have a lower serial number from a set.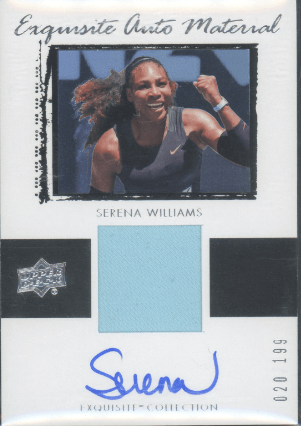 Serena Williams Serial Number Card
In essence, when a card is part of a limited population, they will have a number that is not referencing the box's set, but the individual card's number from the printed population of the same card. For example, you'll get number #1 of 50 copies of the card. For example, the Serena Williams card above has her autograph, a match-worn patch, and a nice low serial number among the 199 cards issued, this is number 20.
While any card among these rare and extremely scarce numbers is bound to be valuable, some collectors like to have extremely low number cards among the set. In some cases people will prefer to have the first of a certain serial number, a card number that matches the jersey of the player on the card, or they may prefer to have all of the #5's in every set they collect or some other numerological oddity.
Die-Cut Cards: Think Outside the Rectangle
Die-cut sports cards are different from regular sports cards in several ways. First, they are often cut into unique shapes that are different from the regular rectangular shape of traditional sports cards. They often have unusual design elements to make them more visually appealing and appropriate for their peculiar shape. Die-Cut cards also tend to be rarer due to their special status, and they are often also refractors and/or relic cards to just add further value to them.
For example, this die-cut football card featuring rookie Patrick Mahomes was a single card production that was autographed, technically a refractor, and cut into an unusual shape. In PSA 10 Gem Mint condition, this unique item sold for $66,000 in December 2021.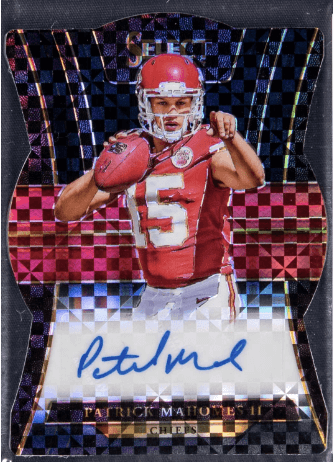 Patrick Mahomes Die-Cut Card
Booklet Cards: Binding Collectibles
Booklet cards are unique, fold-out cards that resemble a small book. They often feature a combination of elements, such as autographs, game-used memorabilia, and player photos or artwork. Booklet cards are produced for special events in limited quantities and usually numbered to indicate their scarcity.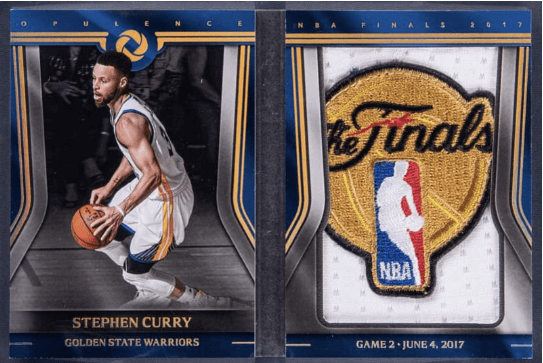 Stephen Curry Booklet Card
The value of booklet cards is influenced by factors such as the featured players, the overall design, and the rarity of the card. High-quality booklet cards featuring popular athletes or unique memorabilia can be hugely valuable to collectors. The above Stephen Curry booklet from the NBA Finals in 2017 contains many of the features referenced above and was a single-issue item (1 of 1). In October 2022, a BGS 8 Near Mint copy sold for $134,640.
Understanding the Value of Different Types of Sports Cards
Collectors know that the allure of sports cards lies not just in their visual appeal or the players they depict, but also in the value they hold and can build up over time. Base cards, while plentiful and easy to acquire, can skyrocket in value if they feature a superstar player or a rookie who goes on to have a stellar career. Parallel and variant cards, with their limited editions and distinctive features, often carry higher initial value because of their scarcity, but, in the end, they still have a better chance of being worth more money if they feature a popular athlete or team.
The value of a card can also be significantly influenced by the reputation and popularity of the product line or even the company that produces it. The condition, rarity, and demand for a particular card, of course, always play a critical role in determining its worth. Like any piece of memorabilia, having the cards formally graded by a reputable company also helps ensure a higher valuation because a third-party has validated the card's authenticity and condition.
Like in so many other venues, in the world of sports cards collecting, knowledge is power. Understanding the distinctions between base, parallel, insert, and company cards can help you make informed decisions and build a collection that is both personally rewarding and highly valuable. Cataloging and monitoring the value of your collection is a key part of ensuring you are making the right choices when investing in variants and parallels.
Variety is the Spice of Life…and Sports Cards
For over a hundred years, sports card collecting has delighted fans with keepsake collectibles that give them a chance to make a personal connection with their favorite teams and players. The innovation in parallels has simply added to the experience, giving hardcore collectors and investors a chance to seek out rarer and special cards that might be impossible to produce in larger numbers, like those with game-worn jerseys.
They've also added to the 'treasure hunt' feel to sports card discovery, where collectors can construct complete base sets while also on the hunt for parallels, inserts, and other special cards that can make you feel like you've won the lottery when you find one. Happy collecting!