What is it about Mickey Mantle that keeps his card values going through the roof half a century since he played his last game? He was undoubtedly an excellent player, one of the best to play the game. "The Mick" was a 20-time All-Star, a three-time MVP, a triple crown winner, an inner circle Hall of Famer, and all that jazz. But does that explain why his cards remain iconic and central to the hobby? After all, many feel that Willie Mays was the greatest player of that generation. And other players from the classic baseball era, like Hank Aaron, Stan Musial & Ted Williams, arguably had better overall careers. In addition, there has been no shortage of great players since.
The Secret of Mickey Mantle Cards
The secret of the Mickey Mantle card is threefold. First, he was the most popular player of his time and arguably the most beloved baseball player of all time. Why? Playing for the Yankees, the most successful and high-profile baseball team (then and now), is a significant part of that. As a result, Yankees cards continue to enjoy a popularity premium. Furthermore, the outfielder always performed well in the clutch, helping the Yankees to seven World Series titles.
Then there is the timing of his arrival. Mantle arrived just as baseball cards did, and the two seemed meant for each other. Sure, there were baseball cards in the pre-Mickey era. Some of them were incredible. But the competition between Topps and Bowman is the genesis of the modern sports card industry. And the Mickey Mantle rookie cards they produced helped launch the golden age of baseball cards.
Finally, Mickey embodied the American ideal. A tall, blonde, strong, and very good-looking kid from Oklahoma with an incredible gift for the game. At a time when half of the USA was still segregated, this genial farmer boy was always going to be more popular than Willie Mays or Hank Aaron. These reasons stand behind the continued fascination with Mickey Mantle. So, his cards became the basis for the modern hobby, and they retained their status for that reason.
#7 1952 Berk Ross Mickey Mantle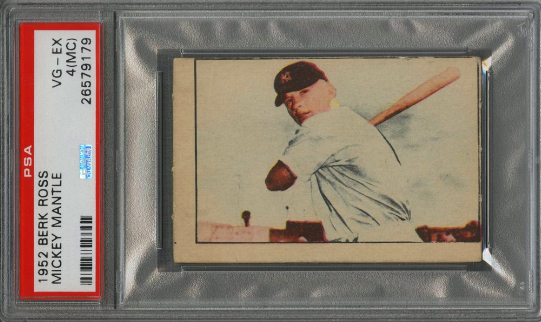 1952 Berk Ross Mickey Mantle
A 8.5 sold for $168,000.
Berk Ross was a small company that existed for only two years (1951-1952). They mostly used these cards to promote popcorn. Their release was rare and probably unlicensed, adding to its mystique. The company was sued by several players, helping led to its downfall.
There are only 345 PSA-graded 1952 Berk Ross Mickey Mantle cards. Therefore, scarcity will likely lead to higher prices. Getting a good copy of this card is challenging because they were printed with a perforation at the top and bottom. The company would hand-separate the cards into individual units. Therefore damage on both ends is quite common.
However, there has been an increase in demand from collectors realizing the importance of this card.
One weird thing worth noticing is that the 1952 Berk Ross Mickey Mantle has an almost identical picture to the 1951 Bowman Mantle. The main difference is that the Bowman is painted, and this one is a photograph.
#6 1953 Bowman Color Mickey Mantle #59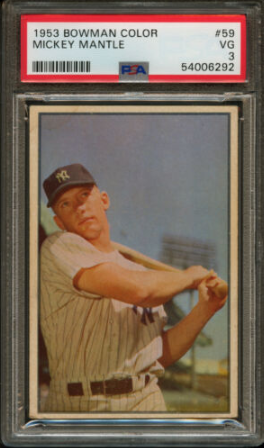 1953 Bowman Color Mickey Mantle #59
A PSA 9 went for $294,000.
The 1953 Bowman Color Baseball Card set was an attempt by the ailing card company to break out of its rut with some color photography. Which back then was still a big deal. The cards were unconventional in other ways as well. They have no writing on the front at all. No player name, position, or team. Since each card measures 2-1/2" by 3-3/4", and with minimal borders, the picture looms larger and shines brighter than in most sets. But Bowman would fold the following year despite this impressive attempt to flip the script.
The company's fate will not stop us from admiring the 1953 Bowman Color Mickey Mantle #59 card. In this one, "The Mick" is clearly posing. But he is found in that slightly out-of-focus and surprisingly ponderous expression we see in many of his cards. In addition, the stadium lights and stands behind him are faded somewhat, making their magnificence more noticeable. Honestly, this card is one of the most beautiful photographed items among 1950s baseball cards.
The main problem with the 1953 Bowman Color set is the borders. They are very thin and white. That makes any imperfection in centering quite noticeable. And, oh boy, there is a lot to notice. Centering on the set can be an absolute nightmare.
#5 1956 Topps Mickey Mantle #135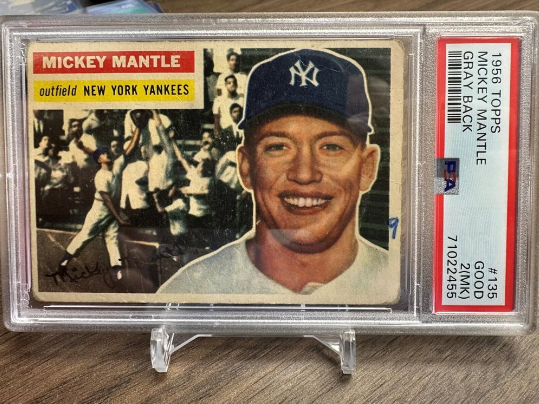 1956 Topps Mickey Mantle #135
A PSA 10 sold for $360,000.
Mantle's quizzical facial expressions, with stadium lights in the background, did not appear in the 1954 or 1955 Topps Baseball card sets. But when he returned to the company in 1956, we were in for a big surprise. The 1956 Topps Mickey Mantle #135 features the superstar outfielder smiling broadly. But even cooler, the left side of the card features Mickey jumping over the fence to save a certain home run from the grasping hands of greedy fans. The picture is a reminder of how tremendous "The Mick" was defensively before he developed those bad knees. Like every single card in this series, the 1956 Topps Mantle is gorgeous. We will also give Topps credit for coming up with an original concept for his card this time. The original and perfectly executed design makes this one of the most popular cards of the 1950s.
Another reason the 1956 Topps Mantle is so popular is the year's significance in the Yankees outfielder's career. That was the season he peaked by winning the coveted Triple Crown. Mickey hit .353, swatted 52 home runs, and smacked 130 ribeyes. Mickey would later write a book called, My Favorite Summer 1956 about that glorious season.
#4 1953 Topps Mickey Mantle #82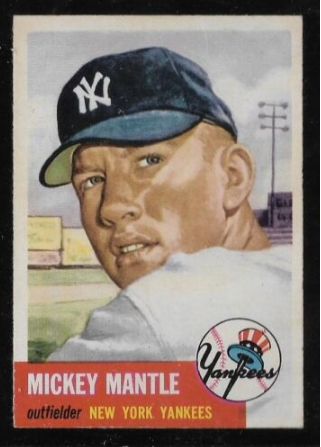 1953 Topps Mickey Mantle #82
A PSA 9 sold for $396,000.
To me, and many other vintage baseball collectors, the 1953 Topps Basketball card set is, along with their 1955 release, the most beautiful set in the hobby's history. So much thought is put into every painting, with the details and shading approaching perfection. Knowing what they had on their hands, Topps made the cards a bit bigger than usual at 2-5/8" x 3-3/4." And trust me; online pictures do not do the 1953 Topps cards justice. Only when you hold one of these masterpieces in your hand can you truly appreciate the vibrancy of the colors and design.
The back is pretty cool because it tells us that "many baseball experts say that switch-hitting Mickey is the best baseball prospect they've ever seen." Nah, he will never amount to anything. But the write up at the back does note that Mantle led the league in strikeouts in 1952. He would never stop swinging for the fences and would lead the American League in strikeouts on five occasions.
The 1953 Topps Mickey Mantle #82 may not be the most beautiful of all or the most original. But, by now, we had often seen that ponderous look on Mickey's face with the stadium light in the background. So, show us something new, Topps! Perhaps that is why "The Mick" denied Topps his cards rights over the next two years.
#3 1952 Bowman Mickey Mantle #101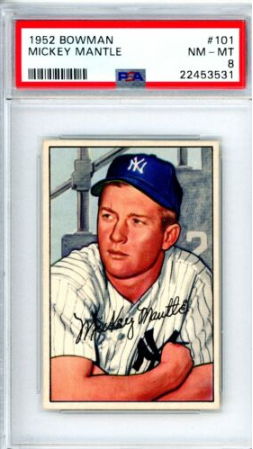 1952 Bowman Mickey Mantle #101
A PSA 9 went for $504,000.
In 1952, Bowman was still trying to compete with Topps for hegemony in the baseball card world. Once again, they went with a hand-painted set. The 1952 Bowman Mickey Mantle #101 captures Mickey in an introverted pose. The painting also really brings out the Yankees cap and the legendary pinstripes. It's body language 101 that when a person has their arms folded across their chest, it's an attempt to protect themselves from the world. Perhaps a hint at the inner demons that tormented "The Mick" his whole life. Hey, these cards are art. Let's treat them as such.
As much as that PSA 9 went for, there is a PSA 10 out there somewhere. Some lucky so-and-so bought it for $43,000 in 2004. We can only imagine how much that would be worth now.
#2 1951 Bowman Baseball Mickey Mantle Rookie Card #253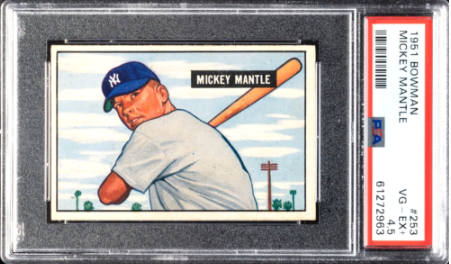 1951 Bowman Baseball Mickey Mantle Rookie Card #253
A PSA 9 sold for $3,192,000.
Mantle has only one authentic rookie card, and this is it. That other card we will discuss below is not an actual rookie. Nevertheless, the image is beautiful, even if not as iconic as its Topps rival. It is a hand-painted picture of the rookie, ready to swing, with a cloudy yet somehow friendly-looking sky behind him.
Though not his most iconic card, the 1951 Bowman Baseball Mickey Mantle Rookie Card #253 is no longer undervalued. Most collectors know this is the true rookie for "The Mick." We also now know that the Mantle card was part of the more scarce "high numbers" part of the 1951 Bowman baseball card set. And it is part of the biggest and most impressive of the classic Bowman releases. It is also notably larger than most cards, measuring 2-1/16" by 3-1/8." It appears the company initially planned to print just 252 cards, as they had the previous year. But then added 72 additional cards, possibly motivated by a desire to include the young Mickey in the set. The 1951 Bowman Willie Mays was also part of this smaller set, so it's a good thing they printed it. But these "high numbers" cards were printed in smaller numbers, adding to their scarcity.
Since the 1951 Bowman set is over 70 years old, there aren't too many good-grade specimens out there. But some lucky person has a PSA 10 that has never been sold. It is worth several million for sure. The most common grade among the 1,398 graded is a PSA 4.
#1 1952 Topps Mickey Mantle #311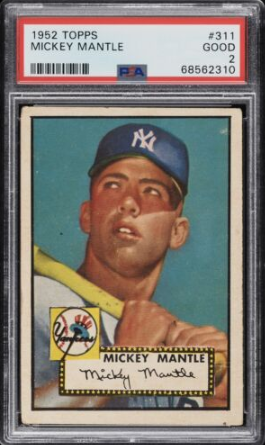 1952 Topps Mickey Mantle #311
An SGC 9.5 sold for $12,600,000.
There is little doubt the 1952 Topps Mickey Mantle #311 is the most iconic sports card of all time. Yet, despite not being the actual rookie card for the beloved player, the first Topps card has wholly overshadowed its Bowman equivalent. Part of this is the importance of the set. The 1952 Topps Baseball Card set release of 407 cards was the largest and most colorfully striking ever made to that point. And it blew Bowman out of the water in popularity, starting the process that would see Topps buy out their main rival.
As for the card itself, it is a surprisingly artsy offering. Mickey is somewhat slack-jawed and seems distracted. We often see no gritty determination on players' faces in "bat on shoulder" pose cards. That makes the card far more interesting than most. And, of course, the 1951 Topps artwork is flawless.
Just like the 1951 Bowman, the 1952 Topps series had "high numbers" set within a set, with lower population counts. And you guessed it; the Mantle was on that list. According to the urban legends, Topps founder Sy Berger drowned cases of the leftover cards as he prepared to make room for 1953 Topps. Maybe one of those soggy cards will get a PSA 1 grade?
If you want to get your hands on this card, beware. They are usually unaffordable at decent grades. So, if a deal seems too good to be true, it usually is. It is one of the most counterfeited items in the hobby for obvious reasons. I mean, there is a danger of that with all the expensive Mantle cards. But this one, in particular, has a reputation. So, before springing for a 1952 Topps Mantle, research the best ways to spot a fake. If you want to learn more read our guide about Buying and Selling Sports Cards Online.
Final Word On The Top 7 Most Expensive Mickey Mantle Baseball Cards
The generation with the privilege of watching Mickey Mantle play has generally aged out of the hobby. But if you were expecting his popularity to diminish accordingly, you are in for a rude awakening. The Mantle name symbolizes the golden age of baseball, and he remains the ultimate all-American hero. So naturally, most of the Mickey Mantle cards mentioned here are beyond expensive. Even his latter-day cards from the late 1960s are shockingly valuable. Unfortunately, getting a piece of "The Mick" isn't cheap, and the entry price seems to get higher.