Cristiano Ronaldo is more than a soccer player; he's been a phenomenon for the last two decades. His gravity-defying leaps, lightning-fast sprints, his rivalry with Lionel Messi, and the precision-guided free kicks have made him a living legend in the world of soccer. As a result, Cristiano Ronaldo trading cards have become among the most valuable in the sport. While his rookie cards are now worth a lot of money, there are still some worthwhile cards you can buy right now that are good as investments or to just add some exciting soccer cards to your collection.
From his early successes in Portugal, to his triumphant years with Manchester United, his record-breaking run at Real Madrid, and his subsequent years of continuing to dominate the pitch even as he nears 40 years of age, Cristiano Ronaldo has always maintained a massive fan base due to his aggressive, thrilling style of play and ability to deliver goals. Since he just signed a $200 million dollar contract to play in Saudi Arabia, he still has time to break more records before he hangs up his cleats. Picking up a few of these Christiano Ronaldo cards is the perfect way to own a piece of the legacy for die-hard fans, avid collectors, or someone who just loves the honor of owning a piece of sports history.
So, here we present the top 10 Cristiano Ronaldo trading cards that you should consider adding to your collection right now. Keep in mind that you can also find a list of recent sales, trending prices, and Hot Deals here on Cardbase and in the Cardbase App.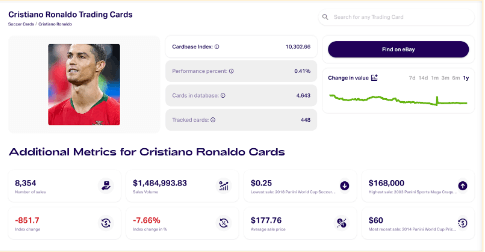 Cristiano Ronaldo Trading Cards
The Top 10 Cristiano Ronaldo Cards to Buy Now
The fiery Cristiano Ronaldo has been on a variety of teams and his career spans two decades, so there are an enormous number of different cards that celebrate his legacy. We've gathered 10 of the best here.
10. 2019 Panini Obsidian Eruption Jersey Cristiano Ronaldo #E-CR7 /125
Relic cards are a great way to feel a strong connection to your favorite soccer players because they legitimately hold a piece of history within them. Too often, though, the pricing on these cards with match-worn patches and other items are just too expensive for most collectors. Thankfully, the 2019 Panini Obsidian series featuring Crisitano Ronaldo were printed in larger-than-usual numbers.
With 125 copies out there, it's possible to find one of these cards for less than $100. This card has a game-worn piece of jersey from Ronaldo's days with Juventis and it's an ideal relic card to add to your collection, with the expectation that it will likely rise in value over time.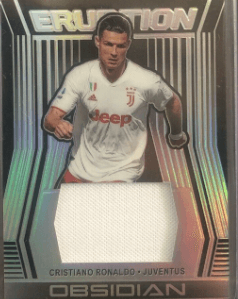 2019 Panini Obsidian Eruption Jersey Cristiano Ronaldo #E-CR7 /125
9. 2022 Leaf Continuum Soccer Autograph Cristiano Ronaldo #116 /41
If you want to add a Cristiano Ronaldo autographed card to your collection, this 2022 soccer card may be one of the more economical ways to do so. While you could get lucky finding a Panini Prizm card with Ronaldo's flamboyant scrawl for a low price, Leaf's specialization on bringing out autographed cards doesn't get as much attention. That means so you can sometimes find Leaf cards for a lower price than you might expect for a card with a genuine autograph.
That's the case with this Leaf Continuum Cristiano Ronaldo card, which was produced in a limited run of 41 copies. Some of these cards are currently available for as little as a few hundred dollars. Keep in mind that Leaf doesn't produce cheap cards, either. Their card quality is superb, their photos are generally exciting, and the autographs are real. Not a bad way to round out a collection with a signature from one of soccer's greatest players ever.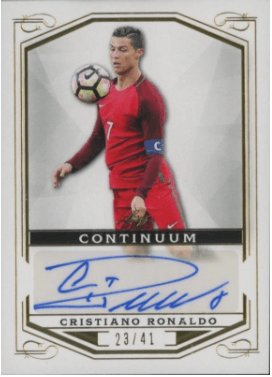 2022 Leaf Continuum Soccer Autograph Cristiano Ronaldo #116 /41
8. 2018 Panini Kaboom! Cristiano Ronaldo #CR /10
Over the years, there have been a lot of cards celebrating the storied career of Cristiano Ronaldo, but this one is something special. Panini's Kaboom series offers a comic book flare to traditional soccer cards, providing fans with another unique way to connect with their favorite players. With a cartoon design over a picture, the card captures the intense physicality of Christiano Ronaldo's play with the jagged edges and the energetic card design. Plus, the color schemes of the various parallels, which can sometimes feel like an afterthought with traditional cards, really add to the look of this already compelling card.
This particular card captures Ronaldo when he was lighting up the pitch for Juventus, and the standard edition can still be found for perhaps $1,000 to $1,500. If you want one of the Gold parallels, there were only 10 printed so you will see pricing more like what this PSA 10 Gem Mint copy went for in March 2022, $36,000. The Kaboom series is still around if these prices are higher than you want to spend, so you can still add cartoon Cristiano to your collection without breaking the bank.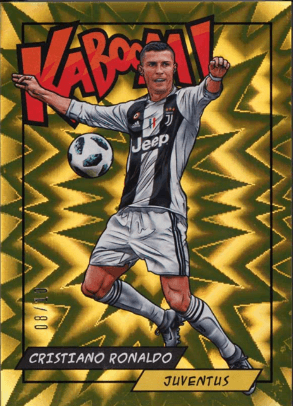 2018 Panini Kaboom! Cristiano Ronaldo #CR /10
7. 2006 Panini World Cup Cristiano Ronaldo #169
Cristiano Ronaldo has represented his home country of Portugal in five World Cups at this point, but the best performance the team had was back in 2006 when they took 4th place in FIFA's biggest event. Although the fiery Ronaldo had a few rough moments with other players, the card we have from Panini's 2006 World Cup series is stellar. With a full range of colors, the action shot of Cristiano Ronaldo during a match looks exceptional within the abstract design of the card. With its vibrant color and high-quality print, this card is a visual treat for collectors and fans of the superstar wingman.
While you can find lower-graded copies of 2006 Panini World Cup Cristiano Ronaldo #169 for under $100, a BGS 10 Pristine copy sold for $2,500 in January 2023. This is much lower than similarly-graded cards commanded back in 2021 when Ronaldo made his big return to Manchester United. Thus, this may be a good investment buying opportunity for a card featuring a legendary soccer player during his first World Cup.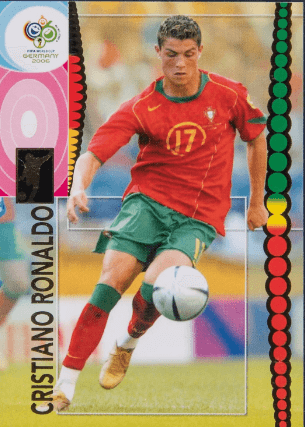 2006 Panini World Cup Cristiano Ronaldo #169
6. 2016 Panini Flawless Sole of the Game Cristiano Ronaldo Patch Autograph Card
If you're willing to spend a bit more for a Cristiano Ronaldo autograph, this 2016 Panini Flawless series is a good bet. While it was limited to a smaller print run, the pricing for this 2016 soccer card has not climbed into the higher price range of some of Ronaldo's rookie cards or those from his time with Manchester United, but we have seen it go up over time.
With Ronaldo's huge, stylized autograph boldly rendered in blue, the card has an elegant design that beautifully highlights the patch and the autograph. With just 25 copies out there, a BGS 9.5 Gem Mint copy sold back in January 2019 for only $663. By comparison, another ungraded copy sold in May 2023 for $5,500. Now's the time to pick one up before the pricing surges further.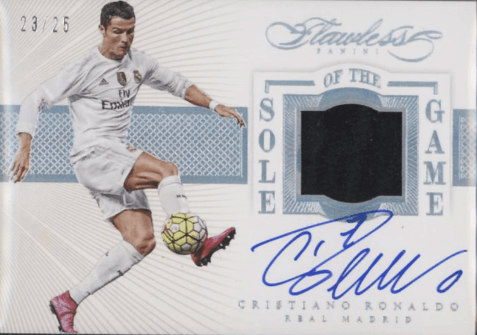 2016 Panini Flawless Sole of the Game Cristiano Ronaldo Patch Autograph Card
5. 2017 Topps Chrome UEFA Champions League Red Refractor Cristiano Ronaldo #93 /10
Here's a fantastic-looking soccer card from Cristiano Ronaldo's days at Real Madrid. He's dominated UEFA matches for years, proven by the fact that he leads in goals scored for men's soccer all over the world. Ronaldo had an illustrious nine-season tenure at Real Madrid, during which he won two titles in Spain's top-tier football league, La Liga, and an impressive four UEFA Champions League trophies. Any Cristiano Ronaldo fan would surely want a card from this time period as a keepsake and piece of soccer history.
While this Red Refractor was limited to /10 copies, with a PSA 9 Mint copy selling in December 2022 for $31,200, you can also find standard edition copies of 2017 Topps Chrome UEFA Champions League #93 Cristiano Ronaldo for less than $50 as well as a variety of other parallels at different price levels.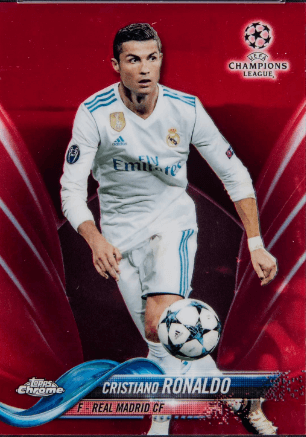 2017 Topps Chrome UEFA Champions League Red Refractor Cristiano Ronaldo #93 /10
4. 2003 Upper Deck Manchester United Gold Cristiano Ronaldo Rookie Card #14 /07
Yes, it can often feel like the trading card companies stretch what they define as a 'rookie card'. This one should really count because of the unusual transfer that happened when Manchester United simply had to have Cristiano Ronaldo on their team as soon as possible. Thus, he moved from Sporting CP to Manchester United, where he became the 'most expensive teenager on a soccer team' up to that point with a signing fee of over $12 million dollars. Thankfully, Ronaldo would prove to be worth the price.
As a result, his Manchester United soccer card from Upper Deck can definitely be called a rookie card. Plus, how could we not include a card with this dynamic photograph of an airborne Ronaldo about to deliver a powerhouse chest-shot? This particular 2003 soccer card was part of a limited print of 7 copies, honoring the jersey number he inherited when he moved to Manchester United. A PSA 7 Near Mint sold in August 2021 for a whopping $57,600. Despite that huge valuation, Ronaldo fans can still pick up copies of the 2003 Upper Deck Manchester United #14 Cristiano Ronaldo standard edition with the same great shot and a red band instead of a gold one for around $1,200 to $2,000.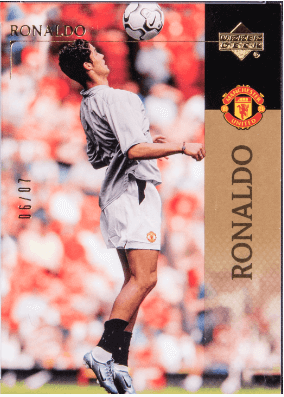 2003 Upper Deck Manchester United Gold Cristiano Ronaldo Rookie Card #14 /07
3. 2014 Panini Prizm World Cup Matchups Gold Prizm Cristiano Ronaldo/Lionel Messi #19 /10
Longtime rivals Cristiano Ronaldo and Lionel Messi, the two biggest soccer stars of their generation, are captured together on this cool Panini Prizm "World Cup Matchups" Prizm card. Both men have had exceptional careers, and they're still making waves - Messi just helped Paris Saint-Germain clinch the latest Ligue 1 title, while Ronaldo was Manchester United's top scorer with 18 league goals in the 2021-22 season before he bolted to Saudi Arabia for a nine-figure contract. 2022 finally got Messi his World Cup trophy, but will Ronaldo get another chance?
Such is the drama we've seen with these two exceptional competitors, which makes this awesome card so special. There is a standard edition of the 2014 Panini FIFA World Cup Brazil Prizm World Cup Matchups #19 Cristiano Ronaldo / Lionel Messi card that can be found for a few hundred dollars to perhaps $1,000, depending on the condition. However, Panini really outdid themselves on Prizm parallels for the World Cup in 2014. You can find a rainbow of variants available that range up in price, with the most expensive version so far being a Gold Prizm version in BGS 8.5 Near Mint condition copy that sold in November 2022 for a jaw-dropping $58,800. Regardless of the edition you add to your collection, it's amazing to see these two top-scoring players together on a single card.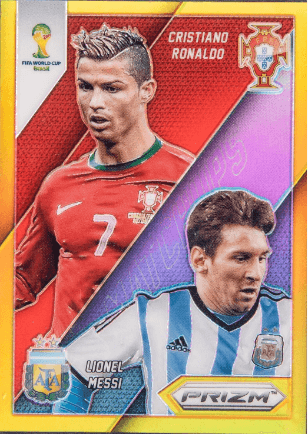 2014 Panini Prizm World Cup Matchups Gold Prizm Cristiano Ronaldo/Lionel Messi #19 /10
3. 2018 Panini Prizm World Cup Gold Prizms Cristiano Ronaldo #154 /10
With Cristiano Ronaldo having the distinction of being the only soccer player in World Cup history to score in five different World Cup events, we had to bring one more World Cup card into this list. For the Russia 2018 World Cup cards, Panini decided to capture the images that year with different textures, including Cristiano Ronaldo's stern look immortalized in a kind of overlay that gives his image a hyperreal effect. This works beautifully with the showcase design and shines best with the Gold Prizm version, which was limited to just 10 copies.
The good news is that if you would like to obtain a copy of the standard version of 2018 Panini Prizm World Cup #154 Cristiano Ronaldo, you can find one for a reasonable $50-$100 in excellent, professionally-graded condition. On the other hand, this exceptional card is among his most expensive if you seek a mint-fresh Gold Prizm copy. In April 2022, a BGS 8.5 NM-MT+ copy sold for an impressive $63,000. With that kind of lift in price, even the standard copies are likely to rise in price eventually, especially since it features a superstar during the World Cup.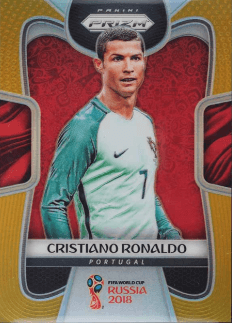 2018 Panini Prizm World Cup Gold Prizms Cristiano Ronaldo #154 /10
1. 2003 Panini Sports Mega Craques Cristiano Ronaldo Rookie Card #128
Of course, the number one card on the list has to be the 2003 Panini Sports Mega Craques Christiano Ronaldo Rookie Card #128. Panini's "Mega Craques" series is a well-known line that focuses on prestige soccer cards, which provides a bit more value to the collectible for being included in such a set. For a die-hard fan, this is the ultimate rookie card for Ronaldo, showing off his early days with Sporting CP when he still took to the field with a number 28 rather than his signature number 7, which he picked up at Manchester United and maintained thereafter as he shifted teams over the years.
You can still find copies of this card if you keep an eye out. While a PSA 10 Gem Mint copy of the card went for $312,000 in October 2021, that massive valuation increase happened right when he was returning to Manchester United. In recent days, even lower-grade copies have sold recently in the $1,400 to $2,500 range. If you're willing to take a PSA 2-4 grade copy, you can still add this classic card to your collection.
While Ronaldo is still playing, we may see a surge in interest and value when he eventually retires. Considering how good he looked recently playing for Saudi club Al Nassr, it will be at least a couple more years before he considers throwing in the towel on his illustrious career.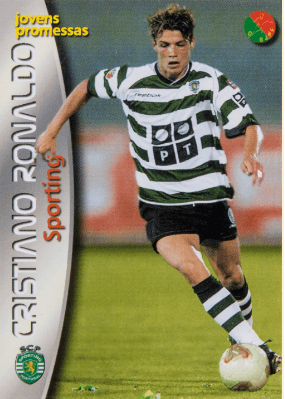 2003 Panini Sports Mega Craques Cristiano Ronaldo Rookie Card #128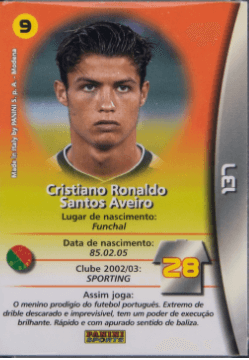 Cristiano Ronaldo Santos Aveiro
Cristiano Ronaldo Cards Are Good Investments
That's a wrap on our Top 10 Cristiano Ronaldo Soccer Cards to buy now. We hope this overview gave you a trip through the career of this soccer superstar, too, and provided you with some idea of the best cards to pick up and add to your collection, whether it's as an investment or to just honor this amazing player.
While fans of Cristiano Ronaldo may sometimes be frustrated when he leaves a team to join another one, this fact tends to just raise the value of his trading cards. While die-hard fans of a particular club might limit themselves to just purchasing cards from his time with their favorite team, most Cristiano Ronaldo fans will be excited to get cards from across his career at Sporting CP, Manchester United, Real Madrid, Juventus, and now Al Nassr.
That means more collectors and fans seeking out his cards, which can help raise the pricing higher than, say, a soccer player who played on the same team for all of their career. The best time to invest was before Cristiano Ronaldo became a household name in soccer; the second best time to invest is now.