The Rock, or Dwayne Johnson, as he's better known now, skyrocketed to fame in the late 1990's based on a potent mix of charisma, athleticism, and over-the-top antics in the ring. His iconic eyebrow, the countless great catchphrases, and the sheer power he displayed in the ring were undeniable and he became a favorite even when the WWE was trying to cultivate a villainous image for him. Decades later, The Rock remains one of professional wrestling's most legendary figures even as he's also conquered the film world with a huge number of hit films centered around his larger than life persona.
The thing is: The guy deserves all the love. In addition to being a formidable wrestling champion with numerous titles, he's a genuinely good actor with an excellent sense of humor. This has only made his trading cards more valuable even though he's rarely been in the ring during the last decade. In this article, we'll countdown The Rock's top 15 most sought-after cards, from his early days in the WWE to memorable matches and championship wins that are now being chronicled effectively by Panini various card series. Each card captures The Rock doing what he does best - laying the smackdown and electrifying crowds worldwide. Okay, as the Rock would say, 'let's bring it!"
The Rock's Top 15 Wrestling Cards
We're going to focus on The Rock's wrestling career for this list rather than his appearance on other kinds of cards, including those of his many film series. Even so, fans of Dwayne Johnson/The Rock might be interested to know that one of the most valuable cards featuring The Rock is actually a perforated football card from his brief time in the sport. This card produced by the Bumble Bee Seafood company, we're going to focus on The Rock's wrestling cards for our list. Even so, fans of Dwayne Johnson/The Rock might want to check out this card's listing on Cardbase. The record price for this card is a mind-blowing $46,000. Thankfully, we have one to beat that on our list. Let's go!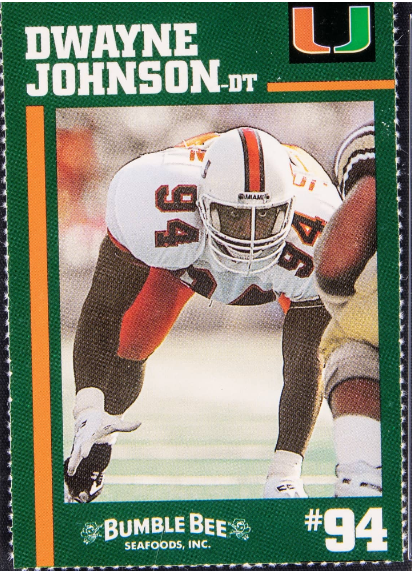 1994 Miami Bumble Bee Perforated
15. 2021 Topps Allen & Ginter WWE The Rock #AG-27
Topps' Allen & Ginter cards are among the most intriguing modern series in that they capture athletes and other luminaries with a style from a far earlier era. Their stately, almost Victorian feel is in direct contrast to the slick look of Panini Prizm or Kaboom cards that dazzle with shine and flash. Instead, these cards are a throwback to the days of a simpler style that works as a contrast to the hulking Rock with his inked, muscle-bound physique and menacing appearance.
That incongruity is why we start our list with this exceptional card.
While we'll see evidence of The Rock's popularity in the trading card space as we go through the list, this unusual The Rock card is still highly affordable if you seek an ungraded copy. Even graded copies on the top end of the grade scale are selling for just a few hundred dollars. Thus, this is one of the more affordable but still amazing Dwayne Johnson/The Rock cards from this list that you can add to your collection.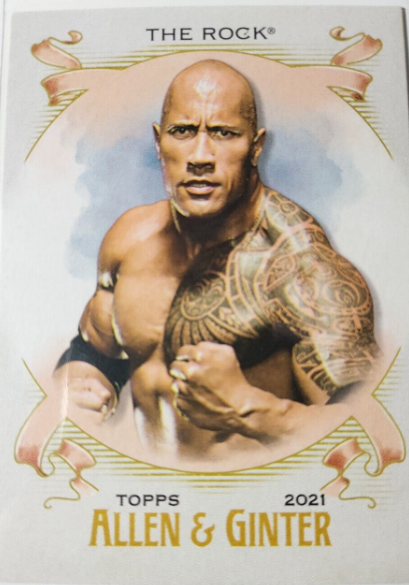 2021 Topps Allen & Ginter WWE The Rock #AG-27
14. 1997 Panini WWF Superstars Stickers Rocky Maivia Rookie #121
In the interest of ensuring we cover enough The Rock rookie cards, sometimes we need to show off a few unusual items, including stickers. Or, in this case, it's a Rocky Maivia sticker for that brief period before WWF and the wrestler himself realized that the shorter "The Rock" was the name that would lead him to fame and fortune. Of course, he's using his own name Dwayne Johnson during his film career and that's working out pretty well. Regardless, this sticker shows off the Future Rock dominating in the ring as he would so often throughout his career.
As you may know, PSA is happy to grade stickers, game cards, and other items that are similar to cards using their standard rating system and packaging. Thus, a PSA 10 Gem Mint copy of the sticker sold in November 2022 for $2,760. These early Rock collectibles seem to still be on the rise, so keep an eye out for them.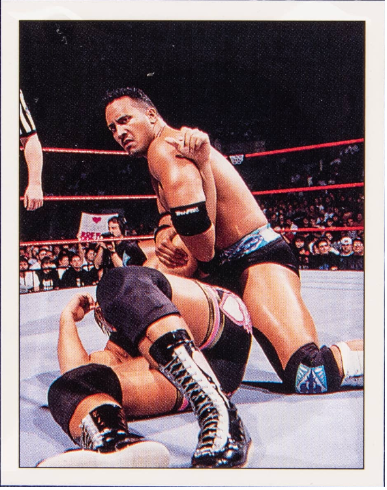 1997 Panini WWF Superstars Stickers Rocky Maivia Rookie #121
13. 2022 Panini Immaculate WWE Platinum The Rock 1/1 #49
When Panini snapped up the exclusive rights to WWE trading cards, they went all-out. In addition to celebrating the current stars of the WWE, they set out to also release numerous series of cards that would let them chronicle the history of professional wrestling. Thus, they have a lot of special edition cards that celebrate legendary wrestlers like Hulk Hogan, John Cena, The Undertaker, and, of course, Dwayne "The Rock" Johnson.
While many cards feature key matches and action shots in the ring, the Immaculate collection often features the athletes in iconic poses. The design of this One of One card is clean with stylish lines providing a simple backdrop that lets you focus on the exceptional physique of The Rock. It's a stunner of a card and, thankfully, there are some parallels for this one that come in different colors and rarity levels.
Still, the simple black stripes behind this amazing force of nature make this card something special. Despite not being graded before sale, the card sold in March 2023 for $2,999. My expectation is that the new owner could get this card graded and increase its value considerably. We'll have to see if it ends up back on the market before too long, but this time in a slab with a high-end PSA grade. If that happens, we can expect an exponential increase in the value of this card.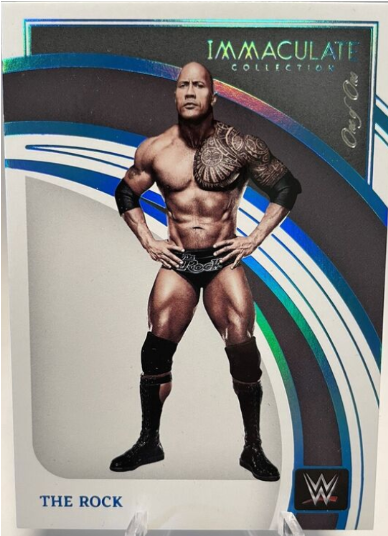 2022 Panini Immaculate WWE Platinum The Rock 1/1 #49
12. 1998 Comic Images WWF Superstarz The Rock #15
For many fans of The Rock, this is kind of his rookie card of sorts. This was the first time he appeared on a Wrestling card, even if it wasn't a nice Topps or Panini offering. Instead, this Comic Images card was what the popular WWF (now WWE) had on offer from a trading card perspective during the late 1990s. Thankfully, the imagery captures the era well and The Rock looks threatening back in his 'villainous' days around this time.
The 1998 Comic Images WWF Superstarz The Rock #15 card can be found for up to $2,500, but most of the top prices paid for it have been autographed cards with significant ratings on the PSA grading scale. As with most cards, you can pick up a cheaper copy with a lower grade if that's what suits the budget. However, keep in mind that The Rock might be seeing a price surge in the days ahead as he plans to come back to the ring.
1998 Comic Images WWF Superstarz The Rock #15
11. 2022 Select WWE Black Finite Brahma Bull Horns The Rock 1/1 #7
This impressive Panini Select card shows The Rock at rest, enjoying his possession of the heavyweight championship belt. The Bull Horns in the background ("The Brahma Bull" being one of Dwayne Johnson's many nicknames) and the frame-breaking image of this brilliant wrestler add some attractive elements to this otherwise uniform card. The Rock looks his usual menacing self, in stark contrast to the good-natured and joking persona we see in his film series.
Regardless, it's a great looking single-issue card and that drove up the price considerably, with the PSA 10 Gem Mint card selling in September 2022 for $2,850.00. "Can you smell what he's cooking?"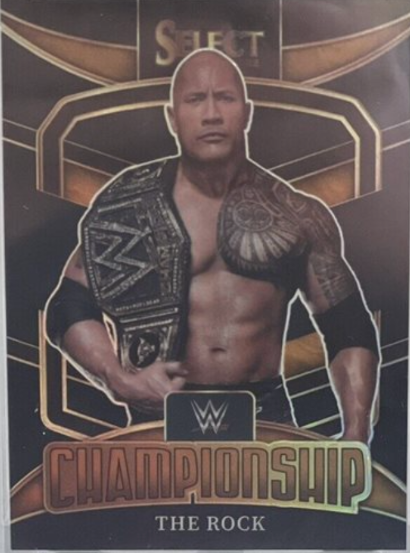 2022 Select WWE Black Finite Brahma Bull Horns The Rock 1/1 #7
10. 2023 Panini Select WWE Legends Concourse Black Prizm # 1/1 The Rock #31
This brand new card from the Panini Select series features the legendary wrestler in the modern day. Instead of looking back at older images of the wrestler, it's refreshing to see how powerful he still is now, still demanding that people "Bring It" if they are going to face him in the ring.
While this The Rock card is widely available in a variety of rarities and parallels, it's the 1 of 1 Black Prizm that sold August 2023 for about $3,000. Again, this is a card that would probably be worth more than this with a proper PSA or BGS grading. Keep in mind that the grading process can really add value to the card because a third party has seen the card and verified that it is in great condition. Plus, it can help you better understand the value of your card collection while also putting valuable cards like this into protective casing so they will last.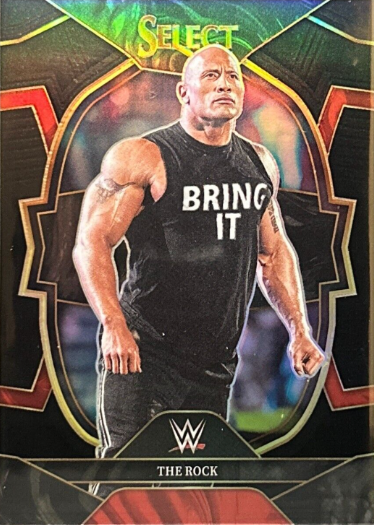 2023 Panini Select WWE Legends Concourse Black Prizm # 1/1 The Rock #31
9. 2014 Topps Chrome WWE Gold Refractor The Rock /50 #40
While the Topps Chrome series never made refractors with the intricate detail of the Panini Prizm line, their move to have color-based limited editions did bring more value to their cards. This is a good example, with a strong action shot of The Rock putting his opponent's leg into a world of hurt. In the base set version, the card isn't too hard to find for under $20. However, the refractor versions are a bit more than that.
With just 50 copies of this version of the card made, this collectible has become highly-coveted and commands close to $8,000 for a PSA 9 Mint copy. We have seen copies go for less, but be prepared to pay a lot if you want this particular Rock card added to your collection.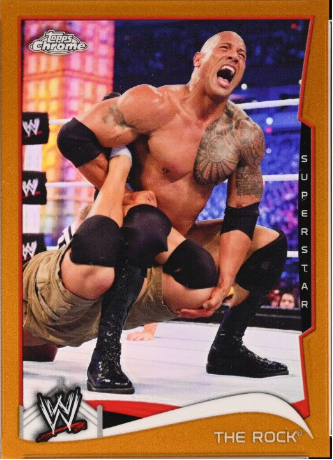 2014 Topps Chrome WWE Gold Refractor The Rock /50 #40
8. 2021 Topps WWE Chrome Slam Attax The Rock/Rocky Maiva #NNO
This quirky entry is a trading card, but it's from a card game that Topps created called Slam Attax. While the game originally came out back in 2010, the 2021 edition contains this 25th Anniversary Edition version of The Rock from his debut with the WWE. Back in 1996 at Madison Square Garden, the young wrestler was introduced with a flashy outfit as "Rocky Maiva". Amusingly enough, this card has stats for The Rock, but they are for how he can be played in the game, not statistics from his career in the ring.
While this card game is still widely available, The Rock's card is a very hard card to find, so the pricing has increased quickly. In August 2023, an ungraded copy sold for about $4,000 in a sale that might just have people running to the game store to see if they can pick up a copy of the game that includes this icon in game card form. Good luck!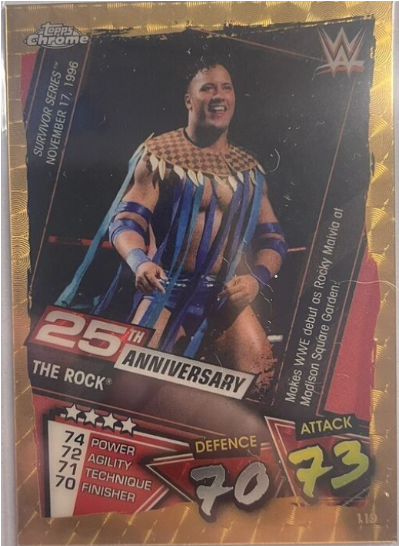 2021 Topps WWE Chrome Slam Attax The Rock/Rocky Maiva #NNO
7. 2020 Topps Finest WWE The Rock 1/1 Superfractor #R-4
While this card arrived in 2020 as the Topps deal with the WWE was coming to an end, this image is from 2014's Raw event and it showed a cool-as-a-cucumber Rock sporting shades and a t-shirt with an answer to one of his signature lines, "I Bring It." The Topps Finest line featured an array of refractors, but this one is the single-issue Superfractor version.
With only a single copy available, it gained value and sold for an impressive $4,500 in July 2022, despite being only in PSA 8 NM-MT condition. This bodes well for more The Rock cards in the future. While top-dollar usually goes to the PSA 10 Gem Mint cards, The Rock's fan base is so large that they are willing to pay quite a bit for imperfect cards. For us in the hobby, that can sometimes seem unappealing, but if it's a Superfractor, it's not like there's a better copy out there. Regardless, it's a sharp-looking card that would class up just about any wrestling card collection.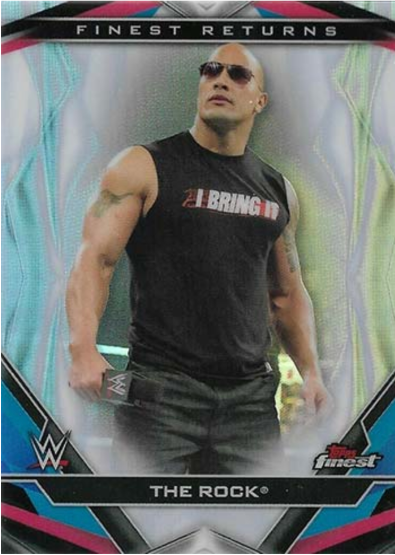 2020 Topps Finest WWE The Rock 1/1 Superfractor #R-4
6. 1997 Panini WWF Superstars Stickers The Rock #113
So, technically, 1997 Panini WWF Superstars Stickers The Rock #113 is not a card, but a wrestling sticker. But it's also a sticker that is over 25 years old, has one of the earliest appearances of The Rock in the WWF, and was graded by PSA as a 10 Gem Mint copy. Couple that combination with a fantastic shot of a ready-for-punching Rock with a tower of hair that would make Elvis Presley proud and you have a collectible that will sell for top dollar.
In fact, this sticker sold in July 2021 for over $5,000 on the promise that only a tiny population of these stickers had been graded anywhere near this high. For collectors, this early 'rookie-adjacent' kind of card is important to add to the collection of any serious wrestling fan. If more of these early Panini efforts surface, you can expect them to become even more valuable. But they are just stickers…can they truly be worth $5,000? As The Rock would say, "It doesn't matter!"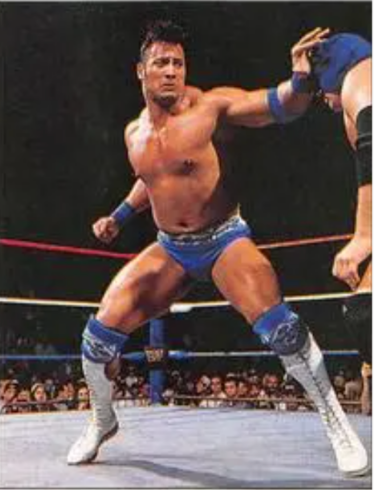 1997 Panini WWF Superstars Stickers The Rock #113
5. 2020 Topps Chrome WWE Gold Refractor The Rock /50 #64
The rousing image on this card shows The Rock with his full command of the audience. The man has so much charm that he translated from the raging crowds of wrestling fans to the theater audiences in movie houses across the world. As he triumphantly addresses the crowd, you can see him at his finest with his ceremonial ink, bald head, and confidence to move mountains.
This 2020 Topps Chrome WWE The Rock #64 card came in a variety of parallels, but it's the Gold Refractor version (one of 50) that set a record price for the card, with a PSA 10 Gem Mint copy selling for $5,100 in May 2022. The seller noted that only a couple of these cards have actually been rated at this highest level, too. If only The Rock had raised his eyebrow, this card might be worth even more.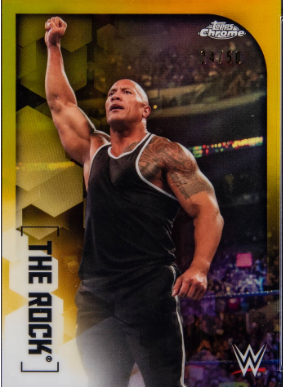 2020 Topps Chrome WWE Gold Refractor The Rock /50 #64
4. 1997 Cardinal Trivia Rocky Maivia #NNO
While this is technically not a trading card, it does feature one of Dwayne Johnson's earliest appearances in any physical media. At the time, he was still going by the name "Rocky Maivia" and he was featured in a trivia board game based on the WWF's stable of wrestlers called "WWF World Wrestling Federation Wrestling Trivia Game." Thankfully, the card features a great shot of the Pre-Rock in the ring and ready for action. As a result, this card has become a kind of de facto The Rock rookie card that has proven popular with collectors.
Of course, since this was a card in a board game, the card was likely handled a lot so you won't find too many in pristine condition. As a result, a PSA 10 Gem Mint copy sold for $11,774 in February 2022. Now, this card might seem like it's not 'bringing the heat' at the moment since you can find PSA 9.5 Mint copies for less than $1,000. That likely means the high prices were based on that COVID-era surge. That said, we're seeing more high prices coming out for The Rock's wrestling cards and we may see a resurgence on the horizon. Keep an eye on The Rock's Cardbase page to watch the trends and spot Hot Deals when they arise online.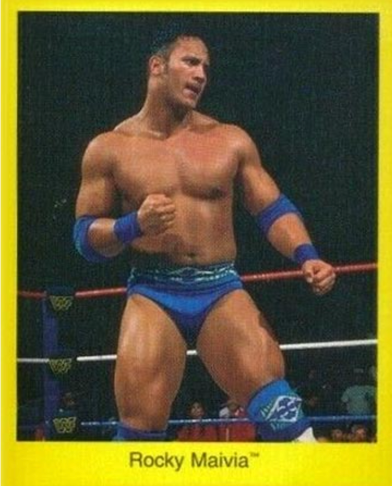 1997 Cardinal Trivia Rocky Maivia #NNO
3. 2023 Panini WWE Revolution The Rock Kaboom! #6
This is one explosive combination. The Rock, one of the sport's most exciting and iconic characters, paired with the wild design of the Kaboom! series from Panini. In addition to the flashy color scheme of the Kaboom series, we get The Rock in one of his classic poses, daring his opponent to come nearer. Would you?
While this card was just issued in 2023, it didn't take much time for it to become a sought-after card. Already we've seen a PSA 10 Gem Mint copy sell for about $10,000 and even ungraded cards are listed online for almost $2,000. The Rock has never stopped being popular, but Panini is doing an amazing job of tapping into our love for this multi talented star.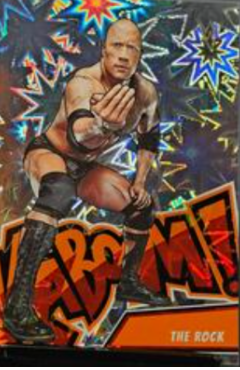 2023 Panini WWE Revolution The Rock Kaboom! #6
2. 2022 Panini Select WWE Concourse Level Black Prizm The Rock 1/1 #20
Panini wasted no time in getting out a huge series of cards from their Select series to meet the interests of longtime WWE fans. In 2022, this card with a frame-break image and a cheeky-looking Rock is striking one of his signature poses in the ring. The card is the Black Prizm version, which means that they only made a single copy of the card. That's probably why investors have snapped up the rarests of these parallels, with this copy selling in August 2022 for just shy of $15,000. This is hardly the only one of these cards that Panini has been producing. Look to the next card for a similar card that has become far more expensive.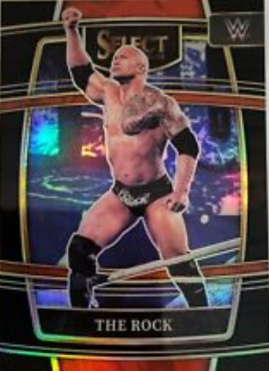 2022 Panini Select WWE Concourse Level Black Prizm The Rock 1/1 #20
1. 2022 Panini Prizm Black Prizm WWE The Rock 1/1 #191
Big news was made in April 2023 when The Rock took the mantle of the 'most valuable wrestling' card ever with a sale of this Panini Prizm Black Prizm 1/1 card. By more than doubling the amount paid for the previous record holder's most valuable card, Hulk Hogan, The Rock has brought up the value of both his cards and wrestling card prices as a whole. New pricing milestones generally lead to an increase in demand and an increase in value across the board.
If a Dwayne Johnson/The Rock card was going to break that record, this is an ideal choice for the honor. As a single-issue card in Panini's Black Prizm set in the first year of Panini's exclusive deal with WWE, it's a compelling card that captures an exceptional shot of The Rock bringing the pain in style as he lays out his most frequent opponent, "Stone Cold" Steve Austin, with his famous "Rock Bottom" one-armed body slam. That's gotta hurt!
The Rock's sheer athleticism is on full display on this card and Panini ups the ante on this presentation by having this iconic photo break out of frame, even partially obscuring the Panini logo. It's a brilliant design choice that makes the card sing, even though this specimen was only graded at a PSA 7 NM. Considering that this means an exclusive card featuring The Rock beat out Hulk Hogan's rookie card, this is a testament to both the rising value of wrestling cards in general and a validation of Panini's parallel trading card strategy. The card sold for $126,000 and we can expect more cards from the most famous and well-liked wrestlers to start surging.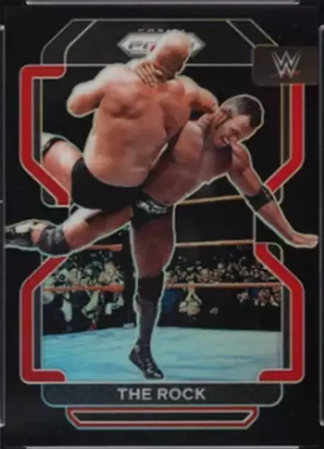 2022 Panini Prizm Black Prizm WWE The Rock 1/1 #191
Solid as The Rock
As we've seen, The Rock's legendary career in WWE has produced no shortage of highly desirable and valuable trading cards for collectors. From his humble rookie cards with a name he would soon drop, to ultra-rare autographs and numbered parallels, demand for "Brahma Bull" memorabilia is always high. His film career only escalated that interest, and he opened the door for other wrestlers to branch out into the film industry, including Dave Bautista and John Cena.
Dwayne Johnson, by any name, is firmly cemented as one of the biggest stars in wrestling history. As such, collectors are willing to pay top dollar for rare and coveted cards featuring The People's Champion. Whether you're a fan of 90s "Attitude Era" Rock, Early Hollywood Rock, or modern box-office franchise Dwayne Johnson, 'the most electrifying man' in sports entertainment history offers something for all eras of wrestling card collectors. As his career continues with occasional WWE returns and blockbuster movies, demand for his cards will no doubt continue to increase.
The Rock and card collecting go hand in hand. Even if you don't smell what he's cooking, you can appreciate the immense value and interest in the top cards featuring this icon of wrestling. As The Rock would say, these cards are sure to give any collection a major boost of "pie." Happy collecting!