Although Chipper Jones is a Hall of Famer and an 8-time All-Star, you can make a pretty good case that the player is underrated. In his many years playing for the Atlanta Braves, Jones was the offensive engine of a spectacular team. However, the Braves of the Chipper era were better known for their killer pitching combo of Greg Maddux, Tom Glavine, and John Smoltz. But you gotta score runs to win games, right? Well, the third baseman did a lot of that. He hit 468 home runs and drove in 1,623 runs. That is more than any third baseman in baseball history.
Chipper hit a metric ton of homers, but he was not a one-dimensional power hitter. Indeed, the third baseman has a ridiculously high career on-base percentage of .402, a Braves club record. If that is not enough, Jones also hit for average, putting up a career .303 and winning the batting title in 2008 with an awe-inspiring .364 mark. The advanced stats that the player put up are a testament to his ruthless effectiveness at the plate. His 141 WRC+ (easily the best overall stat for measuring offensive performance, puts him in the top 100 of all-time, at the same level as Harmon Killebrew and Albert Pujols. In short, Jones earned those 8 All-Star appearances and the 1999 MVP with consistent excellence.
Therefore, there is a good market for Chipper Jones cards, especially some of his rookie items. Few of his rookie cards are scarce. After all, the guy was the first overall pick in the 1990 MLB Draft. So, he was a highly touted prospect at the heart of the 1990s junk wax baseball cards era. That means everyone was looking for his cards, and there was ample supply. But that doesn't mean none of the cards have value. So, without further ado, here are the best Chipper Jones rookie cards of all.
1991 Upper Deck Chipper Jones Rookie Card #55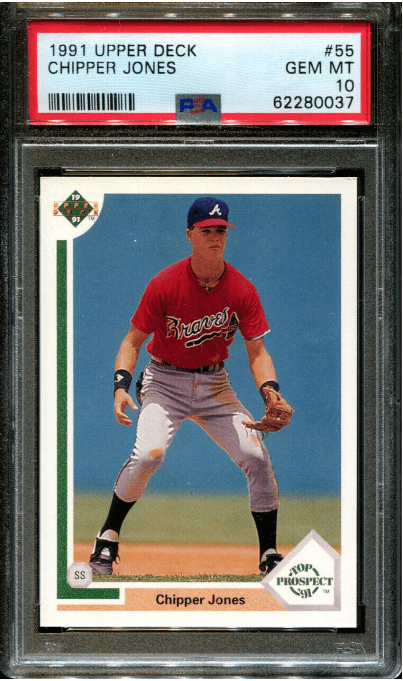 1991 Upper Deck Chipper Jones Rookie Card #55
A PSA 10 sold for $53.
There are 2,864 PSA 10s of the 1991 Upper Deck Chipper Jones RC #55, so don't expect to get much long-term value here. Nonetheless, Upper Deck had completely overtaken Topps as the number one baseball card during this period. And you can certainly make an argument that this is the most attractive of the Chipper Jones rookie card. Note that there is also a foil version of this card, which some prefer.
This picture also has some history that makes Chipper look about 5 years old. First, look at where the player is positioned. You can see that Jones is playing as a shortstop, a position he occupied at the University of Miami and early in his time in the Braves system. However, the Atlanta staff wisely determined he would do better at the hot corner. And indeed, he is now considered one of the best third basemen of all time.
1991 Score Chipper Jones #671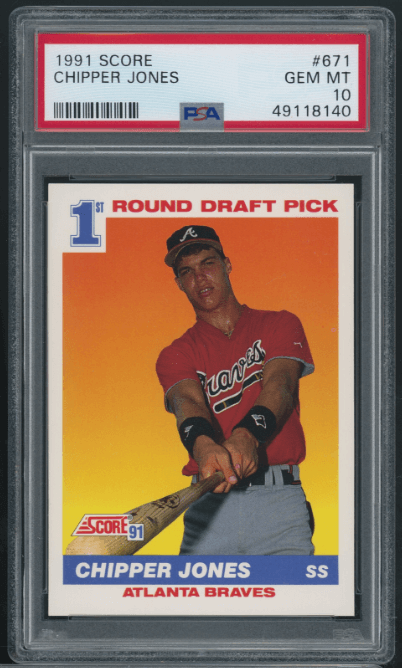 1991 Score Chipper Jones #671
A PSA 10 sold for $43.
The 1991 Score Chipper Jones #671 has that classic junk wax feel. The whole 1991 Score Baseball Cards series looks like they spent 5$ designing it. But that doesn't mean this card lacks a certain amount of charm. My favorite part is the 1st round draft pick heading on the card. I don't know why, but I am a sucker for that kind of thing. But mentioning that he was selected first would have been welcome here. Another point of special attention is the face Chipper is making. It looks like Score was just picking the first picture available and slapping it on there. Honestly, their approach to card-making puts the junk in junk wax. A word on population counts: because Score was less popular than its rivals, they printed fewer of the cards. Therefore, it has a lower population count than the other Chipper Jones rookie cards. Having said that, there are well 5,000 graded 1991 Score Chipper cards. So, it isn't exactly rare.
1992 Bowman Chipper Jones #28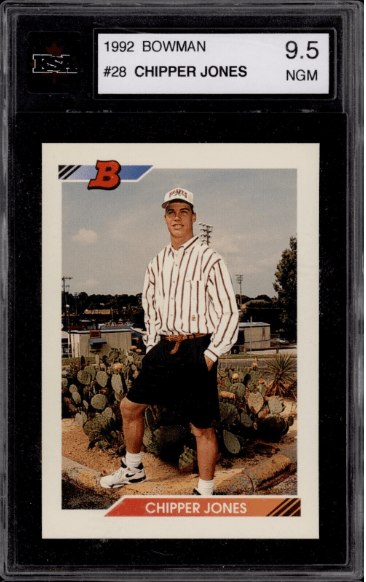 1992 Bowman Chipper Jones #28
A PSA 10 sold for $63.
The 1992 Bowman Chipper Jones #28 is not technically a rookie card, but close enough. We let this one slide in because Bowman is the home of the prospect. I am not a massive fan of the casual clothes thing that early 1990s Bowman is famed for. But many collectors are. In this card, we see Chipper demonstrate the height of early 1990s fashion, which in retrospect, is pretty hideous. The future Hall of Famer is somehow combining the preppy boy at the marina look with early 90s hip-hop chic. Look, you had to be there. And, of course, the casual yet highly self-aware hands in the pocket pose make him look like a bit of a douchebag. But he can hit, so somehow, it works.
1991 Bowman Chipper Jones Rookie Card #569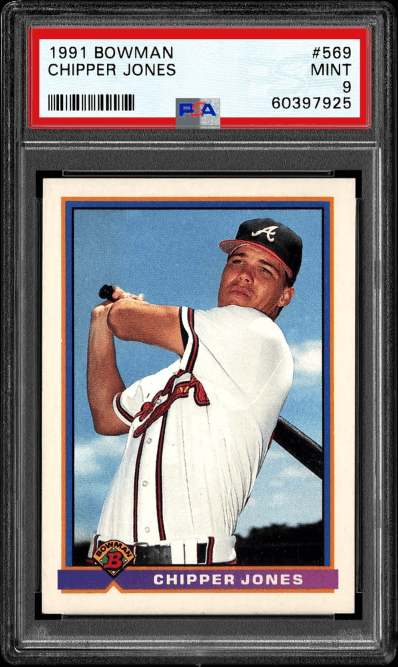 1991 Bowman Chipper Jones Rookie Card #569
A PSA 10 sold for $108.
The comparison between the 1991 and 1992 Chipper Jones Bowman cards is striking and funny. Jones looks so much older and more mature in the older picture. But I guess that is because he didn't get to dress himself in the 1991 Bowman Chipper Jones RC #569. Like almost all the other Chipper rookie cards, the card has been overprinted. But there are several hundred fewer PSA 10s than the Upper Deck card. Therefore, it's a better long-term investment. In addition, Bowman's name recognition and prestige have increased in recent years, while that of Upper Deck has receded.
1991 Topps Topps Chipper Jones Rookie Card #333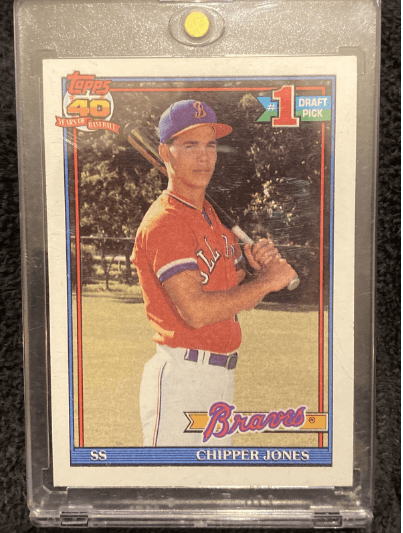 1991 Topps Topps Chipper Jones Rookie Card #333
A PSA 10 sold for $255.
It is no secret that many of the Chipper Jones rookie cards look exactly the same. The culprit for that is the company to blame for all of our problems in life, Topps Inc. Just kidding, sorta. But back then, Topps released several products with the same picture and general design. But the specific design setup here is quite appealing. The Topps 40th anniversary logo on the left offsets that impressive reminder that Chipper was the #1 overall draft pick. As if we could ever forget, dreamboat.
The 1991 Topps Chipper Jones Rookie Card #333 comes from the most basic set, the beloved flagship. But that also means there are more copies of each card and a lower overall value. After all, this card has 12,979 graded copies out of PSA, and an incredible 5,637 of them are PSA 10s. So that means those binders we were sticking cards in back in those days got the job done; if we consider those inflated numbers, it is incredible that this card has any value.
1991 O-Pee-Chee Chipper Jones Rookie Card #333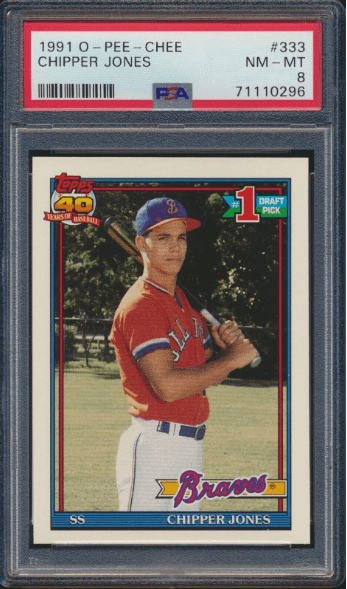 1991 O-Pee-Chee Chipper Jones Rookie Card #333
A PSA 10 sold for $960.
Sometimes flagship Topps cards get a little bit boring. We have all been there. You have been living together for a while. No more date nights. You start fighting over who will take out the trash. You need variety. What if you try that lower-pop Canadian version instead? Have no fear. The 1991 O-Pee-Chee Chipper Jones Rookie Card #333 is here to satisfy your Braves Hall of Famer needs.
Is there any difference between this card and the flagship Topps item? Well, nothing too spectacular, but yes! The stock paper is purported to be a bit whiter than its equivalents. And, of course, the factoids on the back of the card are bilingual. This is multi-cultural Canada, after all.
However, by far, the most crucial difference is the population count. While there are almost 13,000 flagship Chipper Jones rookie cards, there are a mere 561 O-Pee-Chee ones. As for PSA 10s, there are only 94. A much smaller proportion than in the regular Topps series. Therefore, the difference in value is significant.
1991 Topps Tiffany Chipper Jones Rookie Card #333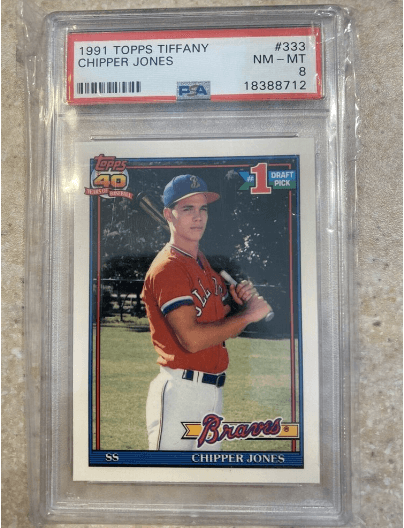 1991 Topps Tiffany Chipper Jones Rookie Card #333
A PSA 10 sold for $5,222.
The Tiffany set was a pretty subtle upgraded version of the Topps flagship set. There were two main differences between the groups. First, the Tiffany versions had a glossy front, which is detectable in the right kind of light. In addition, the back of the card was white, while the flagship equivalent was generally grey. The Tiffany sets ran from 1984 to 1991. Therefore, the 1991 Topps Tiffany Chipper Jones Rookie Card #333 was the best card of that final set. A little piece of hobby history for ya.
The high quality plays a prominent role in the higher value of the 1991 Topps Tiffany Chipper Jones Rookie Card #333. There are 786 graded copies of the Tiffany card. But only 41 of them are PSA 10s, which is why the value is so high. It appears these 1991 Tiffany Topps cards are a pretty rough grade. Nevertheless, these cards are an excellent long-term investment. The combination of a low population and higher card quality will guarantee good value for the item in the long term.
1991 Topps Desert Shield Chipper Jones #333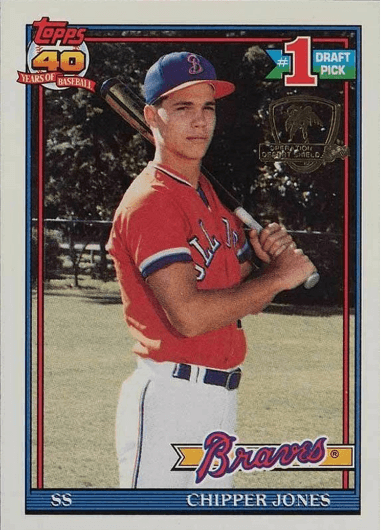 1991 Topps Desert Shield Chipper Jones #333
A PSA 10 sold for $21,588.
"What" I hear you asking. Did Chipper Jones serve in Operation Desert Shield? No, hypothetical reader. Not exactly. In 1991 the US was a more united and patriotic country than it is today. So, when the armed forces went to war with Iraq, the card companies went out of their way to print sets specifically for those serving in the Persian Gulf. The cards looked exactly like the stand 1991 Topps release but with one difference. Each card had a gold foil Desert Shield emblem (a palm tree and shield) on the front of the card. Every member of the service received a pack of 15 cards.
As you can imagine, most of the soldiers involved had more significant concerns than holding on to their Kirby Puckett cards. So, not many of the 1991 Desert Shield cards returned home. Even fewer made it back in decent condition.
The 1991 Topps Desert Shield Chipper Jones #333 is easily the set's most valuable and sought-after card. That is not surprising since he was the big rookie in the set, just as the hobby was coming off Ken Griffey Jr. 's fever. There are only 32 PSA 10s of the Chipper card, and we believe his reputation as a top-tier Hall of Famer will only increase with time. So, this is an excellent card to hold on to. The Topps Tiffany version of this card is also a good one to snatch up.
Final Word Of The Chipper Jones Rookie Cards Best of the Best
There isn't too wide of a variety of Chipper Jones rookie cards. Indeed, many of his best items are from later in the career of the Braves star. Topps certainly didn't help the situation since, at the time, they released O-Pee-Chee, Tiffany, Desert Shield, and their standard flagship with identical designs. Nonetheless, there are some gems among the Chipper Jones Rookie Cards. When all is said and done, Chipper will be remembered as one of the best-hitting third basemen ever. Therefore, his cards will have a substantial value in the future.