Collecting baseball cards has been a pastime of sports enthusiasts for over a hundred years. Some fans buy them to connect with their favorite players, to keep them as an investment, or even just to have a little bit of baseball history of their own. They make a great gift for baseball fans, but how do you know what to buy and what kind will work for your budget?
In this article, we'll help you determine the right card and we'll make some recommendations for you at various budget levels and from different eras of the sport so you can find the perfect gift for the baseball fan in your life.
Choosing an Ideal Baseball Card Gift
Baseball cards are wonderful gifts, but choosing the right one can make your present perfect. Keep in mind that baseball cards come in various forms, including rookie cards, autographed cards, game-used cards, and more. Depending on your budget, you can buy a rare and valuable card or a more affordable option. Here are a few tips that can help in your decision.
Which team does your gift recipient follow?
What era of baseball is their favorite?
Do they collect cards for fun, investment, or both?
If you know the answer to these questions, they can help you pick the ideal card to brighten the birthday of your special baseball fan. With the handy search options here on Cardbase, you can search by price ranges for currently available cards for purchase across a huge variety of websites to find the gift for your birthday person.
If you're still not sure, let's look at some popular suggestions for a few different budgets and time periods to help you get a memorable keepsake for your favorite sports fan.
Great $10 Baseball Card Birthday Gifts
If you're on a tight budget, there are still lots of terrific cards to pick up as a gift. Some of the best baseball cards under $10 include common cards of popular players, reprints of classic cards or personalities, or cards from relatively recent years. You can also potentially get cards that aren't graded as high by PSA, BGS, or another reputable card grader. For casual fans, cards with minor flaws won't necessarily reduce their excitement when opening their present. Now, here are a few favorite suggestions in this $10 range:
2022 Topps Chrome Ben Baller Edition Aaron Judge Refractor #99
Aaron Judge is one of the top MLB players these days and many of his most desirable baseball cards are still quite affordable. The Yankee behemoth is 6'7" and nearly 300 pounds, making for an imposing presence on the field, a forceful hitter at the plate, and a strong arm in the outfield. In 2017, he was the AL Rookie of the Year and while cards from his first year have already risen in value, this shiny Chrome Refractor card from 2022 can still be had online for less than $10. With his power and impressive home run stats, any baseball fan should delight in adding his card to their collection, especially since his stellar performance so far suggests that his cards will retain their value over time.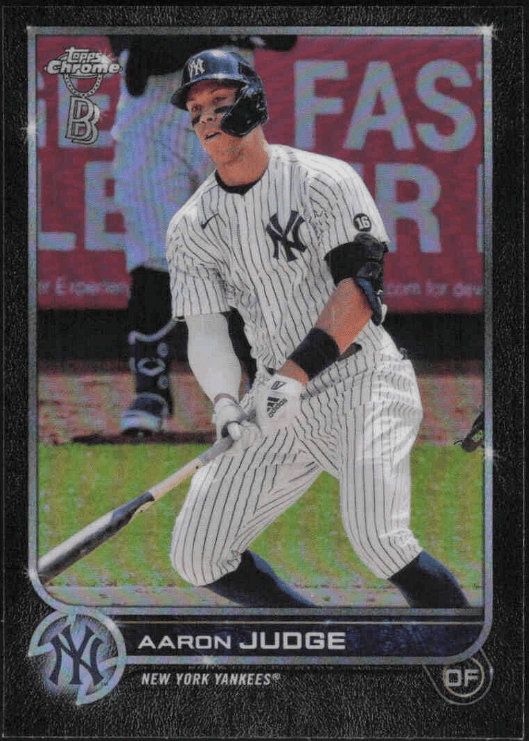 2022 Topps Chrome Ben Baller Edition Aaron Judge Refractor #99
2019 Topps Series 1 Mike Trout #100
Future Hall of Famer, 3X MVP, and stalwart Angels outfielder Mike Trout remains one of the most popular players in the league. Despite his popularity, you can still pick up some of his cards for a reasonable price. Signed copies of his 2019 Topps Series 1 card are going for about $10 online right now if you're not worried about a perfect, minty-fresh copy.
This particular card beautifully captures an airborne Trout denying a competitor's batter a home run. These will surely appreciate in value and a Trout card is kind of a must-have in any collection (Full disclosure: The author follows the Angels).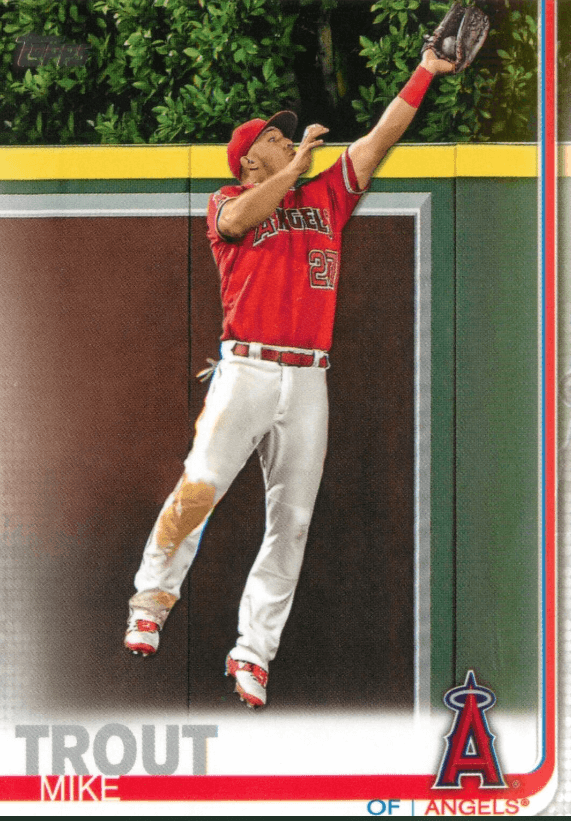 2019 Topps Series 1 Mike Trout #100
2022 Topps Finest Flashbacks Babe Ruth Short Print SP #220
Are you buying a gift for someone who loves baseball from an earlier era? Thankfully, Topps has put out a number of Flashback card series to celebrate the dugout heroes of old. Babe Ruth is maybe the most popular and well-known baseball player of all time and his run with the Yankees is legendary.
This 2022 Topps Finest Flashbacks card featuring Ruth can be had for less than $10, but it is also from a short print run. Thus, the card is likely to appreciate in value over time as well because, even decades into the future, we expect to still celebrate the triumphs of 'the Great Bambino."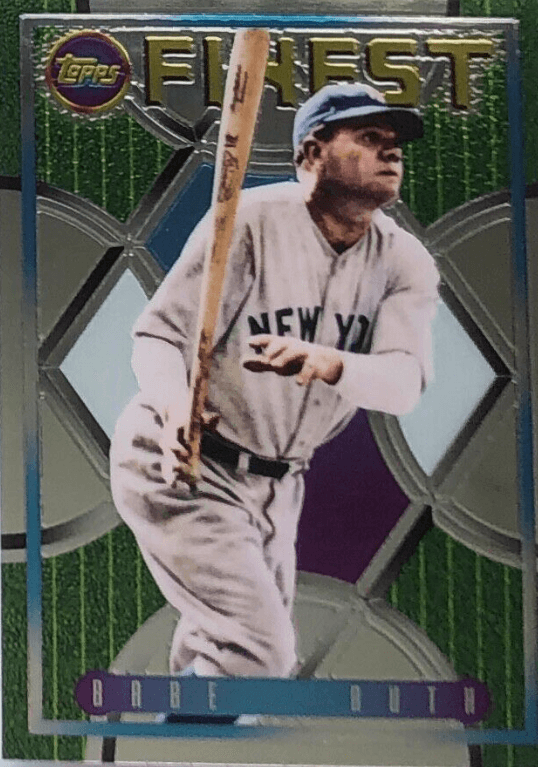 2022 Topps Finest Flashbacks Babe Ruth Short Print SP #220
Awesome $50 Baseball Card Birthday Gifts
When you get up into this price range, you are going to want to look at the condition of the cards more closely. Your best bet is to purchase cards that have been professionally graded so you know that your birthday gift is the real deal and looks amazing. However, that can add some additional cost to the card. If you're not sure which service to use, check out our PSA vs. BGS Grading Card Companies guide to the two biggest names in the business.
Here are some excellent choices if you aren't sure which cards would best suit your gift recipient.
2018 Topps Update Shohei Ohtani US #189
Shohei Ohtani is an MLB wonder, as he's both an exceptional pitcher with a powerhouse fastball and a batter with over 30 home runs this last season. He's become one of the most popular players in the league as a result, making his baseball cards increasingly valuable. At this point, you can still pick up an Shohei Ohtani rookie card for under $50, which is both a great keepsake and a solid investment considering the long and exceptional career he still has ahead of him.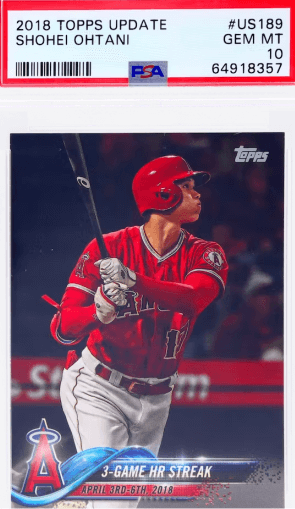 2018 Topps Update Shohei Ohtani US #189
1990 Upper Deck Team Checklist Ken Griffey Jr. #1
Ken Griffey Jr. is a baseball legend with 10 Golden Glove Awards, 7 Silver Slugger Awards, and he was a 13-time All-Star. Griffey Jr. was also famous for his friendly demeanor and was a fan favorite for his countless clutch home runs throughout his career. The Mariners retired his number after his amazing 10-year run with them. Many collectors would love to have a rookie card for Ken Griffey Jr. in their collection. Thankfully, this 1990 Upper Deck Team Checklist Ken Griffey Jr. #1 with a fresh-faced smiling Griffey Jr. is still available for about $50 ungraded.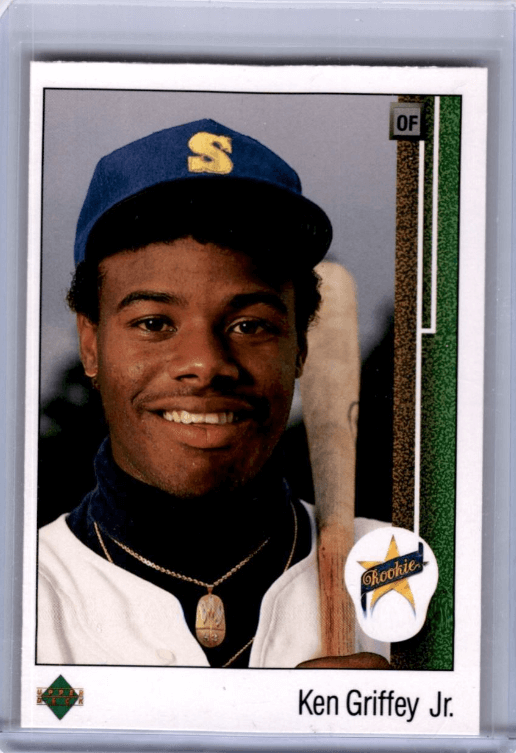 1990 Upper Deck Team Checklist Ken Griffey Jr. #1
1993 Topps Gold Draft Pick Derek Jeter #98
Derek Jeter is one of the greatest members of the storied New York Yankee ever. Jeter was a star on the field, winning 5 World Series, 5 each of Gold Glove and Silver Slugger awards, and made 14 All-Star teams during his tenure in the MLB. His game-winning home runs in the postseason are part of Yankee lore forever. Jeter was also popular for his professionalism and sportsmanship. Adding a rookie card from this legendary player is sure to class up any baseball card collection. Graded cards can be found in the $50 range for even very high quality copies.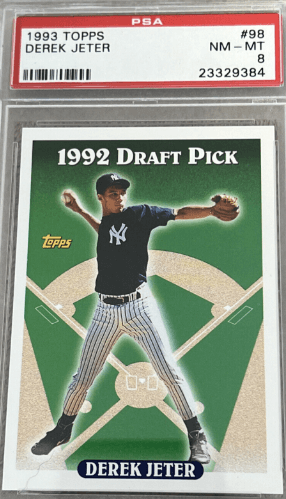 1993 Topps Gold Draft Pick Derek Jeter #98
Amazing $100 Baseball Card Birthday Gifts
In this price range, you are going to want to buy cards that are professionally graded. Ideally, you would want to buy cards that have been reviewed and mounted on a slab by PSA or BGS so you can ensure your gift recipient is getting something worth the investment you are putting in.
Investment is also a key word here because the lucky person who gets this birthday gift baseball card will have something they should store and keep safe because it is reasonable to expect that cards in this price range will appreciate over time. Let's take a look at some of the excellent collectibles you can find in the $100 range.
2001 Upper Deck Legends Willie Mays Legendary Game Jersey #J-WM
The truly exceptional Willie Mays is one of the most beloved and thrilling baseball players of all time. His twin nicknames "the Say Hey Kid" and "Buck" don't tell you the whole story of his 12 Gold Glove awards and 24-times on the All-Star team. He made a catch in the 1954 World Series that is considered one of the most amazing plays in baseball history. Mays was an iconic player for his skills but also for breaking barriers for African American players in the sport.
If your birthday person is into classic players, Mays' baseball card will class up any collection. Thankfully, Upper Deck's 2001 Legends series includes a piece of a game-worn jersey to add special significance to this handsome card. A solid graded version like this PSA 6 EX-MT copy can be had for a real bargain at $100. Who wouldn't want a true piece of baseball history like this to adorn their shelf?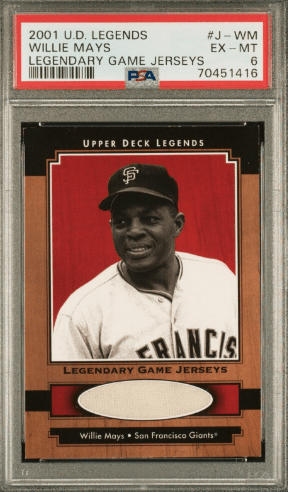 2001 Upper Deck Legends Willie Mays Legendary Game Jersey #J-WM
2011 Topps Update Paul Goldschmidt # US47
If you are shopping for a baseball fan more interested in modern, active players, this 2011 Topps card for first baseman and massive hitter Paul Goldschmidt is worth a look. While Goldschmidt still has many years of success ahead, he's already won 4 Silver Sluggers, 3 Gold Gloves, and been to the All-Star team roster a half-dozen times.
"Goldy", as he's known, is exceptional on the field, renowned for his strong defensive skills and powerhouse hitting that drove much of the St. Louis Cardinals' success in recent years. There's still time to get a card from early in his career in minty-fresh condition like this one for about $100.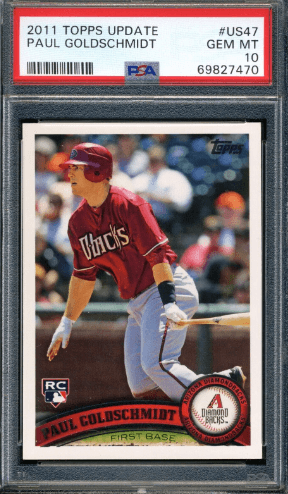 2011 Topps Update Paul Goldschmidt # US47
1981 Fleer Rickey Henderson #351 Autograph
Brash, wild and exceptional on the field, Rickey Henderson is widely regarded as one of the finest baseball players ever. A speed demon around the bases, he stole a record 1,406 bases during his career. Of course, Henderson had to hit his way onto those bases and he did so well with a career batting average of .279 and 3,055 hits. He claimed 2 World Series championships and was a 10-time All-Star team player. Henderson was also highly quotable and full of energy whenever he spoke to the press.
In this case, getting an autographed card increases the value of the card, like this PSA 10 Gem Mint copy. When buying an autographed card, look also for the certification and rating for the autograph to ensure its authenticity. This exceptional collectible is sure to catch the eye on display, especially with Henderson's bold signature atop this classic photo.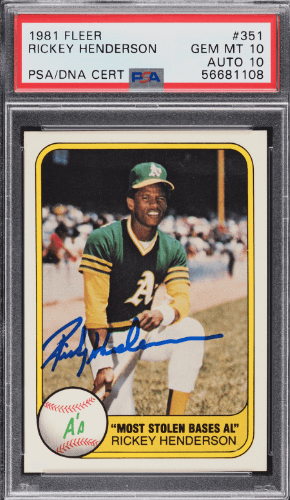 1981 Fleer Rickey Henderson #351 Autograph
Thrilling Over $100 Baseball Card Birthday Gifts
Of course, above $100, the sky's the limit. You can shop from our list of the most expensive baseball cards there are if you've got a few million dollars available for your gift budget. If you are like most of us and would just like to spend on a spectacular gift, we have some good suggestions of special cards celebrating some of the finest players to ever grace a baseball diamond. Here are a few in various price ranges above $100 that'll make your gift truly legendary:
2014 Topps Update Mookie Betts Red Hot Foil # US26
If your baseball fan is more interested in modern players, you can't do any better than the fantastic Mookie Betts. This star Dodger is one of the most exciting and talented players in baseball today. Betts is what we call a 'five-tool player, meaning he's an ace in every single part of the game, from hitting muscle and consistency, to flying past the bases, fielding effectively, and throwing with power and accuracy. Betts is also huge with his fans because of his energy and wit (Full Disclosure: The author follows the Dodgers, too). Plus, investing in a card like this is likely to pay off over time, as popular players like him drive card values higher.
Although Dodger fans might pause when looking at Betts in his Red Sox uniform now that he's become a fixture in the recent success of the boys in Dodger Blue, this is his rookie card year (dare we say, a "Mookie Rookie Card") and it's a special parallel card - the Red Hot Foil edition. Thus, you can expect to pay a few hundred to about $500 for a PSA 10 Gem Mint copy of this rare and valuable card.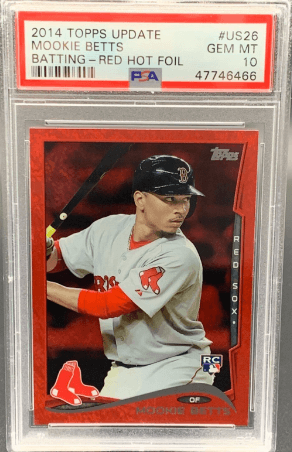 2014 Topps Update Mookie Betts Red Hot Foil # US26
1963 TOPPS HANK AARON #390
If your baseball fan likes classic player cards, adding a Hank Aaron card to their collection is sure to delight. Aaron, also known as "The Hammer", is a hero to so many baseball fans for a variety of reasons. His amazing 23-year career in the sport is full of triumphs and breakthroughs in both performance and racial equality. Simply put, such a long tenure in the sport means that a few generations of baseball fans got to see him play and build a personal connection to him. In 1974, he broke Babe Ruth's all-time home run record, which was all the more amazing considering all of the challenges he faced being a black man transitioning into the MLB. While he only won the World Series once, he was a 25-time All-Star, had a lifetime batting average of .305, and won numerous other fielding and hitting awards.
Lots of Aaron's cards fall into this price category, but we like this 1963 Topps card for its multi-picture image that captures a color and black-and-white Aaron, feeling that it spans the exceptional time of his career. PSA 7 and better copies can be found in the $350 to $1000 range, depending on grading, but this truly legendary player deserves a prized spot in every baseball card collection.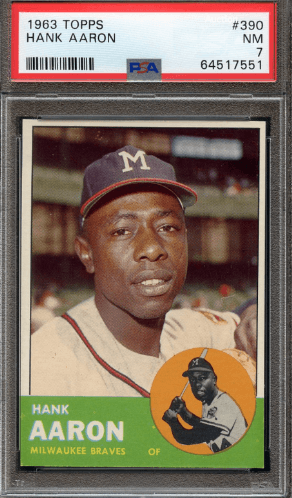 1963 TOPPS HANK AARON #390
1956 Topps Mickey Mantle White Back #135
If you want to give a true gift of exceptional baseball history, check out this iconic Mickey Mantle card from 1956. To summarize his career is to never do it justice: Mantle's 18-year career with the New York Yankees was legendary, including 7 World Series championships, a lifetime .298 batting average, 536 home runs, and 1,509 RBIs. Mantle's powerful hits were the stuff of myth, but he was also a skilled outfielder, and a charming figure in the sport. His baseball cards fetch some of the highest prices in the industry.
While acquiring even a PSA 2 Good quality copy of this card will set you back almost $1000, how can you put a price on collectibles from one of the greatest sports figures of all time?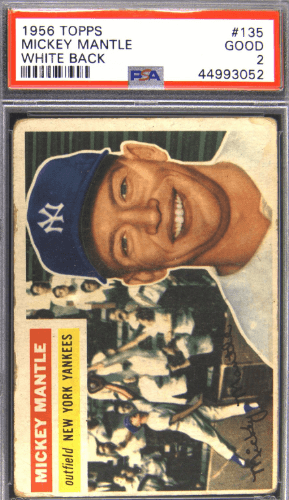 1956 Topps Mickey Mantle White Back #135
Buying the Perfect Baseball Card Gift
Baseball cards can be a wonderful birthday gift. We hope this article helped you find an ideal present for that sports fan in your life. Like any cherished gift, a little extra research and knowledge of the interests of your gift recipient can ensure you get the right baseball card to delight them on their special day. We believe that if you use our tips and card list for inspiration, you can make someone's birthday extra special with the perfect addition to their baseball card collection. Happy gifting!