The 2023 NBA draft is in the books and now it's time for speculation for next season. This was the 77th draft for the National Basketball Association and it took place at sports haven Barclays Center, located in Brooklyn, New York on June 22 and now the anticipation begins about how this new blood will affect the fortunes of each team on the court when play resumes for the 2023-2024 season in October. Now is also the time to start speculating on which rookies will end up being the ones to watch when new basketball trading cards come out. If you're a sports card collector or investor, this is the ideal time to build a watch list and target the rookie cards you want this year. If you haven't done so yet, download out the Cardbase App to set up your personal card collection.
As collectors know, a player's rookie card is typically their most valuable card over time because it takes a bit of predictive power to grab the right cards so early on in their career. If you can get lucky and invest in the right cards, you can score minty-fresh copies of the best rookie cards that will increase in value over time.
But who wants to rely on luck? We're here to help you determine the Top 10 NBA Draft Rookies you should invest in now so you're prepared when it's time to break those boxes of new basketball cards open. While some of these players will inevitably not live up to their potential, some of them will go the distance and turn into star players that have both a big impact on the game and the value of your card collection.
The NBA Draft Has Evolved
In the past, collectors and investors could more easily spot exceptional basketball players by watching their performance in the NCAA, the college league. With three divisions based on funding and support, it wasn't hard to monitor Division 1 and a bit of Division 2 to see where the best prospects for the NBA would lie. You just had to wonder if some of the players would skip out of college early to jump into the NBA. In recent days, an increasing number of players are skipping the chance to play college ball and going directly to the NBA draft. This is also happening more often due to the influx of European players joining the NBA. Skipping the college basketball circuit is more common there because they don't have a league with the kind of support the NCAA gets in the US. Now that the draft is here, though, we have a clear view of 58 new players who will be on the NBA courts next year and here are the best 10 of the lot.
Our Top 10 NBA Draft Picks to Invest In
10) Dereck Lively II, Center, Dallas Mavericks (traded to)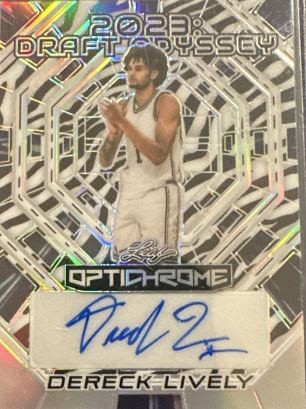 Dereck Lively II, Center, Dallas Mavericks
Dereck Lively II was traded to the Dallas Mavericks for the No. 10 player and this was a very good choice. While Lively might not seem exciting at first glance, he already demonstrates keen passing skills, and there are signs he could develop into a breakout shooter. The Mavericks can capitalize on his current capabilities as a finisher, providing a strong back-up for Luka Dončić and, presumably, Kyrie Irving. Lively has shown that he has the defensive skills to back up what he brings to the front court. He has the mobility to guard on the perimeter and has the potential to flourish as a traditional pick-and-roll big man. Given his impressive passing skills, he could also contribute to off-ball movement systems, locating cutters or 3-point shooters.
With all of these weapons and a great team of players like Dončić to be mentors, Lively is another contender to watch and grab a rookie card or two for. Already his sports cards are starting to pop up in value a bit, with this autographed leaf card selling for about $150 already. Keep an eye on his cards through his page on Cardbase.
9) Cam Whitmore, Small Forward, Houston Rockets
The Houston Rockets had a really good draft. In addition to taking one of the Thompson Twins (further up this list), the addition of Cam Whitmore is a huge win. Yes, he's the pick farthest down the official list on our roundup, but that's because of his immense potential. In fact, Whitmore was expected to be a top-five pick but medical concerns pushed him out of contention there after a series of falls and a thumb injury.
Widely regarded as an exceptional athlete, Whitmore boasts an extraordinary blend of power and explosiveness. His ability to create viral moments on the court with his strength and precision shooting is remarkable. He's been a scoring machine at Villanova even if he has some work to do getting into a groove to actually pass the ball. The NBA often trains that ball-hogging out of young players and Whitmore will get there. The Rockets should be able to give him the support he needs to develop as a player, and it will hopefully keep him off the bench with injuries, too. Despite all this, the influx of young talent flowing to the Rockets suggests an exciting future for the team.
Collectors are already seeing the potential, as some of his pre-NBA cards are beginning to spike in price. This 2022 Topps Chrome McDonald's All American #60 Cam Whitmore sold in June 2023 for close to $1,000. When those rookie cards come out for the 2023-2024 season, don't miss your chance to grab one.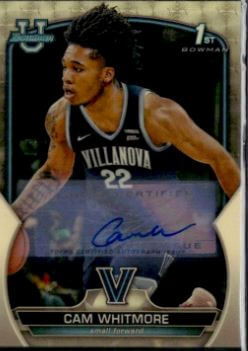 Cam Whitmore, Small Forward, Houston Rockets
8) Taylor Hendricks, Forward, Utah Jazz
Taylor Hendricks could be a big upgrade for the Utah Jazz's formidable frontcourt. With his towering 6-foot-8 stature and a huge 7-foot-1 wingspan, Hendricks brings extraordinary verticality and athleticism to the game.
Hendrick's got something special in his high-level shot-blocking ability and the broad ground coverage he offers. This gives the Jazz the flexibility to move him around to the position they need. His offensive skills are equally impressive, boasting nearly 40% accuracy from the 3-point range in the past season. Everybody loves a player with such 3-and-D potential, and that makes up for his lack of playmaking ability. He has so many weapons so it's up to the Jazz team and coaches to help him focus into where he can excel and become the champion he is meant to be.
So far, his cards have stayed affordable even as his star began to rise leading up to the draft. Don't miss out when the NBA cards come out though, because Hendricks may lift the Jazz and his own fortunes considerably once he hits the court.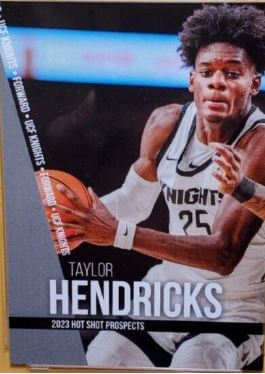 Taylor Hendricks, Forward, Utah Jazz
7) Jarace Walker, Forward, Indiana Pacers (traded to)
The Indiana Pacers made a good trade for the massive Jarace Walker, a 6'7" forward with a set of skills a mile long. He's got the speed to stay ahead of the guards and the raw power to the biggest competitors on the low block. Pairing him up with Pacer Myles Turner should pose a serious threat to all takers.
Walker has already shown he can be a major playmaker who can push through the line, muscle his way in to get the rebounds, and still have the speed to complete a fast break. Walker definitely has the goods to be a superstar and if Turner can influence him to increase his scoring capabilities, the Pacers could have one very good season.
At the moment, Walker's pre-NBA cards are still extremely affordable but when the official league editions come out, make sure to nab a few as an investment. Walker is going places and his cards are likely to rise in value considerably over time. You can keep an eye on pricing from his page on Cardbase.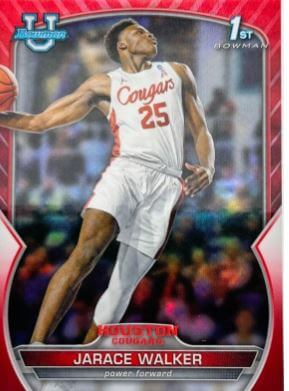 Jarace Walker, Forward, Indiana Pacers (traded to)
6) Anthony Black, Point Guard, Orlando Magic
The 2023 NBA Draft saw the Orlando Magic pick up a remarkable young athlete in Anthony Black. At 19 years of age, the point guard is 6-foot-7 and weighs just 198 pounds and he's been getting interest from both basketball and football scouts alike. Thankfully for Orlando, he chose hoops over the gridiron.
Black has proven himself to be a true big point guard, using his speed and agility to keep the competition away from the rim. Defensive play is no problem, but he's going to have to learn to put numbers on the board more often if it's going to help the Magic become playoff contenders again after their third season in a row failing to make the cut. Anthony Black is a great place to start and the future looks very bright for this versatile player.
Of course, Panini Prizm wasted no time in getting out autographed cards of this exceptional young player. While pricing after the draft is likely to spike, many of his basketball cards, even autographed and authenticated copies that are limited, are still available for reasonable prices.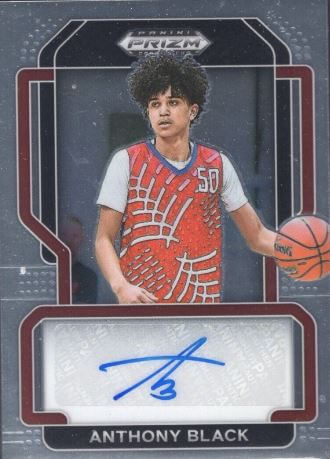 Anthony Black, Point Guard, Orlando Magic
5) Ausar Thompson, Forward, Detroit Pistons
The long-troubled Detroit Pistons need a shot in the arm and their half of the Thompson twins just might deliver for them. While they made history as the first twins to be drafted in the top 5, both them will surely electrify the teams they joined with their unbridled energy level and deeply physical game. That's a good thing because the Pistons have the need for another moneymaker up at the rim.
Ausar Thompson may just be able to rally the relatively young team of Pistons and bring them back to life, especially after he talked about how much he liked working with the team during some of the pre-draft interactions. He's a great all-around player and can shoot better than his brother who is better at stopping other people from shooting. It'll be exciting to watch both of these amazing athletes grow on their respective teams. The NBA should raise their game and make their basketball cards worth even more over time.
While a similar card from his brother went for a bit more, a 2021 Topps Inception autograph and jersey patch book card with just on it went for $3,500 in November 2022. Keep on eye on his cards from his Cardbase page.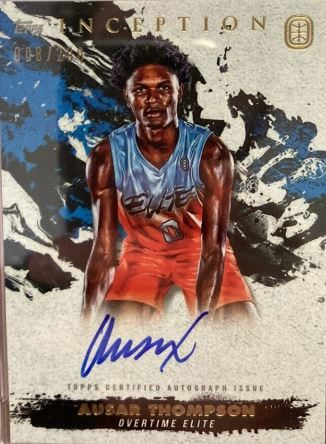 Ausar Thompson, Forward, Detroit Pistons
4) Brandon Miller, Small Forward, Charlotte Hornets
Brandon Miller is a powerhouse shoot-maker who will round out the Charlotte Hornets nicely. It's not surprising that the Hive would pick him up even with Scott Henderson sitting right there as a great alternative. Miller may be lower on our list but it's because he's not a hot commodity. Brandon Miller is 6 '8 " and he has a three-pointer scoring habit that could help any team, but he's also a bit slower and hasn't shown much game on the defensive side of things. We'll see if that develops with the more mature group he'll play with in the NBA.
Hopefully, he will pick up some of what new teammate LaMelo Ball is cooking and grow exponentially by the time they hit the boards in October. He's one to watch and picking up his rookie cards is definitely recommended.
Some folks are already betting big on him. An ungraded Superfractor copy of his 2022 Bowman University Chrome card just went for about $3,500 in June 2023. When he gets a pro rookie card going, we can expect it to go for much more. Keep tabs on his cards as they come out.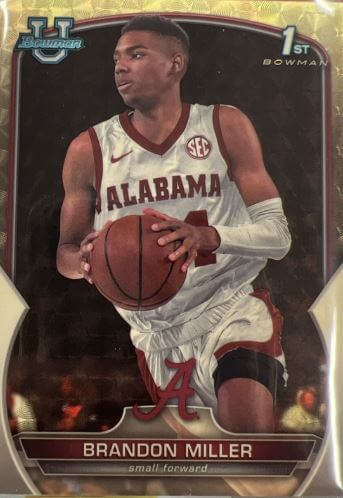 Brandon Miller, Small Forward, Charlotte Hornets
3) Amen Thompson, Guard, Houston Rockets
The Thompson twins are two model athletes and it seems fitting that they got selected back-to-back in the draft. Even so, Amen Thompson has been the standout in a pair of future superstar players. His ability to dominate with a mix of his gravity-defying leaps, his gargantuan speed, and seemingly endless well of energy would have landed him at the top of the draft most years. He's no slouch on defense either, with an impressive bunch of steals and blocks on the court so far. He'll be ranked one of the best in the league in no time.
He is, however, not a shooter. While he may work up to it with training but, for now, the Houston Rockets got themselves the best stopper and passer on the list. We'll see if his many strengths and support of the rest of the team let Amen Thompson become the championship player he looks like 90% of the time on the court.
Amen Thompson's early cards have often been combo cards with his brother, but now that they are on different teams, we can expect these talented young players will be in starring roles on their own cards. Already a 2021 Topps Inception autograph and jersey patch book card with just Amen on it went for $5,000 in March 2023. That pricing will only get better and you can track his cards on your Cardbase Watchlist.

Amen Thompson, Guard, Houston Rockets
2) Scoot Henderson, Point Guard, Portland Trail Blazers
All-around, the Trail Blazers' draft worked out well. He may be number 3 on the official list, but we've bumped Scoot Henderson up to number 2 here because this precocious point guard is a dazzling player who has superstar quality you can expect to see front-and-center from the Blazers this season. The 6'2" guard has shown incredible strength and agility on the court, giving the Blazers ability at the rim as well as support on defense since he's such an energetic player.
Henderson has shown himself to be a scoring machine during his two years in the NBA G League's Ignite, which he joined as the youngest player ever in the league. He's going to provide Portland with another offensive player to round out their team and hope to not be denied a spot in the playoffs for a third year in a row. Scoot Henderson is the guy who can help them avoid that fate and that will mean huge value for his future sports cards. Puma has already seen it, as they signed Henderson to a multi-year deal already. It's time to invest in Henderson. People are already doing so, as you can see from this PSA 10 Gem Mint/Authentic Autograph card from Panini, which sold in June 2023 for $1,250. His NBA rookie card should be a big money card.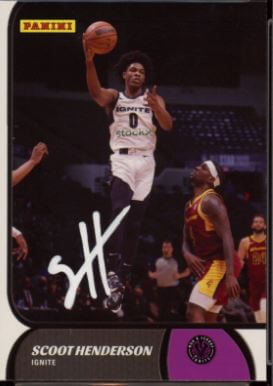 Scoot Henderson, Point Guard, Portland Trail Blazers
1) Victor Wembanyama, Power Forward, San Antonio Spurs
Even before the draft, the whole world of sports reporting knew that this 19-year old French dynamo was going to be the first pick and he's definitely the best bet for basketball sports card collectors. Victor Wembanyama stands 7'5", has been dominating the European leagues in which he's participated, and the world has been using all kinds of grand pronouncements about his potential.
Wembyama's already been called 'Single Greatest Prospect In NBA History.' He's been compared to Steph Curry and Kevin Durant. Basketball superstar LeBron James, to whom he's also been compared, even said 'He is more like an alien' after seeing him play. We have to assume that's a compliment.
This isn't just hyperbole - "Wemby" has got the skills and we've seen it in his play in the EuroLeague and even when, as part of Metropolitans 92, he played two exhibition games against the NBA G League Ignite. He was a force of nature on the court and showed that he lives up to the accolades he has been receiving in Europe. The Spurs will surely rebuild their team around this power forward and their prospects for the 2023-2024 season certainly look bright.
Without a doubt, Victor Wembanyama's NBA rookie card will be one to own, especially as we're already seeing a spike in value across the cards out there that showcase his pre-NBA play. Notably, this 2023 S.I. for Kids card graded in PSA 9 Mint condition just sold in May 2023 for somewhere near $17,999. Sure, Wembanyama could flame out like some disappointing prospects of the past. Based on his play and his abilities, I wouldn't want to be the one betting against him.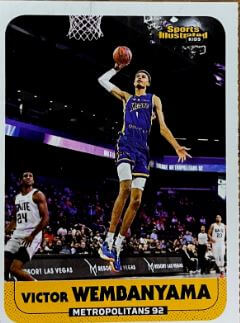 Victor Wembanyama, Power Forward, San Antonio Spurs
Now is the Time to Plan for your NBA 2023 Rookie Basketball Cards
Investing in rookie sports cards can be a wise decision for several reasons. Sports cards give us an additional way to connect with our favorite athletes. They also have the potential to become valuable investments, and rookie cards of highly regarded prospects offer the best opportunities for a gain in value.
While the primary motive behind acquiring rookie sports cards is, for some collectors, the love of the game, the bottom line is that rookie cards are usually the most valuable cards of an athlete's career and they represent a good investment. With the focus on elaborate relic and autograph cards issued in their first year of play that has now become the norm, it's a great idea to snap up these cards early before the careers of these prospects take off and you get priced out of the market. Don't forget to set up these players on your Cardbase Watchlist so you will know when Hot Deals on their cards are available.
Sure, it's a gamble. But if you invest early and also acquire the cards to support the teams and deepen your love of the sport and the hobby, it's a win-win situation. If these 10 players also reach their potential and build successful careers, your collection will soar in value and then you can pick and choose which ones to keep and which ones to sell.
Happy collecting and good luck nabbing the best new rookie cards for next season!