The 1980s were all about camp, and no, I don't mean the summer camp in the Friday the 13th franchise. I mean the kind you find defined in Mirriam-Webster as "something so outrageously artificial, affected, inappropriate, or out-of-date as to be considered amusing." That decade's garish and tacky world brought us such monstrosities as shoulder pads, leg warmers, and fingerless gloves.
Our hobby was in no way immune. The baseball cards of the 1980s included some of the most horrendous excuses ever passed for card design. And as anyone who has watched Full House will tell you, it was also a time of questionable humor (sorry, Bob Saget, you are missed). So, we see plenty of athletes trying to be funny but only succeeding in making us groan painfully. We have some great examples of honestly cringe-worthy cards from an era America is still obsessed with.
1981 Donruss Dave Winfield #364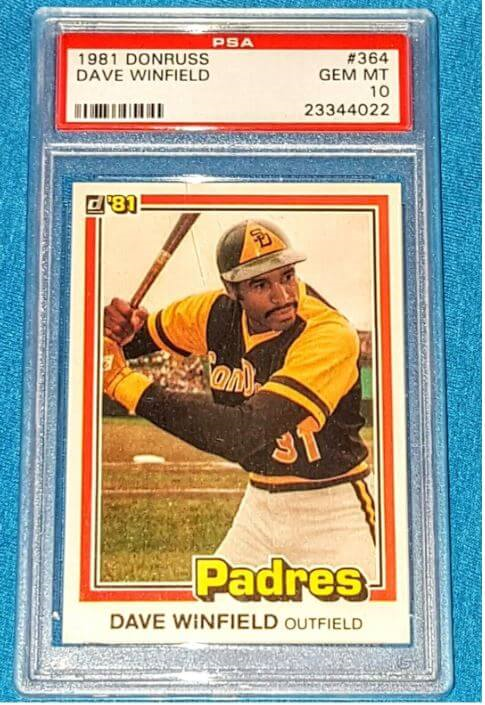 1981 Donruss Dave Winfield #364
Every staged at-bat photo is kind of awkward. The worst part is often the forced smile. Other cards feature that amusing stare off into the distance. But at least they usually get a cool batting stance going. I hate to put a profoundly underappreciated Hall of Famer (with an incredible OPS+ of 130 careers, no less) on blast like this. But some things have to be said. The 1981 Donruss Dave Winfield #364 really stands out in that regard. First of all, Dave looks like he just received devastating news and would barely notice if a fastball popped him in the mouth. Second, that is not a legit batting stance Mr. Winfield. Come on, crouch your knees. Put some effort into it. The worst part is that Dave Winfield had magnificent hitting form, as we ancient fans well remember. Check out YouTube if you don't believe me.
1982 Fleer Jack Morris #274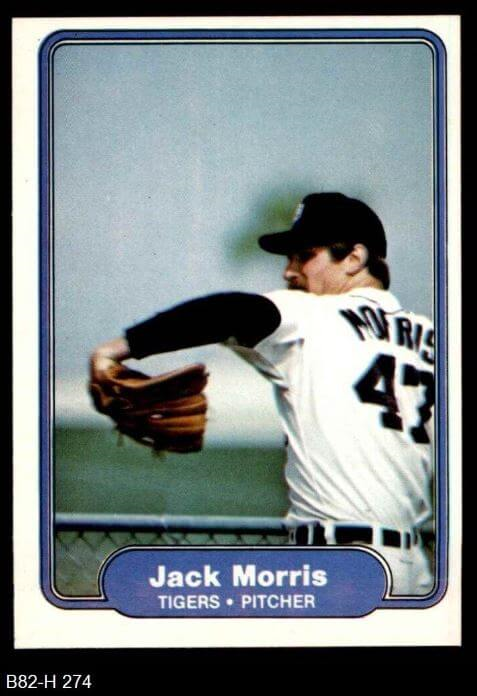 1982 Fleer Jack Morris #274
With many of these cards, the problem is the pose or the unfortunate expression on the face of the players. Not in this case. Here the excellent Detroit Tigers ace is in full fettle, about to unleash his devastating fastball (I'm guessing). But Fleer (always Fleer) screwed the pooch in two ways. First, there is a shadow around the pitcher's head for some reason. Probably an issue with the negative. Second, part of Jack's body is cropped out of the picture, leaving space on the left. Why? Why did Fleer do anything? But let's use the opportunity of discussing the 1982 Fleer Jack Morris #274 card to remind everyone what a beast Jack Morris was. Morris started more games, pitched more innings, and had more wins than any pitcher in the 1980s. This Hall-of-Famer deserves far more credit than he currently receives.
1989 Upper Deck Ramon Martinez #18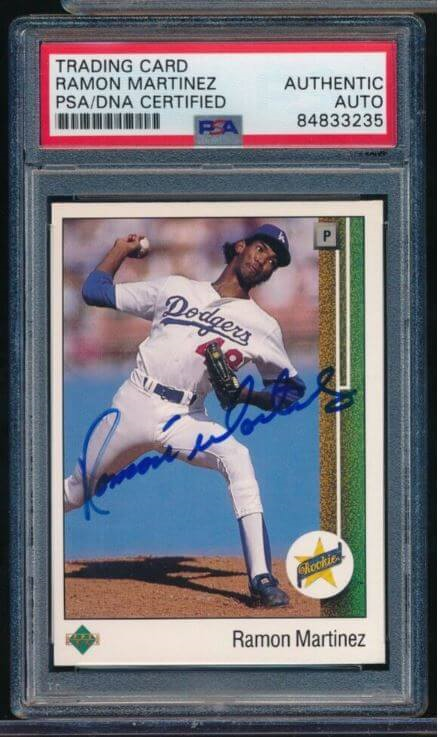 1989 Upper Deck Ramon Martinez #18
Ramon Martinez is a handsome guy with a great smile. Also, going over his stats, this is a very underrated pitcher. A record of 135–88 with an ERA of 3.67 and a no-hitter? Not bad! But somehow, his pitching form was utterly ridiculous. The 1989 Upper Deck Baseball card set is rightfully considered a classic. But because of this fact, the 1989 Upper Deck Ramon Martinez #18 is ugly as sin. But you will notice that despite being very skinny, Martinez had excellent muscle definition on his thighs. This man does not miss leg day at the gym.
1981 Fleer Rafael Ramirez #266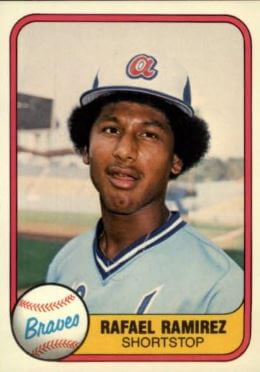 1981 Fleer Rafael Ramirez #266
Rafael Ramirez is a pretty good-looking guy. But he has a goofy smile. It's kind of lovable if you ask me. But not every photographer knows how to work with it. While there are a few bad-looking Ramirez cards, the 1981 Fleer Rafael Ramirez #266 takes the cake in that regard. What does the shortstop look like here? I would say as if he just sustained minor brain damage. Come on; I ain't wrong. But remember to respect Rafael; he was an All-Star, after all.
1983 Fleer Dave Righetti #395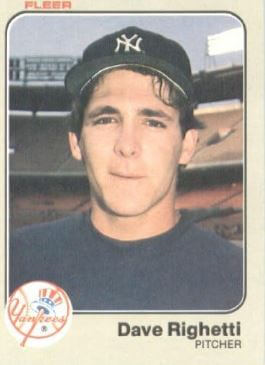 1983 Fleer Dave Righetti #395
You know when you have a pimple just coming out under your nose, and you can feel it, but it's not quite visible yet? You make This face to try and feel how bad it will get. No? Just me? You have to imagine the photographer took more than one shot, right? Even Fleer could afford that, I assume? This can't have been the best one on the roll.
Dave Righetti (who ironically is a leftie) deserved better than this. Fleer did him dirty with the horrifying picture they put on 1983 Fleer Dave Righetti #395. The 1981 Rookie of the Year and two-time All-Star have much nicer cards; I suggest we focus on them.
1981 Donruss John Ellis #26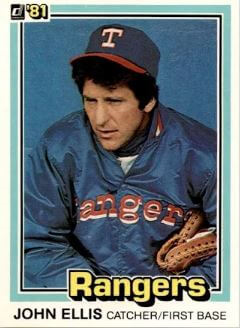 1981 Donruss John Ellis #26
Donruss roared into the baseball card game in 1981 and provided the first real alternative to Topps in decades. Unfortunately, the 1981 Donruss baseball card set they released was not known for its outstanding quality. The design seems somehow unfinished. It looks like these cards need an extra detail or two to qualify as fully-fledged, and that 1981 stuck on the top left side gives me a migraine. Then with the 1981 Donruss John Ellis #26 card, you can also add the terrible crouching position they caught poor John in. Someone give this guy a glass of water; he looks dehydrated! And it's unfair to pick on John Ellis. The man was a beloved veteran in his last season in the big leagues. Of course, he looks miserable. John was batting .183 that season. Let him retire in peace.
1983 Topps Mike Armstrong #213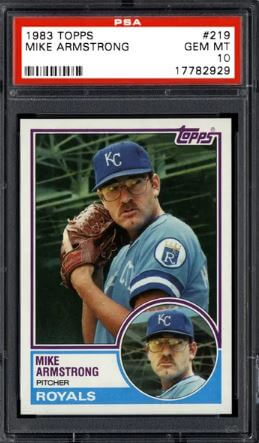 1983 Topps Mike Armstrong #213
Suppose you have one picture where the player looks like a serial killer; that can be dismissed as a mistake. But when you have two on the front of the same card, it feels like Topps is trying to tell us something. Several people have noted that Mike Armstrong looks like the Milton character from Office Space, and they have a point. And sadly, because Armstrong did not have a particularly strong career, the 1983 Topps Mike Armstrong #213 card is what many people remember.
1986 Topps Willie McGee #580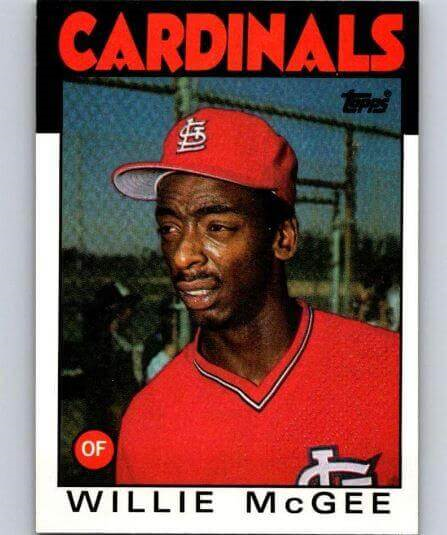 1986 Topps Willie McGee #580
Unfortunately, Willie McGee has more than one unattractive card. He has a tendency to make weird faces more than most people. That is how the cookie crumbles for the 4-time All-Star. But there must have been a better photo than this one, right? It looks like what a first-time father might do the first time they need to change their kids' diapers. Let's remember McGee's incredible career as a player and coach, including his two batting titles and three Golden Gloves. Meanwhile, we can forget all about the existence of the 1986 Topps Willie McGee #580 card.
1986 Fleer Mickey Hatcher #396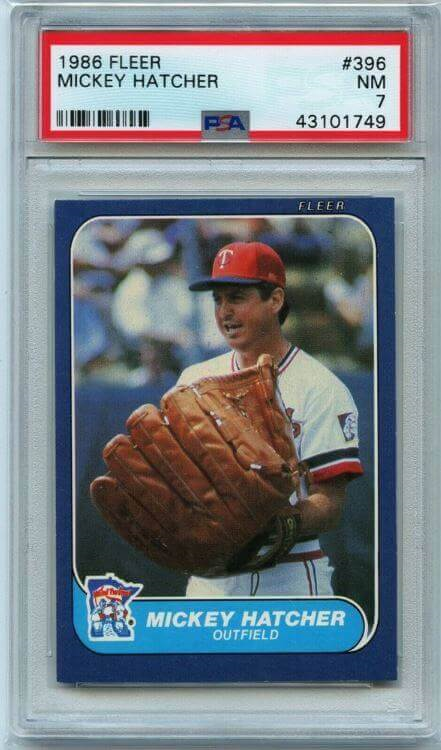 1986 Fleer Mickey Hatcher #396
Why is it always Fleer, though? The 1986 Fleer Mickey Hatcher #396 is infamous for a reason. Look, what works for a family vacation photo, isn't always appropriate for a baseball card. So, keep leaning along with the Tower of Pisa or whatever, but leave it out of our cards even if it is Fleer.
However, there is a saving grace to the card. There was a bit of self-deprecating humor involved. Hatcher remembers, "I picked it up, and the card guy just happened to shoot it when I was out there playing for fun. I said, 'Get a picture of me with this glove because I need all the help I can get." Indeed, although Mickey Hatcher was a decent player (lifetime average of .280 and two World Series titles), he loved laughing at himself and was a great teammate.
1985 TCMA Fort Myers Royals Jim Moore #25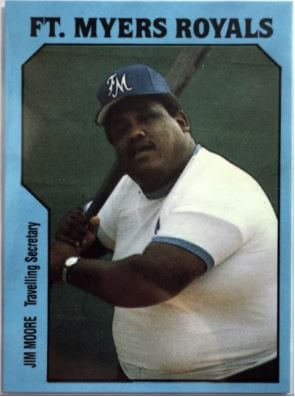 1985 TCMA Fort Myers Royals Jim Moore #25
Letting the team travelling secretary pose for a baseball card seems like a nice gesture. But the 1985 TCMA Fort Myers Royals Jim Moore #25 card reminds us why professional athletes get cards and administrative staff usually do not. Honestly, I would pay good money to find out if he was making that face seriously or as a joke. Either way, I had to look up if anyone had ever graded this card. And yes, two people with immaculate taste have done so. There is a PSA 6 and a PSA 9, just floating around there.
1984 Fleer Glenn Hubbard #182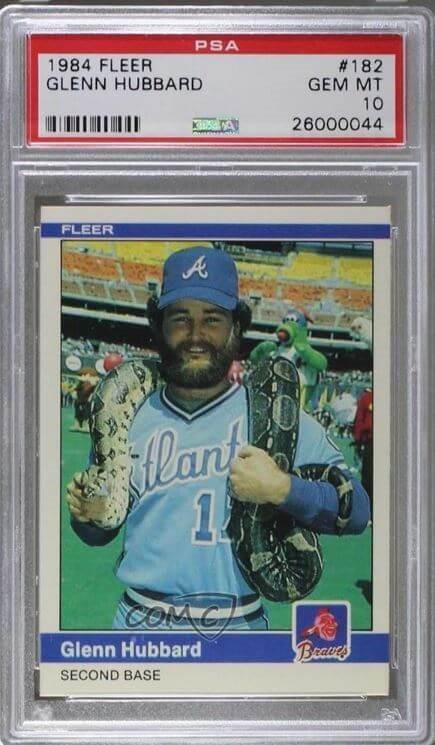 1984 Fleer Glenn Hubbard #182
The 1984 Fleer Glenn Hubbard #182 card violates the first commandment of baseball cards: "thou shalt not have way way too much going on." Generally speaking, a player should be the focus of their baseball card. So, taking a picture with a snake is probably a bad idea. But things get worse when the most iconic mascot in the game happens to photobomb the shoot. But the vaunted Phillie Phanatic is not even the only mascot in the picture.
Glenn Hubbard hated that card so much that when fans mailed it to him to sign, he would send back a better-looking one. The player remembers, "Heck when I used to get them in the mail, I would take that card and send back another card. I was trying to take it off the market. Thinking I could take it off the market is stupid thinking." But this card would not die. And Glenn has no one to blame but himself. Apparently, it was the Phillie Phanatic's birthday. Whatever that means. And Hubbard saw a snake trainer pass by and asked if he could shoot with it. But what Glenn didn't know is the photographer worked for Fleer. The rest is deeply unsightly history.
1989 ProCards Las Vegas Stars Keith Comstock #14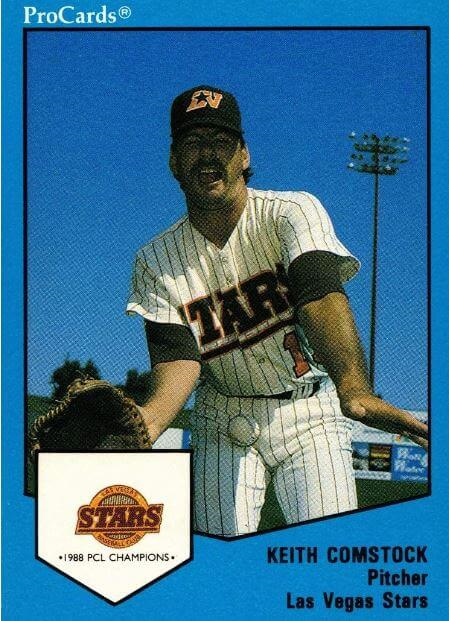 1989 ProCards Las Vegas Stars Keith Comstock #14
Aside from the Babe Ruth Baltimore Orioles card, the 1989 ProCards Las Vegas Stars Keith Comstock #14 may be the most famous minor league card ever printed. That also may be the only time Keith Comstock and Ruth have been mentioned in the same sentence.
This card was utterly Keith's brainchild. He was sick of taking pictures for minor league cards and had an idea for an original idea. Card companies refused even to consider it, but Keith Comstock insisted and got his teammates to support the idea. When the photographer finally agreed, Keith wasn't sure how to get the pool to stick to his private areas, but he eventually settled on super glue. Yes, Comstock super glued a ball to his testicles. But then a disaster happened, "The ball was stuck to my hand. I tried to pull it off, but the ball was about to peel off my pants. I moved my hand, and the pants moved. I thought I am not taking this photo with my hand on my crotch. Someone grabbed a tongue depressor from the trainer's kit and slowly started to pry my fingers off the ball. It took a while, but my hand finally got free. Now I just had to get the photographer." And just like that, a legend was born.
1989 Score Paul Gibson Player "Grabbing Crotch in Background Error" #595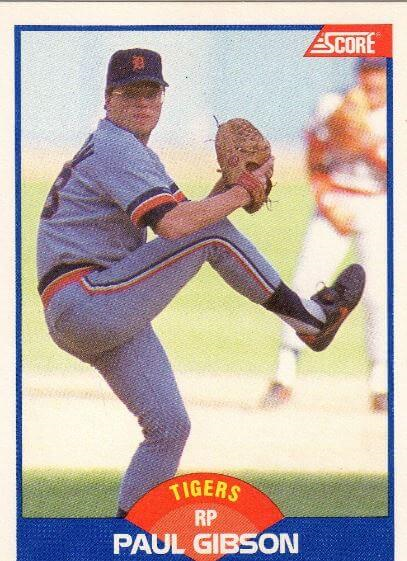 1989 Score Paul Gibson Player "Grabbing Crotch in Background Error" #595
Is this the worst card of the 1980s or the best one? I guess that depends on how terrible your sense of humor is.
Before we address the elephant in the room, let's take a minute to appreciate how horrible the 1989 Score Paul Gibson Player "Grabbing Crotch in Background Error" #595 card is, to begin with. Score was not known for its great designs, but this one has to rank among its worst. But if you look up the rest of the set, the color scheme tends to be far more appealing. Something about this one is just deeply and offputtingly wrong. Then, of course, we have a very unflattering mid-pitch pose for poor Paul, who appears to have his tongue out just a little bit. If you turn this card around, things don't get any better. There is a botched snap of Paul Gibson looking like an accountant on a fantasy baseball camp.
But the real reason we are gathered here today is that player on the right of the card. The guy playing second base seems to be trying to go to third base with himself. At some point, Score realized that their picture was not only awful but also hilariously inappropriate. Therefore, the company released a whitewashed version where the player's hand kind of disappears. But if you look closely, there is still no doubt that he is going after an epic case of jock itch.
A Final Word On Funny and Cringe Baseball Cards from the 1980s
I knew there were some painful cards in this decade. But never had I imagined the horrors awaiting in the vaults of the card companies. The period created a perfect storm. The humor in this era was as horrifying as a sequel of Police Academy. Aesthetic standards were ignored entirely. And there were a whole bunch of card companies with little money or quality control. All this led to a golden era of highly enjoyable cringe.