When it comes to the world of Pokémon, Gyarados stands out as one of the most powerful, rare, and highly sought-after creatures. This powerhouse Water Pokémon has been a fan favorite since its introduction in the first generation of Pokémon games and that has led to its cards commanding a lot of value.
With its menacing appearance and impressive stats, it's no surprise that Gyarados cards have become highly sought after by both players that want the cards for the game and collectors who see the cards as a good investment.
Gyarados's rarity and value also comes from its unique evolution process in the game. Starting as the weak and vulnerable Magikarp, players must dedicate time and effort to train it to level 20 before it evolves into the mighty Gyarados. This challenging evolution process has made Gyarados a rare sight in the games and a valuable addition to any Pokémon trainer's team. Gyarados also has several rare and sought-after forms, such as its Shiny variant and the elusive Red Gyarados. These special forms can fetch particularly high prices online.

Gyarados Trading Cards
Let's take a look at the 9 most valuable and rare Gyarados cards that are worth a lot of money due to their rarity and desirability among the Pokémon community.
The 9 Most Valuable and Rare Gyarados Pokémon Cards
9. 2015 XY Ancient Origins Gyarados Prerelease Staff Promo - XY60 - $400/$1,000
The Ancient Origins card series was created to showcase ancient, primal forms of Pokémon with distinctive artwork. This Gyarados card's unique overall design and powerful attributes make it a sought-after card among collectors and players alike. The "Staff' designation was added because this card was given out to people who worked at Pokémon tournaments during the pre release events of the 2015 Pokemon XY Ancient Origins set. While significant, this version of the card in minty-fresh condition can be found in the $300-$400 range.
While the staff promo is a variant, the full-release version of this beautiful Gyarados card commands significant value, too. The Reverse Holo version from the main set in PSA 10 Gem Mint condition sold in September 2022 for $1,000, with a few more in that range around the same time. Either way, adding this intriguing Gyarados card to your collection raises prospects for increased value due to its scarcity and unique look.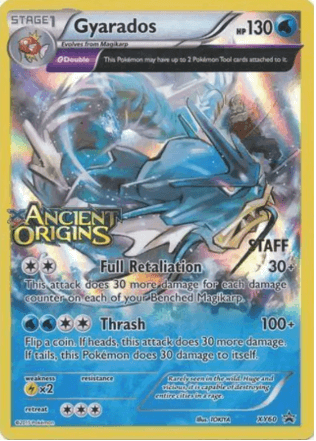 2015 XY Ancient Origins Gyarados Prerelease Staff Promo - XY60
A 2016 staff version of the XY Evolutions Gyarados card also sold for close to $1,000 but this rare card is also pretty hard to find and has generated less interest than a lot of other non-staff cards further up the list. This is probably due to its artwork that looks awfully similar to earlier versions. The Ancient Origins artwork, in direct contrast, is a whole new take on the popular Pokémon. Notably, Nintendo no longer uses this "Staff" tag, which adds to the potential value of the cards that were designated this way.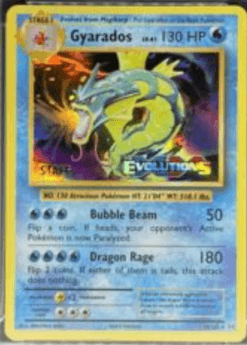 2016 XY Evolutions Gyarados
8. 2006 Holon Phantoms Japanese Gyarados Holo - 024/052 - $2,063.84
Let's continue our list with a gorgeous Japanese Holo card from the 2006 Pokemon Japanese Holon Phantoms set. This version of Gyarados is well-represented on the card with a compelling image of the Pokémon bursting from colorful waters and lunging into the foreground.
While it lacks the usual strong blue motif of Gyarados cards, the design more than makes up for that with the flurry of colors in the background and below in the water. This is further enhanced by its holo effects and powerful, unique abilities.
The scarcity of the card plus its lack of availability in the US may be why it's commanding such impressive value. In February 2023, a PSA 10 Gem Mint copy sold for over $2,000. Finding a copy in lesser shape at a lower price is entirely possible, but if you do find one, snap it up immediately. The population reported for this card at the major grading houses is quite low.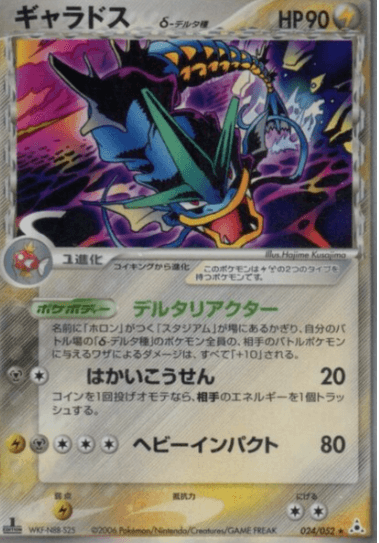 2006 Holon Phantoms Japanese Gyarados Holo - 024/052
7. 2015 Pokémon XY Promo Japanese Pretend Gyarados Pikachu 151/XY-P - $2,500
Okay, some collectors might balk at including this quirky but expensive card in the list of the most valuable Gyarados cards since it's actually a Pikachu card disguised as a Gyarados one. To be specific, it's Pikachu in a Gyarados costume, done as a special promo card back in 2015. The novelty of the card alone is likely to draw collector interest and increase its value over time.
While Pikachu might be pretending on the card, there is no need to pretend that it belongs on the list. While this card is often sold as a set with a similar promo card of Pikachu dressed up as Gyarados' earlier evolution, Magikarp, a single copy of the Gyarados card in PSA 10 Gem Mint condition sold in August 2022 for nearly $2,500. That's an exceptional price as other buyers have paid a similar price for the set of two Pikachu costumed cards. If you want to acquire a copy of this charming card, keep an eye on Cardbase to spot the latest deals on this and other Pokémon cards you seek.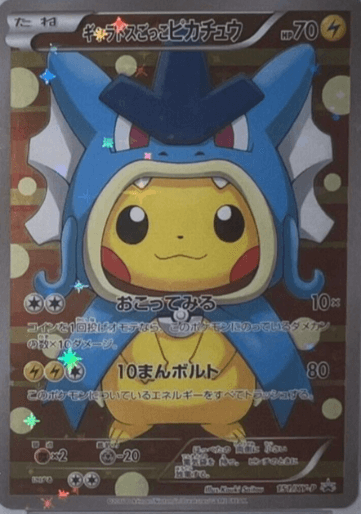 2015 Pokémon XY Promo Japanese Pretend Gyarados Pikachu 151/XY-P
6. 2003 Skyridge Holo Gyarados H10/H32 - $3,300
This holo Gyarados card from the Skyridge set is a valuable card due in large part to the relative rarity of the 2003 Skyridge Pokémon card set in general. This set didn't get the print run that most sets did in the early part of the millennium. That's partly due to the timing of the Wizards of the Coast's contract to publish Pokémon cards running out. Skyridge was their final release before Nintendo started exclusively publishing the Pokémon TCG in the US.
Like other sets of the time, it puts the Holo cards in their sub-set with their own card numbering scheme. That's why this card is labeled H10 of H32 for the Skyridge set. Plus, the artwork presents a vicious Gyarados forward-facing and ready to attack. It's one of the most dynamic shots among all Gyarados cards, which are usually pretty thrilling. This card, like the rest in this Skyridge set, also features the e-reader technology that allows players to scan barcodes on the cards and get additional information or mini-games on their gaming devices.
The Skyridge set in general is much sought-after and unopened booster packs are worth a lot of money. Gyarados on his own is commanding a high value, too. In March 2021, a PSA 10 Gem Mint copy sold for about $3,300, a new peak for this attractive card. If you are willing to accept a lower-grade card, you can acquire one for more like $500 to $1,000, depending on the individual grade and the grading service used to assess it. Remember, PSA and BGS tend to command the most value, with PSA claiming a bit of an edge with Pokémon cards in particular.
Adding this dazzling Gyarados card to your collection could end up paying off big as the popularity of the character and limited print run suggests that prices will rise even more in the future.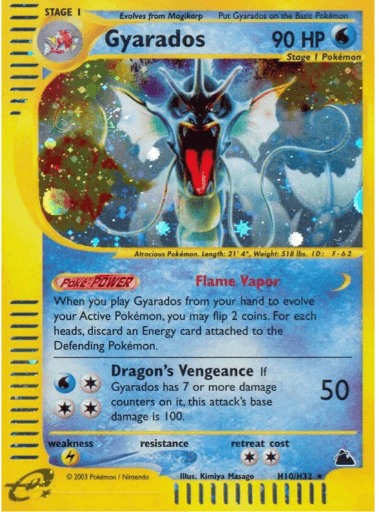 2003 Skyridge Holo Gyarados H10/H32
5. 1999 First Edition Holographic Gyarados (Base Set) 6/102 - $7,300
Perhaps we should call this one the "Shadowed" version of the base set Gyarados since the original copy of this card was shadowless before the publishers decided to upgrade the cards for a more attractive base background. Inclusion of that shadow does drive down the price, but it's not like these cards aren't valuable as well.
The pricing for the card ranges heavily on the basis of the condition, with PSA 5-8 cards going for much less money. The top sale on record was in November 2022, a PSA 10 Gem Mint copy of this Gyrados card that sold for $7,300. Keep an eye out, however, because the population of PSA 10 Gem Mint cards is on the rise so deals may be available and your best bet is to find them by monitoring prices and cost trends across the web on Cardbase.
While this version may have the shadows that revised the look of Pokémon cards of the future, this early edition card should still see pricing increases because of the nostalgia involved in the first edition of the classic CCG game.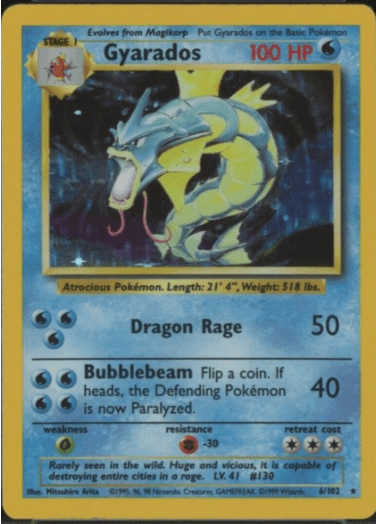 1999 First Edition Holographic Gyarados (Base Set) 6/102
4. 2001 Neo Revelation Shining Gyarados 65/64 - $8,700
The Shining Gyarados from the 2001 Neo Revelation set is an attractive card that showcases a shiny and, yes, Red Gyarados with a striking blue color scheme around it. Along with the Shining Magikarp, an earlier stage for Gyarados, they make up the only two 'secret' cards in the Neo Revelation set and both command considerable value now.
While we'd see Red Gyarados in the future, this was the first time it appeared on a card and it shows as both a Fire and Water type of Pokémon. This so-called "Atrocious Pokémon" is also restricted to a single copy in a play deck due to its power.
This 2001 Neo Revelation Shining Gyarados 65/64 card is also unique because it uses a special holofoil treatment that highlights the shiny Gyarados while leaving the background non-holographic. This has increased the value of this card set to the point that even unopened Neo Revelation booster packs are going for hundreds of dollars.
While prices fluctuate on this Shining Gyarados, you can find Excellent to Near Mint copies for a few hundred dollars. However, if you only want perfect cards, you can expect to pay a lot more. A PSA 10 Gem Mint copy of the card sold in May 2022 for $8,700. Those interested in getting a copy of this iconic card for play can still find imperfect copies for less and investors can still watch the Gyarados page to spot Hot Deals on pristine cards.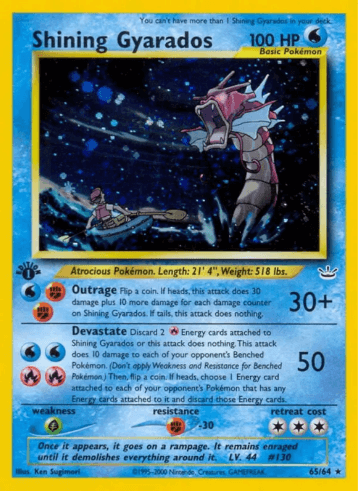 2001 Neo Revelation Shining Gyarados 65/64
3. 2006 Pokémon EX Holon Phantoms Gyarados Star (Delta Species) 102/110 - $11,348
I noted that Red Gyarados would be back. This time, Red Gyarados looks menacingly on from this extremely rare card from the 2006 Holon Phantoms EX set where the red theme takes over the card completely. The limited-run set made it even more challenging for collectors and investors to acquire this card since you would, on average, only get one of this Red Gyarados card for every two boxes of Holon Phantoms cards you opened.
This Red Gyarados is marked with the Gold Star icon, which means players of the game can only have one of this type of card in their deck (learn more about Pokémon TCG Card Raritys). What's more, the card is designated as a Delta Species, which manifests as alternate versions of popular Pokémon. Instead of being a Water Pokémon or a mix like the Shining version above, this Red Gyarados is a full-on Fire-type with no water attacks. This is no surprise when you see the hints of flame all around it on the card.
Copies of 2006 Pokémon EX Holon Phantoms Gyarados Star (Delta Species) 102/110 will set you back a pretty penny if you want a nearly perfect copy. A PSA 10 Gem Mint sold in December 2022 for over $11,000 on the basis of a limited population at PSA of just about 34 cards at this grading in their database. Even finding lower-grade copies is challenging, but that can bring the price down in the $2,500 to $3,500 range. However you cut it, a Red Gyarados is going to be a high-value card and, likely, a good long-term investment.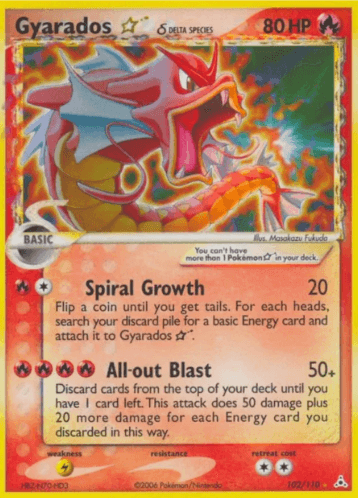 2006 Pokémon EX Holon Phantoms Gyarados Star (Delta Species) 102/110
2. 2000 Team Rocket "Leviator Obscur" French Dark Gyarados 8/82 - $15,000
Who is Leviator Obscur? Why, that's just Dark Gyarados in French and it's one of the most valuable Gyarados cards around. Like some other dark cards, this card was released in the 2000 Team Rocket set, which depicts a villainous team that tries to steal Pokémon and use Dark versions for their own evil deeds.
Dark Gyarados is a rare and popular card even on its English 2000 Pokemon Team Rocket #25/82 Dark Gyarados card. The US Team Rocket version has been increasing in value significantly, but the real story about the value of this card is from this French version. A PSA 10 Gem Mint copy of the French version sold in November 2022 for a staggering $15,000. That's close to ten times the cost of a comparable English version (BGS Pristine 10 instead) in February 2022, which sold for $1,530. Even that price was on the high end for English versions. Yet, on the strength of that Obscur version sale, Dark Gyarados gets to climb up our list on the basis of that exceptional sale that could be a sign of further increases in the days ahead. Dark Pokémon cards are unusual and pricing for them has been rising over time, so they can be a good investment if the cards are in great shape.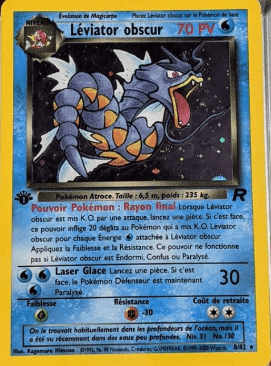 2000 Team Rocket "Leviator Obscur" French Dark Gyarados 8/82
1. 1999 First Edition Shadowless Holographic Gyarados (Base Set) 6/102 - $16,044.53
The First Edition Shadowless Holographic Gyarados from the Base Set is undoubtedly one of the most valuable and rare Gyarados cards in existence. This card features the iconic artwork by Mitsuhiro Arita, showcasing Gyarados in all its fearsome glory. Shadowless cards from this early run continue to dominate the top slots on Pokémon card lists and there is no sign that will change any time soon. With so many early copies in tattered shape due to use in play before the collector market really ramped up, finding Gem Mint or Pristine copies will always be hard to do.
The First Edition stamp and the lack of a shadow behind the picture frame make this card a true collector's gem. A PSA 10 Gem Mint condition copy sold in April 2023 in Australia for approximately $16,000. The sky seems to be the limit for a Shadowless Gyrandos' growth in value because you'll never see a card like it again. If this is too much for you, you can have a go at the non holo version 1999 Pokemon Base Set 1st Edition #6/102 Gyarados - it might be a little cheaper.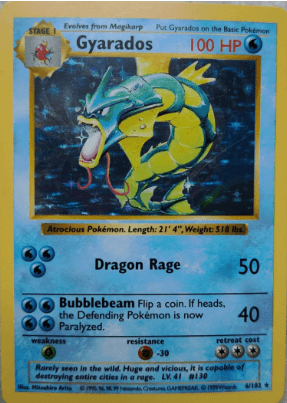 1999 First Edition Shadowless Holographic Gyarados (Base Set) 6/102
The Value of Gyarados Cards Reign Supreme
As you can see from above, Gyarados Pokémon cards are varied, powerful, and the rarest among them have some of the most exceptional art you can find in this hobby. Those who have managed to pull some of these rare cards from a pack, collect one while helping at an official event, or just bought it from another collector should, as we always say, get those cards graded to help increase their value and protect your investment.
If you are interested in picking up one of these or other valuable Pokémon cards, be sure to check out the pricing on Cardbase's Gyarados page so you can see the latest pricing trends, Hot Deals, and available sales and auctions from marketplace across the Internet. You can also easily add a card you are seeking to your Watchlist so you'll get notifications when a copy becomes available. Happy hunting!