Welcome to the definitive guide to investing in Pokémon cards. The popularity of Pokémon has never dropped in the more than 25 years since the cards were first released. Instead, the franchise continues to soar with new movies, the Pokémon Go augmented reality game still going strong, plus new sets, and higher values for classic cards and modern releases alike. The opportunity to make money investing in Pokémon has never been better than right now.
In this comprehensive guide, we'll provide you with all the information you need to make informed decisions about investing in these valuable collectibles that delight players and collectors alike all over the world. Whether you are a longtime investor or new to the hobby's investment opportunities, we've got you covered here with our detailed recommendations and tips.
For some, Pokémon cards are a connection to their childhood, a keepsake from time playing the card game or one of the many video games that also let players train and battle with the best Pokémon around. For others, Pokémon cards are a savvy investment that can also prove fun to speculate on, with a healthy return if you choose your cards wisely.
Whatever Pokémon cards mean to you, this guide provides you all you need to know about buying and selling Pokémon cards online for profit.
Buying Pokémon Cards for Investment
Buying and selling Pokémon cards online can be a fun and rewarding hobby, but it's important to understand the Pokémon market. By following the tips and advice in this guide, you can find the best online marketplaces for buying and selling Pokémon cards, research cards before making a purchase, accurately price your cards, and protect your investments through proper storage and care. Remember to take your time, do your research, and stay vigilant to avoid scams and fraudulent transactions (we have tips there, too). With the right approach, buying and selling Pokémon cards online can be a lucrative opportunity for investors.
To maximize the return on your investment, it is important to identify which Pokemon TCG cards have the greatest potential for appreciation and to understand which factors will have an impact on valuation and the potential to appreciate over time. Here are key factors to consider:
Pokémon Card Sets
Pokémon cards are released in sets, each containing a unique assortment of cards. Some of the most sought-after sets include Base Set, Jungle, Fossil, and the more recent Hidden Fates and Shining Fates. Getting to know more about these sets will help you gain insight into which sets can prove the best investments. You can search directly for them on Cardbase: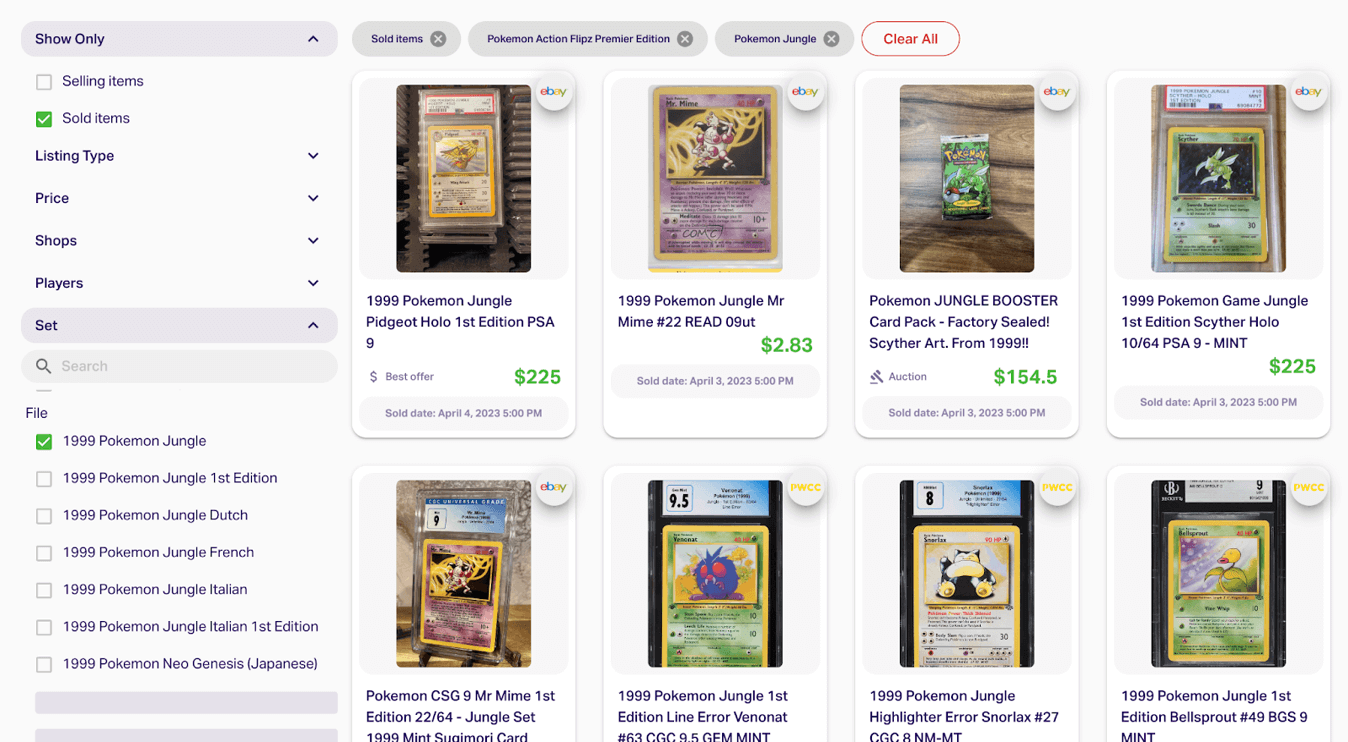 Pokémon Card Sets
Other than the earliest of cards, most card sets have a symbol to note that they are part of a particular set of cards. Additionally, collectors often seek to complete sets, driving up demand and value for specific cards. For some older sets, more common cards can also be valuable because they were used in play early on and now they are harder to find in investment-grade condition.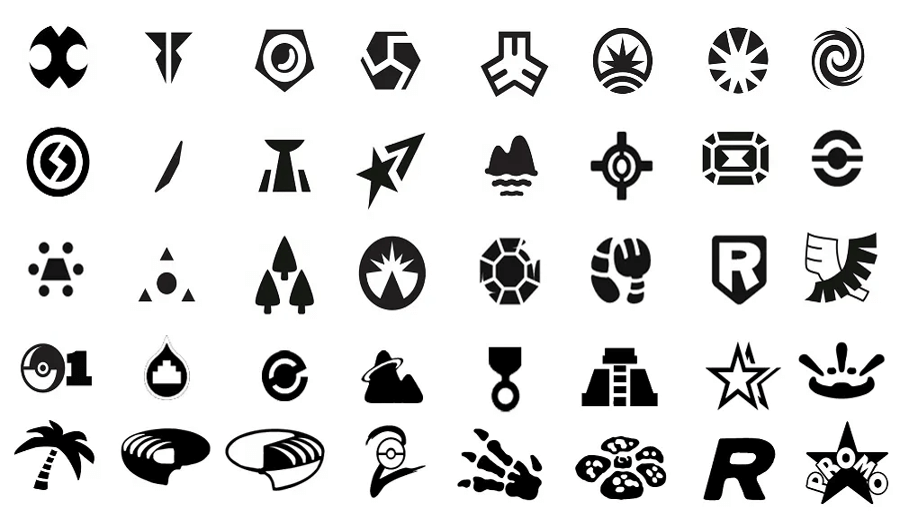 Pokémon Card Symbols
You can track your set and single card collection effectively with Cardbase so you can plan timing to sell cards when the market is right. By tracking your collection here, you'll have immediate access to pricing information right from the page associated with your cards. Cardbase will show you the most popular cards across online marketplaces.

Popular Pokemon Card Sets
Determining Pokémon Card Rarity
The rarity of the card usually has a huge impact on its value. While older cards are scarce due to their age and the number of collectors who didn't save them, some modern cards are often scarce by the design, including Secret Rares, Holo variants, and the like. The more limited the card's production, the higher its value, so do your research ahead of time to ensure you understand the rarity of a card before you price it.
To effectively invest in Pokémon cards, you must be able to distinguish between various rarities. Pokémon cards come in the following categories:
Common: Denoted by a black circle
Uncommon: Denoted by a black diamond
Rare: Denoted by a black star
Holo Rare: A rare card with a holographic image
Ultra Rare: Includes highly sought-after cards, such as EX, GX, and V cards
Secret Rare: Exceptionally rare cards with alternate artwork or numbering beyond a set's standard limit
Learn more about this in our Blog Post: Pokemon TCG Card Rarity Explained Properly
Nostalgia or Historical Value
Cards with a history of increasing value over time are generally more likely to continue appreciating. Plus, certain iconic Pokémon, such as Charizard or Pikachu, often have a higher nostalgia factor, making them more valuable to collectors. They can be worth exponentially more money than cards from the same sets and with similar rarity. Remember that a lot of Pokémon have been issued in many sets in different forms so it's vital to be specific in your searches to make sure you are getting the right card.
One of the best ways to check for cards from a particular character is to use the Pokémon Character pages on Cardbase. They will give you a great overview of statistics and details information about that particular Pokémon's cards across all sets, including:
Most Valuable Cards
Most Popular Cards
Best Early Cards (called Rookies)
Auction and Fixed Price Listings
Hot Deals
Charizard Trading Cards
For a historical example, 'Shadowless' cards are from the original US edition that were printed before the company had finalized the overall look of the cards. For the next edition of Pokémon cards, an artistic decision was made to add a 'shadow' on the backgrounds that would make the cards look more textual.
Thus, all subsequent sets had this shadow, giving the earliest edition this special term. Shadowless cards can fetch a higher price due to this scarcity. Many other historical sets or misprints can end up being worth more money as a result.
Knowing your Pokémon history can definitely help you spot deals on cards more effectively, raising the possibility that you can find cards that will increase in value over time.
Play Value
Not all Pokémon characters are created the same. Many are simply more powerful than others and that can drive up their value. Most players will tell you that Mewto, Charizard, and Mega Ampharos are going to get played more often because they are so effective in the game. You can find out more by following Pokémon groups on Facebook and other forums, or by reading Pokémon news sites to get the latest information on which cards are the most popular in play, both casual and tournaments. These cards may just be the best investments in the long run because of their direct demand and also because cards that are kept back as investments will be scarce.
If you want to check the value of certain Pokémon characters, you can search for all cards related to them on Cardbase.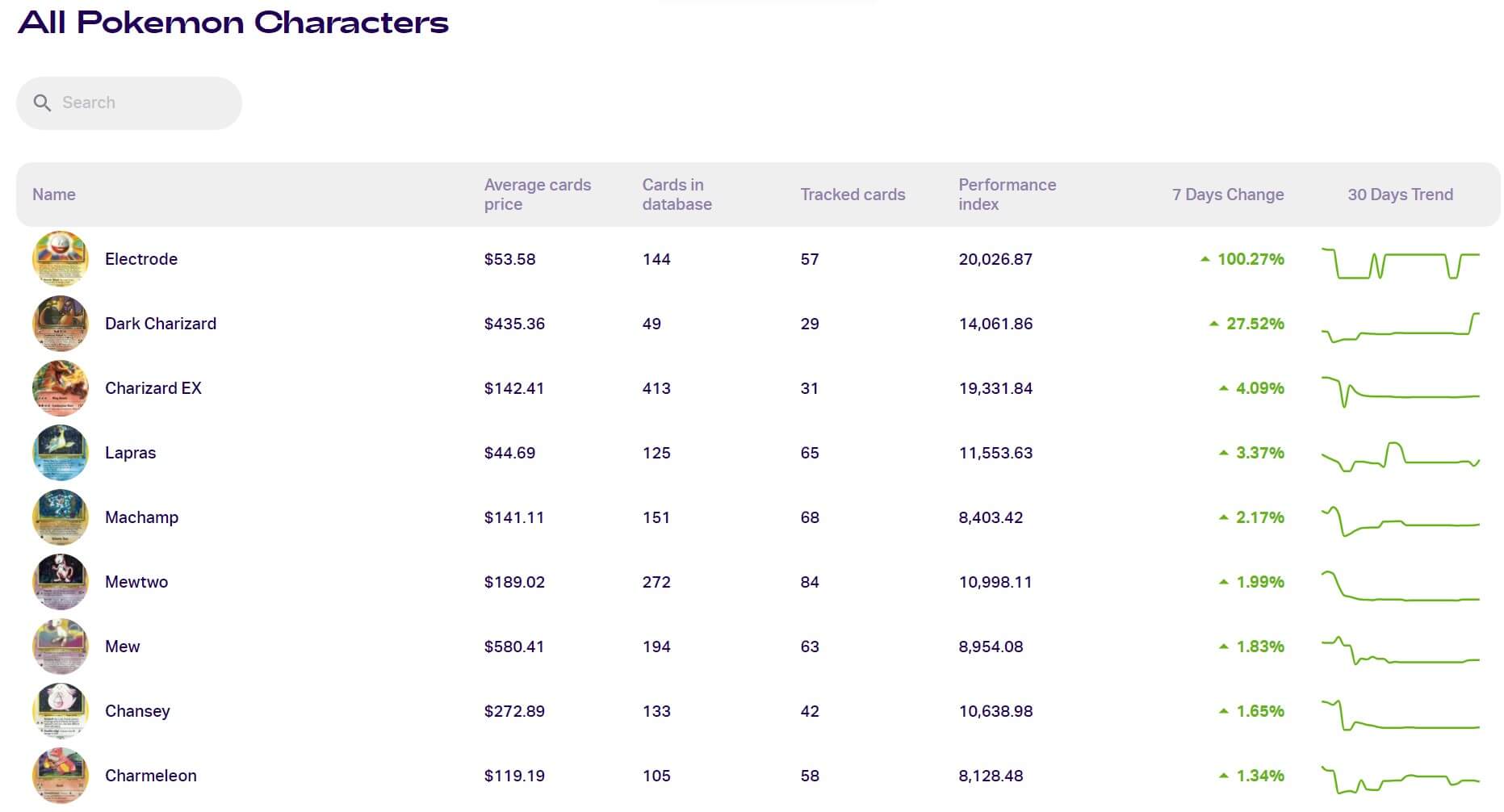 All Pokémon Characters with trading cards on Cardbase
Demand Value of Pokémon Cards
The demand for your Pokémon cards is also a crucial factor in determining their value. If there is a high demand for a particular card or player, you can expect to get a higher price for it. This works in tandem with Play Value. If a card is particularly popular, there will be more players scrambling to get copies.
With Cardbase, you can see the most popular cards currently selling in the marketplaces across the web, which can help you see how desirable your cards are with buyers online.
Stay Informed and Watch Market Trends
Pokémon has a lot going on as a franchise. While you are investing in the cards, there are movie releases, video games, and other products that might help drive up interest in particular Pokémon cards. A good way to stay on top of the subject is to network with other collectors and investors: Join online forums, social media groups, and local meetups to connect with other Pokémon card enthusiasts. These communities can be invaluable sources of information, advice, and potential trade or sale opportunities.
You should also keep an eye on market trends and prices to ensure that you are selling your cards at the right time. During the first couple of years of the COVID-19 Pandemic, prices were on the rise because people bought a lot of cards while in quarantine. Prices can fluctuate, so it's important to stay up-to-date with the latest market trends. Check out your card's pricing trend on its page on Cardbase for updated details.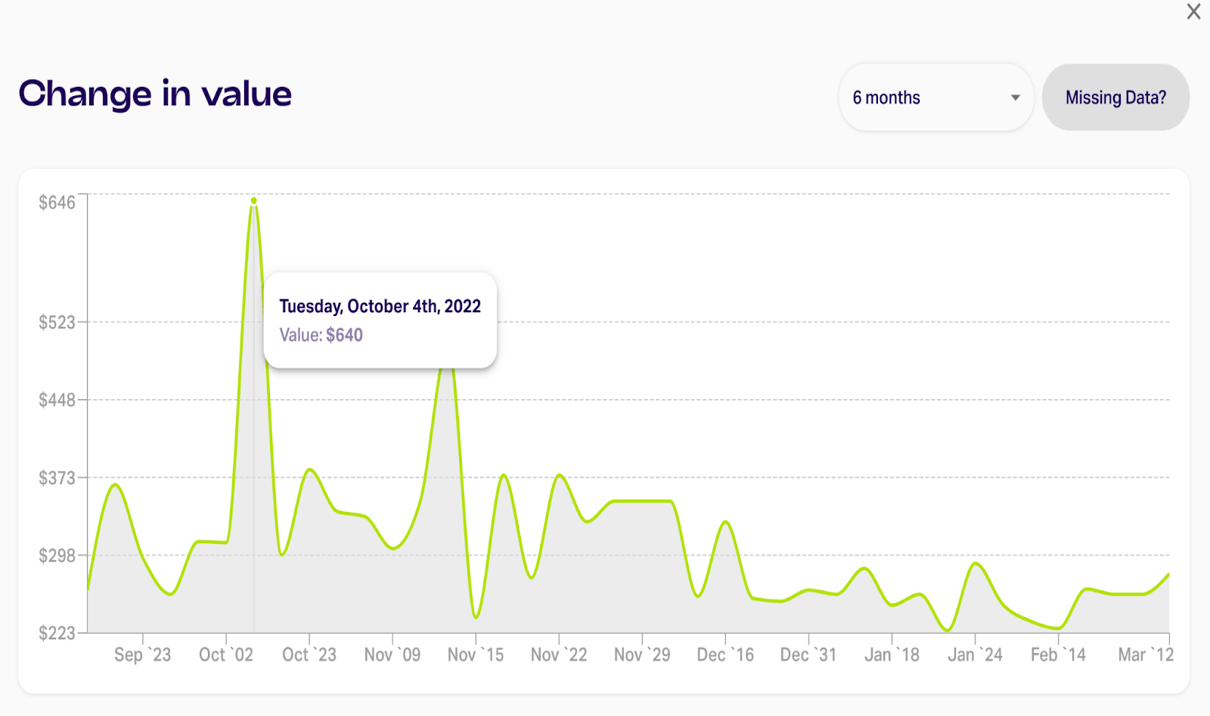 Change in Value
Card Condition
Condition is another key factor that will always affect the value of your Pokémon cards. Cards that are in 'mint' condition or graded by a reputable grading service are worth more than cards in lesser condition or that don't have a third-party grading service attesting to their condition.
With more valuable cards, it probably makes sense to get them graded to maximize your profits. Check out pricing for graded and ungraded cards on Cardbase by going to the card's page and selecting the dropdown option to filter on prices for the grade of your card. This option will even allow you to differentiate between grading services because they don't all use the same specific criteria when determining a grade.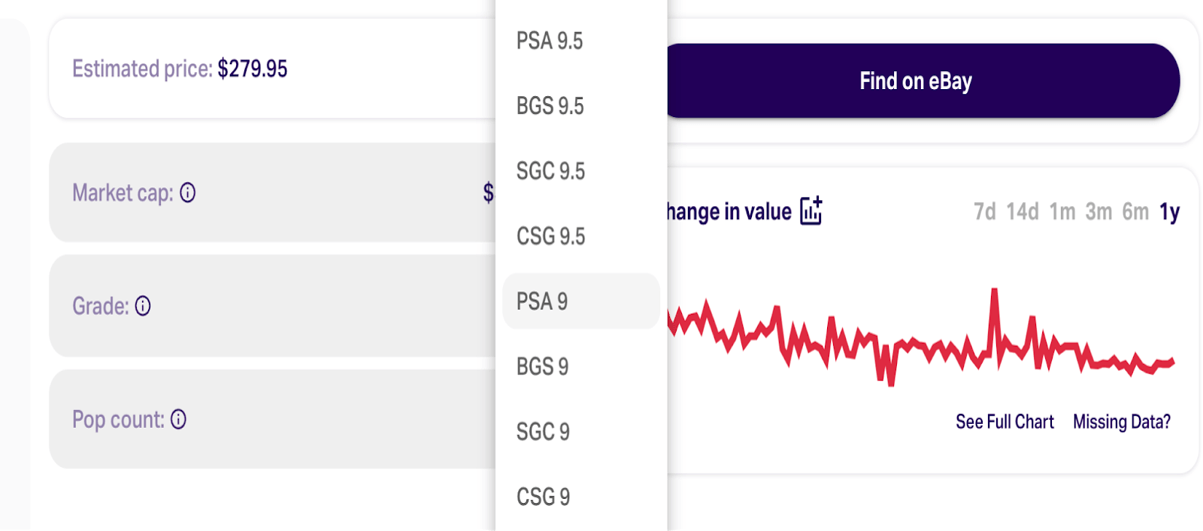 Find on Ebay
Card Grading
Professional grading services such as PSA (preferred for Pokémon) and Beckett evaluate the condition of cards, assigning a grade that directly impacts their value. Cards with higher grades (e.g., PSA 10) are more valuable than those with lower grades, as you might guess.
To evaluate a Pokémon card's value, PSA's grades are a 10-point system:
GEM-MT 10 Gem Mint
MINT 9 Mint
NM-MT 8 Near Mint-Mint
NM 7 Near Mint
EX-MT 6 Excellent-Mint
EX 5 Excellent
VG-EX 4 Very Good-Excellent
VG 3 Very Good
GOOD 2 Good
PR-FR 1 Poor to Fair
The big difference is that if you have a grading service verify and certify the quality of your Pokémon card, the collectible will be judged to be of a higher value because a third-party has confirmed the quality of the card. This takes the guesswork out of valuation since the opinion of professionals is something both buyer and seller can trust to be consistent. Grading services also seal and place the card on a slab that cannot be broken. Thus, the card can no longer be used in the game and you reduce the chance of its value ever going down. What you lose in play time, you will gain in investment value.
If you need more information about choosing a grading service, see our guide about using PSA vs. BGS
Research Pricing of your Pokémon Cards
Once you know which cards you would like to buy, invest time on pricing research. One of the advantages of buying Pokémon cards online for investment is that you can compare prices across the web so you can make sure you are getting a price that will turn a profit.
Prior to buying Pokémon cards for investment, do a search for other sellers also offering the same card because prices may vary. Of course, the card's condition, set, character, rarity, and desirability will affect prices, so it helps to have an idea in mind about how much you are willing to pay for a particular card beforehand. Planning ahead is always helpful.
Cardbase is an ideal place to conduct this research. It's the perfect tool to help you compare prices and availability across dozens of marketplaces. Using the individual card page for the Pokémon card you are researching, you can see a price history and which marketplaces had the best prices. You can also use the grading drop-down to search based on the quality of the card you are seeking.
You can find precisely which Pokémon you seek using the Cardbase filters to locate the cards you want information about, and you even see the population of those that have been recorded at each grading level.
Plus, an individual card's page will suggest similar cards and Hot Deals on cards with prices that are trending below their usual prices from online marketplaces across the Internet. Popular options will also show you in-demand cards that might help you determine which cards have the potential to appreciate in value.
Shop Good Marketplaces with Reputable Sellers
With the increase in the value of Pokémon cards over the past several years, more businesses are jumping into the business of assisting collectors and players sell their cards, and now there is an abundance of different marketplaces where you can shop for your cards. With many markets and sellers available out there, it can be difficult to choose the right ones.
For a great review of your options, check out our list of marketplaces further below and focus on buying from sellers who have a good reputation. Most platforms have a means of rating sellers, but you can also check forums for more details if you need to check out a seller. Be extra cautious about less regulated marketplaces like Facebook Marketplace, where it can be very challenging to get regular ratings for sellers.
Offline Card Buying
You might consider buying offline at card shows, game conventions, and retail stores as well. Take the same care and focus as described above: Review cards carefully, haggle, and pay with secure options. These kinds of events can often be a treasure trove of low-cost, high-value cards but your results will vary based on where you are and where you go. Before driving a great distance to attend an event, make sure there will be enough sellers there to make it worth your while. If the event has a forum, ask other attendees about the breakdown of sellers and buyers rather than asking the officials running the event. You are more likely to get an authentic assessment of the situation from a third party than the individual running the event.
Remember that you can use the Cardbase app on your phone to look up price ranges on cards while you are at the event. This will even allow you to compare a potential investment purchase against options online in real-time, making your trip all the more efficient.
Buying in Bulk - Singles
One method for investing in Pokémon cards is to buy single cards in bulk from a seller who just wants the cards sold and out of their life. Some people have old cards sitting in their closet and they just want to declutter. Their interest in clearing away cards without researching their value is your opportunity to make some money by doing the work to research and resell them for a profit.
This can be a winning strategy, but be cautious with bulk buys. If you are buying them in person, examine the cards and use pricing data on Cardbase to help you determine that you can, at minimum, get your money back from the card selections. Keep in mind that this is vital for game cards more than if you invest in sports cards. If the Pokémon cards were used to play the game, they can develop the types of nicks, bends, and wear that will downgrade their condition and reduce their value. Keep an eye on or ask about how the cards were stored, too. A seller who kept the cards in hard sleeves is more likely to have cards in great shape than someone who has a shoebox full of mixed cards on Ebay.
Of course, it can be challenging to understand the condition of cards if you are buying a set online. Be sure to ask the seller for pictures of a cross-section of cards so you can assess that you are getting enough value out of the purchase. To save time, once you assess that you're getting enough to cover your costs, it makes sense to close the sale. Whatever else you find of value will be like a treasure hunt that can potentially turn up a lot of gold.
Buying in Bulk - Boxes
Buying Pokémon cards by the box for investment can be an exciting and potentially lucrative endeavor. Booster boxes are the most common way to buy Pokémon cards in bulk. These typically contain 36 sealed booster packs, each with a random assortment of 11 cards (generally). To maximize your investment potential, focus on purchasing boxes from sets with high-value cards, strong collector interest, or both. Pre-ordering a booster box prior to its release can sometimes net you a lower price. Additionally, keep an eye out for sales and discounts, as these can make your investment more cost-effective.
When opening packs, be sure to sleeve cards promptly so they don't get exposed to outside elements. To maintain the value of your cards, store them in a cool, dry place away from direct sunlight. Use protective sleeves, top-loaders, or binders to keep individual cards in mint condition.
Don't Ignore Foreign Language Cards
Some investors may be cautious about buying cards that are printed in foreign languages. If you don't know the words on the cards, how can you know what it is? Thankfully, it's not difficult to identify foreign language cards by their English names through the art and iconography printed on the cards. That said, you can usually look up the cards on Cardbase to clarify their value before you invest in them. While most cards are standard across companies, there are notable differences (particularly in early Japanese sets) that might lead to increased value. Don't be afraid to buy foreign cards, but definitely vet them for value first.
Don't Hesitate in Haggling
Be fair and respectful to others but it's absolutely fine to offer less than the listed price. Use your budget as a guide, but don't tell the seller how much you are willing to commit. In negotiations, when the seller sets a price, they provide a 'level' to sell at, but that can change if you want to spend less. You can reorchestrate the 'level' that has been set by offering a lower price on your own terms.
Don't offer the maximum you are willing to play. Instead, offer 20-30% below that your final level so you have room to negotiate with the seller. They may take your offer because you have reset their expectation about what a buyer is willing to play. You don't know the circumstances surrounding a seller's decision to do a specific thing. They may be keen enough to sell the card that they will accept a price lower than the listing. If you cannot find a midway point on pricing, remember there's always more sellers out there. Remember, they have to sell that card, but you don't have to buy it. There is a whole world of other marketplaces full of sellers who want to move their product.
Don't Forget to Consider Shipping Costs and Time
When purchasing or selling Pokémon cards over the internet, it's crucial to understand shipping expenses and the delivery time. Some sellers have different shipping choices and costs, and several also incorporate the shipping time in their pricing. Taking the shipping time and the cost into consideration can help in your price comparisons. If you don't mind waiting, sometimes you can save money - negotiate with the seller and accept a slower delivery to save money if that suits you.
Use Secure Payment Methods and Check Shipping Costs/Return Policies
If you're buying Pokémon cards using the Internet, use secured payment methods like PayPal or Venmo. Don't purchase from sellers who ask for payment with wire transfers, cryptocurrency, or methods you're not familiar with. A little bit of caution will go a long way to protecting your money.
Make sure you understand the cost of shipping the Pokémon cards you buy from a seller. Some sellers will try to make a bit of extra profit from shipping as well. You can ask them to find a lower rate if you find one that you think is too expensive. Consider how those fees will affect your purchase price and expected profit before you commit to buying from them. Also, while it's unlikely you'll be returning an item purchased for investment, it's a good idea to understand the return policy of the company before making a purchase.
Practice Patience
Finding the Pokémon trading card you seek at the right price may take some time. Don't jump at the chance to buy it simply because it's within your budget, especially if it is graded at a level that won't make you happy. Take the time to see multiple offers and pricing trends (plus all the advice from above) before you take the plunge and invest.
Patience can also be important in giving cards enough time to appreciate. While we'd all like to buy low and sell high immediately, sometimes you need to add some time to the plan to maximize your value. Make sure this doesn't become a lax attitude about research and timing. You should understand the value of major investments so be sure to monitor pricing on the Cardbase pages of your most valuable cards
Patience Not Required: Flipping Pokémon Cards
Okay, if you responded to the call for patience with a shrug, this section of the guide is for you. The advice above is focused on regular investors using the advice of Warren Buffet, one of the richest men in the world, that the best way to get rich is to do it slowly.
However, if that's not for you, here are tips for flipping and selling Pokémon cards online quickly. Keep in mind that doing this for quick profit requires a strong understanding of the market and a keen eye for valuable cards. There is also more risk involved on both sides. That is, you may sell cards that will be worth a lot more later or you may miss out on cards that will jump in value because of a focus on short-term gains. If you are okay with those possibilities, we've got tips for you, too.
Learn to Identify Undervalued Cards - Use price monitoring tools like Cardbase to watch for cards that are listed for less than their actual value. If you look at the trending information on pricing and compare what you believe you can get versus a seller's low price, consider scooping up those cards and relisting them.

A particularly helpful tool on Cardbase is the Hot Deals section on card pages:
This option on the Pokémon card pages can help you find pricing comparisons from the estimated price and the current price in an auction or fixed price option. This is a key tool to use for flipping cards because Cardbase offers you a direct look at the percentage discount you are getting by buying this item.
Pick the Marketplace for Buying and the one for Selling - If you are looking for quick turnarounds, you might want to search for cards to buy on more general platforms like eBay, Facebook Marketplace, and Amazon. Then, you can turn around and sell the cards into marketplaces where the buyers are more likely to know the true value of a card. Our marketplace listings further below in this guide can help you there.
Building Relationships with Sellers - If you find a seller who is routinely selling cards for less because they don't have the time or interest to put in the research to get higher prices for their cards, be sure to bookmark their sales and maybe reach out to see if you can buy from them in bulk. A good relationship with a seller like this can be a gift that keeps on giving.
Building Relationships with Buyers - The flip side of this is if you find a buyer that is willing to pay higher than market prices because you are providing them a service by selling their cards, stay in touch with them and get a list of what they are seeking. These can also be fruitful relationships if you do the legwork to acquire the cards they want for a price that allows you to turn a profit.
Definitely read closely all of the advice above regarding selling and take extra care to watch out for scams or disreputable buyers/sellers because in the fast-moving world of card flipping, these bad actors are more likely to be present.
Maximizing Your Revenue When Selling Pokémon Cards
Now that you have considered the factors that affect the value of your Pokémon cards, here are some tips to help you sell your investments for a tidy profit.
Storing and Protecting Your Pokémon Card Investment
Proper storage and protection of your Pokémon cards are essential to maintaining their value. Consider the following best practices:
Card Sleeves: Use high-quality card sleeves to protect individual cards from scratches and other damage.
Toploaders: Place sleeved cards in toploaders for added protection and rigidity.
Storage Boxes: Use acid-free storage boxes designed specifically for trading cards to prevent damage from environmental factors.
Temperature and Humidity Control: Store your cards in a cool, dry place to minimize the risk of damage due to temperature and humidity fluctuations.
Take Accurate Pictures of Your Cards
High-quality pictures can showcase the condition of your cards and attract potential buyers. Take pictures of the front and back of each card, and be sure to show any flaws or damage. Resist the urge to make your photos look even better with Instagram-style filters and other tools. This can end up misrepresenting your card's condition. For best results, use good lighting and go with a #nofilter approach to help buyers see your card for what it is. Honest representations during the listing process will prevent conflicts and confusion with your buyers later.
Provide Detailed Card Titles and Descriptions
Be honest and accurate in your descriptions of the cards you are selling. Include all relevant details such as brand, year, card number, and any special features. Put additional detail into your description if available. Using relevant keywords in your listing title can help your cards appear in search results. Use keywords that describe the set, any special details, year, and the card number. Remember that a lot of Pokémon exist in literally dozens of sets so be specific in your descriptions so buyers know they are getting the right card.
Don't forget that you can find out additional details to add to your listing by looking at the card on tools like Cardbase. Card details like the population of your card's grading, how prices are trending, and recent sale prices might be useful for buyers to know when considering purchasing your collectible.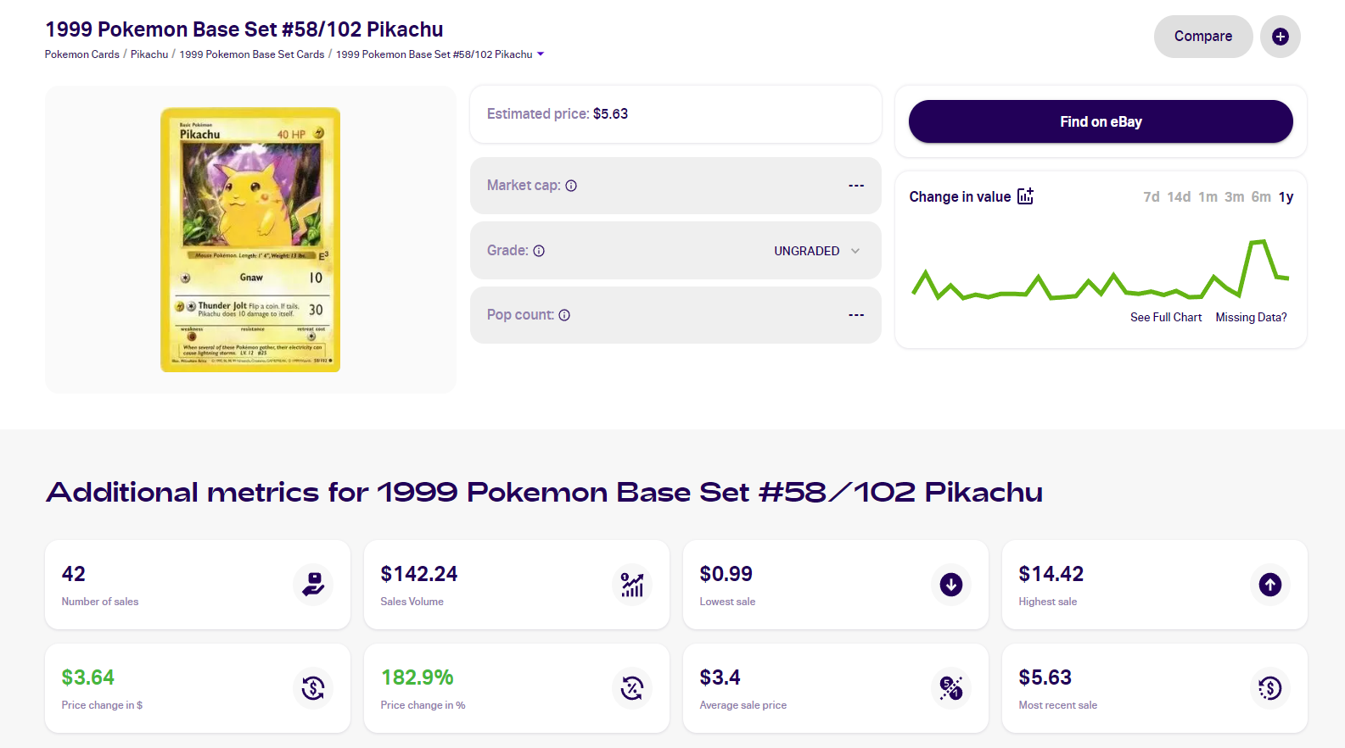 1999 Pokemon Base Set Pikachu
Comprehensive details will help drive interest in your cards and show that you know what you have. This can also show potential buyers that you know the accurate value of your cards so they won't try to haggle you down to some unreasonable amount in hopes that you just want to get rid of the item.
Stick to Your Pricing Plan
Some buyers may offer you less than you are asking for your cards, but you can always reject offers. If the sale at their offer will still turn a profit for you, you can still offer to meet them halfway. Remember that they don't know how much you paid for a card and the fact that you got a great deal doesn't mean they get a discount.
Ultimately, you don't need to sell your cards to a particular person so hold out for your expected profit margin if you are under no time pressure to sell. Don't be offended by haggling if the buyer is courteous about it; for many people, haggling is the way they shop for Pokémon cards and it's a reasonable way to come to an agreement about the price.
Remember you can use the Latest Sales data on Cardbase to help determine if the offers you are getting sound right for this card at this moment in time.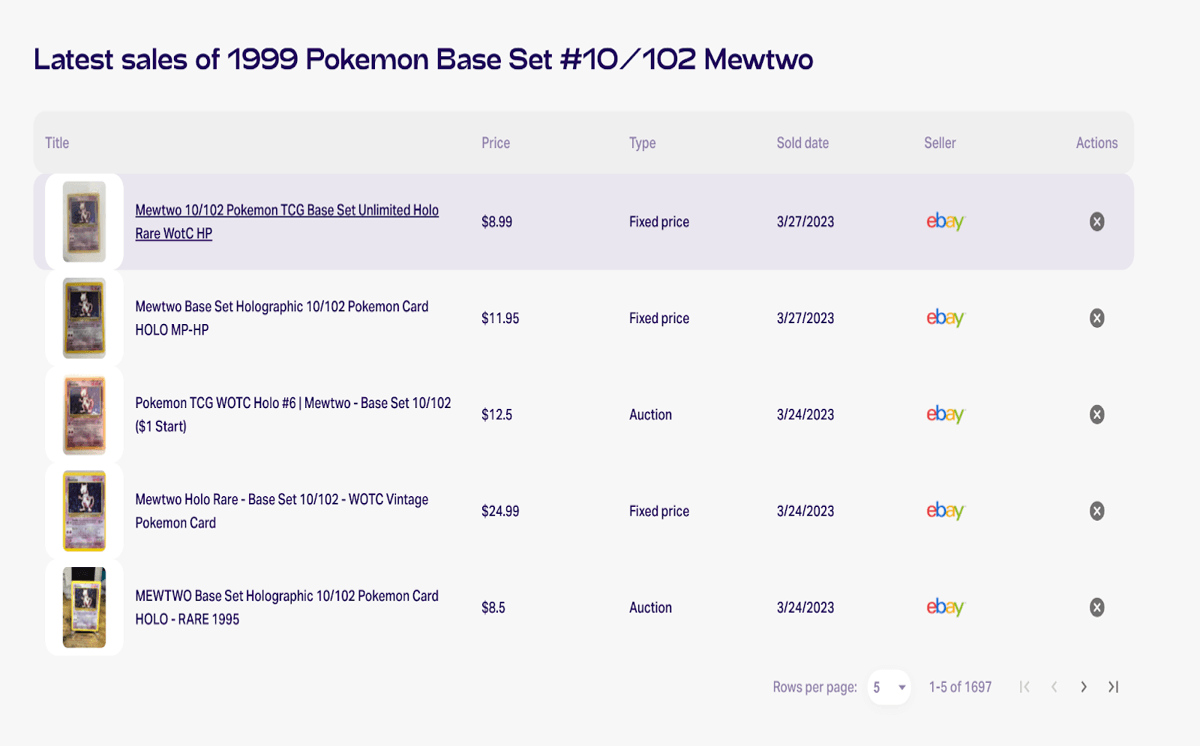 Latest Sales of 1999 Pokemon Base Set Mewtwo
Building Your Reputation as a Pokémon Card Seller
One of the most critical factors for a regular Pokémon seller is building your reputation as trustworthy. You can command higher prices for cards you've invested in if communities know that they can buy from you without worry. The following are some ways to establish a positive reputation:
Maintain High Seller Ratings - Maintaining a high seller score on websites that offer review options to improve your profile is a good idea. Appeal to buyers to leave reviews to your products as well as for you if the website allows it. eBay offers two-way feedback, and many other websites do the same.
Offer a Return Policy - Offering a return policy demonstrates your belief in the quality of your products and shows that you stand behind them. Keep a limit on the amount of time you're prepared to accept returns. A 30-day satisfaction guarantee provides plenty of time to the buyer to inspect the item and make sure it matches your description.
Provide Excellent Customer Service - Be professional and courteous in your interactions with customers. Follow up after the sale to confirm that everything went well, and respond with tracking information for shipments to positively impact future buying decisions. This positive experience will help you improve your standing and, thus, attract future customers.
Build a Social Media Presence - Building a presence on social media platforms like YouTube, Twitch, and Instagram can help you establish yourself as a reputable seller and connect with potential buyers. If buyers start to follow you because they know you sell cards that will interest them, this will increase the chance of future sales because you already have their attention when you post new cards for sale.
Avoiding Scams and Fraudulent Buyers
Unfortunately, scams and fraudulent buyers do appear in the online Pokémon card market. Here are some key tips to help protect yourself from these issues:
Verify Payments Before Sending - Before shipping your card, ensure that the buyer's payment has cleared and is not fraudulent. It is perfectly reasonable to take a little time before sending your card to ensure the payment has cleared. If the buyer is pressuring you to ship before a payment clears, that's a red flag and you should consider canceling the sale.

Be Caution with Big Orders - If a buyer is purchasing lots of expensive cards, negotiating a deal that makes you feel uncomfortable, or asks you to change your procedures if they pay more money than you are asking, be careful. Unless you are dealing with a trusted auction house, verified marketplace (like those in our guide), or someone you know well, these requests are common with scams.
If you are concerned, see about going through a third-party marketplace, ask for them to pay for insurance against their own loss (and rescind any refund policy), or just don't complete the sale if it sounds wrong. If something sounds too good to be true, it probably is.
Don't Ship to Unconfirmed Addresses - Shipping to unconfirmed addresses can put you at risk of shipping to a fraudulent buyer. Insist on them paying for insurance if they only have a P.O. Box or an unusual address. Make sure you aren't on the hook to refund them. If something happens, they should deal with the insurance issues since they provided an address that presented a problem. Legitimate buyers should appreciate insurance being added to their system.

Use Postal Tracking - Keep track of all the cards you ship. Even the United States Postal Service (USPS) now provides superior tracking tools like UPS, FedEx, and other carrier services. Provide tracking numbers to your buyers for transparency. If they are a real customer, they are probably going to want to track it too.
Finding the Best Online Marketplaces for Buying & Selling Pokémon Cards Online
There are numerous options available for selling Pokémon cards, including online marketplaces, auction houses, and local card shops. Each option has its advantages and disadvantages, so it's important to consider which option is best for your needs. We give you a deep dive into this question in our guide below.
Which of these marketplaces will work best for you? Let's take a look at some of the top marketplaces for Pokémon cards online. We've listed them each with details about their strengths and some tips. Some are good for selling, others will buy your excess cards from you for a smaller profit. Both types of store are helpful for investors.
For simplicity, the sites are listed in alphabetical order, with "Big Retail Outlets" at the end.
Beckett
Beckett is the other big grading company besides PSA and they have a worthwhile offering that gives both buyers and sellers a leg up in getting the cards they want or top dollars for the ones they are selling. Their site includes guides and checklists to help investors, both new and experienced. While buyers can buy on the site with ease, sellers must become a registered dealer on the marketplace in order to list and sell items. This involves membership fees, so only use Beckett if you have a bulk of items to sell over time.
Beckett - Tips
Fees vary for having a dealer license, storefront and deluxe options. Check with Beckett's team for current pricing.
Beckett can grade and help you sell your cards, but their pricing only makes sense if you have a large collection of highly-valued cards.
Beckett notes that over 100 million cards are for sale in their marketplace, which can be a double-edged sword. You can find most of what you want, but your items for sale might struggle to get noticed in such a large inventory.
Check Out My Collectibles (COMC)
COMC is another full-service option that can help you get your Pokémon cards appraised, sold, and shipped. They take cards individually and charge a nominal fee for accepting them into their process. Keep in mind that there will also be a final value fee when the card is sold as well, so make sure you know the whole host of costs involved before sending them your Pokémon cards.
COMC - Tips
These will be different based on what you use among their services, plus they can expedite sales for an extra fee.
COMC will automatically put your proceeds from sales into store credit, assuming you'd like to purchase more cards. You can ask for them to transfer the credit into cash since you are trying to make a profit here.
If you want a concierge service that does focus entirely on trading cards, COMC is a solid choice.
Dave & Adam's
Dave & Adam's is another marketplace for Pokémon cards that has a public buy list with prices clearly listed. Keep in mind, though, this isn't the way to sell higher-value cards. D&A is a good way to unload extra cards that are low-to-mid value cards (say between $1 and $20) that you might get if you buy a collection. That said, the pricing on Dave and Adam's can give you an idea of what you can get from some cards that might be hard to sell otherwise. If you do opt to buy from Dave & Adam's, they make it easy to find and pay for what you want with minimal setup or fuss. Their collection is solid for Pokémon cards and it's easy to complete your transaction.
Dave & Adam's - Tips
Selling directly to Dave & Adam's will incur you zero fees and you can sell them classic collectible card game cards, too.
Buying is dead simple and they have more gaming cards than many of the online marketplaces.
Buying from an organization like Dave & Adam's minimizes the chance of buying fraudulent cards because they buy and inspect them before sales.
eBay
eBay is 25 years old and they are still one of the simplest tools for buying and selling Pokémon cards online. For investment purchases, it's easy to jump on the platform and buy. You can use search filters to look at comparable prices and narrow focus on the highest and lowest total costs to acquire cards. The feedback system is time-tested and helpful in finding sellers that are reputable.
For selling your cards, if you know the value of your cards from researching them on Cardbase, auctions on eBay can put your cards in front of a large number of buyers. Also, with so many thousands of buyers using the system, many have automated search bots that will notice your cards when they get posted, helping you close more sales.
eBay - Tips
250 free listings, but you can get more with a formal eBay Store setup; after 250 listings, eBay charges $0.35 per listing in a category. Final Value Fee: 12.9%* on total amount of the sale up to $7,500, calculated per item, 2.35%* on the portion of the sale over $7,500.
There are lots of paid options to boost your listing, including shorter auction times, bolded listings, more pictures, listing special perks, and reserve prices (prices you won't sell below). Be careful about spending money to upgrade the appearance of your listing. The majority of online sellers assume they are not worthwhile if you look at the average price obtained versus those which are highlighted in bold.
Ebay commissions are pretty high for valuable, rare Pokémon cards. However, if you get a higher price through an auction, this extra cost might be warranted. Remember that you can also sell on Ebay through Fixed Price listings so you can ensure you get the profit margin you expect from the sale.
Facebook Marketplace
The Facebook Marketplace is now dominant in local/regional buying/selling. It's a key place for lower-value collectibles to be easily sold for cash. This can save on shipping fees, which everyone welcomes, but it also can limit your buyer if you don't offer that option. As long as you have a Facebook account, you can list cards on both the marketplace and you can search for buy/sell groups for both your area and trading cards in your area. Facebook Groups has search capabilities to allow you to search for Groups where they buy and sell Pokémon cards.
Facebook Marketplace - Tips
Keep in mind that although you can do shipping on this marketplace, most people expect to meet up locally to pick up their goods.
If you meet up with people for sales, you can pick a third-party location like Starbucks or another public place for safety. Some police departments have trade/sales zones at their precinct buildings.
If your cards are worth more than $50-$100, consider grading them and selling on a trading card marketplace to maximize your returns.
Goldin
Goldin is one of the larger marketplaces for trading cards and other collectibles. They partner with PSA grading to offer a full-service experience where you can get cards graded and sold in one process. They focus on higher-value cards and guarantee buyers are good for big-money bids.
Goldin - Tips
Selling through Goldin will cost some but they also charge an auction-house standard Buyer's Premium for their services. Expect to pay more if you use their grading, storage, and full service fees.
Goldin has a special designation for collectibles over $5,000 in value and more services associated with those sales in the Elite Marketplace.
Their Vault feature can be useful if you have a lot of cards to get graded and sold. Check out the details on their website for this full service option.
Kruk Cards
This marketplace is best for sellers trying to sell off their whole collection. This isn't a place to sell investment cards, but it can be a place to send excess cards that aren't worth the time to sell individually.
Kruk Cards - Tips
They buy loose Pokémon cards for $75.00 Per 5,000 Cards, noting that only 10% can be power/energy cards.
They also buy other gaming cards if you have them, including Magic: The Gathering and Yu-Gi-Oh.
They sell cards, too, but they use Ebay to facilitate any sales.
PSA Card Forums
PSA is one of the big trading card grading companies, but their card forums are a side offering from the company. Since PSA had been in this space so long, they have a large community of buyers and sellers, which makes this a bustling marketplace with lots of transactions going on. If your card went through PSA's grading process, it's easy to register cards and get them into the marketplace.
PSA Card Forum - Tips
Fees are high, so make sure you are aware of them before you sell anything. If you have a lot of cards to sell, joining the PSA Collectors Club might make sense. For a $99 annual fee, you get reduced grading prices plus other perks like their magazine and special deals.
With a firm focus on trading cards and similar collectibles, this is an ideal place for your listings and possibly the place where you'll find that Holy Grail card you seek.
Investing in PSA graded cards alleviates worries about fake or fraudulent cards since they are experts in authenticating Pokémon and other trading cards.
PWCC Marketplace
PWCC Marketplace offers a largest marketplace for trading cards. While the site is set up to handle most trading cards valued above $50, it's divided into auction areas, fixed pricing, and an elite area for the most valuable cards. You will need to register to access the full range of cards for sale, but selling can also be made easier with many of the services PWCC offers. This includes partnerships with grading services, storage, and even credit accounts to buy using the value of cards you store with them.
PWCC - Tips
PWCC is really an ideal marketplace for investors and those interested in speculating on higher-value and more expensive cards.
Fees vary based on the services you use. If you do grading and storage, you can get a lot of good deals on other services. Selling from their vaults can make things easier for people that are collecting cards for investment rather than buying for their personal collection. However, there is an additional cost that would cut into your profit margin.
Buying from a company like PWCC means a strong guarantee against fraudulent cards and collectibles with the items passing through their system.
TCGPlayer
For a comprehensive selection of Pokémon cards, TCGPlayer is hard to beat. This is a marketplace with a lot of retailers who deal in collectible and trading card games. If you want to sell on the marketplace, you will need to create an account to list cards.
TCGPlayer - Tips
TCGPlayer also buys cards directly from sellers in bulk and may offer better pricing than other marketplaces that don't focus primarily on game cards.
There is a subscription-based service for sellers but this is only for major store owners and sellers.
They are popular with Pokémon players due to their deck-building tools and play-based content, which may bring more buyers into their marketplace.
Troll and Toad
Troll and Toad has been selling collectible cards, trading card games, and other collectible tabletop game accessories for over 25 years. Since this is a popular place for Pokémon singles, it's a solid marketplace for selling your cards. You may not find many deals to invest in, but when you list cards, T&T is a good choice.
Troll and Toad - Tips
T&T do buy cards directly from sellers in bulk if you want to unload a lot of lower-value cards. Similar sites that will purchase cards but that don't allow outside sellers are CCG Castle and Collector's Castle. Compare their prices and sell to the highest bid.
To sell on the T&T marketplace, you'll need to sign up for their EVO Merchant Program. Note that, as of April 2023, they are not accepting new sellers, but that could change anytime.
T&T is also an ideal place to sell other non-sports cards, as their selection is extensive and they have a long reputation with the gaming card community. They also offer free shipping on single cards (in the continental US) if you opt to buy from them.
Big Retail: Amazon, Walmart and Target
These large retailers have gotten into the Pokémon boxes and singles market, especially since the pricing on all trading cards has surged in the last few years. Their selection will never be as good as real card marketplaces since it is subject to the individuals listing their collectibles on their websites. For sellers, this is more of a place to sell lower-value cards than high-value collectibles.
Big Retail - Tips
Fees will vary, but watch out for higher cuts they may demand for lower-value sales. Amazon also has limits on shipping costs you can charge, which can play havoc with actually asking a buyer to pay what it actually costs to ship an item.
The best thing about these marketplaces is the sheer volume of buyers and sellers. Amazon, Walmart, and Target all sell to millions of people every day. That's great for exposure, but it also means there may be a lot of competition there.
Most investors don't mind buying boxes from these retailers, but they don't do singles because the prices tend to be a bit higher. Always check these values against the competition. Don't buy ungraded cards if you can manage it. Some of these retailers take listings from so many sellers that it's hard for them to make sure they are all reputable.
Buying and Selling Pokémon Card for Profit
We hope this comprehensive guide to investing in Pokémon cards online has provided you with valuable insights and strategies you will use to maximize your profits.
By understanding the market, identifying valuable cards, and using proven buying and selling strategies, you can exponentially increase your return on your investment, whether you are flipping cards for a quick buck or investing in a collection you will hold onto for a long time to get the most out of your investment.
Remember to always do your research, connect with online and offline communities, stay current on market trends, and have fun exploring the wild world of Pokémon cards.