Pokémon cards are excellent birthday gifts for fans. However, selecting just the right card can make the difference between a good gift and the perfect one. With almost 50 billion printed Pokemon cards worldwide featuring over 1,000 different Pokémon, and thousands of variations of them, how do you pick the right one for your favorite Pokémon Card Collector?
In this article, we'll help you determine an ideal Pokémon card to buy for that special day. We'll make some recommendations at various budget levels and different types so you can find the best gift for the Pokémon fan in your life.
Choosing an Ideal Pokémon Card Gift
While some Pokémon collectors play the trading card game, others are simply fans of the brand and they collect cards for fun or profit. Here are a couple of questions to ask before you find the right card to buy.
Does your Pokémon fan still play the game?
Do they collect classic cards from the early days of the game or are they more interested in modern, new packs of cards?
Do they just collect Pokémon cards for fun, investment, or both?
If you can answer these questions, that information will help you choose a good card to surprise your special Pokémon fan on his or her birthday. Make sure to use handy search options here on Cardbase to find the card you seek. You can search by price ranges for currently available cards for purchase on online marketplaces. This all-in-one shopping and research solution with links directly to both fixed-price and auction sites where you can buy Pokémon cards. Trending information on pricing, which cards are popular, and even hot deals on specific cards can be found here.
If you still aren't sure about which card to purchase, here are some suggestions for three unique Pokémon cards for each of the following budgets: $10, $50, $100, and over $100. These cards not only have fascinating histories but also make thoughtful gifts for nearly any Pokémon enthusiast.
Great $10 Pokémon Card Birthday Gifts
At this price, you are most likely to find ungraded cards that could be graded later to increase their value. You don't need to do this; the birthday person can take care of that themselves if they choose to keep the card as a collectible instead of a copy for play.
3. 2005 Pokémon EX Ditto (Pikachu) Delta Species Reverse Holofoil #39/113
Released in the 2005 Delta series, this card showcases Ditto, a unique Pokémon with the ability to transform into any other Pokémon. The card's artwork captures Ditto's playful nature as it mimics Pikachu. The wonderful illustration on this basic card is sure to charm Pokémon fans, especially those that might have missed it when it originally came out. A fun and affordable card, it's a great choice for collectors who appreciate the nostalgia of Pokémon and a fun way to sort-of get a Pikachu card.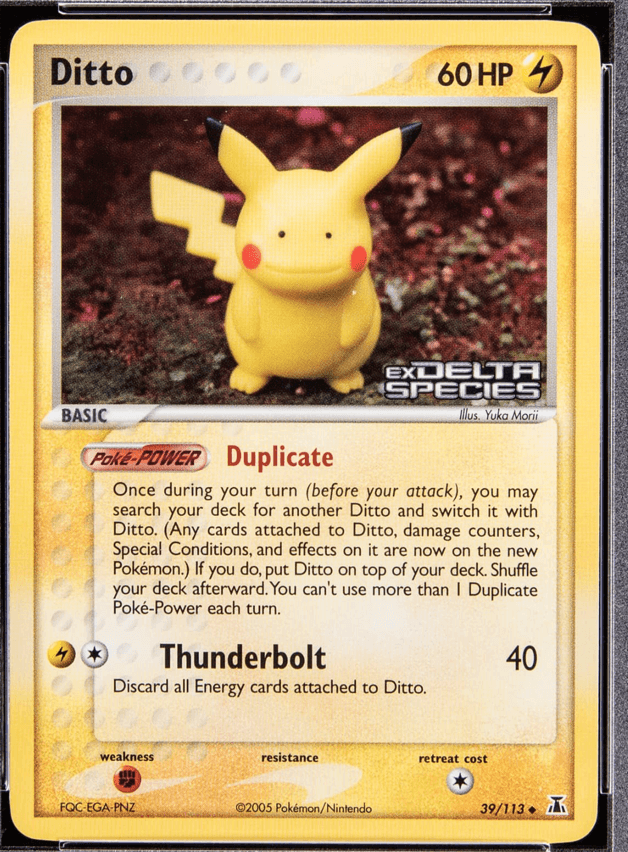 Ditto
2. 2019 Pokémon Sun and Moon Hidden Fates Mew #32/68
Another always-popular Pokémon is Mew, and this 2019 Hidden Fates card features the mythical Psychic-type Pokémon on a basic card with great artwork. While it's not as rare as some other cards in the set, Mew's popularity as a Pokémon has made it one of the most valuable cards in this set and a great addition to a collection. Copies of the card ungraded can be obtained for around $10, but higher-quality graded cards will cost a bit more. Either way, your gift recipient is sure to enjoy this charming card.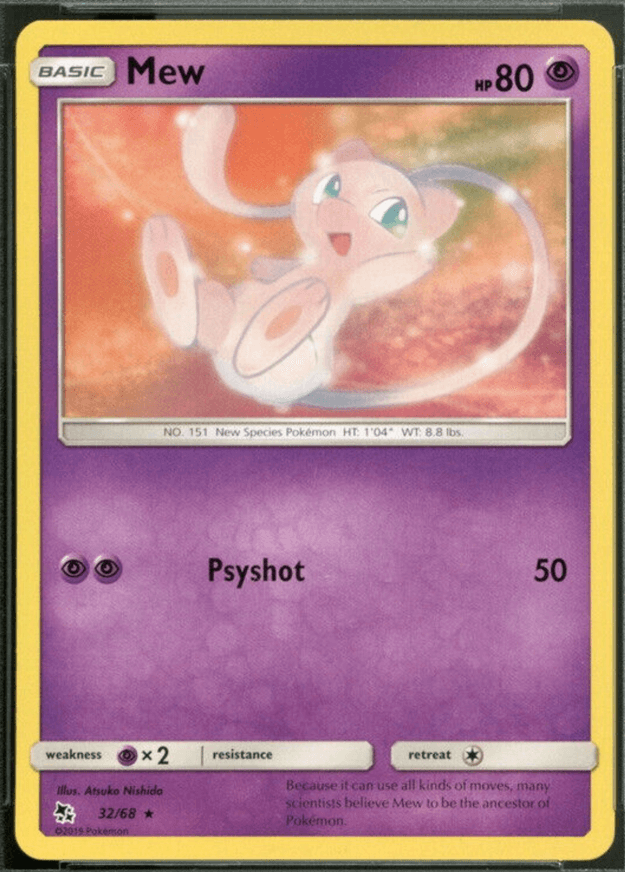 Mew
1. 2021 Pokémon Sword & Shield _____'s Pikachu Celebrations Classic Collection #25
How could we not include this card on the list? There's an actual birthday celebration on the card. Plus, it features Pikachu and a blank line where the new owner can add their name. A word of advice: Don't put your gift recipient's name on the line because they may prefer to keep it blank to retain the value of the card over time. Regardless, this cheerful 2021 Pokémon Sword & Shield _____'s Pikachu Celebrations Classic Collection #25 card celebrated 25 years of the Pokémon TCG and it gives the owner a special game play bonus on their birthday.
Ungraded copies are inexpensive now, but this card will likely appreciate in the future due to its uniqueness. The opportunity for customizing it with a name means that unmarked copies are sure to become more valuable because some people just won't be able to resist making the card truly their own.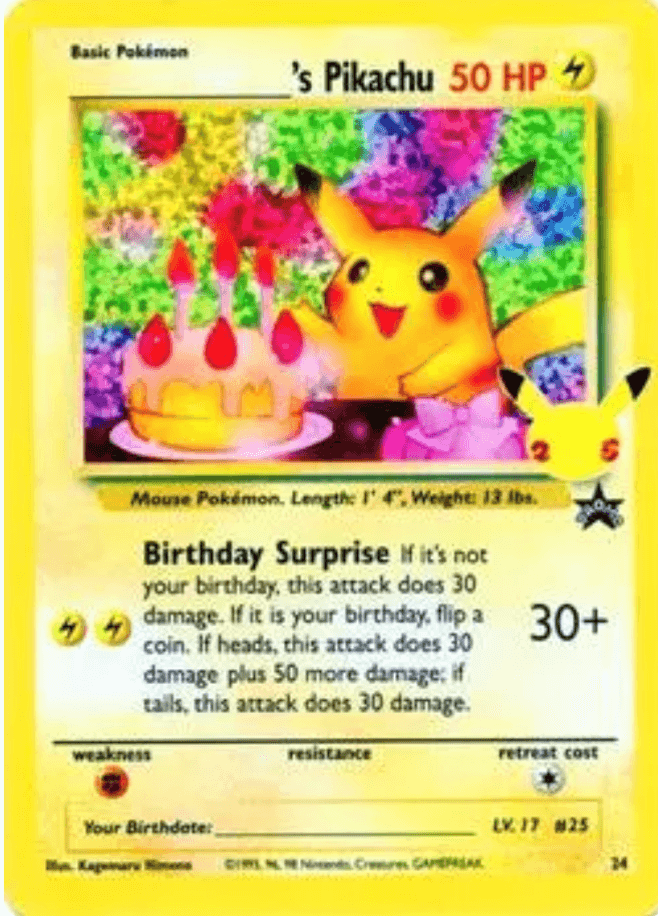 Pikachu
Awesome $50 Pokémon Card Birthday Gifts
3. 2021 Pokémon Celebrations Blastoise Holo #2/102
This card is from the 2021 Pokémon Celebrations expansion, which marked the 25th anniversary of the Pokémon game. This expansion brought the hobby a lot of great cards, including this Holo version of the popular Pokémon, Blastoise. This powerful and iconic Water-type Pokémon has been a fan favorite for its large water cannons and strong defensive abilities. This holographic card adds a sheen to the card's attractive artwork and stirs up the excitement of getting Holo cards in the early days of the game. Copies of the card can be found in the $50 range, even with professional grading, and should make a great gift for classic players and new ones alike.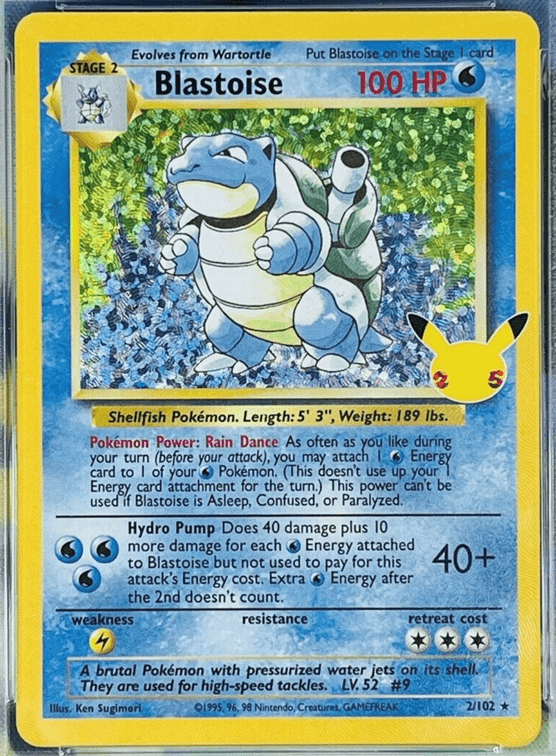 Blastoise
2. 2000 Pokémon Rocket Eevee 1st Edition #55/82
Eevee is another ever-popular Pokémon and this one is from the early days of the game. This 2000 Pokémon Rocket Eevee 1st Edition #55/82 card can still be had in this price range in good condition because back then, it was a basic card. For older cards, if you don't buy them graded, be sure to check the condition to make sure they weren't played too much or damaged. In those early days of the hobby, many collectors played the game and that could be harsh on the collectibles. If you can pick up one in great shape or graded professionally, this Eevee card is sure to be a hit with your Pokémon fan.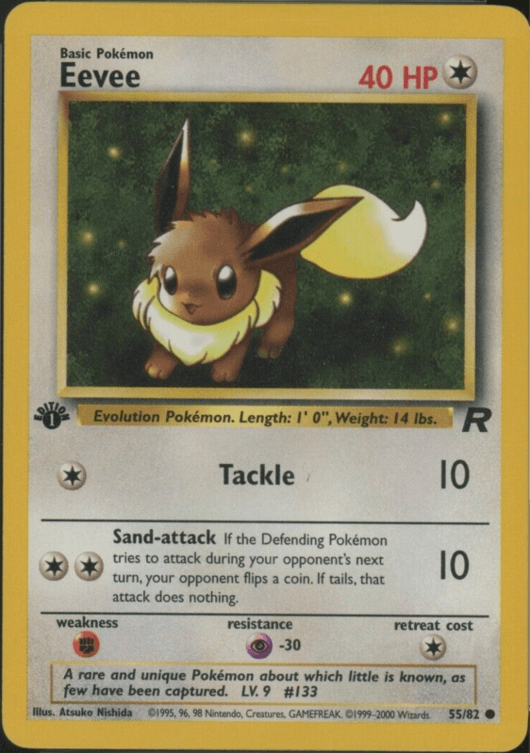 Eevee
1. 1999 Pokémon Jungle Electrode Holo #2/64
This suggestion goes all the way back to the first official expansion for the Pokémon game in the US, the 1999 Jungle expansion. Electrode is an Electric-type Pokémon that is round, has a funny expression, and an explosive personality (and abilities). The fact that it's a Holo card means that a shiny, reflective foil pattern is laid over the card's artwork, giving it a distinctive look. Holographic cards are almost always rarer and more valuable than their non-holo counterparts, but you can still find this card for around $50. Even the non-holo version of 1999 Pokémon Jungle Electriode #2/64 goes for about this price range, so you might as well find a Holo version if you can. For a dose of nostalgia from the early years of the game, Electrode is a fun gift for fans of the franchise.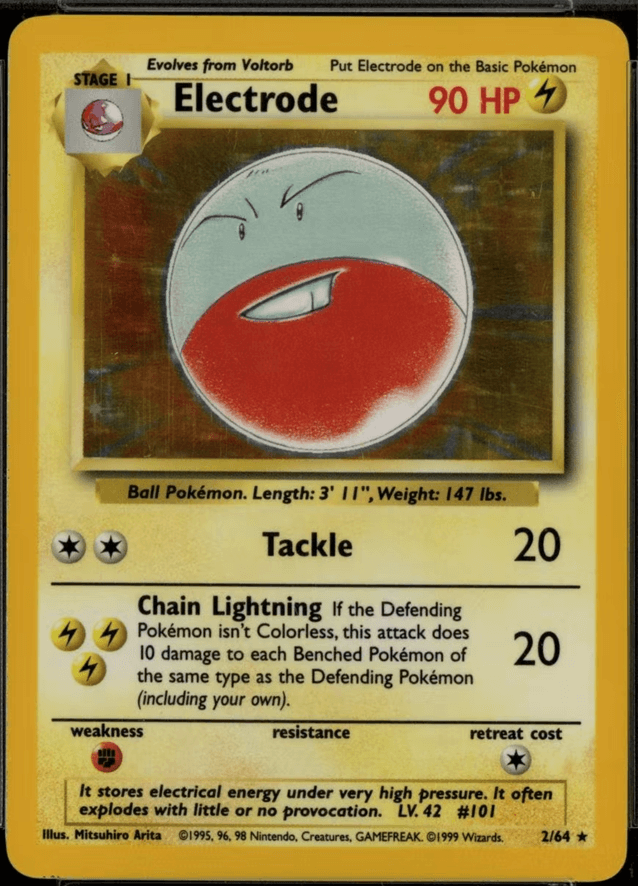 Electrode
Amazing $100 Pokémon Card Birthday Gifts
3. 2018 Lugia GX Lost Thunder Secret Rainbow #227/214
Pokémon is famous for its secret cards that are both part of the official set and not, shown in how this card is #227 of 214. The massive Lost Thunder expansion also has a large number of secret cards, including the fan-favorite Lugia. This gorgeous 2018 Lugia GX Lost Thunder Secret Rainbow #227/214 card has art that bursts out of the framing to dominate the card all the way to the edges. Lugia is a Legendary Psychic/Flying-type Pokémon that is powerful in-game and with fans.
This is another card that will rise in value due to its strong play ability, which will limit the numbers in top-grade shape in the years to come. The combination of being a secret rare, its play value, and the popularity of Lugia means fans are likely to love adding this great card to their collection. In great condition, you can still pick up a copy for about $100.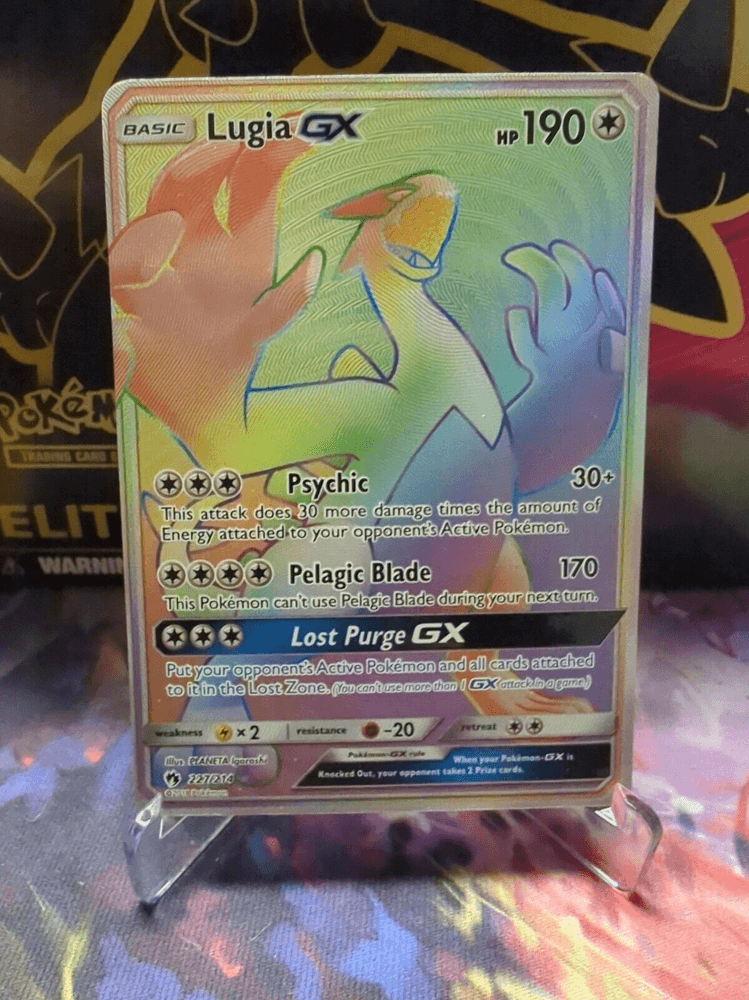 Lugia
2. 1999 Pokémon Machamp Holo #8/102
Machamp is one of the original Fighting-type Pokémon, which makes it really popular with collectors. This card was part of the original 1999 Pokemon Base Set 1st Edition of the game, which dates back to 1999, so this card will really appeal to those nostalgic for the early days of the hobby. The four-armed Machamp is a Stage 2 Pokémon that evolves from Machoke, and this version is a holographic version to add a little additional appeal to a classic 1999 Pokémon Machamp #8/102 card. The price for this card scales up a bit as a rare card, denoted by the star symbol on the bottom-right corner of the card (if you want to find out more about Pokémon TCG Card Rarity read this article). Finding a Holo version isn't as challenging, though, because they were more common in this edition, and that won't drive up the price much over $100. Even so, the powerhouse 1999 Machamp is a great addition to any collection.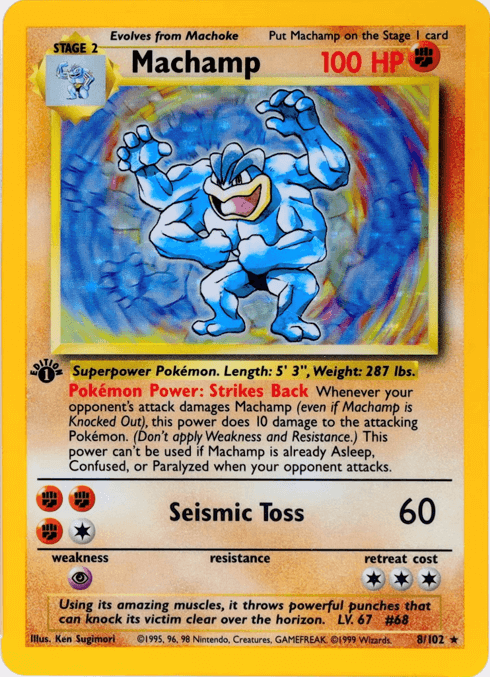 Machamp
1. 2019 Pokémon Hidden Fates Umbreon GX #SV69/SV94
For a more modern card for current plays, check out this Eevee evolution from 2019's Hidden Fates set, Umbreon. This powerful card is popular in play for its sheer toughness and ability to drain down your opponent's energy. The art is also gorgeous, with the image breaking out of the border to cover the whole card. This is not surprising for the Hidden Fates set, which has a lot of powerhouse Pokémon cards. Umbreon GX is a Dark-type Pokémon and a fan-favorite for years. With its high HP, powerful attacks, and useful abilities, 2019 Pokémon Hidden Fates Umbreon GX #SV69/SV94 is a card that can give players a significant advantage in battle and would round out a collection very well.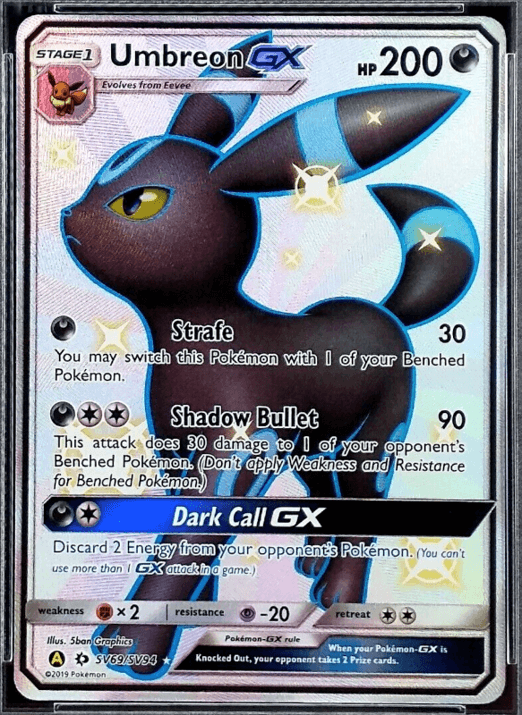 Umbreon
Thrilling Over $100 Pokémon Card Birthday Gifts
3. 1999 Pokémon Bulbasaur Shadowless #44/102
In this price range, you can get Pokémon cards that truly draw in the nostalgia of the early days of the game. 1999 Pokémon Bulbasaur Shadowless #44/102 is another popular Pokémon card from the original Base Set of 102 cards that has made many appearances in sets since then. While a stage 1 card, this Poisonous Pokémon is powerful in play and in the hearts of fans of the game.
The term "Shadowless" refers to a specific print run of the Base Set that features a slightly different background than subsequent versions, which all had a more textural look. However, Shadowless cards are far more valuable as a result. While a common card when it came out, a highly-graded Shadowless Bulbasaur card can now command prices over $100 due its scarcity. Most of these cards probably saw a lot of play in the early days, making mint condition copies less common. That's why it's likely to be a prized addition to any collection.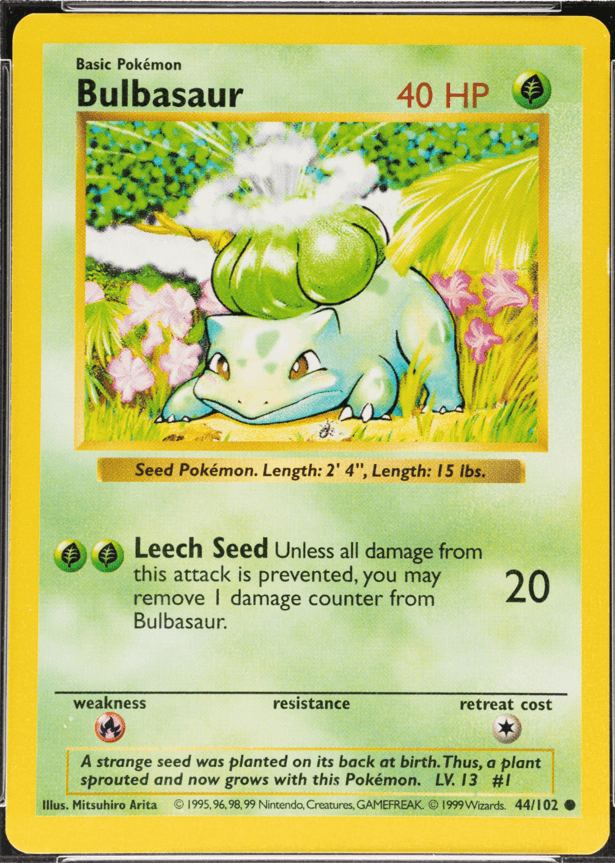 Bulbasaur
2. 2014 Pokémon Japanese XY Cosplay Pikachu Promo - Illustrator Collection #99/XY-P
While this is not the original 1998 Illustrator card that is among the rarest and most expensive Pokémon cards around, this Japanese promotional card from the XY series has some similarities. The card has Pikachu dressed up in cosplay costumes in different costumes or cosplay outfits.
This unique artwork is the main draw for this Japanese language card and it's why you'll pay hundreds of dollars for graded copies on the open market. If you can find an ungraded copy, you may be able to obtain it for less, but make sure you are getting a card of a quality that will make your gift recipient happy. For Pikachu fans, this is one of the ultimate collector's items to add to their collection.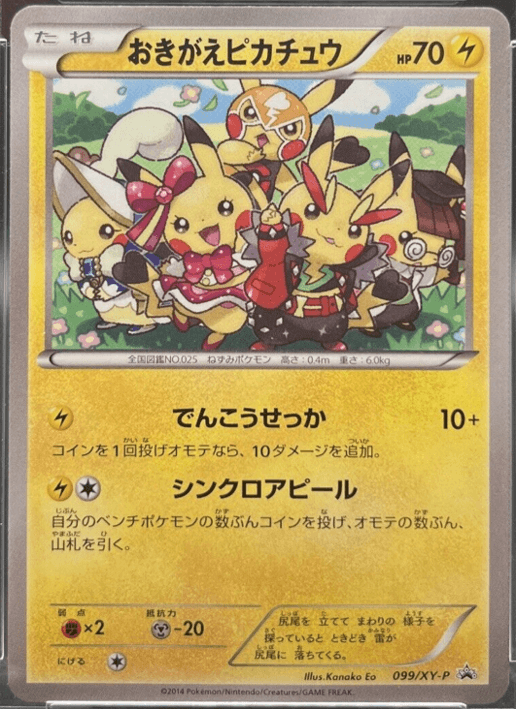 Japanese XY Cosplay Pikachu
1. 1999 Base Set Shadowless Charizard #4/102
The Fire/Flying-type Pokémon Charizard is one of the most popular Pokémon ever and the most sought-after card of this character is the 1999 Base Set Shadowless Charizard #4/102. The lack of a shadow in the border shows that the card is from the original print run of the Pokémon Trading Card Game Base Set. Both powerful in the game and popular with fans, Charizard cards are almost always standouts among a set, and this is the original one from way back in 1999. While this card can set you back several hundred dollars, this iconic card will be a meaningful gift to any serious Pokémon collector and a standout in their personal collection.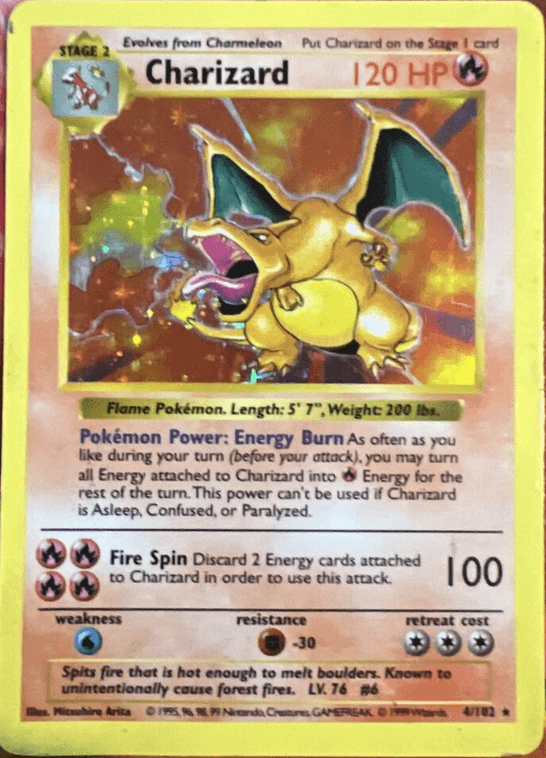 Charizard
Pokémon Cards: Great Gifts for Fun and Profit
Regardless of your budget, there are interesting and enjoyable Pokémon cards that make a perfect birthday present. From holographic modern Pokémon cards to nostalgic reprints, and even rare and iconic cards, there's something for every fan of the franchise. With just a little time spent on research, you can find the right card for the right price on Cardbase. When you choose one of these cards as a birthday gift, you're not only giving a collector's item but also a piece of Pokémon history that will be cherished for years to come.